With the rapid growth of the film industry with movies gaining high revenue in recent years, companies now cherish the ambitious plan to enter the world market.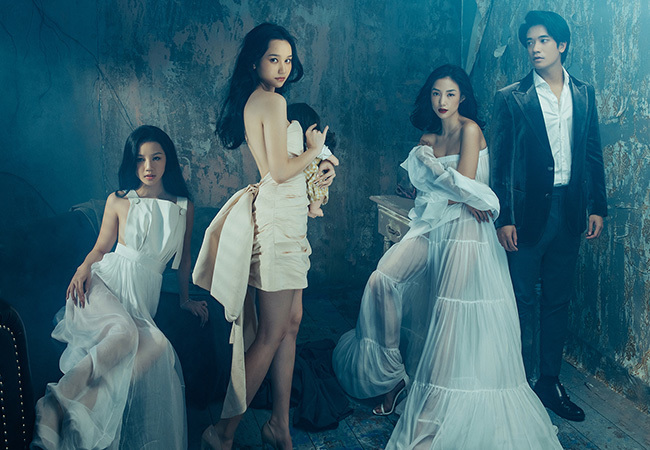 Thien than ho menh (Guardian Angel) is screened in many countries
The Lat mat (Face Off) series directed by Ly Hai was screened in the US, Australia and Canada in 2019. And Hai Phuong (Furie) by Ngo Thanh Van has had the highest revenue, $2 million, or VND50 billion, in the international market so far.
Bo gia (Dad, I'm Sorry) hit screens in Singapore and Malaysia on April 22 and in the US on May 28. According to Deadline, the work brought turnover of $820,000, or VND20 billion, just after two weeks.
The figure is expected to increase rapidly as showings have been extended, and will be screened at 45 theaters in the time to come. This is an impressive achievement for a Vietnamese-made film in the world's leading box office, especially amid Covid-19.
As for other films, though they lack outstanding revenue in the domestic market, they will still be screened overseas under agreements producers have with partners.
Thien than ho menh (Guardian Angel), a horror film of Victor Vu, will be screened in the US, Canada, UK, France, Ireland, Czech, Australia and some ASEAN countries. Meanwhile, Bong de (Sleep Paralysis) has not been released in Vietnam, but the copyright has been sold to be screened in 25 countries.
The Vietnam Cinema Department continues to attend prestigious film festivals such as Cannes, Berlin and Busan with art films. More and more films have been sent to festivals to compete for prizes at the Academy Awards, including Toi thay hoa vang tren co xanh (Yellow Flowers on Green Grass), Co Ba Sai Gon (The Tailor) and Cha Cong Con (Father and Son). This has helped Vietnamese directors and producers exchange views with friends and colleagues in the region, and in Europe and the US.
Every year, the Ministry of Culture, Sports and Tourism joins forces with organizations to hold Vietnam Film Week in foreign countries to bring prize-winning films to international audiences.
Vietnamese producers have mostly tried to reach the world market by attending festivals or showing films abroad on a small scale. Now, many films are commercially screened overseas, and encouraging results have been gained.
Turning potential into money
Under the strategy on developing the cultural industry by 2030, cinema is seen as an industry with great potential and opportunities to make a breakthrough. The rapid growth of works with high revenue has instilled hopes of making Vietnam's films better known to international audiences.
Vietnam has made great strides since 2010. The total revenue of the domestic market reached VND4 trillion in 2019, higher than the predicted figure of VND3 trillion noted in the cultural industry development strategy.
According to Box Office Vietnam, the total revenue of the 10 best selling works has been about VND1.8 trillion. The film with the highest revenue is Bo Gia (VND420 billion). The other films in the top 10 all have had revenue of over VND100 billion, including Em la ba noi cua anh (Sweet 20), Tiec Trang Mau (Blood Moon Party) and Cua Lai Vo Bau (Win My Baby Back).
Solutions
Some Vietnamese producers are choosing a safe way by remaking works which are already famous. This choice can both help ease pressure on producers, and satisfy audience's tastes.
Em la ba noi cua anh, Thang nam ruc ro (Go Go sisters) and Tiec trang mau all had satisfactory revenue. However, a question has been raised about this safe attitude.
Analysts say that Vietnam's cinema lacks films with strong original cultural features, in which directors relate their special stories instead of "borrowing" images and stories from other countries.
To enter foreign markets, Vietnamese films need to have a strong national identity. Best-selling foreign films and films that have won awards at film festivals all reflect the typical characteristics of a society and country. South Korea's film Parasite, for example, won the Oscar for Best Picture in 2020.
Analysts also point out that in the era of strong international integration, filmmakers should improve quality, and pay higher attention to reflecting the Vietnamese people, culture and history. Vietnam's films with high revenue all have a common characteristic in that they reflect the life and dreams of Asian people, or relate stories about blood relationships. The success of Bo Gia is proof of this.
Tuan Chieu
Vietnamese movies try to conquer international market have 874 words, post on vietnamnet.vn at October 16, 2021. This is cached page on Talk Vietnam. If you want remove this page, please contact us.