Vietnam plans to receive 34 million vaccine doses in October and more by the end of the year. It is creating a master vaccination plan for 2022, including vaccinations for children.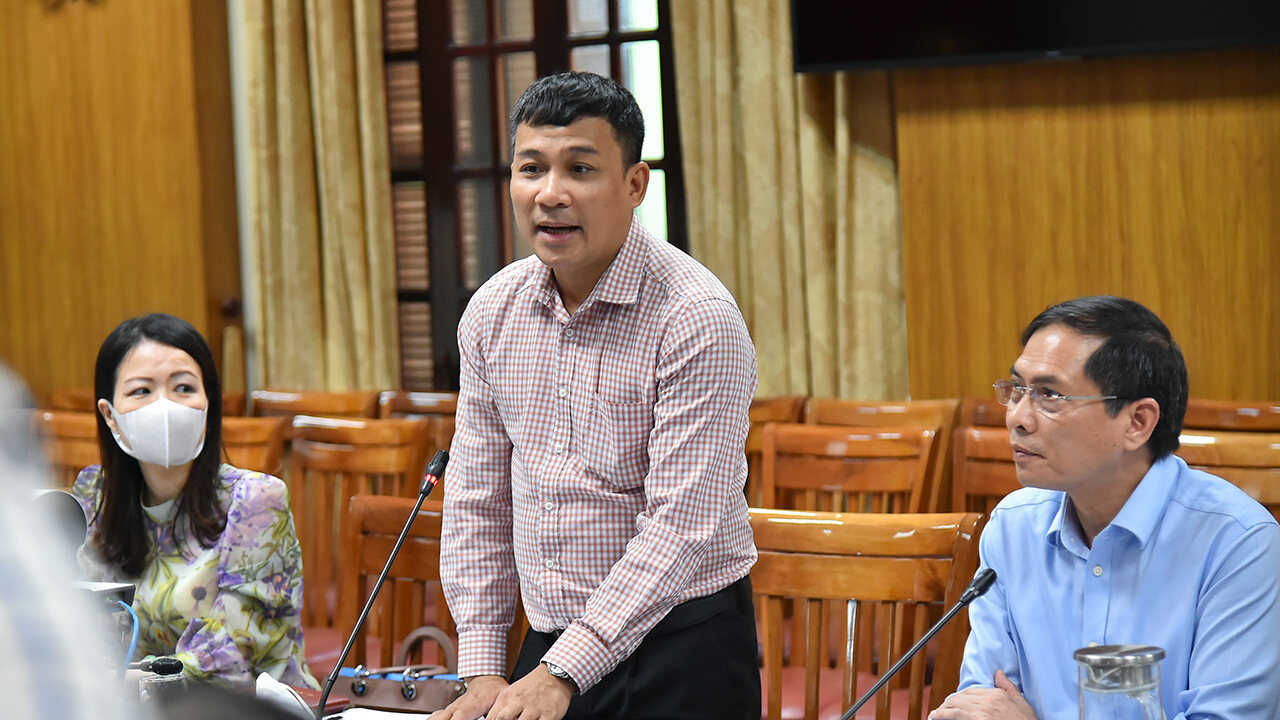 Deputy Minister of Foreign Affairs Nguyen Minh Vu at the meeting
The Government's taskforce on vaccine diplomacy on October 13 convened its regular meeting to review the implementation of tasks assigned by the Prime Minister.
Under the Government and Prime Minister's instructions on focusing on campaigning for vaccines, and with the spirit 'the best vaccine is the one given to you at the earliest', more and more vaccine doses have arrived.
As of October 13, Vietnam had received 90 million vaccine doses, and it expects to receive 34 million doses more in October. The figure will further increase by the end of the year.
The taskforce gave advice and proposed that the Government step up cooperation in vaccine production manufacturing and support the process of producing and testing home-grown vaccines, as well as importing some kinds of drugs for Covid-19 treatment.
Some Vietnam companies are cooperating with US, Russian and Japanese companies to get technology transfer, try and produce new-technology mRNA vaccines, and bottle Russian Sputnik V vaccines.
Vietnam's Nanogen Company has reached an agreement with India on experimenting and cooperating to produce vaccines.
Vietnam has received a large amount of medical equipment worth tens of millions of dollars donated by partners, international organizations and overseas Vietnamese. This has helped improve treatment capability, thus easing pressure on the healthcare system.
Deputy Minister of Foreign Affairs Nguyen Minh Vu stressed that the sharp increase in vaccine arrivals recently is the outcome of the mobilization carried out by the Party, State, National Assembly and Government leaders.
The mobilization was conducted through bilateral visits, contacts, phone calls and exchange of letters with countries, international organizations and manufacturers. Partners have increased their support and sped up the fulfillment of their commitments on providing vaccines to Vietnam.
According to Nguyen Nam Lien from the Ministry of Health (MOH), Vietnam has given the first shot to 54 percent of people aged above 18 and fully vaccinated 22 percent of the population.
Minister of Foreign Affairs Bui Thanh Son said the success of vaccine diplomacy has laid an important foundation for the country to shift to the new period – adapting safely to the new circumstances, resuming production and business activities.
The most important task of the taskforce from now to the end of the year is continuing to mobilize, supervise and speed up partners to be sure that they deliver vaccines as committed.
The taskforce will continue giving advice to the Government in building a master plan on vaccine demand for 2022, including vaccines for children aged 5-12 and 12-18, and vaccines for booster shots.
Thanh Nam
Vietnam creates vaccination plan for 2022, plans to vaccinate children have 669 words, post on vietnamnet.vn at October 15, 2021. This is cached page on Talk Vietnam. If you want remove this page, please contact us.