HCM City remittances up 22% to $5.1b
Foreign remittances to HCM City in the first nine months of the year were worth US$5.1 billion, a 22 per cent increase year-on-year.
Nguyen Hoang Minh, deputy director of the State Bank of Viet Nam's HCM City branch, said the growth rate is impressive considering the impact of COVID-19 on the global economy.
Overseas Vietnamese have faced difficulties travelling abroad or back to Viet Nam for the past two years due to the pandemic, and so "they might be having more savings than before," he suggested.
Most of the remittances was money sent back by overseas Vietnamese to their families to help them get through the pandemic or to invest in business activities, he said.
The main sources remained the US, Australia, Canada, and Europe, he said.
Total remittances this year could increase by 12 per cent from last year's $6.1 billion, he said.
Last year remittances topped $17.2 billion, making Viet Nam the third largest receiver in the East Asia and Pacific region.
New financial support package to create new momentum for business recovery
As the COVID-19 pandemic has seriously impacted the implementation of Vietnam's economic development plans, the National Assembly (NA) and Government have been proactively and urgently deploying stimulus packages to quickly restore the economy and leverage growth.
The latest Resolution 406/NQ-UBTVQH15, issued by the National Assembly on October 19, is regarded as a correct and timely policy, and was well received by enterprises.
The Resolution offers support for enterprises and individuals affected by COVID-19 through tax reductions with a total value of up to 21.3 trillion VND (926 million USD). The beneficiaries will enjoy direct tax reductions which is considered more practical than the extension of tax payments in previous support packages.
Hanoi has more than 300,000 enterprises with 98 percent being small and medium sized (SMEs), which were the hardest hit by the pandemic. Tax reductions are expected to help many businesses escape bankruptcy and resume production and business activities.
Mac Quoc Anh, vice chairman and general secretary of the Hanoi Association of Small and Medium Enteprises (Hanoisme), said Resolution No 406 expands its scope to more beneficiaries and the time for tax reduction is also longer.
"The fourth wave seriously hit the third-quarter business results of companies; thus this resolution provides very practical support, helping them save more money to restore production and business activities in the last quarter of the year," Anh told Vietnam News.
In addition, as enterprises form supply chains in the economy, lower taxes mean input costs for the whole economy will decrease, creating favourable conditions for reducing output prices and increasing business competitiveness, Anh said.
Resolution No 406 offers a 30 percent reduction in corporate income tax for enterprises with revenue in 2021 being less than 200 billion VND (8.7 million USD) and experiencing a revenue reduction compared with that of 2019.
It also agreed to exempt personal income tax, value added tax and other taxes in the third and fourth quarters of 2021 for individuals and households in pandemic-hit areas.
The value added tax (VAT) for goods and services including transportation, food, accommodation services and those relating to tourism promotion will also be reduced from November 1 to December 31 this year. Besides, no fee is applied for late payments arising in 2020 and 2021 for enterprises and organisations which incurred losses in 2020.
Hoang Van Phu, director of Hanoi-based Hoang Phu Transport Co, said the new resolution could save his company more than 300 million VND.
He said as the pandemic has been gradually controlled, many provinces and cities have allowed inter-provincial transport and transport companies are planning to operate at maxium capacity to compensate for the sales lost in the last three months.
"Now, we want to be guided on procedures quickly to apply for tax reductions so that money could start coming into the business," Phu said.
According to experts, the urgent matter now is the organisation and implementation of the policy to ensure the State's support measures reach businesses and people as quickly as possible.
"What businesses yearn for now is the quick implementation with simpler and more relaxed conditions," Mac Quoc Anh said.
"In addition, businesses hope the tax reduction time is extended until the end of 2022 so that they have more time to recover and develop," Anh added, noting four coronavirus outbreaks happenedd very close to each other and firms had no time to recover.
According to him, enterprises are trying to maintain production now and they need 1-3 years to recover in the medium term before starting to develop and expand.
Cao Tri Dung, chairman of Da Nang Tourism Association, also said in the current difficult time, all support policies of the State are highly appreciated but businesses still hope the support policies could be extended.
Dung said Da Nang city is set to gradually reopen its tourism and services activities in November and December – not long enough to draw lots of visitors. Therefore, the tax reduction in the last two months does not really mean much for businesses. The tourism business community in the central coastal city proposed to extend the support period to at least June 2022 when tourism activities are set to recover.
Experts have agreed to help businesses best, many other policies need to be implemented at the same time, such as reducing VAT for a longer time or easing access to capital.
Since the beginning of this year, the Government has issued 154 resolutions, 83 decrees and 31 decisions along with many directives and circulars to support people and businesses to overcome difficulties, soon stabilise their lives and restore and develop the socio-economy.
Including Resolution 406, the State's financial support for businesses and people in the forms of tax, fees, land rent and interest rates reached about 138 trillion VND this year.
The Government is expected to soon issue a decree to guide the implementation of the resolution on the principle of creating favourable conditions to support people and businesses to overcome the pandemic.
Meanwhile, banks have said they will continue to reduce interest rates on existing loans, minimise lending and debt repayment procedures in line with the pandemic situation so that businesses can access capital more easily./.
Education sector to reduce mounting pressure on students
Standardized tests force students to perform under extreme pressure and can lead to a host of mental issues. Students today face mounting pressure; therefore, Vietnam's education sector has been trying to reduce such stress on students.
At present, elementary, middle, and high schools in Ho Chi Minh City are preparing for the examination and assessment of students in the first half of the school year 2021-2022. Many forms of testing and assessment have been organized, aiming to reduce pressure and promote students' self-discipline.
Ninth-grader Nguyen Ngoc Thao of Nguyen Gia Thieu Secondary School in Tan Binh District said that teachers of each subject have had a different form of testing and scoring.
In particular, teachers of physical education and arts required students to perform activities or make products themselves at home, then record videos and take photos of products to send to teachers.
However, students must take multi-choice tests for History, Geography, and English subjects during days of weeks to help students have a lot of time for preparation; therefore they do not feel pressured when taking mid-term exams and evaluations.
Meanwhile, Literature, Mathematics, Physics and Chemistry teachers combine the mid-term tests and 15-minute tests in the previous weeks, helping to evaluate students' academic performances more exactly.
In particular, the exam questions focus on the level of awareness and information, not yet applying the low level of application and the high level of application due to some limitations during the epidemic period. The exam schedule of subjects will be evenly distributed in the ninth, tenth and eleventh weeks according to the program of the Ministry of Education and Training.
Previously, groups of teachers had developed exam questions that combined both essay and multiple-choice forms. If a student has a problem with technology during the test time or is not satisfied with their first tests, they will be re-tested later.
"Test scores are calculated according to the final results of the test, so it will reduce testing pressure on students as well as indirectly prevent cheats in an online exam because students still have many opportunities to improve their scores," Khoa said.
With the aim to reduce testing pressure on students, managers of Lac Hong Secondary School in District 10 has arranged a schedule for the midterm exam according to groups of subjects. For instance, students sat for social subjects including Literature, History, Geography, Citizenship Education in a week while they then took natural subjects comprising of Math, Chemistry, Physics, Biology test a week later. This appropriate schedule aims not to create pressure on learners. In addition, teachers flexibly arranged suitable times for a test.
Particularly, teachers at Bui Thi Xuan High School in District 1 are currently building a bank of exam questions for the preparation of the midterm exam in the first semester which will take place in early November. In some schools, students have been doing mock exams before taking the official test.
Regarding cheating in online tests, most teachers said that they called on students' honesty and responsibility towards their work. Besides, according to teacher Nguyen Thanh Phat, Principal of Lac Hong Secondary School in District 10, if a test is comprised of problems requiring students to learn by heart, its students will surey cheat by asking others' assistance or googling it.
Conversely, if the test requires students' understanding and their application of knowledge in a limited time, students will certainly focus on doing the test rather than managing to find the right to help.  Therefore, instead of looking for appropriate anti-cheating strategies, teachers need to change new content and forms of tests.
Agreeing with this, teacher Huynh Thanh Phu, Principal of Nguyen Du High School in District 10 said that while teaching, teachers feel the learning ability of students. Therefore, during online learning, the examination and assessment should not put much pressure on learners.
Nguyen Minh Thien Hoang, Deputy Head of the Primary Education Department under the Ho Chi Minh City Department of Education and Training, said that according to the Ministry of Education and Training's current regulations, students are assessed through regular assessment and mid-term assessment.
In which, regular assessment is based on daily academic performance, the results of group work or teamwork. Therefore, the test is only one of the assessment bases, teachers do not use periodic test results to evaluate the entire learning process of a student.
Food firms in HCM City request financial support in run-up to holidays
Food companies in HCM City are feeling the pressure of the upcoming holiday season, after months of COVID-19 restrictions. Many have requested the State Bank of Viet Nam (SBV) put them on the list of businesses eligible for preferential loans, to help them prepare for Christmas and Tet holidays.
Ly Kim Chi, President of the Food Association of HCM City, said that many businesses are close to insolvency. Most of their money reserves were spent to cover costs during social distancing and they are now struggling to maintain operations. As a result, they are in dire need of preferential loans to produce and store goods in preparation for the upcoming holidays.
Food companies also asked SBV to adjust mortgage valuations of well-run companies and offer more working capital loans, so they don't have to put up more assets as collateral.
They urged commercial banks to share the burden with businesses and citizens in this difficult time. Reducing interest rates and loan restructuring is necessary to boost the liquidity of the business sector.
In response to those requests, Nguyen Hoang Minh, Deputy Director of SBV's municipal branch, said all pandemic-hit businesses, households and individuals that fully meet requirements stipulated in Circular 14 are eligible for the loans, regardless of sector.
"Businesses in the food sector are also eligible for many other supportive policies and credit programmes from the Government," Minh said, adding that SBV and People's Committee of HCM City currently provide preferential loans to five sectors, including agricultural and rural development, export, small and medium enterprises, supporting industries and high technology enterprises.
Those supportive policies are underway to help businesses in hardship, Minh said, but noted the implementation of those policies needs to strictly comply with legal regulations in order to minimise any unexpected credit risk.
By late August, supportive loans reached over VND1.6 quadrillion (US$70.4 billion).
He said that banks are working with the relevant departments and associations to support businesses. So far, 817 requests sent to HCM City's SVB branch have been settled successfully.
Recently, the branch held a direct meeting with the city's Food Association to discuss measures to help businesses in this sector overcome hardship.
EVIPA ensures FDI flow in medium to long term
Foreign direct investment (FDI) is to continue flowing into Viet Nam from Europe in the medium to long-term thanks to the EU-Viet Nam Investment Protection Agreement (EVIPA), which was ratified in August last year, experts said.
A year later, two-way trade and investment have seen significant progress. Viet Nam-EU trade has increased by 11.9 per cent year-on-year to reach US$54.6 billion. By the end of September this year, EU members were running 2,242 projects in the Southeast Asian country with a total investment registered of $22.2 billion, 5.58 per cent of all foreign investment in Viet Nam.
The agreement, which focuses on the liberalisation of non-direct investments and the procedure for settling disputes between investors and the State, replaced the 20 previous bilateral investment agreements between Viet Nam and 21 EU countries.
EVIPA has been designed to strengthen the protection of investments of both parties by ensuring a high level of security and to commit both sides to the principle of non-discrimination and the rejection of any expropriation without prompt and adequate compensation.
Investment from the EU has been said to play a vital part in the development of Viet Nam's domestic industries through cooperation and integration with and into the global supply chain. It has also been expected to be a driving force for a rapid digital transformation for the developing economy.
There was still, however, a lot of ground to cover on Viet Nam's part if the country was to take full advantage of the agreement, experts said.
Vietnamese policymakers must be fully prepared to implement prudent monetary and financial policies as soon as the agreement comes into effect as it'd help save time and reduce opportunity costs for both sides, said Prof. Andreas Stoffers, national director of the Friedrich Naumann Foundation for Freedom in Viet Nam, a German foundation for liberal politics.
Viet Nam must stay committed to international trade agreements including the European Union – Viet Nam Free Trade Agreement (EVFTA) and the Regional Comprehensive Economic Partnership (RCEP), two major trade pacts which Viet Nam is a part of, to ensure Viet Nam's position as an attractive destination for foreign investments, he said.
The country must continue improving on labour relations and labour dispute resolution, industrial and logistics infrastructure as well as human resources and product quality standards, experts said.
Viet Nam must take the initiative in adopting the latest technologies to improve efficiency and productivity to meet European standards.
Meanwhile, Vietnamese policymakers and businesses should conduct extensive studies of the EVIPA and European laws and customs to avoid potential legal disputes in trade and investment activities in the future.
Virtual Vietnam Foodexpo 2021 to kick off in December
The Virtual Vietnam International Food Industry Exhibition 2021 (Virtual Vietnam Foodexpo 2021) is scheduled to get underway on December 7, with the primary aim of boosting the domestic market and increasing the export of food and agricultural products.
Powered by one of the world's leading providers of event management software, the virtual edition is set to offer businesses greater access and stronger connections to the industry network of Vietnam Foodexpo.
Exhibitors will be able to display their company profile, product images, and production processes in their virtual booths, with this being widely and easily accessible to both domestic and international buyers.
On display will be a variety of products, such as fruit and vegetables, numerous beverages, tea and coffee, food ingredients, fine food, seafood, and food processing technologies and equipment.
Furthermore, the virtual platform will allow enterprises to actively manage their appointments with partners, whilst also interacting and directly connecting with buyers on a global scale via a Chat Box or online video calling.
Through the event running until December 11, exhibitors are able to seek partners, whilst gaining an overview of food supply and demand, and new consumption trends in the food industry in both the Vietnamese and international markets, coming up with proper solutions for product development through a abroad array of online seminars.
Coffee exports record four-year high
Vietnamese coffee prices have skyrocketed in recent weeks amid the country exporting 1.18 million tonnes of coffee worth US$2.23 billion during the opening nine months of the year, according to statistics compiled by the General Department of Vietnam Customs.
This figure represents a year-on-year fall of 5.4% in volume and a rise of 3.4% in value compared to the same period from last year.
Most notably, the nation's coffee export price reached the highest level since December 2017, with the average export price in September alone increasing by 4% to US$2,093 per tonne from August and a rise of 11% compared to September, 2020.
During the nine-month period, the average export price of Vietnamese coffee surged by 9.2% to US$1,884 per tonne, an increase of 9.2% against the same period from last year.
Furthermore, Vietnamese coffee exports to almost all major markets soared, with the exception of the United States, Spain, Belgium, and the Philippines.
These results indicate positive signs for the local coffee sector amid the complicated developments of the COVID-19 pandemic and high transportation costs.
The Import-Export Department under the Ministry of Industry and Trade forecasts that local coffee exports will continue to increase due to a global rise in the consumption demand and social distancing measures gradually being eased.
According to the Vietnamese Trade Office in Sweden, despite Nordic countries mainly importing Arabica coffee, Vietnamese unroasted or decaffeinated coffee has plenty of room for development in the potential market.
Moreover, the enforcement of the EU-Vietnam Free Trade Agreement (EVFTA) will serve to help local coffee enjoy competitive advantages in the Nordic market, with tariffs being slashed to 0%.
Thanks to these prospects, domestic firms are advised to devise proper marketing strategies and develop brands for specialty coffee and other coffee products, as well as investing in designing their websites, company brochures, and product specifications to make further inroads into the demanding market.
Vietnam's electronics industry continues to grow despite COVID-19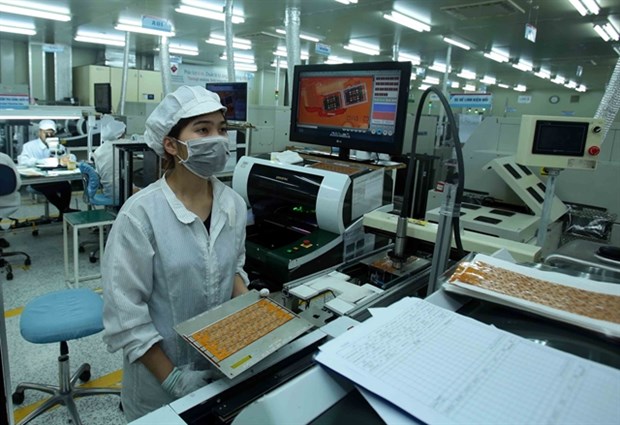 Electronics components being manufactured at 4P Limited Co in the northern province of Hung Yen.
Vietnam's electronics industry, an increasingly important sector of the country's economy, continues to grow despite the negative impact of the COVID-19 pandemic, according to the Ministry of Industry and Trade (MoIT).
Amid the pandemic, the sector brought home 77.58 billion USD over the past nine months of 2021, statistics from the General Department of Customs showed.
Of this, the export of handsets and components contributed 41.02 billion USD, up 11.5 percent year-on-year. Among major export markets were China with a turnover of 9.8 billion USD, up 52 percent, the US with a value of 7.09 billion USD, up 1.1 percent and the EU with 5.56 billion USD, down 18 percent.
Meanwhile, the export value of electronics, computers and components topped 36.56 billion USD, surging 13.6 percent over the same period of last year with 9.3 billion USD from exports to the US, up 26.5 percent; 7.8 billion USD from China, down 6.2 percent and 4.63 billion USD from the EU, up 7 percent.
As these positive nine-month figures show, the electronics industry was well on track to earn the country between 97 billion USD and 100 billion USD by the end of this year, compared to a turnover of 91.98 billion USD in 2020, Do Thi Thuy Huong, Executive Board Member of Vietnam Electronics Industries Association (VEIA) told Viet Nam News.
Huong said the electronics industry posted the highest import-export turnover in the past 10 years. It also took the lead in export turnover among processing and manufacturing industries and accounts for 30-40 percent of national GDP in the period.
Despite the challenges brought by the COVID-19 pandemic, the industry still showed positive signs over the nine-month period, Huong said.
She attributed the industry's export turnover growth in the period to an increase in demand for communication products used for distance working and learning such as mobile phones, computers, TVs and devices.
A number of companies that produced computer and electronics products in other countries were forced to close down due to the impacts of the virus. That led to local manufacturers winning more contracts, she said.
However, it could not be denied that the fourth wave of COVID-19 had impacted electronics companies, especially those in the south and two northern provinces of Bac Giang and Bac Ninh, Huong told Viet Nam News.
She said her association would continue to support electronics enterprises in both ensuring COVID-19 prevention and resuming their business operation.
Earlier in August, electronics businesses had sent eight recommendations to Prime Minister Pham Minh Chinh. They emphasised the importance of vaccinating employees of electronics enterprises as soon as possible.
Businesses petitioned the State to allow them to proactively draw up solutions to ensure safe production during the pandemic and then register to these solutions with local authorities, instead of rigidly applying "three-on-the-spot" and "one road two places" models.
They also suggested the Government direct local governments and health departments to unify medical guidelines on pandemic prevention. That would help promptly separate F0 cases from businesses so that they could continue their production activities.
Meanwhile, the firms also petitioned a 50 percent reduction for all types of tax such as value-added tax, corporate income tax, import tax and personal income for employees, and a tax payment extension of between six to 12 months.
It has also been suggested that land rental fees, a burden on businesses, be slashed by 50 percent with the payment period extended by 12 months.
In its report, Fitch Solutions predicted that Vietnam's consumer electronics industry would accelerate in 2021 on the back of a recovery in consumer sentiment that occurs with the rollout of COVID-19 vaccines.
The industry will continue to grow through a combination of purchasing power and demographic and economic modernisation that gave Vietnam a strong regional outlook, with vendors set to tap into an expanding middle class and flow of first-time buyers./.
HCM City proposes COVID-19 vaccinations for children
The Ho Chi Minh City Department of Health has sent an urgent document to the Ho Chi Minh City Pasteur Institute, asking for an approval of its plan to inoculate children aged 12 – 17 against COVID-19.
The Ministry of Health earlier agreed to vaccinate children aged 12 to 17 but it has yet to give specific instructions. The ministry authorized Institutes of Hygiene and Epidemiology and Pasteur Institutes nationwide to provide specific instructions on vaccinations for children in their localities.
Under its proposal, the HCM City Department of Health plans to inoculate four groups of children, including children attending school, children not attending school, children with underlying diseases and children undergoing inpatient treatment in hospital.
It will pilot vaccinations for students aged 16-17 in Cu Chi District and District 1 first. Vaccinations will take place at medical facilities, mobile injection sites and schools.
Currently, HCM City has about 780,000 children aged 12 to 17. A recent survey conducted by the municipal Department of Education and Training shows 92% of parents have agreed with vaccinations for their children.
According to the Ministry of Health, few COVID-19 vaccines are being used to vaccinate children worldwide. Among them are the Pfizer and Moderna.
The US Food and Drug Administration has fully approved the Pfizer vaccine for children aged 16 and older. Children between the ages of 12 and 15 can get the shot under the current emergency use authorization.
Clinical trials show the Pfizer vaccine is 90.7% effective against asymptomatic infection in children.
Though children have a much lower risk of severe COVID-19 infection than adults, health experts say vaccinations can help reduce virus transmission among children.
HCM City is the largest coronavirus hotspot in Vietnam. Since the virus recurred in Vietnam in late April 2021, the city has recorded nearly 430,000 cases, making up half of the country's total.
Mercedes Benz Vietnam recalls nearly 1,800 C200 cars for inspection
Mercedes Benz Vietnam has announced that 1,773 C200 cars manufactured from December 2014 to February 2018 will be recalled for inspection and a software update.
The recall programme is expected to run until December 31, 2025. Inspection and software update are free of charge and take approximately 30 minutes for each car.
According to Vietnam Register, the automobile manufacturer withdraws those cars from circulation to inspect and software-update the engine control box in order to fix overheating problems in generator diodes. Generator diodes would break if overheated.
Mercedes Benz Vietnam said no incidents related to the above-mention error have arisen so far. However, the automaker will still recall those cars to prevent risk and ensure customer safety.
Previously, on October 14, 56 model GLC 200 and GLC 300 cars were recalled for inspection and collision sensor replacement. This recall programme is carried out from October 10, 2021 to December 31, 2025.
Customers who want to check if their cars are on the recall list could contact Mercedes Benz Vietnam and its authorised dealers, or visit its official website for support./.
Vietnam on track to achieve 600 bln USD in foreign trade: Ministry
The goal of 600 billion USD in foreign trade is likely to be realised by the end of the year because by October 15, the national import-export turnover had exceeded 510 billion USD, according to the Agency of Foreign Trade under the Ministry of Industry and Trade.
The trade balance will heavily depend on the results of the ongoing fight against the COVID-19 pandemic, the ministry said, adding that it would continue to implement a range of solutions to support businesses and promote exports.
Ministries, sectors and localities should focus on measures to keep the pandemic under control as well as remove difficulties for production and circulation of goods, it said./.
Hanoi aims to mobilise 4.07 billion USD for new-style rural area building by 2025
The capital city of Hanoi plans to mobilise about 92.7 trillion VND (4.07 billion USD) to complete all targets in new-style rural area building by 2025, including 83.7 trillion VND from the State budget and nearly 9 trillion VND from social sources.
The amount is 15 percent higher than total investment to the programme in the 2016-2020 period.
Apart from the amount, the city will allocate additional 400 billion VND to the Hanoi branch of the Vietnam Bank for Social Policies each year to offer soft loans to production and business establishments, farms and labourers in the agricultural sector.
To this end, the municipal People's Committee has set five major tasks and solutions, including the strengthening of communications to improve public awareness of agriculture, farmers and rural areas among officials, Party members and the community.
The city will work to enhance the Party leadership over agriculture and rural development, while improving the capacity of State management officials, and innovating the management methods and speeding up administrative reform. The city will promote the role of the Vietnam Fatherland Front Committee as well as socio-political organisations and trade associations as well as the responsibility of leaders of agencies in the work.
At the same time, Hanoi will review and adjust its planning and projects on new-style rural areas, while continuing to developing the socio-economic infrastructure to suit its urban development.
Meanwhile, it will organise training courses for officials involving in advanced and model new-style rural building. The organisation of the coordinating offices for new-style rural area building will be completed from the city to grassroots levels.
Apart from its efforts to restructure the agricultural sector, the city will focus on implementing the Government's Decree No. 98/2018/ND-CP dated on July 5, 2018 on encouraging cooperation and connectivity in agricultural production and farm produce selling, while developing concentrated production regions and strong products of each locality to draw more investments from businesses.
Along with promoting sustainable agricultural development and improving the quality, value and competitiveness of local farm produce, Hanoi will pay greater attention to environmental protection and increasing incomes for locals in rural areas.
In 2025, the capital city aims to complete all targets in new-style rural area building programme in all districts and communes. In the year, it expects 20 percent of total districts recognised as advanced new-style rural areas, 40 percent of its total communes completing all criteria of an advanced new-style rural area, and 20 percent of the communes becoming model new-style rural areas.
The department reported that 29 communes of the capital city have fulfilled all criteria of advanced new-style rural areas, including 100 percent of communes in Dan Phuong district.
The remaining six districts are expected to complete all criteria in 2021 and 2022. The 14 communes that have yet to be recognised as new-style rural areas are under verification process.
Director of the department Chu Phu My said that in the third quarter of 2021, COVID-19 has posed many difficulties to the implementation of the new-style rural area building programme.
In that context, Hanoi has issued many drastic, timely and flexible directions to control COVID-19, maintain the supply chain and recover production at the same time. The city Coordination Office for new-style rural area building programme has organised five training courses on online selling for nearly 500 farmers, while launching a pilot model to promote OCOP products and regional specialties via videoconference, said My.
He said that in the remaining of the year, the city will mobilise resources to keep up the progress of the new-style rural area building, while applying measures to prevent the pandemic and boost production recovery at the same time. Other tasks for the period from now to the end of the year is to prepare sufficient supply of foodstuff for the market, especially during the Lunar New Year festival, and strive to raise per capita income of farmers to 60 million VND (2,635 USD) per year./.
ASEAN in need of enterprises' proactiveness, creativity: Deputy PM
Permanent Deputy Prime Minister Pham Binh Minh attended the virtual ASEAN Business and Investment Summit 2021 (ASEAN BIS) on October 25, saying that ASEAN is now in need of enterprises' proactiveness and creativity to adapt to the new normal.
In his remarks, the Deputy PM underlined that the pandemic control and economic recovery are dependent on not only endeavours by a single government or country but also joint efforts by all the 10 ASEAN members as well as partners.
He reaffirmed the importance of the Consolidated Strategy on the Fourth Industrial Revolution for ASEAN and the acceleration of the Strategic and Holistic Initiative to Link ASEAN Responses to Emergencies and Disasters (ASEAN SHIELD), proposed by Brunei – Chair of the bloc in 2021.
Vietnam is ready to cooperate in enhancing the digital infrastructure connectivity, ensuring a digital ecosystem for all parties towards uniform and sustainable digital development in the region, and accompanying enterprises of ASEAN and partner countries to create the best possible conditions in terms of policies and the business environment so that they can optimise and maximise business and investment chances in Vietnam and regional countries, Minh stated.
The Vietnamese Government will strive to help enterprises conduct digital transformation, boost digital universalisation, and create conditions for promoting investment in high technology towards green growth, he added.
The Deputy PM expressed his hope that the business community will continue joining hands with ASEAN governments to defeat the pandemic and support economic recovery since ASEAN is now in need of their dynamism, proactiveness, and creativity to adapt to the new normal, create jobs, ensure a stable life for people, and produce new values for society and the community.
The ASEAN BIS is held annually by the ASEAN Business Advisory Council in conjunction with the bloc's summits. It provides an occasion for the public and private sectors, and representatives of governments and industries in and outside ASEAN to meet one another. It is also a platform for connecting and promoting initiatives on ASEAN economic cooperation and integration./.
Coastal localities take stronger measures against IUU fishing
Numerous stronger measures have been implemented by 28 coastal provinces and cities across Vietnam in the past four years in a bid to prevent and combat illegal, unreported and unregulated (IUU) fishing.
The province has regularly inspected legal documents and necessary equipment of fishing vessels before allowing them to go offshore and dock at Tran De fishing port.
Like Soc Trang, many other provinces such as Bac Lieu, Tra Vinh and Ca Mau have also rolled out measures to enhance local fishermen's awareness of sustainable offshore fishing.
Ca Mau's authorities even refused to issue new fishing licences to vessels repeating their violations and not allowed their captains and owners to enjoy fishery support policies from the State.
In reality, active and prompt efforts to remove the EC "yellow card" on the Vietnamese fishery sector also aim to protect the lives of fishermen at sea and look towards developing a sustainable fishery sector./.
HCM City, industrial provinces seek ways to get COVID returnees back
Cuu Long (Mekong) Delta provinces, HCM City and Binh Duong Province will organise a job fair for workers who returned to their hometowns to escape the COVID-19 outbreak.
It will be held at permanent employment recruitment services in provinces and cities and online via Zoom from 8am to 12am on Friday.
Vo Thanh Quang, director of the Soc Trang Province Department of Labour, Invalids, and Social Affairs, said nearly 50,000 people have returned after losing their jobs during lockdowns in Binh Duong and Dong Nai provinces and HCM City, but the demand from enterprises in the province is only for around 3,000 workers.
According to the Ministry of Labour, Invalids and Social Affairs' Department of Employment, only 60-70 per cent of returnees will go back to work in the southern provinces and cities, which will create a big gap between labour supply and demand.
Provinces and major cities with industrial and export processing zones would face a risk of labour shortage when they bring the epidemic under control while some rural areas would have surplus labour, it warned.
Experts said much would depend on connections between businesses and their former workers.
Chairman of the HCM City People's Committee, Phan Van Mai, said favourable conditions would be created for workers to return.
The city has also worked with business associations to recruit people in other localities.
Director of the city Department of Labour, Invalid and Social Affairs, Le Minh Tan, said as of October 18 around 150,000 returnees had come back to the city, taking the total number available to employers to 210,000, mostly in the sectors of trading and services, tourism, transport and leather and footwear.
However, they still need around 60,000 workers until the end of this year, and 120,000 more at the beginning of 2022 and after the Lunar New Year in early February.
The city is setting up employment exchanges.
Many businesses have contacted their former workers to persuade them to return to work.
Reference exchange rate down 7 VND
The State Bank of Vietnam set the daily reference exchange rate at 23,129 VND/USD on October 26, down 7 VND from the previous day.
With the current trading band of +/-3 percent, the ceiling rate applicable to commercial banks during the day is 23,822 VND/USD and the floor rate 22,435 VND/USD.
The opening-hour rates at commercial banks stayed stable.
At 8:30 am, Vietcombank listed the buying rate at 22,625 VND/USD and the selling rate at 22,855 VND/USD, unchanged from October 25.
BIDV also kept both rates unchanged at 22,655 VND/USD (buying) and 22,855 VND/USD (selling)./.
Enterprises in Dong Nai province to resume full production in November
Enterprises in the southern province of Dong Nai are expected to resume full and stable operation in November.
According to the province's management board of industrial parks (IPs), nearly 1,600 enterprises with 500,000 workers in local IPs have returned to production as of October 25, accounting for 92 percent of the total number of firms.
The province is home to 31 IPs with over 1,700 firms and 615,000 workers, said Le Van Danh, deputy head of the provincial management board. He said the board continued to receive enterprises' requests for reopening.
Most electronic firms have resumed operations with many are operating at their full capacity including On Semiconductor Vietnam Co.Ltd, Tokin Electronics Vietnam Co.Ltd and Fujitsu Computer Products of Vietnam Inc which employ more than 1,500 labourers each, Danh said.
The rate of workers returning to work at garment and footwear enterprises has reached nearly 80 percent.
Currently, enterprises in IPs in the province are boosting production to fill export orders, Danh said, adding that some have made plans to coordinate with relevant agencies to bring 6,000 workers, who returned to their hometowns during the lockdown period, back to work./.
The Viet Nam JSC Report has announced top 10 retailers of 2021
The Viet Nam JSC Report has announced the top 10 domestic retailers of 2021.
Honourees in fast consumption and supermarket group include Central Retail Viet Nam, Wincommerce, Saigon Coop, MM Mega Market, Aeon Viet Nam, Lotte Viet Nam, SATRA, SASCO, IPP Group and Hapro.
In electronics and jewellery, the list comprises MWG, DOJI, PNJ, FPT Retail, Saigon SJC, Cao Phong Co. Ltd, Mediamart Viet Nam, Viettelimex, Fahasa and VHC.
The rankings are based on three criteria; financial capability based on the latest financial reports, media prestige, and the results from surveys in August and September this year.
General Director of the Viet Nam JSC Report, Vu Dang Vinh, said that despite the COVID-19 pandemic, the retail sector still performed well this year.
According to General Statistics Office, retail revenue in the first nine months of this year was estimated at over VND2.7 trillion (US$117.3 million), down 3.4 per cent annually.
In August alone, it went down 8 per cent month-on-month and 25.3 per cent year-on-year. However, this figure rose by nearly 4.5 per cent in September, thanks to relaxed social distancing in many localities.
Vietnamese cement and clinker exports show drastic upturn
Vietnam's cement and clinker exports have set a new record as the country exported a total of 32.7 million tonnes worth over US$1.25 billion during the past nine months of the year, according to the latest statistics released by the Ministry of Industry and Trade.
This figure represents a rise of 16.3% in volume and an increase of 20.9% in value against the same period from last year, with the cement and clinker exports remaining the growth engine of the local cement industry in recent times.
August and September witnessed the sector export between 4 million and 4.3 million tonnes of cement and clinker, marking a sharp increase compared to the 3.5 million tonnes in July and the 2.77 million tonnes exported in June.
The country exported roughly 16 million tonnes of cement and clinker worth over US$500 million to China throughout the reviewed period, while exports to the Philippines and Bangladesh hit US$240 million and US$120 million, respectively.
Despite the rise in Chinese imports of clinker helping domestic enterprises to reduce pressure from inventory and sales costs, clinker remains a semi-finished product with a low profit margin, according to Vietcombank Securities Limited Company (VCBS).
Energy experts believe that clinker exports to the Chinese market are anticipated to enjoy robust growth ahead in the remainder of the year due to China facing a serious power shortage, which is likely to cause a production shrinkage of some energy-consuming industries such as steel and cement.
Furthermore, domestic consumption of cement witnessed a decline of 5% over the nine-month period as several southern provinces moved to impose social distancing measures due to the impact of the COVID-19 pandemic.
Nguyen Quang Cung, chairman of the Vietnam National Cement Association (VNCA), said that the latest outbreak of the pandemic has caused a series of construction projects in Hanoi, Ho Chi Minh City, and other southern provinces to suspend construction, thereby leading to a fall in domestic consumption.
Lower pig price causes difficulties for recovery of husbandry industry
A sharp reduction in pig prices on the domestic market at present is causing difficulties in restoring the pig production industry after the fourth wave of the COVID-19 pandemic.
The selling price of live hog is now only VND35,000-36,000 per kilo, causing farmers to lose some VND1.5 million per pig. In addition, now traders buy only 5-10 pigs each time compared to 30-50 pigs in the past, said Nguyen Van Chien, a pig farmer in Binh Duong Province.
Chien is still struggling to sell pigs though the price of live hog is very low, his farm has hundreds of pigs that need to be sold, vov.vn reported.
The same situation was also reported at other farms and if that continues, the farmers would not have the opportunity to implement repopulation, Chien said.
Now, this is also occurring at farms of large livestock companies. Many businesses are also looking to sell off overweight pigs for less than VND40,000 per kilo, down 50 per cent compared to mid-2020. For instance, CP Vietnam Livestock Joint Stock Company in Dong Nai is selling overweight pigs from VND36,000-38,000 per kilo.
According to many farmers, the price of pigs has plummeted not only due to the impact of the pandemic, but also because many large enterprises planned to increase pig supply when the pork price surged recently, especially foreign-invested enterprises. Many foreign-invested enterprises have promoted pig production, such as CJ, Japfa and Newhope.
The domestic enterprises have also invested in pig production and supply such as Hoa Phat, Greenfeed, Thaco Agri and Hoang Anh Gia Lai.
Meanwhile, the retail prices of pork at the market also declined by VND50,000 per kilo to VND80,000-120,000 depending on the type of pork, compared to the beginning of the month. However, those prices at supermarkets still stand at a high level of between VND180,000 and VND240,000 per kilo.
Vu Vinh Phu, former deputy director of the Ha Noi Department of Industry and Trade and also former chairman of the Ha Noi Supermarket Association, told Infonet that there are many causes for that situation on the much lower selling price of live hog but much higher retail price of pork on the domestic market.
The implementation of social distancing measures in many localities in recent months has reduced the demand for pork so traders have not purchased live hogs, he said. That has made the selling price of live hog decline at the farms.
Moreover, Viet Nam imported 125,600 tonnes of pork in the first nine months of this year. Meanwhile, the intermediary stage makes the selling price of pork to consumers much higher, he said.
Phu said the Ministry of Agriculture and Rural Development does not have a livestock husbandry plan following reality as well as slaughter chains, leading to oversupply and a reduction in the pig price. That has damaged the livestock industry.
Meanwhile, the authorities in charge of price management, such as the Price Management Department (under the Ministry of Finance) and the Market Management Department (under the Ministry of Industry and Trade) loosened management over retail prices of pork, also causing serious problems for the livestock industry.
According to Phu, synchronous solutions are needed to solve this situation. It is necessary to support pig producers in terms of breeding, reducing taxes for feed and delaying payment for interest on bank loans.
If there is no timely solution, the farmers will not carry out repopulation and the immediate risk is a shortage of pork for the upcoming Lunar New Year, Phu said.
Besides that, Nguyen Tan Hau, director of Tam Do Livestock Co Ltd in Dong Nai Province, said that now the selling price of pigs has reached a bottom while the State still allows importing pigs and pork, causing difficulties for the producers, vov.vn reported.
The State has allowed importing pigs to stabilise the price of pork. Now, the wholesale price of pork has dropped to VND65,000-70,000 per kilo, so the State should promote the export of pigs and pork, and also limit imports, said Hau.
If this situation continues over the next six months, no farmers will have plans on repopulation, he said.
Nguyen Kim Doan, vice chairman of the Dong Nai Livestock Association, said that it is necessary to have quotas for pork imports and also quotas in the number of pigs for producers based on the balance of supply and demand in the market.
It is difficult to predict the fluctuation of pig prices in the last months of this year because the price change depends on purchasing power after the pandemic, including the recovery in the operation of markets, restaurants, eateries, and school kitchens.
Technological innovation vital for societal development
Technological innovation and creativity would promote societal development, heard attendants at a webinar "Technology and its Influence" held by the Canadian Chamber of Commerce in Viet Nam (CanCham).
During the workshop, the speakers also spoke about the opportunities that technology can open up for business and social activities.
Besides the constant development of innovations and technologies, environmental, social and governance (ESG) standards have become a set of standards for investors to evaluate their operations and the potential of a company.
However, what is the real impact? Where do technology and its impact meet? How does innovation go straight into ESG standards? Those are the questions and topics that experts and entrepreneurs from multinational corporations, companies, and start-ups from the Canadian Business Association in Viet Nam brought up for discussion in the "Technology and its Influence" conference.
During the seminar, experts went through the following topics including technology and its impact; innovation and its influence; application of blockchain technology; practical lessons and experiences from the success of businesses like Viamo and ASSIST in the Vietnamese market.
In addition to the speakers, there were also more than 25 international entrepreneurs and experts doing business and working in the Vietnamese market attending the webinar.
International experts at the seminar showed a whole picture of trends and ideas, as well as strategies for implementing innovation and technology application. All entrepreneurs and founders agree that Viet Nam is a very good environment to deploy innovative ideas.
"Vietnamese culture makes the people not only want to do things well, but also want to be great," said Yann Rousselot-Paille, Director, Digital Innovation for Viet Nam and Cambodia Markets, KPMG Group.
The event also provided attendees with information about trends and potential applications of blockchain technology in the world generally, and in Viet Nam in particular, especially in digital transformation of activities for society and community, such as volunteer work.
"Blockchain can help manage and distribute funds securely, transparently, and to the right people in need. Thereby, it promotes a healthy and developing business environment, and contributes to the progress and sustainable development of society," added Ronald Le, representing the Bholdus project.
The Canadian Chamber of Commerce in Viet Nam (CanCham) is a non-government, non-profit business association that supports companies and individuals doing business in Viet Nam. The goal of the organisation is to provide members with business support, education, and a social environment to exchange ideas, share and build experiences.
Mercedes Benz Vietnam recalls nearly 1,800 C200 cars for inspection
Mercedes Benz Vietnam has announced that 1,773 C200 cars manufactured from December 2014 to February 2018 will be recalled for inspection and a software update.
The recall programme is expected to run until December 31, 2025. Inspection and software update are free of charge and take approximately 30 minutes for each car.
According to Vietnam Register, the automobile manufacturer withdraws those cars from circulation to inspect and software-update the engine control box in order to fix overheating problems in generator diodes. Generator diodes would break if overheated.
Mercedes Benz Vietnam said no incidents related to the above-mention error have arisen so far. However, the automaker will still recall those cars to prevent risk and ensure customer safety.
Previously, on October 14, 56 model GLC 200 and GLC 300 cars were recalled for inspection and collision sensor replacement. This recall programme is carried out from October 10, 2021 to December 31, 2025.
Customers who want to check if their cars are on the recall list could contact Mercedes Benz Vietnam and its authorised dealers, or visit its official website for support.
HCMC building six criteria for on-site food, beverage businesses
Based on the Ho Chi Minh City Food Safety Management Authority's report and the recommendation of the Department of Industry and Trade, the municipal People's Committee is developing a draft decision on the issuance of a set of criteria for evaluating the safe operation of local food and beverage establishments.
According to the draft regarding safety criteria for food and beverage establishments to resume operations while preventing Covid-19, food service establishments in the southern city are allowed to operate but must ensure six criteria.
Among the criteria, a food establishment must have a certificate of food safety eligibility and have a QR code registration at http://antoan-covid.tphcm.gov.vn/ .
Moreover, eateries must ensure safety criteria in terms of facilities, equipment, and employee and limit the number of people present at the same time depending on coronavirus risks in the area.
Additionally, food facilities must be responsible for implementing preventative measures against the Covid-19 epidemic according to the guidance of the health sector.
Employees, deliverers, customers must comply with the 5K principles, have to scan QR codes, and strictly follow the instructions of the health sector including medical reports, full vaccination, negative Covid test result.
A food establishment shall limit the number of diners according to the health sector's guidance of epidemic prevention. Food and beverage establishments offer on-site services without air conditioning in closed spaces as well as they are not allowed to serve beer or alcohol.
The draft requires to limit the number of buyers and sellers at the same time as per the local health sectors' guidance but it doesn't ask to keep proper distance and operation time.
MARD proposes support to restore livestock production
Amid the situation that pork prices plunged steeply, which possibly causes farmers to abandon pig farming and the food supply to face a shortage at the end of the year, Minister of Agriculture and Rural Development Le Minh Hoan had a field trip to localities and offered many solutions.
According to the Ministry of Agriculture and Rural Development, currently, a large number of workers in some localities have not returned to big cities to work, schools are still closed, and restaurants receive a limited number of guests, so the consumption of food remains low. This situation led to a sharp drop in the price of pigs. The live pork price was at VND70,000-VND75,000 per kg in March and April, but from the beginning of October until now, it has fluctuated around VND35,000-VND45,000 per kg, even below VND35,000 per kg in some localities for overaged pigs, weighing from 130 kg to 160 kg.
In the past 2-3 days, pork prices in some places have increased by VND5,000-VND6,000 per kg as consumer demand tends to climb, and travel becomes more convenient after the pandemic has been gradually controlled. According to the MARD, due to social distancing, the demand for pork in Ho Chi Minh City and Hanoi has fallen by 40-50 percent compared to before the pandemic. Currently, HCMC needs about 1,600 tons of meat of all kinds and 2.2 million-2.5 million poultry eggs every day. Meanwhile, Hanoi consumes more than 820 tons of meat and more than 4 million eggs.
While the price of live pork decreased, the price of raw materials and animal feed increased by 16-36 percent over the same period. This causes producers to lack capital to maintain production because of a backlog of unsalable products. Difficult circulation leads to overaged animals and overstocking situation of about 30 percent of pig production, or about 1.5 million-2 million pigs. Some pig-farming households and establishments have had to stop production and business activities because of insufficient resources for reinvestment and difficult access to new loans of credit institutions.
After the field trip, Minister of Agriculture and Rural Development Le Minh Hoan said that amid the context of increasing raw material prices, making it difficult for reinvestment, farmers in some provinces have made the most of agricultural waste to replace imported animal feed, reducing pressure on input costs. The Minister of Agriculture and Rural Development said that many farmers had also bought raw materials together at wholesale prices to reduce costs. The MARD encourages members of livestock cooperatives to summarize data. Thereby, agencies and businesses can accurately update weekly and monthly information on market demand and supply capacity. Thereby, it is possible to match supply and demand information accurately to reduce risks for the market.
The MARD has promptly reported the difficulties and problems of the livestock industry to the Prime Minister and put forward solutions to direct production, circulation, and consumption. Nevertheless, to ensure stable growth of livestock, in the coming time, the MARD will strengthen the connection of consumption, supporting cooperatives, cooperative groups, and livestock farms to expand the market and provide products directly through the existing distribution system, reducing intermediaries. It also suggested that livestock-farming households increase the use of locally available feed ingredients, such as bran, corn, and cassava, to lessen dependence on industrial animal feed. In the long term, the MARD will research and propose the planning of raw material growing areas for the animal feed industry; create conditions for organizations and individuals to accumulate agricultural land into large-scale fields, apply science and technology, and synchronously mechanize to produce corn, soybean, and biomass corn for animal feed production in Vietnam. In the context of a decrease in market demand, the MARD suggested that farmers quickly apply the biosafety farming model to avoid additional risks of disease.
To promote demand, the MARD proposes and creates favorable conditions for enterprises that have invested in high-tech animal livestock in the chain of breeding stock, feed, production, slaughter, processing, and consumption, such as Masan, Dabaco, etc. CP, Japfa, and Deuh, to boost exports.
The ministry has also proposed that the Government has a support package to restore production for farmers in localities under social distancing who face difficulties because of the Covid-19 pandemic; take measures to reduce import tax on animal feed ingredients and input materials; support credit and interest rates to reinvest in livestock farming to limit the risk of food shortages in the last months of 2021 and the upcoming Lunar New Year; at the same time, reduce corporate tax in 2021 and six months of 2022; lower environmental protection tax; extend the deadline for value-added tax payment and reduce land rent for the years 2021 and 2022 for affected livestock establishments; adopt a land policy for livestock, invest in infrastructure for slaughtering and food processing.
At the recent meeting, Deputy Prime Minister Le Van Thanh directed that it is necessary to have a solution to support farmers who have a massive backlog of pigs. The Ministry of Finance was assigned to research and draw financial support solutions. The Ministry of Industry and Trade was instructed to urgently organize meetings with localities to restore the operation of wholesale and traditional markets and open price-stabilized stores to promote consumption. The Deputy Prime Minister also requested to organize inspection and check to clarify the costs of each stage in the value chain, investigate the difference in selling prices between the price of live pork and pork selling price at markets and supermarkets, and review the export and import activities of pork to promptly handle violations, if any.
Source: VNA/VNS/VOV/VIR/SGT/SGGP/Nhan Dan
VIETNAM BUSINESS NEWS OCTOBER 26 have 9436 words, post on vietnamnet.vn at October 26, 2021. This is cached page on Talk Vietnam. If you want remove this page, please contact us.