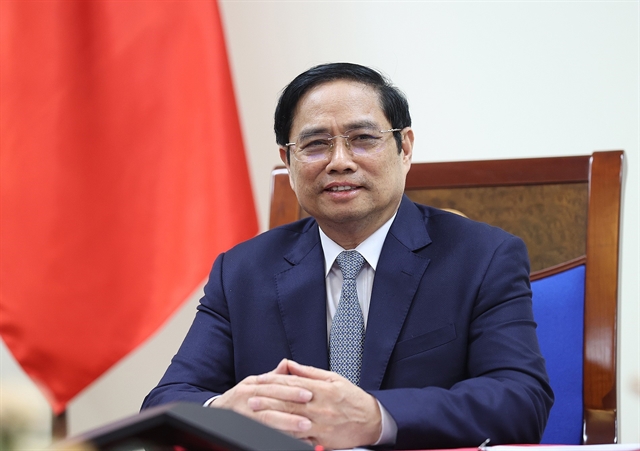 Prime Minister Phạm Minh Chính. — VNA/VNS Photo
HÀ NỘI — Prime Minister Phạm Minh Chính will lead a high-ranking Vietnamese delegation to attend the 38th and 39th ASEAN Summits, ASEAN summits with partners and the third Mekong-Republic of Korea (RoK) Summit via videoconference from October 26-28 at the invitation of Sultan of Brunei Darussalam Hasanal Bolkiah – Chair of ASEAN 2021.
The summits are the most important high-level events of the Association of Southeast Asian Nations (ASEAN) in 2021 and the largest external activity that the Vietnamese PM is to attend this year.
As scheduled, 10 documents will be published at the summits, while 25 others are expected to be adopted, and 66 will be recorded, including statements, strategies, cooperation frameworks, action plans, reports and visions covering all three major cooperation pillars of the bloc.
Following the ASEAN Year 2021 theme of "We Care, We Prepare, We Prosper", during the events, ASEAN member countries will continue to focus on promoting priorities of ASEAN Community building. Contents on the ASEAN Community building in 2020 under the chair of Việt Nam will be maintained and promoted, especially the ASEAN Community's Post-2025 Vision.
The 38th and 39th ASEAN Summits and related summits with partners of ASEAN will be chances for Việt Nam to continue affirming the country's external policy of independence, self-reliance, diversification, multilateralisation, and comprehensive and extensive international integration.
To promote the good outcomes of the ASEAN Chairmanship Year in 2020, Việt Nam will continue to maintain its proactive and positive engagement and responsible contributions to the association's common affairs, while coordinating with Brunei to continue to implement priorities put forth by Việt Nam in 2020 in association with ASEAN priorities in 2021, especially contents related to the bloc's response to the COVID-19 pandemic, the evaluation of the implementation of the ASEAN Charter, the building of the ASEAN Community's Post-2025 Vision, and the promotion of ASEAN's role in sub-regional cooperation.
Việt Nam's participation in the summits also manifests the country's wish to accompany other ASEAN member countries in overcoming difficulties; maintaining ASEAN solidarity and unity; continuing the building of the ASEAN Community and enhancement of regional connectivity; effectively responding to emerging challenges; and reinforcing the central role, position and voice of the ASEAN in the international arena. — VNS
Việt Nam makes responsible contributions to ASEAN common affairs have 493 words, post on vietnamnews.vn at October 26, 2021. This is cached page on Talk Vietnam. If you want remove this page, please contact us.