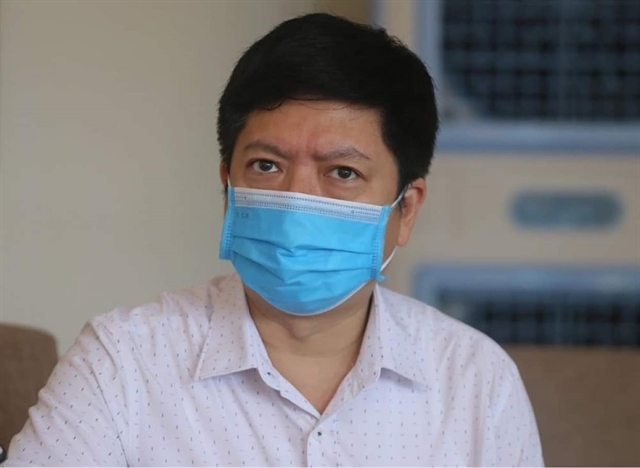 Nguyễn Trọng Khoa, deputy head of the Department of Medical Examination and Treatment under the Ministry of Health. — VNA/VNS Photo
Nguyễn Trọng Khoa, deputy head of the Department of Medical Examination and Treatment under the Ministry of Health and a member of the ministry's task force to support HCM City in COVID-19 prevention and control, spoke to Sức khỏe& Đời sống (Health & Life) newspaper about the three-tier COVID-19 treatment model and other efforts to bring HCM City to a new normal stage.
Can you please tell us about the three-tier COVID-19 treatment model that has been very effective in major COVID-19 hotspots like Bắc Giang and HCM City?
This was first deployed when treatment facilities and field hospitals did not have enough capacity to accept and treat patients with COVID-19. This model was piloted in the northern province of Bắc Giang in the middle of this year.
At that time, the COVID-19 pandemic was developing in Bắc Giang. The Health Ministry's special task force advised the Bắc Giang Province's Steering Committee for Disease Prevention and Control to issue instructions and deploy the model to respond to the situation.
We discussed and proposed Bắc Giang Province establish a quarantine and treatment area for asymptomatic COVID-19 patients and those with mild symptoms. Two intensive care centres were set up at Bắc Giang Lung Hospital and Mental Health Hospital for patients with serious illnesses.
As a result, the COVID-19 treatment in Bắc Giang saw positive changes, bringing practical effectiveness and helping the province quickly control the disease.
The three-tier treatment model was very suitable for the situation in Bắc Giang before and now in HCM City. Thanks to the model, the localities could receive and concentrate resources to treat patients who are in a severe condition.
The first tier is for patients without symptoms or with mild symptoms. The second tier, mostly at field hospitals and COVID-19 treatment hospitals, receives patients with medium symptoms and underlying health conditions.
The third tier is for patients with critical health conditions.
How was the model implemented in HCM City and what are the differences between that model and the one in Bắc Giang?
In HCM City, we saw that the number of infections increasing rapidly, causing a huge burden for the city's health system.
Initially, the city developed a plan to deal with only 5,000 COVID-19 infections. However, the number of infections increasing rapidly, up to 50,000 and more so this model needed to be deployed in the city to meet real demand.
The city adjusted its infrastructure quickly to adopt the model.
In the early phase, the city used apartment buildings as field hospitals (1st tier) for patients without symptoms and those with mild symptoms.
Some hospitals were turned into COVID-19 treatment facilities for patients with medium symptoms and underlying health conditions (2nd tier) and intensive care units at major hospitals like Trưng Vương Hospital, Phạm Ngọc Thạch Hospital and Hospital for Tropical Diseases received critical patients (3rd tier).
However, after that, when the pandemic developed more complicatedly across the city, more COVID-19 quarantine and treatment areas were set up at district, ward and commune levels. Schools and office buildings were turned to quarantine areas for positive people. Isolating them from the community was urgent at that time to minimise the risk of infections in the community.
Notably, as the infections kept rising, some positive patients with fewer risks were allowed to be treated at home.
So, the multi-tier COVID-19 treatment model in HCM City is different from the one used in Bắc Giang. In the context of HCM City, the model was proved right and effective in control the pandemic.
What difficulties did HCM City face when implementing this model?
We did have a very difficult time in HCM City. First, from late July to middle August, the number of new infections increased rapidly. Many people got COVID-19 even though they just stayed at home and their heath conditions turned worse very fast, causing an overload to the city's emergency system.
During that time, through hotlines, we received information about home-treated patients in critical conditions and oxygen shortages almost every night.
Secondly, all hospitals and COVID-19 treatment facilities were overloaded, especially ones for critical patients. No more city-run hospitals could be turned into COVID-19 treatment hospitals. So, the Ministry of Health decided to turn central hospitals like Chợ Rẫy Hospital and Oncology Hospital No2 in Thủ Đức City to COVID-19 treatment hospitals. Many intensive care units were launched in the city.
Minister of Health Nguyễn Thành Long decided to open a national intensive care unit and more intensive care centres in HCM City. Managers and staff from national centres were sent to HCM City to manage these.
Support was sent to help reduce HCM City's burden in treating critically ill patients.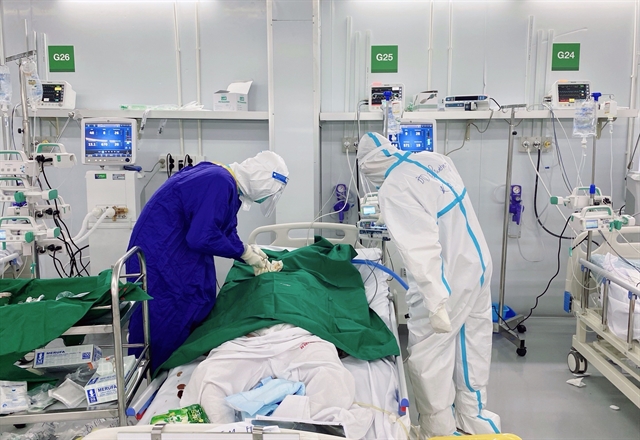 COVID-19 patients in serious condition under treatment in early September at the COVID-19 field hospital No.13 in HCM City, which was set up and operated by medical staff from Việt Đức Friendship Hospital in Hà Nội. — VNA/VNS Photo
What do you think about the current situation of the COVID-19 pandemic in HCM City? Besides the three-tier treatment model, what helped bring positive results?
First of all, we saw positive signs in recent weeks. Although the number of infections is still relatively high, the number of serious patients requiring emergency care has decreased and the number of deaths has decreased. There are a number of reasons why we achieved these results.
We have consolidated treatment facilities on all levels, particularly the establishment of the intensive care units and joint efforts and support from tens of thousands of health workers.
Intensive care centres offer professional support in directing treatment flow and supporting the second tier o improve the quality of treatment, make appropriate referrals and transfer patients to suitable treatment areas.
Their work was very important and a great success in COVID-19 treatment, helping reduce fatalities.
When analysing the mortality pattern in HCM City, we saw that at times, up to 40 per cent of patients died within 72 hours of admission. This number shows that the emergency access to the patient was late. Because it was late, it was difficult to save or prolong the patient's life.
Due to the increasingly complicated pandemic, we had to mobilise forces including those from the Ministry of National Defence, the Ministry of Health, volunteers from the Military Academy and medical schools to set up mobile medical teams, mobile medical stations with oxygen supply and proper emergency skills. They helped in screening and classifying patients, and providing emergency assistance to SARS-CoV-2 patients at home.
Patients were quickly treated as soon as we saw signs of oxygen deficiency at homes. As a result, the transfer of serious patients to hospitals reduced greatly and the number of critical cases decreased.
We have also given medicine packages to patients at home and those in quarantine areas.
With the three-tier model, the number of deaths has dropped from less than 200 a day to less than 100. At the peak of the fourth wave in HCM City in early August, there were 340 deaths per day.
We also appreciate the citywide vaccination drive. Up to now, those receiving the first dose has been over 94 per cent, and second dose is continuing to increase depending on availability.
Finally, we mobilised huge forces for large-scale testing around the clock in all corners in the city since August 23.
We still say that to hit the enemy, you have to know where the enemy is first before you can fight it. Once we found COVID-19 patients, we could take measures to stop infections in the community and provide them medicine as well as overseeing their health conditions.
The combination of F0 patient management with the support of mobile medical teams, remote consultation, and the deployment of drug packages has helped HCM City control serious patients and reduce the number of deaths.
This is the correct strategy. We assess that the simultaneous deployment of five groups of measures brought the pandemic in the city to the positive current situation. This is also a lesson learned during the pandemic prevention and control in Việt Nam. —  VNS
Three-tier COVID-19 treatment model the right and effective strategy for HCM City: Expert have 1621 words, post on vietnamnews.vn at October 14, 2021. This is cached page on Talk Vietnam. If you want remove this page, please contact us.