Inner Sanctum: You majored in oil painting, but what made you decide to pursue silk painting?
I graduated with a degree in oil painting in 1998. After that, I focused on painting on silk and have held several solo exhibitions of silk paintings.
My oil paintings were often judged as quite bold and difficult to perceive, because when painting with oil, my emotions run a bit crazy and rebellious.
Then in 2006, due to some changes in my personal life, I felt like I was standing on the edge. If I cling to the emotions oil painting brings, I am afraid I will fall down a cliff. So I decided to change to silk painting to help me balance my life thanks to the gentleness of the technique and its characteristics.
I also keep in mind that making art cannot follow a familiar path, but must always explore and experiment with different materials and different themes. Fortunately, so far I have found myself very suitable for silk paintings and "favoured" by silk paintings.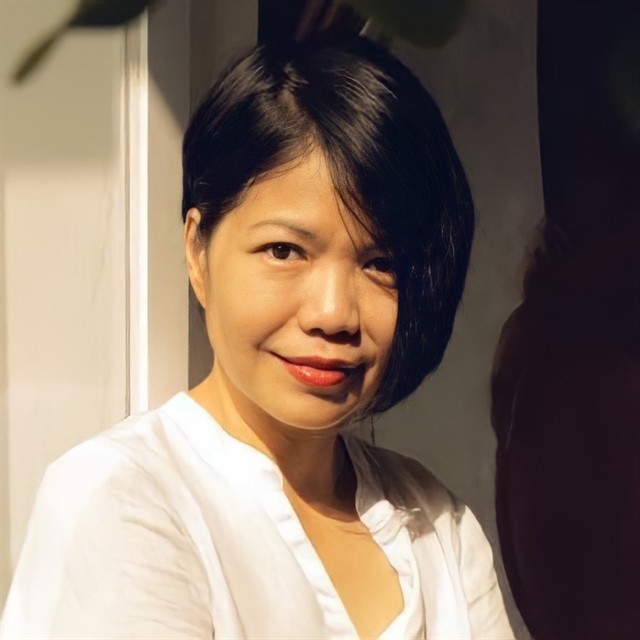 Silk painter Nguyễn Thị Châu Giang. — Photo courtesy of the painter
Inner Sanctum: Can you tell us about the journey of creating the silk paintings for the 10th Asia Pacific Triennial of Contemporary Art?
In 2020, while I was doing set of paintings "Ẩn Hoa 2" (Hidden Flowers 2) for my solo exhibition, I met Zara Stanhope, curator of the exhibition APT10.
We looked at the paintings together, talked about life and especially about the identity of Vietnamese women, which was the main topic that I was pursuing at that time. After a few months, I received an offer to participate.
At this time, the emotional circuit considering the beauty and the identity of Vietnamese women in me was still very strong. At the same time, the COVID-19 pandemic had started raging in the world, with bad news about the death of many people or the collapse of the economy; it made me feel that this life is too fragile, impermanent. There has been so much pain and loss, birth and death and separation. In order to live, it is necessary to have a strong will.
So I combined the ideas of ​​my painting series "Ẩn Rồng" (Hidden Dragon) in my 2018 solo exhibition and the series Hidden Flowers 2 in 2020 to create two sets of paintings including five big silk paintings for APT10.
These five silk paintings are painted on two sides, hung from the ceiling so that they can interact with each other as well as interact with the audience, breaking with the traditional method of viewing a silk painting.
Inner Sanctum: Silk is a difficult material to handle because the artist cannot erase the paint over and over on the surface. Did the choice of painting on silk cause you many difficulties in the creative process?
As you mentioned, painting on silk is more difficult than oil on canvas because it is impossible to smear, erase and draw, so a wrong stroke can affect the whole painting.
At first, I had some difficulties in colour processing, because I was a layperson and had an oil-painting mindset. The colour layers I drew were thick and opaque. Painting on silk requires meticulousness, patience, and emotion.
During the working process, I had to learn a lot from colleagues. The continuous experience has helped me become much more skilled.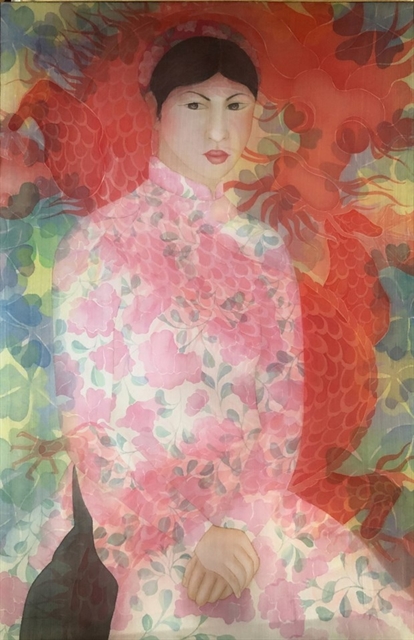 A silk painting by Nguyễn Thị Châu Giang in 2015. — Photo courtesy of Nguyễn Thị Châu Giang/APT10
Inner Sanctum: Many people think that the image of a woman must be associated with something discreet, flexible and gentle. However, the women in your paintings are liberal, open and integrated with the symbol of power — the dragon. Why is this?
I am a person of contradictions. My life is quiet. I quickly shed tears and handle everything according to nature.
At first glance, everything seems very gentle and simple. But deep inside my heart is a whole mass of contradictions, longing for freedom and a hidden strength that can help me solve or overcome difficulties when needed.
I think Vietnamese women are just like me. They look fragile, weak and ready to endure patiently and sacrifice for their husbands and children, but they hide their boundless inner strength. I want to be able to express that deep, strong inner part of them, not just their gentle and shy beauty on the outside.
Inner Sanctum: Looking at your profile page, there is a lot of sharing about your family. Does being a woman, a wife and a mother have much influence on your process?
It is not correct to say there is no influence, because I am also a person who always wants to take care of my family, so my time for painting is not generous.
With other painters, they may skip meals, paint round the clock, but I still have to deal with taking the children to school, taking care of family meals and other unnamed things. But fortunately, I have the support of my husband and children to do art, and emotionally they have provided a lot of inspiration for my work.
Inner Sanctum: At the 10th ATP exhibition in Australia, what do you expect from your art?
When I draw a painting, I always put all my thoughts and feelings into it, and never really expect it to help me become more famous or earn more money.
I draw because I need to free myself from my torments, conflicts and worries. Painting is really like my only confidant, because only with painting can I be myself the most. So I don't really expect anything in terms of what the art work will bring to me.
A Singaporean creator, Jimmy Chua, sent me a message saying the APT was proof to everyone that your painting had been recognized.
I really hope that my silk work when I step out into the world in such a vast sea will also be loved and recognized. VNS
Silk paintings by Vietnamese artist set for prestigious exhibition have 1128 words, post on vietnamnews.vn at October 24, 2021. This is cached page on Talk Vietnam. If you want remove this page, please contact us.