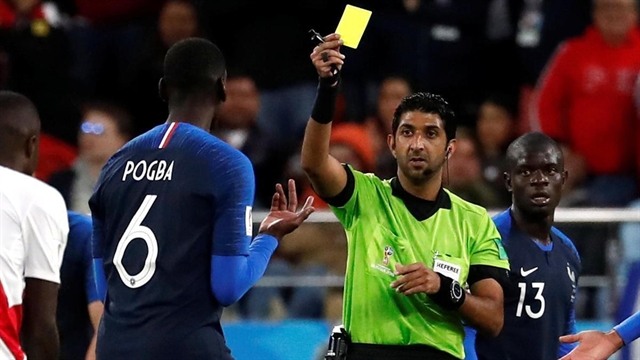 Mohamed Abdullah Hassan, the referee in the match against China, will officiate Việt Nam once again in both the matches of the 2022 World Cup qualifier in November. AFP/VNA Photo
HÀ NỘI — Three out of four Việt Nam's World Cup qualifier matches were controlled by referees from the Middle East, which has raised concerns about the fairness of those games among the public.
In the first match against Saudi Arabia on September 3, referee Ilgiz Tantashev from Uzbekistan gave a penalty for Saudi Arabia and sent off Việt Nam defender Đỗ Duy Mạnh, leading to the national team's 1-3 loss.
In the 0-1 defeat against Australia, Qatar's referee Abdulrahman Ibrahim Al-Jassim denied a penalty for Việt Nam after Nguyễn Phong Hồng Duy's shot hit the outstretched arm of Australia's defender Rhyan Grant.
After the match, the Việt Nam Football Federation (VFF) sent a letter to FIFA President Gianni Infantino and AFC President Salman Bin Ibrahim Al-Khalifa, asking the organiser to improve the quality of match officials after many decisions against Việt Nam.
The last two matches against China and Oman were controlled by Mohamed Abdullah Hassan from the UAE and Jordanian referee Makhadmeh Adham Mohammad Tumah. Việt Nam lost both matches.
After the 1-3 loss to Oman, Việt Nam's manager Park Hang-seo expressed his dissatisfaction with the refereeing, especially VAR technology.
In that match, Việt Nam conceded two penalties with a five-minute VAR check after Nguyễn Tiến Linh put the ball into Oman's net.
"In the last four matches, I have many things to say about the referees. This match the referee was inconsistent. He should judge himself after making such decisions during the game," said the South Korean manager.
These disappointing results also raised concerns among the Vietnamese public about AFC's decision of appointing so many referees from the Middle East as well as its fairness towards the players.
However, according to Dương Văn Hiền, head of the VFF Referee Committee, this decision is "almost like a must".
"It's basically based on COVID-19 restricting regulation," Hiền told Thethao247.
"The outbreak of the pandemic has put AFC under a lot of pressure and there are difficulties in assigning and supervising referees in the matches at this final stage of the World Cup qualifier.
"Many countries with quality referees such as South Korea, Australia, Singapore and Thailand cannot provide many referees because of difficult immigration and isolation regulations in those countries.
"As we can see, Australia and China couldn't play at their home grounds and had to travel to the Middle East because these countries are very open about immigration regulations.
"This is also the reason why referees from countries such as the UAE, Syria, Bahrain are always ready.
"In general, the fact that referees from this region appear a lot in Việt Nam's matches in the third qualifying round of the 2022 World Cup is understandable," he added.
FIFA has just announced two teams of referees to control Việt Nam's two matches at Mỹ Đình in November.
Accordingly, the referee who controls the match between Việt Nam and Japan on November 11 will once again be the UAE's Mohamed Abdullah Hassan.
The assistant referees are also from the UAE including Mohamed Ahmed Yousef Abdulla, Hasan Mohamed Hasan Abdulla and Adel Ali Ahmed Khamis.
The head of the VAR will be Alieibi Ammar Ali Abdulla Jumaa from the UAE. His VAR assistant referee is Hattab Hanna from Syria. VNS
Public concerns raised over quality of referees have 781 words, post on vietnamnews.vn at October 27, 2021. This is cached page on Talk Vietnam. If you want remove this page, please contact us.