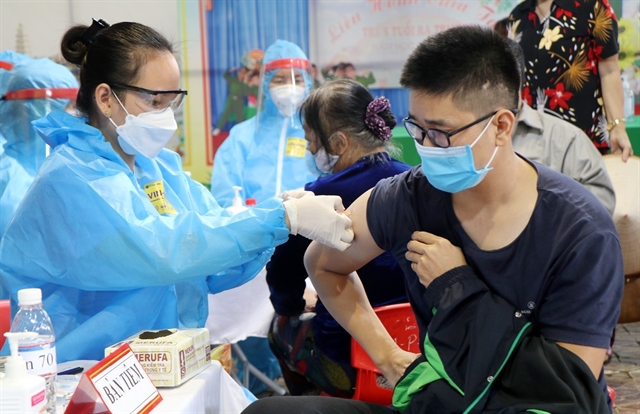 A health worker gives a COVID-19 vaccine to a resident in Việt Trì City in northern Phú Thọ Province on Thursday. VNA/VNS Photo
PHÚ THỌ – Prime Minister Phạm Minh Chính has urged local authorities of Phú Thọ, Sóc Trăng and Cà Mau provinces to quickly detect new COVID-19 clusters and conduct the pandemic risk level assessment on the smallest possible scale.
The provinces were told to take appropriate measures for each level and each area in these localities.
Speaking at an online conference with three local authorities on Wednesday night, Chính, who is also head of the National Steering Committee for COVID-19 Prevention and Control, said they needed to focus on three key measures, including contact tracing and quarantine, large-scale testing, and the three-tier treatment model to put the outbreak under control.
The three localities should evaluate the COVID-19 risk level on the smallest scale for proper medical and administrative measures and safe adaptation to the pandemic, he said.
Reports from three provinces showed that all new clusters have been tracked and brought under control.
Phú Thọ Province reported 23 new clusters with 50 cases on Wednesday. The infection source remained unknown.
The number of new COVID-19 cases was forecast to increase in the next few days. The province has received 65,100 doses of COVID-19 vaccine and has allocated it to medical centres of districts, cities and towns, and central hospitals for large-scale vaccination.
Việt Trì City and Phú Thọ Town, the two hot spots of the pandemic, have received 15,520 and 14,910 doses respectively. It was expected that more 42,020 people would get the first dose and 23,071 people the second dose.
In Cà Mau Province, 45 new infections were reported on Wednesday while that number in Sóc Trăng Province was 148. These cases were either community cases or returned from pandemic-hit areas.
Cà Mau City has expanded the quarantine areas of Ward 4 to prevent the spread since midnight on Tuesday until further notice.
The localities have applied three key measures of zoning and isolating, conducting large-scale testing, and giving proper and intensive treatment to avoid fatalities.
At the meeting, PM Chính assigned the Ministry of Health to organise training for localities across the country on the Government's Resolution 128/NQ-CP and the Ministry's Decision No 4800/QD-BYT on COVID-19 risk level assessment. The ministry would be in charge of shifting the pandemic level of each locality according to the same criteria applied to all areas.
He has requested localities to focus on strengthening medical capacity at all levels, especially treatment capacity at the grassroots level, which could classify and treat patients in the early stages. The progress of vaccination coverage must be the priority, especially in high-risk areas, he said.
Chính said they should coordinate closely and more effectively in transporting people from one locality to another to ensure safety. VNS
PM urges Phú Thọ, Sóc Trăng and Cà Mau to quickly put the clusters under control have 495 words, post on vietnamnews.vn at October 21, 2021. This is cached page on Talk Vietnam. If you want remove this page, please contact us.