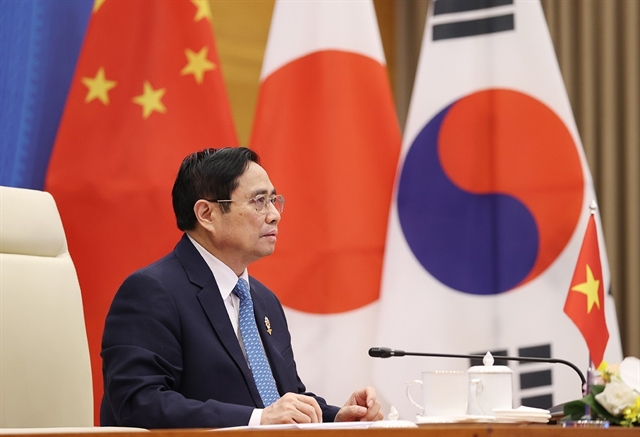 Prime Minister Phạm Minh Chính attends the 24th ASEAN+3 Summit on Wednesday via teleconference. — VNA/VNS Photo
HÀ NỘI — Prime Minister Phạm Minh Chính proposed China, Japan and the Republic of Korea (RoK) support ASEAN countries in transferring manufacturing technology of COVID-19 vaccines and treatment medicine.
Chính made the proposal on Wednesday at the 24th ASEAN+3 Summit held via teleconference.
ASEAN leaders, Chinese Premier Li Keqiang, Japanese Prime Minister Fumio Kishida, RoK President Moon Jae-in and ASEAN Secretary General Lim Jock Hoi attended the event.
ASEAN leaders said they highly appreciated the positive progress in ASEAN+3 co-operation in the past, agreeing that it is necessary to effectively implement the ASEAN+3 Co-operation Work Plan.
ASEAN+3 countries agreed to prioritise co-operation in responding to the pandemic, minimising socio-economic impacts, promoting comprehensive recovery towards sustainable development, and consider lifting travel restrictions between ASEAN countries when conditions are safe.
The countries pledged to continue promoting trade liberalisation and regional economic integration, and soon ratify and implement the Regional Comprehensive Economic Partnership (RCEP).
China, Japan, and the RoK affirmed their continued support for ASEAN initiatives on COVID-19 prevention and control such as the ASEAN COVID-19 Response Fund, the ASEAN Regional Reserve of Medical Supplies and ASEAN Overall Recovery Framework.
The three countries also pledged to continue to provide vaccines and medical equipment to ASEAN countries, strengthen co-operation in vaccine research and development towards improving vaccine autonomy in the region, and support ASEAN to improve preventive medicine capacity in response to future disease outbreaks.
Vietnamese PM Phạm Minh Chính proposed ASEAN+3 countries should continue to promote their strengths in the crisis response, especially when the COVID-19 pandemic is still getting complicated. They should also foster multilateral co-operation in order to effectively control the pandemic, maintain stability and restore regional socio-economic development.
He suggested that the ASEAN+3 countries need to promote a new, flexible and safe approach to adapt to the new normalcy.
"It is necessary to focus on strengthening co-operation to improve capacity, especially the ability to be autonomous in vaccines and treatment drugs," he said.
In order to overcome the impact of the pandemic, recover and sustainably develop socio-economy, the Prime Minister emphasised ASEAN+3 needs to co-operate in stabilising the macroeconomic-financial foundations, promoting digital transformation and supporting people and businesses.
He proposed ASEAN+3 work closely to effectively exploit free trade agreements, have substantive and effective solutions to restore businesses, especially small and medium enterprises, improve skills for ASEAN workers and strengthen regional financial stability mechanisms.
He noted that ASEAN+3 co-operation should continue to make positive contributions to maintaining regional peace, security and stability, and proposed China, Japan and the RoK support the ASEAN efforts in building the East Sea into a sea of ​​peace, friendship and co-operation
Chính also affirmed ASEAN's willingness to engage in and contribute to the dialogue and co-operation for sustainable peace, humanitarian and non-nuclear issues and denuclearisation of the Korean Peninsula.
Thai Prime Minister Prayut Chan-ocha said ASEAN hoped that the RCEP will come into force soon.
He proposed building regional long-term resilience based on lasting peace and said Thailand encourages all stakeholders to engage constructively in and maintain ASEAN centrality.
South Korean President Moon Jae-in said free trade and multilateral trade agreements are important to restore pandemic-disrupted global supply chains, Yonhap reported.
"As an axis of global vaccine production, the Republic of Korea will make its best efforts for a fair and swift supply of vaccines," Moon said.
Japanese Prime Minister Fumio Kishida added that Japan will steadily promote co-operation for the ASEAN Outlook on the Indo-Pacific, an initiative aimed at maintaining peace, freedom, and prosperity in the region, and that it shares the same values as Japan's vision of a free and open Indo-Pacific, cited Kyodo .
At the end of the summit, the ASEAN+3 leaders adopted the Statement on Co-operation on Mental Health Among Adolescents and Young Children. — VNS
PM proposes co-operation priorities at 24th ASEAN+3 Summit have 928 words, post on vietnamnews.vn at October 27, 2021. This is cached page on Talk Vietnam. If you want remove this page, please contact us.