PM Pham Minh Chinh has chaired a webinar discussing Vietnam's measures in boosting post-pandemic economic recovery, adapting to the COVID-19 pandemic, overcoming economic disruption and strengthening locality-to-locality connectivity.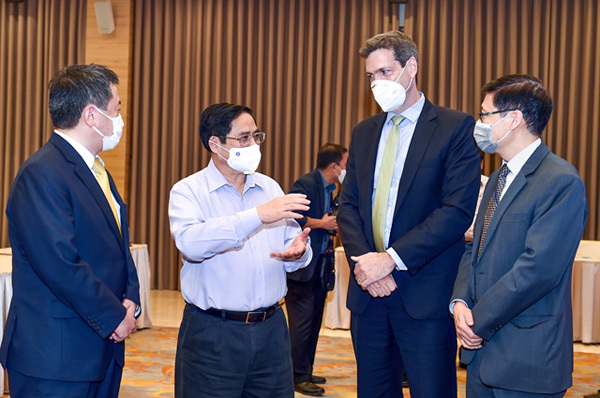 Prime Minister Pham Minh Chinh discusses measures to speed up economic recovery and for the country to adapt to and overcome obstacles raised during the pandemic at a meeting with business leaders and experts in Hanoi on Wednesday. — Photo baochinhphu.vn
During the webinar, business leaders and experts said that over the past year, Vietnam has managed to contain the pandemic and maintained socio-economic development.
Foreign experts and representatives of international organisations in Vietnam expressed their optimism about the country's development prospects.
"Despite the shortage of global vaccine supply, Vietnam has managed to get a significant amount of vaccines to provide cover for nearly 60 per cent of the population with at least one dose of vaccine, and the government is now working on a post-COVID economic recovery plan," said Andrew Jeffries, Country Director for Vietnam, Asian Development Bank.
The country's speedy vaccination drive plays a big role in reassuring investors and encouraging investments.
"There is sufficient fiscal space as the debt level is only about 56 per cent of GDP and has only marginally increased in the past year, while revenue collection has been performing relatively well," said Carolyn Turk, WB Country Director for Vietnam.
"This is very welcome as it will substantially reduce unnecessary burdens on people and businesses, as well as uncertainty and we know that investors – domestic and FDI – are reacting well to more predictability in the environment," said Turk.
Choi Joo Ho, President of Samsung Vietnam, said the South Korean corporation has been working closely with the central and local government to identify and resolves issues that hindered operations to ensure uninterrupted production in its factories.
The next six months
The pandemic remains complicated and unpredictable and the country is facing a wide range of heavy consequences in all aspects of socio-economic life.
"Because the country's fundamentals are solid, we remain optimistic about the longer-term growth trajectory. Yet, the future will be partially determined by what the government is going to do over the next six months," said Turk.
"We estimate that if the government were able to fully implement its public investment programme in 2021, GDP would increase by 1 to 1.5 per cent," Turk said.
"The next six months from October 2021 to April 2022 when 70 per cent or more of the population is fully vaccinated, is a vitally critical time period," Jeffries said.
Choi urged the Government to establish a safe zone that covers three northern provinces of Bac Ninh, Bac Giang and Vinh Phuc in which mobility of goods and people will be uninterrupted. A similar model should also be established in the south with HCM City – the country's largest economic hub – at the centre and its nearby provinces of Dong Nai, Binh Duong and Long An.
He also called for a standardised COVID-19 safety guide for businesses and said businesses should be informed of any new policy changes at least three days before they are to take effect, saying it will help businesses comply with it more effectively while they plan for production.
Business leaders and experts shared effective anti-pandemic models as well as experiences in removing difficulties to overcome economic disruptions, towards achieving the dual goal in the "new normal".
"There is rising pressure on the banking system to lower interest rates to lend more. But rising non-performing loans, which is currently estimated at around 7 per cent of the total outstanding loans, could weigh on the economic recovery in the medium term," Jeffries said.
He said Vietnam must find ways to borrow domestically to raise sufficient capital for economic recovery as additional resources would be needed.  More importantly, Vietnam must quickly disburse the public investment already allocated as approximately VND250 trillion or US$10 billion of public investment planned for 2021, has not been disbursed.
"Within this context, an urgent and innovative financing vehicle could help fill this gap to support the firms but not put too much pressure on the banks. One of the options can be credit guarantee arrangements for banks as other countries are doing such that the government shares the risk with the bank," said Jeffries. ​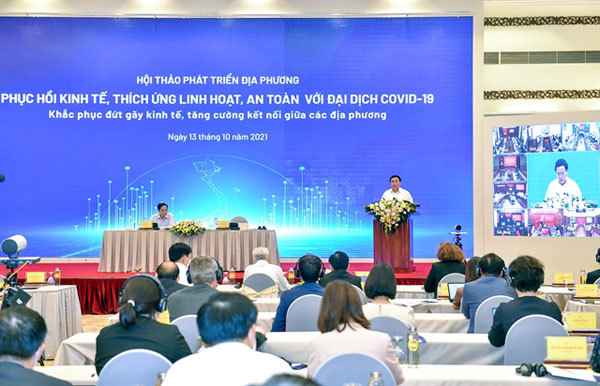 Participants listen to a speaker at the webinar event. — VGP Photo
A new normal
Business leaders and experts agreed with and put forth initiatives to boost economic recovery and flexibly and safely adapt to the COVID-19 pandemic, saying that policies need to be built and performed consistently from the central to local levels.
"It is important to ensure that three vital arteries of the economy will be protected despite any outbreak resurgence. These arteries are the food supply, labour supply, and transportation. Smart normalisation and resumption of transport services are a key enabler to allow flows of goods (including food supply), labour, and services, even in the event of a more controlled social distancing environment," said Jeffries.
He stressed the need for the country to work towards a climate-friendly and climate-resilient economy, including investments in integrated and intermodal transport and logistics to lower transport and logistics costs and increase Vietnam's competitiveness, clean energy, transport, and climate-resilient urban and rural infrastructure.
"An increasing share of the government's spending should be allocated to build back a better Vietnam. As emphasised in the SDGs, this would mean a greener and more innovative Vietnam. This will require a long-term effort that can be initiated by short term initiatives," Turk said.
Dr Kidong Park, WHO Representative in Vietnam, discussed the country's next move in its anti-pandemic efforts.
"We should remember that vaccines are one of many tools available to us and we should use them strategically. Priority must be given to the vulnerable who are at high risk of exposure or developing severe disease. Vaccines should be given for free as it is part of essential health services, which also include COVID-19 prevention and treatment," said Park.
He advised the Government to encourage the 5K message and the other public health interventions. For businesses, it means carefully monitoring, managing and mitigating risks at the workplace.
"We would like to emphasise the importance of strengthening health system capacities, particularly provision of essential healthcare and support at the grassroots level across the country. This includes ensuring the appropriate care pathways from home care through grassroots health care facilities to tertiary hospitals," said Park.
"These measures will ensure that the COVID-19 situation will not continue to endanger the population. These efforts will be necessary for adapting and responding to any future public health emergencies, as well as in moving the country closer to universal health coverage," Park said.
PM Chinh asked agencies to collect feedback at the event to serve the building of policies and implementation of measures.
He stressed that nobody is safe when others are still contracting COVID-19 and no country is safe when other nations in the region and the world are still fighting the pandemic.
As the pandemic will continue in the country and the region, he asked for maintaining prevention and control measures, maintaining macro-economic stability, increasing supply to recover the labour market, and seeking ways to reduce input costs.
The PM said the Government will continue directing agencies and localities to ensure social welfare for residents, maintain social safety and order, tackle difficulties faced by enterprises, develop production and trade in the spirit of "harmony of interests and sharing of risks", contributing to the nation's socio-economic development.
Minister of Planning and Investment Nguyen Chi Dung said his ministry has been working closely with other Governmental agencies, local authorities, business associations and industry experts to build a comprehensive programme to steer Vietnam's economic recovery in 2022-23, to connect supply and demand and to support businesses and the public, especially vulnerable groups in the post-pandemic period.
Source: Vietnam News
Next six months vital for economic recovery: experts have 1332 words, post on vietnamnet.vn at October 15, 2021. This is cached page on Talk Vietnam. If you want remove this page, please contact us.