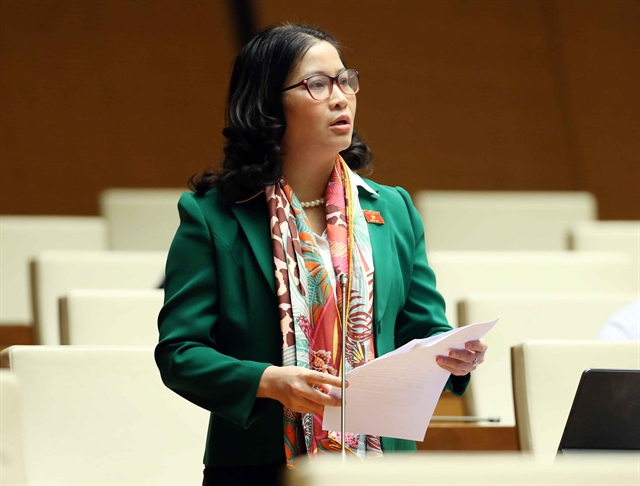 NA Deputy Nguyễn Thị Lan from Hà Nội debates exclusive policies for the development of four provinces and cities during the second plenary session of the 15th National Assembly on Wednesday. VNA/VNS Photo
HÀ NỘI – The majority of National Assembly deputies agreed to issue resolutions on exclusive policies and mechanisms for the development of Hải Phòng City, and Nghệ An, Thanh Hóa and Thừa Thiên-Huế provinces on Wednesday.
At an online conference during the second session of the 15th National Assembly, most NA deputies agreed that six groups of policies for Hải Phòng City, Nghệ An and Thừa Thiên Huế and eight groups of policies for Thanh Hóa Province in the resolution would be an opportunity for these localities to make breakthroughs and promote their own potential and advantages.
Explaining the reason for selecting the two central provinces of Thanh Hóa and Nghệ An, the NA deputies said Thanh Hóa connected three regions of the Red River Delta, the northwest, and the north-central region, while Nghệ An had more than 400km of borders with many ethnic minorities living in the area.
The selection of these four localities would boost economic development and ensure national security.
NA deputy Nguyễn Minh Sơn from southern Tiền Giang Province said the draft resolution concretised the Party and State's policy in promoting the potential and strengths of these localities.
He noted that the Government should soon issue guidelines for the implementation of exclusive mechanisms and policies and at the same time monitor and supervise them to ensure efficiency.
The Government should direct ministries and sectors to promptly work with localities to handle problems and localities needed to promote the spirit of self-reliance when implementing the tasks, he added.
Debating the opinion that the piloting of exclusive mechanisms and policies for the development of these localities would possibly create an 'ask and give' mechanism, NA deputy Nguyễn Thanh Vân from southernmost Cà Mau Province said each locality had its own potential and advantages, which require separate legal corridors for development.
NA deputies also discussed a number of specific mechanisms and policies on financial management, land planning and management and other administrative procedures.
According to the draft resolutions, the central provinces of Nghệ An and Thừa Thiên-Huế will be entitled to receive loans with a total outstanding balance not exceeding 40 per cent of their budget revenues while the percentage is 60 per cent for northern Hải Phòng City and the central province of Thanh Hóa.
Under the Law on State Budget, this rate was not more than 20 per cent.
NA Deputy Bùi Thị Quỳnh Thơ from central Hà Tĩnh Province said it was necessary to clarify the loan balance limit, its use plan, expected economic efficiency, loan repayment source, and debt repayment capacity of the localities.
She cited that the maximum loan balance of Thanh Hóa in 2021 was VNĐ2.63 trillion (US$115.2 million), but the loan balance at the end of 2021 only reached 27 per cent of the allowed loan balance.
If the rate of 60 per cent was approved, the allowed loan balance would reach VNĐ7.9 trillion – 11 times higher than the current rate.
Most NA deputies agreed with the policies on piloting the collection of fees. These policies would take effect on January 1, 2022 and will be valid for five years.
Speaking at the conference, Minister of Planning and Investment Nguyễn Chí Dũng stated that the principles for selecting pilot localities must be consistent with development guidelines, directions, tasks, constitutionality, legality and feasibility.
In addition, a number of exclusive mechanisms and policies must be consistent with the budget balance and not affect overspending, leading to exceeding the public debt ceiling.
Dũng said the loan balance policies must be suitable with development investment needs, capital absorption capacity, borrowing and debt repayment capacity of each locality.
This debt balance rate would be different in each locality. For example, the rate in HCM City and Hà Nội would be 90 per cent while that of Nghệ An and Thanh Hóa would be 40 and 60 per cent, respectively.
The increase in the outstanding loan balance of these localities would be controlled within the limit. Overspending of the State budget and the public debt ceiling would be reviewed and adjusted annually by the National Assembly.
In reply to the use of outstanding loans in some localities, he said the new mechanism would help localities actively calculate their needs, arrange loan sources, and carry out development projects.
In terms of collection of fees, Dũng said local People's Councils would be assigned to implement the issue. Each locality could adjust the different amounts of fees as long as the issuance of these fees had a practical roadmap.
Regarding the free trade zone of Hải Phòng City, Dũng said the Government would direct agencies to coordinate with Hải Phòng City to study the issue in the future, he said. – VNS
NA discusses exclusive policies for the development of four provinces and cities have 1020 words, post on vietnamnews.vn at October 28, 2021. This is cached page on Talk Vietnam. If you want remove this page, please contact us.