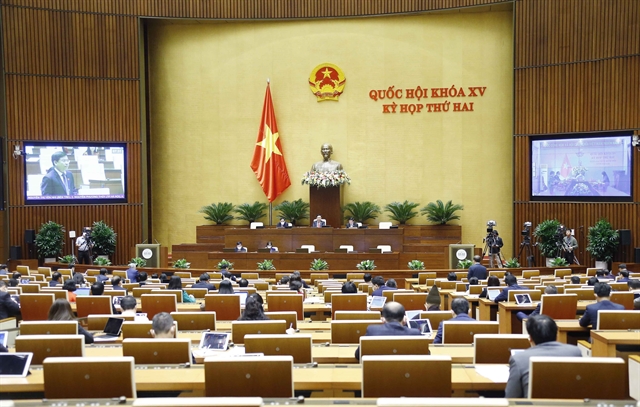 A view of the National Assembly discussions on Monday. — VNA/VNS Photo
HÀ NỘI — The National Assembly continued their working session on Monday, with discussions centred on the amendments to the Law on Criminal Procedures which is set to be voted on for adoption in this session.
The amendments are mostly about realising Việt Nam's commitments when it acceded to the Comprehensive and Progressive Agreement for Trans-Pacific Partnership (CPTPP) and making changes to adapt to the COVID-19 era.
The CPTPP said member countries' relevant authorities could initiate legal action against violations of industrial property rights or trademarks without the need for a lawsuit from a third-party or from the infringed rights' holder. This is in conflict with the current law on criminal proceedings.
Most agreed that changes to the law are needed to fit CPTPP provisions, but the handling of violations of geographical indications (as part of the industrial property rights category) – which is usually considered a less serious offence under the current Vietnamese law – should remain the same, i.e. legal action should start only when there is a request for such action from the infringed.
Investigation, proceedings halted
The revised code also seeks to add "unavoidable causes such as natural disasters and pandemics" to the list of probable bases to halt criminal investigation or proceedings.
The reason was that due to COVID-19 pandemic, especially in recent months, many localities have to impose severe lockdowns leading to difficulties in verification and inspection works in the handling of cases notified to the police, or in handling requests to launch criminal proceedings against certain people and organisations.
This caused prolonged delays to the efforts to prove whether one is guilty as charged or whether to prosecute a case or conclude an investigation.
The Supreme People's Court argued that with COVID-19 here to stay, while other threats such as climate change are likely to cause significant disruptions, the addition of such causes for halting criminal investigations, prosecutions or proceedings is needed not only from a legal standpoint, but also to ensure human rights.
When the investigation and proceedings are not possible, the justice authorities will for that duration of pause no longer apply prevention and coercive measures against the accused, and at the same time, create a procedural mechanism for the related agencies to continue to manage and follow the cases.
In order to ensure uniform implementation and avoid abuse of this new mechanism, Procurator General of the Supreme People's Procuracy Lê Minh Trí proposed the National Assembly assign the Supreme People's Procuracy to preside over and coordinate with relevant agencies to detail regulations with regards to this matter.
The National Assembly deputies also discussed the new item of allowing commune-level police to conduct initial investigation or verification upon receiving criminal reports or denunciations from the public, a role which has not been included in the current laws detailing their responsibilities.
The change is expected to reduce the workload on public security units at the higher administrative level (district and above) and make for timely handling of cases when the crime/violation has just started.
Minister of Public Security Tô Lâm said given the size of many communes now, waiting for the case to reach district-level is no longer a feasible option, especially in dealing with pressing security and order issues to local residents.
In the past two years, the ministry has deployed 45,000 official police officers – 50 per cent attaining bachelor's degrees, 71 per cent having experience in investigation or criminal investigation – to all communes in the country.
From October 1, 2017 to June 2021, commune-level police handled about 283,000 reports of crimes and offences in their jurisdictions, mostly theft, assault, and public disorder problems, which needed to be addressed immediately, Lâm said. — VNS
NA discusses amendments to criminal procedures law, with CPTPP and COVID-19 in mind have 871 words, post on vietnamnews.vn at October 26, 2021. This is cached page on Talk Vietnam. If you want remove this page, please contact us.