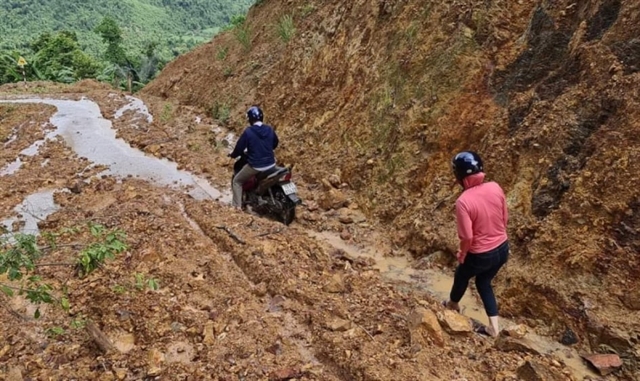 Teachers travel two or three hours on bumpy and slippery roads to Lâm Thủy Commune in central Quảng Bình Province's Lệ Thủy District in order to give in-person instruction for poor disconnected students in the village. Photo vov.vn
HÀ NỘI – More than a month after the start of the new school year in early September, many students living in disadvantaged and border areas are still struggling with online learning due to poor internet connections and a lack of equipment.
In the border area of Lâm Thủy Commune in central Quảng Bình Province's Lệ Thủy District, students have stopped going to school as usual due to the COVID-19 pandemic.
However, they can't do distance learning as they lack reliable internet connections or a working computer – the basic tools to participate in virtual lessons from home.
To help students continue their education, teachers have travelled to students' homes and brought textbooks, notebooks and helped them with self-study at home.
Bạch Đàn Village is only about five kilometres from the centre of Lâm Thủy Commune, but the road becomes uneven and slippery during the rainy season, making it hard for local people to travel.
Over the past four months, Hồ Thị Thanh Huyền and Hồ Thị Son, two sisters studying at Quảng Bình Province's boarding high school were unable to go to school.
Huyền, an 11th grader, said the two sisters attended virtual classes from a treetop on a hill to get an internet signal.
"There are no internet connections in our village, so we climb up here and put up a tent with the hope of being connected and catching up with our classmates," she told the online newspaper vov.vn.
There are nearly 60 households in Bạch Đàn Village, and 70 per cent of them are living in poverty. The majority live on wet rice and cassava.
Although struggling to earn a living, parents always care about their children's education. Some managed to get second-hand laptops or computers for their children.
Hồ Thị Lài, mother of the two sisters, spent all her savings to buy two smartphones for her daughters before she heard the news that they would study online for the next three months.
However, learning remotely is not only about having good devices.
Hoàng Lý, chairman of Lâm Thủy Commune's People's Committee said students faced more difficulties in digital learning. Even when students had computers or smartphones, online classes were challenging as they lost their internet connection very often.
On stormy days, internet access seemed to be impossible, he said. The committee itself found it hard to connect to the head of the village as the village was isolated by landslides.
To ensure students get a good education, some teachers have volunteered to travel to the villages, bringing textbooks and helping students with new lessons once a week.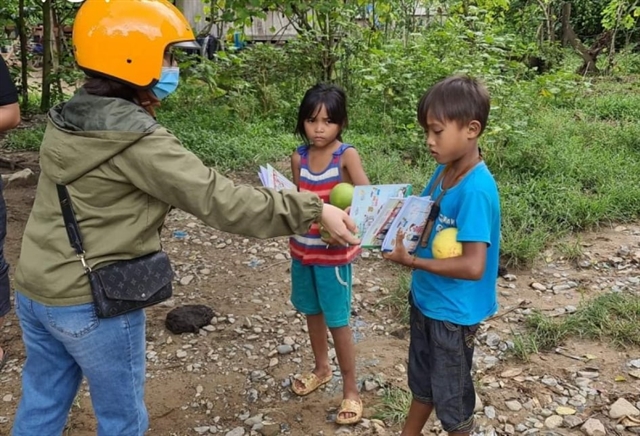 A teacher brings textbooks and notebooks to students in the village.
Nguyễn Văn Hiếu, teacher at Lâm Thủy ethnic minority boarding school, said learning devices were hard to access and poor internet connection made it impossible to learn everything online this way.
He offered in-person instruction, and reached out by guiding students on how to self-study. He summarised the basic knowledge and sent copies to students every week.
Hồ Thị Dung, a seventh grader at the boarding school, said the teachers' motorbikes and shoes were all covered in mud every time they approached the village.
"Previously, they helped take us to school on rainy days and now they bring us lessons while we study online so we won't get off track," she said.
Recently, the provincial authority has worked with Viettel Quảng Bình Branch of Viettel Group to survey the location for a mast to ensure 4G reaches the village.
Hồ An Phong, vice chairman of the provincial People's Committee, said the coverage would help online studying and ensuring rescue work, security and forest protection in the area.
He said the committee has received support from enterprises and individuals in supplying devices for disadvantaged students, so children would be able to study at home. VNS
More support needed to help poor, disconnected students with distance learning have 918 words, post on vietnamnews.vn at October 14, 2021. This is cached page on Talk Vietnam. If you want remove this page, please contact us.