As many as 500,000 workers have left the labor market in the last five months, while a high number of workers have left HCM City for their hometowns, resulting in a serious labor shortage.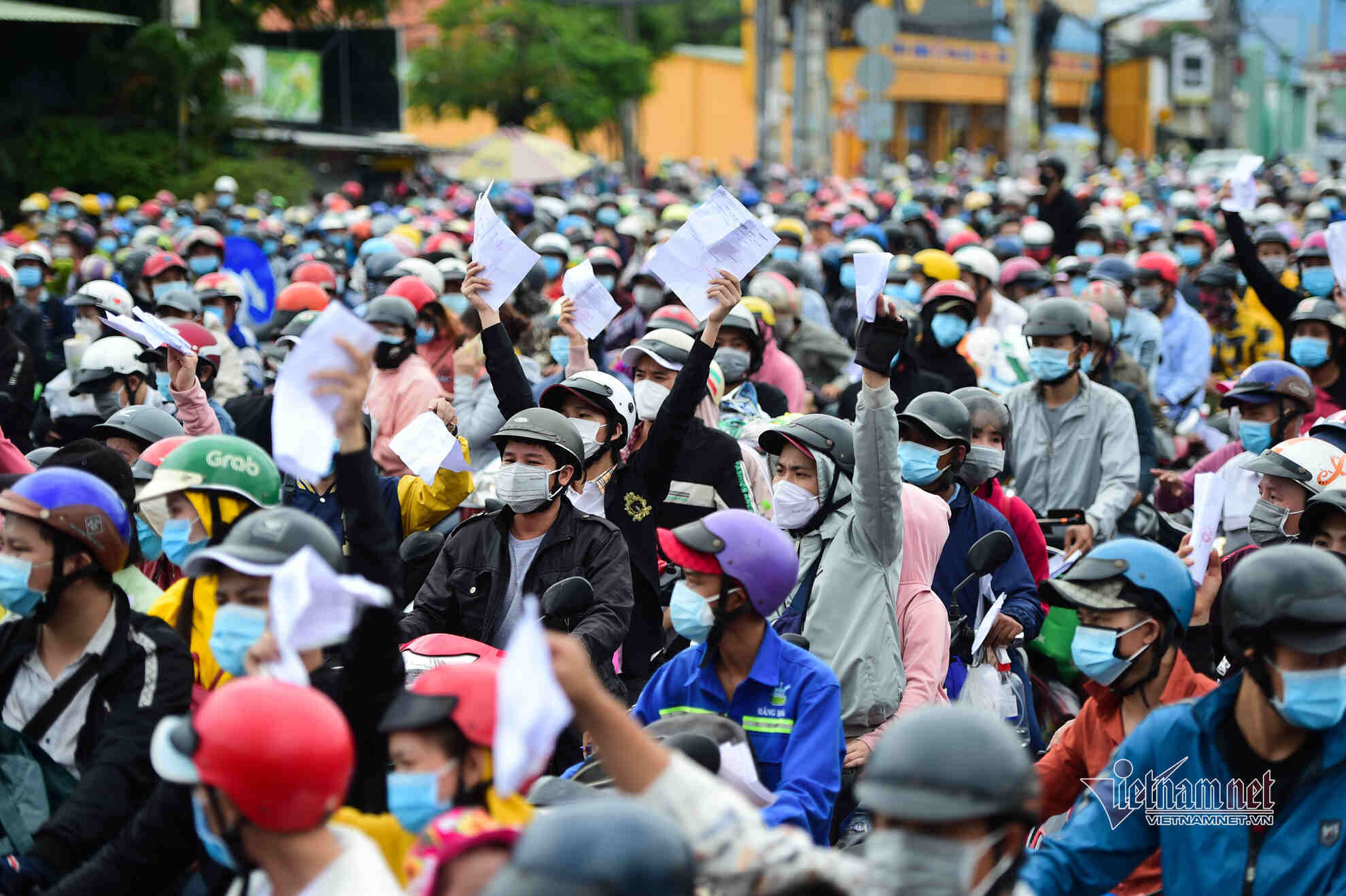 Many workers want to return to their hometowns
Bidrico needs 200 workers for its production line, but now has 80 only. The labor shortage is a problem for the business which plans to increase production capacity in the year-end season.
Bidrico's General Director Nguyen Dang Hien said it's difficult to recruit workers now because of the problems related to safety.
Ho Thi Quynh Chau from Master Sofa International in Binh Duong said the factory is running under the regulations set by the provincial authorities and the number of workers working under the 'three on-the-site' mode is just 20 percent of total.
It's estimated that when the factory runs in the new normal, the figure will be just 60 percent, which means a shortage of 40 percent of workers.
Tran Thanh Son from Song Ngoc Textile and Garment affirmed that all enterprises, both small and big, are lacking workers, at least 10-15 percent.
A research work on creating a driving force for economic recovery in HCM City after the fourth Covid-19 wave conducted by the University of Economics and Law pointed out that job opportunities for freelance workers and private business households will continue to fall sharply after the lockdown.
The researchers warned that if there is no proper solution, the unemployment rate in HCM City and southern provinces will increase sharply.
Meanwhile, the mass flow of workers leaving for hometowns and slowly coming back to HCM City will cause a serious shortage of skilled workers.
The Vietnam Chamber of Commerce and Industry (VCCI), which has analyzed the proposals from 64 associations and hundreds of businesses in September, believes that the fourth wave has had an adverse impact on industrial zones ( IZs) and export processing zones (EPZs), which have a high number of workers, especially in the southern key economic zone. This is threatening to disrupt supply and labor chains, and large-scale production.
Many enterprises with hundreds and thousands of workers have had to suspend production, incurring big losses. Meanwhile, some foreign invested enterprises (FIEs) which have satellite enterprises in Vietnam are seeking alternative vendors.
Bringing workers back
Song Ngoc is planning to set up more production lines as it has taken a lot of orders and considering recruitment more workers for existing production lines, about 50-60 workers in total.
Son said the payment to old and new workers will be the same, with no discriminatory treatment, depending on workers' skills and capability. The company will sign labor contracts with workers after one week of probation.
"There are numerous job opportunities now, while the incomes are stable," he said.
For Bidrico, the enterprise plans to receive 45 workers, including 30 new and 15 old ones. The candidates must have at least one vaccine shot more than 14 days ago, and have two negative results within the last three days.
The enterprise has also promised attractive pay with income higher by 7 percent than before, mid-shift meals, and healthcare service.
If Covid patients only have mild symptoms, they will stay in separate rooms at the factory while waiting for further moves from medical units. For the time being, they will have a special treatment regimen at the enterprise, and receive drugs and vitamins. The enterprise also provides ginger and citronella daily, as well as exhaling equipment to anyone who has demand.
According to VCCI, people and workers are having difficulties travelling between localities, which is a reason behind the serious labor shortage. The organization has suggested that agencies urgently build the 'Covid-19 green card' system, use one platform/app and have data connected among ministries and branches.
It also needs to integrate and connect the data of the Vietnamese green card management system with 'vaccine passport' data, thus creating favorable conditions for foreign specialists to come to Vietnam to work.
Vu Minh Tien from the Vietnam Labor Federation (VLF) said vaccinating workers and ensuring safety for workers coming back to HCMC remains the top priority. Enterprises should also attract workers by offering reasonable pay.
Deputy Minister of Labor, War Invalids and Social Affairs Nguyen Van Hoi said in addition to wage policies, enterprises need to offer appropriate welfare to workers' relatives. If enterprises want to retain workers for the long term, they should reserve land to build houses for them. There should be kindergartens and preschool teachers in IZs and EPZs.
Tran Chung
Labor shortage a headache for businesses in HCM City have 926 words, post on vietnamnet.vn at October 14, 2021. This is cached page on Talk Vietnam. If you want remove this page, please contact us.