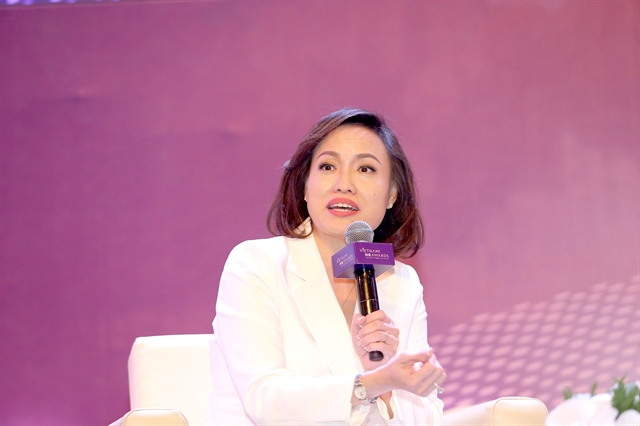 Tiêu Yến Trinh, vice chairwoman of the HCM City Association for Women Executives and Entrepreneurs, and CEO and founder of Talentnet Corporation. — Photo courtesy of Talentnet
Digital transformation in human resources management is not only an urgent requirement in the 4.0 and COVID-19 eras, but also a lucrative investment which can bring immediate benefits and create a competitive advantage for businesses.
Vietnamese businesses are aware of the importance of digital transformation in this sector and have made some investment in it, but many companies lack a solid long-haul strategy to digitise.
Tiêu Yến Trinh, vice chairwoman of the HCM City Association for Women Executives and Entrepreneurs, and CEO and founder of Talentnet Corporation, a leading HR consulting company, speaks to Việt Nam News about that and what businesses need to do to successfully transform the HR sector.
How do you assess the status of digital transformation in HR management by enterprises globally and in Việt Nam now?
As the work and employment markets have been going through a profound shift to virtual, businesses have been putting digital transformation at the top of their development agenda. And the COVID-19 pandemic is the factor speeding up this process as the economy tries to recover quickly.
According to a survey by People Matters Global, businesses' investment in digital transformation in HR management has almost doubled from the pre-pandemic period, and is expected to continue to rise when the pandemic is over.
And in Việt Nam this emerging playground has been welcoming more and more businesses to join.
However, from our experience as a HR services provider, [we find that] many local companies have not got a solid strategy to digitise over the long term, not to mention many who only have a vague idea about what digital HR really is.
Why should the HR sector go digital and what are the benefits of digital transformation in HR management?
The fourth wave of COVID-19 hitting Việt Nam currently has jeopardised its reputation as an attractive and prosperous market for foreign investors.
This seismic effect of the pandemic along with the commitment to reform after signing new trade deals have pushed the country into a rush to effect digital transformation across human touchpoints. When your people change, there is no reason for you to remain the same.
More than that, the demand to digitise brings different pressures on the human workforce because at the end of the day people play the key role in successfully rolling out new business strategies. Simply put, digitising HR management seems to be the foundation for a comprehensive and strategic digital transformation.
Digital transformation in HR, or what we normally call digital HR, is not only an urgent demand of the 4.0 era but also a lucrative investment which can bring immediate benefits and create competitive advantages for businesses.
The advancements in technology and data can result in an extensive human resources system that can boost employee experience and allow them to focus on tasks offering greater value.
For example, some businesses have been using AI technologies for scanning applications and CVs of potential candidates to eliminate bias in the recruitment process. Others use Chatbot, Machine Learning and Big Data to provide better employee services, which eventually enhance staff well-being and increase the talent retention rate.
The potential of digital transformation is huge and only those who are able to unleash digital capabilities can sustain and thrive in this new normal.
More broadly, the commitment to reform and become an attractive destination after signing new-generation trade deals has offered Việt Nam great potential for digital transformation.
These trends have been gradually picked up and adopted by many big companies in Việt Nam and obviously lead to a myriad of impacts on the human workforce as new business strategies need new ways of working and new strategies for managing human capital.
Without appropriate investments in rejuvenating the workforce strategy, businesses cannot ensure sustainable development in the near future.
What are the biggest challenges Vietnamese companies face in the process of digital transformation in HR?
The Global Talent Competitiveness Index ranks Việt Nam 92nd out of 125 countries, but Việt Nam is 45th out of 126 nations in the Global Innovation Index.
This means Việt Nam is at the right time to carry out digital transformation amid favourable factors such as policy support and technological readiness. However, high operating costs and low disruptive response capability seem to be the biggest obstacles preventing Vietnamese businesses from fostering digitisation in their organisations.
To tackle these issues, it is critical that business leaders create the right mindset that transformation is no longer an optimal plus but an absolute must to survive and develop sustainably in this 4.0 age.
Only with a proper perspective do businesses realise those challenges are no longer a matter comparing to the imperative need to weather the current storm.
What do businesses need to do for successful digital transformation?
Companies should first convince themselves why they want to undertake digital transformation, whether it is to solve a persistent operational problem, gain a competitive advantage in the market, or simply to move forward in this constantly changing world. A firm belief by top management in the rationality and urgency of digital transformation is the foundation for a successful digitisation strategy.
Performing digital transformation is like building a machine: both require 'hardware' and 'software' to operate smoothly. Businesses can consider the '3Ps' model which are 'people', 'platform' and 'process' to prepare the hardware and software for digitisation.
People play a pivotal role in transformation plans as they are the creators, implementers and the biggest beneficiaries or worst affected by the process. Therefore, it is crucial that companies should prepare their people for digital transformation with a positive attitude and a sense of responsibility.
They should clearly communicate the pressing needs and employees' benefits when adopting new technologies, constantly help employees reskill and upskill to stay ready for the new now of digital transformation at work and in the market. In doing that, companies should be a thoughtful companion, not an aggressive boss to make sure no one feels left out during the transformation process.
The last 2 Ps, 'platform' and 'process,' must be implemented accordingly and aggressively. The good news is there are a number of ready-to-use solutions available in the market nowadays, which prevents companies from getting bogged down during the transformation journey. And as long as employers and their employees are on the same page in the case of digital transformation, the path will be less rocky and painful. — VNS
HR digital transformation offers businesses benefits, says expert have 1299 words, post on vietnamnews.vn at October 21, 2021. This is cached page on Talk Vietnam. If you want remove this page, please contact us.