With 98.5 percent of people aged 18 and over having been vaccinated and 75 percent of adults fully vaccinated, many people mistakenly believe that HCM City has reached herd immunity.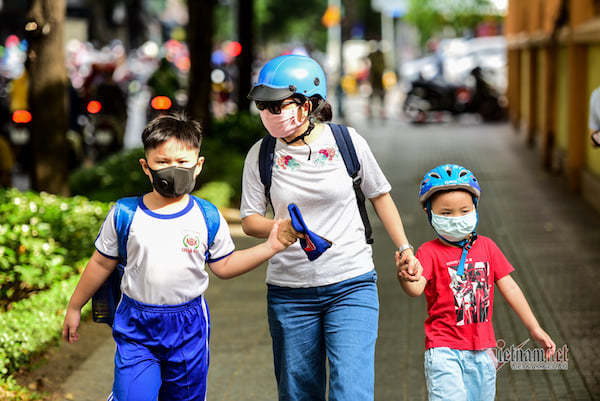 Vu Thi D, 50, in Thu Duc City, recently carried her grandson in her arms and went to the swimming pool of an apartment building.
"I don't intend to get vaccinated. All people around me have got two shots, so there's nothing to worry about," she said, refusing the invitation from local authorities to get vaccinated.
About 10 children were seen playing with their parents and grandparents around the pool. All of them had been vaccinated.
Do Van Dung from HCM City University of Medicine and Pharmacy said vaccinated people are mostly protected from Covid-19, and unvaccinated people are only partially protected because of the lower risk of getting infected from people around them who are vaccinated.
However, he stressed that there are risks that people can still get get infected (even vaccinated people) and an outbreak occurring again.
With the current vaccination rate, and with the Delta variant with an R0 (reproducible rate per person) between 7 and 8, vaccines still cannot help the city reach the herd immunity threshold.
"We still cannot begin the new normal right now," Dung said.
The expert cited the story about Covid-19 in Singapore, saying this is a lesson for HCM City.
Singapore had a vaccination rate of 85 percent when it planned to loosen regulations on lockdown. However, the number of cases increased at that time, so the Government delayed the reopening.
The difference between HCM City and Singapore is that the latter had succeeded with a 'zero Covid' strategy. But near herd immunity in Singapore came from vaccinations, not from immunity from recovered patients.
The loosening of social distancing may lead to an increase in the number of infections. However, as most elderly in HCM City have been vaccinated, the fatality rate will not increase and the healthcare system won't be as overloaded (90 percent of people aged over 65 and more than 80 percent of people aged over 50 have been vaccinated).
Truong Huu Khanh, an epidemiologist, believes that if people get infected and have mild symptoms (and are not hospitalized), this would be an advantage to create natural herd immunity.
Experts agree that a certain number of infections is acceptable, provided that the number remains under control and does not threaten the healthcare system.
In related news, HCM City has announced it is expected to issue a vaccination plan for those between the age of 12 and 18.
Giao Linh
Herd immunity has yet to be reached in HCM City, experts warn have 670 words, post on vietnamnet.vn at October 19, 2021. This is cached page on Talk Vietnam. If you want remove this page, please contact us.