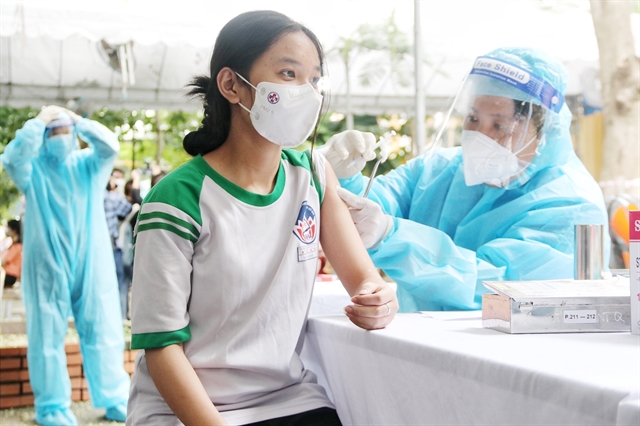 A student in Củ Chi District receives COVID-19 vaccine shot on Wednesday. — VNA/VNS Photo Thu Hương
HCM CITY — HCM City on Wednesday began COVID-19 vaccinations for 1,800 students aged 16-17 in Củ Chi District and District 1, becoming the first locality in the country to vaccinate children.
Around 1,500 students in Củ Chi District and 300 students in District 1 received their first shot. The vaccine used in this campaign is Pfizer/BioNTech shots.
"Safety must be the top priority," the HCM City Department of Health said.
"Health and safety regulations will be strictly followed, with medical personnel standing by to monitor health conditions."
Only children with a written agreement from parents or guardians will be vaccinated. They will have their health checked before the vaccination.
All sites must have mobile emergency teams and ambulances to handle any adverse event after the shots.
The department recommended that parents explain to children the importance of vaccination. They must bring necessary documents as requested and make medical declaration for the children.
The child must be monitored for at least 30 minutes after injection at the site. A certificate of vaccination will be issued along with instructions for monitoring at home, including the phone number of the medical facility to contact when needed.
The department said it plans to expand vaccinations for children citywide.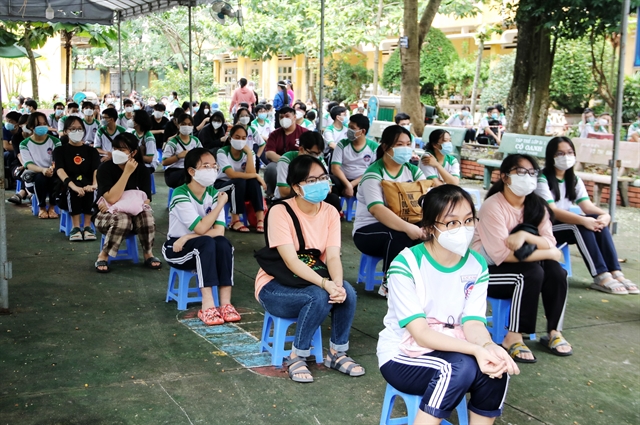 Students wait in line for their turn to receive COVID-19 vaccines. — VNA/VNS Photo Thu Hương
Dương Trí Dũng, deputy director of the Department of Education and Training, said the city health sector would work with the education sector to arrange school personel to help students (aged 12-17).
"Students must be accompanied by four school staff at each injection site."
The city Steering Committee for COVID Prevention and Control earlier announced vaccination plans for people aged 12 to 17, starting with the oldest demographic and moving down age groups.
HCM City has 780,000 children in this age group, it said.
Students will be vaccinated in their schools or safe sites chosen by their schools, while those who do not attend schools will be given their shots at sites around the city.
Children with underlying health conditions will get them at paediatric hospitals and general hospitals with paediatric departments. Those already in hospitals will be vaccinated even if they are from other provinces and cities.
The Department of Education and Training will make a list of students from sixth to 12th grades for vaccinations, while the Department of Labour, Invalids and Social Affairs will make a similar list of children not attending school or living at shelters it manages.
Nationwide campaign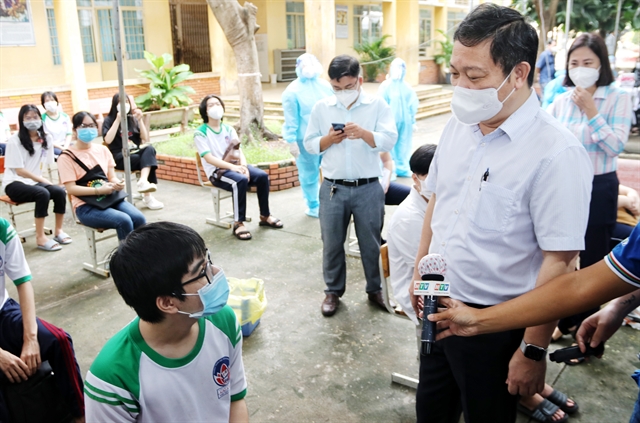 Vice Chairman of HCM City People's Committee Dương Đức Anh visits a vaccination site. — VNA/VNS Photo Thu Hương
Minister of Health Nguyễn Thanh Long on Tuesday announced a nationwide campaign to vaccinate children starting with those aged 16 and 17 and teens from next month with the Pfizer/BioNTech COVID-19 vaccine.
The vaccine has been recommended for children by the World Health Organization. It has been administered to the 12-17 age group in around 30 countries.
The US Food and Drug Administration (FDA) has said the vaccine is suitable for the five-11 age group.
With 8.1 million people in the age group (12 to 17), Việt Nam has purchased 20 million doses of vaccines for children.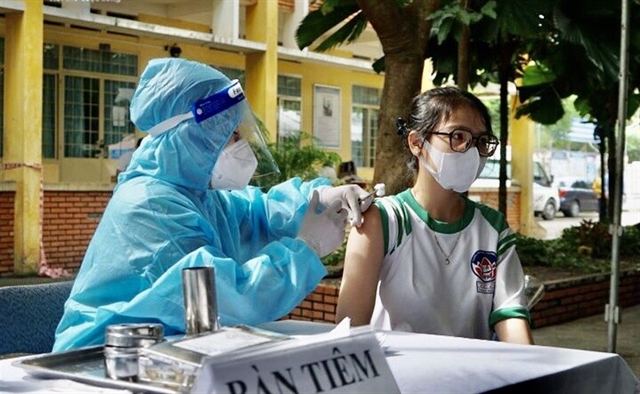 A student receives her first COVID vaccine shot at a vaccination site for children in Củ Chi District. — Photo vtc.vn
The FDA has fully approved the Pfizer vaccine for children aged 16 and older. Children between the ages of 12 and 15 can get the shot under current emergency use authorisation.
Clinical trials show the Pfizer vaccine is 90.7 per cent effective against asymptomatic infection in children.
The ministry plans to begin vaccinations for younger children in 2022 based on more scientific data and updates of vaccines for children.
In addition, Health Minister Long has also urged cities and provinces nationwide to speed up vaccinations for people aged 50 and older. — VNS
HCM City begins inoculating children with Pfizer COVID-19 vaccines have 863 words, post on vietnamnews.vn at October 27, 2021. This is cached page on Talk Vietnam. If you want remove this page, please contact us.