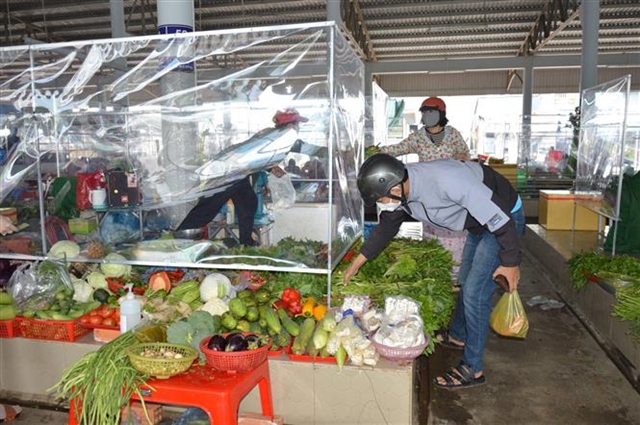 A traditional market in Đồng Tháp Province. According to the Government's new resolution, trade centres, supermarkets, markets, restaurants and eateries can operate at all four levels of the pandemic. VNA/VNS Photo
HÀ NỘI — The Vietnamese government has adopted new guidelines on safe adaptation to the COVID-19 pandemic, which stipulate four levels of risk, and specifies response measures applicable to the corresponding activities of organisations, public agencies, and businesses.
Resolution 128, which provides temporary guidance on "Safe adaptation, flexibility and effective control of the COVID-19 pandemic", was signed by Deputy Prime Minister Vũ Đức Đam.
The guidelines were adopted as Việt Nam has gained experience in dealing with the pandemic while the capacity of the healthcare sector has gradually improved and vaccine coverage is increasing among high-risk groups and urban residents.
The Government said the COVID-19 fight remains a key task in order to protect public health and lives while trying to allow the country to adopt a "new normal" as soon as possible.
Accordingly, the guidelines set out three criteria to assess the level of pandemic risk, including the number of new infections in the community, the coverage of vaccinations, and the ability to receive and treat patients at all levels.
The Guidelines stipulate four levels of pandemic risk as follows: Level 1: Low-risk (new normal) – labeled green; Level 2: Medium-risk – labeled yellow; Level 3: High-risk – labeled orange and Level 4: Very high-risk – labeled red.
Based on instructions of the Ministry of Health, cities and provinces shall decide to raise or lower their COVID-19 risk level. In case of raising the pandemic assessment risk, local authorities shall have to inform citizens and businesses at least 48 hours in advance.
The decision of the pandemic level will be assessed at the lowest level (below the commune level), in order to ensure flexibility and efficiency. On the basis of classification of four risk levels, administrative measures will be applied for management.
Localities, based on the pandemic situation and vaccination rate, shall specify the limit on the number of participants and the scope of activities. Priority will be given to those who have been given the full two doses of vaccine and those who have recovered from COVID-19.
Accordingly, indoor gatherings will not be allowed to take place or only with a limited number of participants in red and orange zones, while in green zones, there's no limit on the number of participants.
Road, inland waterway and sea passenger transport will have to stop or limit operations in red and orange zones. The frequency of such activities must be reduced in yellow zones.
Interprovincial and intra-provincial transportation of goods are allowed to operate at all four levels, with strict adherence to pandemic prevention and control measures.
Ride-hailing services (Grab) are also allowed to operate and must meet the requirements of pandemic prevention. In certain cases, local people's committees may regulate the number of people allowed to use the services.
Production and business establishments, enterprises, cooperatives, households businesses, traffic works, construction, business and service establishments are all allowed to operate at all four levels, but owners must have plans and take responsibility for pandemic prevention and control.
Trade centres, supermarkets, markets, restaurants and eateries can operate at all four levels of the pandemic.
Similarly, restaurants and eateries in red zone must also limit their activities, ensure pandemic prevention and control requirements, and limit the number of people buying and selling at the same time.
Other service businesses such as hairdressers, beauty salons, massage parlours, discotheques, karaoke venues, bars, internet and video game cafes or other establishments have to suspend operations in red zones. Those in yellow and orange zones have to limit their activities and those in green zones can operate normally.
Similar regulations are applied with operations of public agencies, religious sites, resorts, hotels, tourism sites; cultural, art, and sport activities.
Individuals must comply with the 5K message, use apps for medical declarations, vaccination, and use QR codes.
The guidelines will be implemented synchronously nationwide. Localities are allowed to adopt additional measures provided that they are not contrary to the regulations adopted by the central Government.
Localities' additional measures must not constitute a hindrance to the movement of goods, production and business activities, and mobility of people. VNS
Government issues new guidelines on safe adaptation to the COVID-19 pandemic have 928 words, post on vietnamnews.vn at October 14, 2021. This is cached page on Talk Vietnam. If you want remove this page, please contact us.