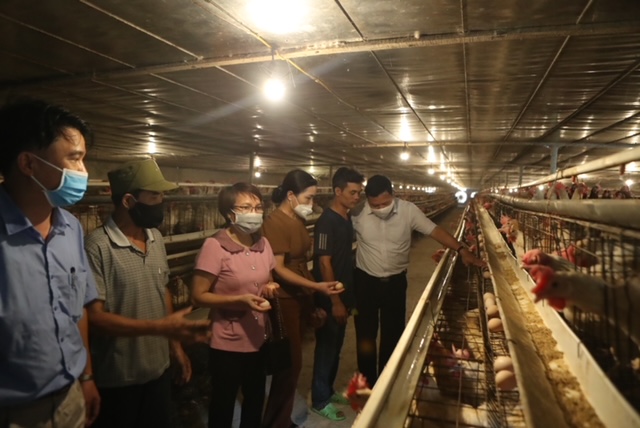 Leaders of Hà Nội Department of Agriculture and Rural Development visited a linkage model of chicken raising for eggs with high economic efficiency in Liên Châu Commune, Thanh Oai District, Hà Nội. — Photo courtesy of Hà Nội Department of Agriculture and Rural Development
HÀ NỘI — Despite the complicated developments of the COVID-19 pandemic, thanks to agricultural production in the direction of safety, clear origin, and signing of product consumption contracts, agricultural product chains in Hà Nội are still promoting efficiency.
Director of An Phát General Agricultural Service Cooperative in Thanh Trì District Lưu Ngọc Nam said that in order to ensure a stable source of safe vegetables for supermarkets, convenience stores and collective kitchens, the cooperative has linked with 120 farming households in Yên Mỹ Commune, Thanh Trì District to produce more than 20ha of clean vegetables.
In addition, it also signed a contract to cover all vegetables produced in accordance with VietGAP standards in the communes of Yên Mỹ, Duyên Hà, and Vạn Phúc.
Director of Hoàng Long Cooperative in Thanh Oai District Nguyễn Trọng Long said that the cooperative supplied more than two tonnes of pork to the market every day.
Thanks to close links with the distribution system, the A-Z pork consumption chain of the cooperative has been maintained stably during the pandemic.
It is expected that people's demand for food will increase by 15-20 per cent at the end of the year.
The cooperative was promoting re-herding and taking good care of the herd to supply the market at the end of the year with a possible output of more than 100 tonnes per month, said the director.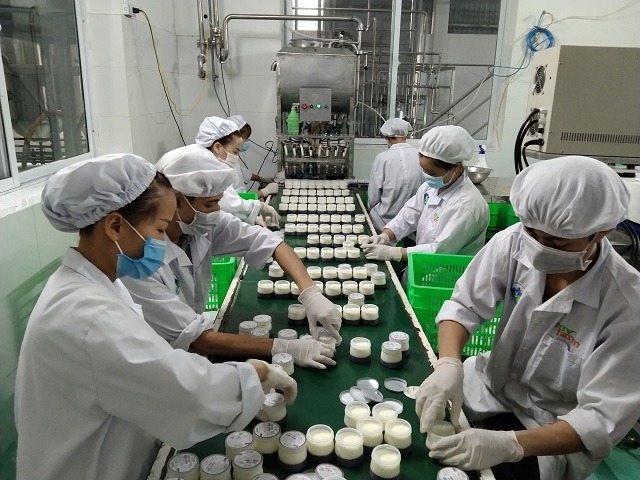 Production line of the Ba Vì Farm Milk Joint Stock Company. — Photo hoinongdan.org.vn
The modern milk production line of the Ba Vì Farm Milk Joint Stock Company has an initial capacity of about 6 tonnes per day.
To ensure the source of raw milk, the company has co-operated with more than 20 dairy farming households in Ba Vì District, purchasing about 1.5-2 tonnes of milk per day for pasteurised milk production and other dairy products.
With a modern double-sealed technology platform, a processing capacity of approximately 2,000 tonnes per year, the company has now launched more than 20 types of products, with a wide consumption market across the country.
Not only bringing good revenue, the linkage model of cow milk production also brings stable income for dozens of livestock households and about 50 employees.
Assessing the effectiveness of the chain of agricultural product consumption, the director of the Hà Nội Agro – Forestry – Fisheries Quality Assurance Sub-Department Nguyễn Thị Thu Hằng said that 141 chain links from production to consumption in Hà Nội was currently showing good results. The production in the linked chain not only helped increase economic value but also contributed to raise income for workers.
Consumers also benefit from agricultural products with clear origin, safety and quality assurance.
Currently, in the context of the COVID-19 pandemic, measures to stabilise the supply of food are very important.
In order for the chains to continue to be effective in all situations, Vice Chairman of Thanh Oai District People's Committee Nguyễn Trọng Khiển said that the district has a policy to support funding for communes to increase training courses, raise awareness and production techniques of typical local agricultural products, build brands, and connect with businesses to sign contracts to consume products.
Nguyễn Văn Chí, director of the Hà Nội Rural Development Sub-Department and deputy chief of the standing office of the co-ordination office of the Hà Nội New Rural Development Programme, said that to support agricultural production and consumption, Hà Nội was trying to implement the form of consuming agricultural products through online channels and social networks in order not to disrupt the production and supply chains of agricultural products in the area.
Deputy Director of Hà Nội Department of Agriculture and Rural Development Nguyễn Ngọc Sơn emphasised that in order to support entities participating in the chain, Hà Nội's agriculture sector was creating favorable conditions for localities to promote the transformation of agricultural economic models in the direction of concentrated farming, thereby forming a large commodity supply chain.
At the same time, it also provided loans from the Hà Nội National Agriculture Extension Center (NAEC) for agricultural producers and developers to apply high technology to ensure a safe supply of agricultural products for consumers. — VNS
Effective linkage chain of safe agricultural production in Hà Nội have 942 words, post on vietnamnews.vn at October 22, 2021. This is cached page on Talk Vietnam. If you want remove this page, please contact us.