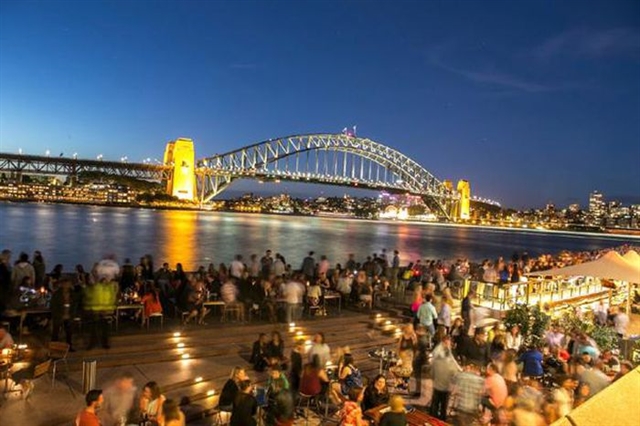 Bình Thuận Province has many advantages to develop its night-time economy. VNA/VNS Photo
HCM CITY – Its tourist attractions, unique culinary culture and pleasant night weather are great assets that will enable Bình Thuận Province to develop its night-time economy, experts have said.
They were referring to the Government's recent approval of a project to develop the province's night-time economy from now through 2030, focusing on culture, entertainment, food and beverage services, and travel.
The project will have policies to encourage enterprises and business households to participate in the night-time economy, including improving their ability to access funding, especially from banks.
Promotion for night-time activities will be stepped up together with building night-time tourism products based on local cultural factors.
It will be implemented in Phan Thiết and Mũi Né in the first phase and in La Gi Town in the next.
Bình Thuận needs to start developing the night-time economy not only for its own benefit but also to become a model for adjacent provinces like Ninh Thuận, the experts said.
Night-time attractions for tourists are still not diverse, and so the average time visitors stay is quite short at two to three days, they said.
The economists said enterprises need to make plans for the night-time economy, ensuring the products are different from daytime ones since consumer behaviours and demands are different.
Việt Nam needs a reasonable legal framework to develop, failing which opportunities would be missed again, experts warned.
Phan Thiết seems set for a boom thanks to imminent transport upgrades, they said.
The first phase of the Long Thành International Airport is expected to be ready by 2025 with an annual capacity of 25 million passengers. Situated 130km from Bình Thuận, it is expected to attract many foreign tourists.
When the Dầu Giây – Phan Thiết Expressway is completed, La Gi will benefit since travel times will be reduced: it will take only 30 minutes to Phan Thiết and 45 minutes to Bà Rịa – Vũng Tàu, the neighbouring coastal province that is only 90 minutes away from HCM City.
But the experts said specific planning is necessary to develop the night-time economy, and in the early stages only large investors and high-quality services should be allowed. – VNS
Bình Thuận set to develop night-time economy to attract tourists have 539 words, post on vietnamnews.vn at October 14, 2021. This is cached page on Talk Vietnam. If you want remove this page, please contact us.