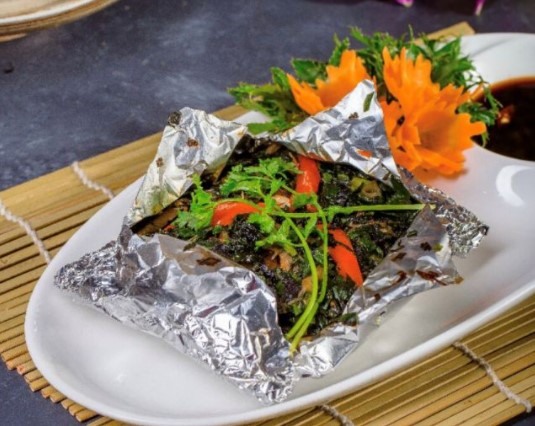 Baked mushrooms
Chef Đinh Quang Anh spent 16 years working as a professional chef in restaurants before he decided to become a vegan chef at his own restaurant. He also runs a Facebook community group "Nghiện ăn chay" (Addicted to being vegan) that has nearly 10,000 members.
Ingredients:
– Chicken leg mushrooms: 2 pieces (70g)
– Brown shell mushrooms: 60g
– Fresh fragrant mushrooms: 60g
– Seafood mushrooms: 60g
– Herbs for seasoning, a few shallots, purple basil
– Soybean sauce, chilli powder,  pepper, vegan seasoning, pink salt and cooking oil
Chef Đinh Quang Anh
Method:
– Wash all the mushrooms, slice the chicken leg mushrooms at a 45-degree angle
– Chop the other mushrooms or shred them as you see fit
–  Put the oil in a hot pan on high heat, then add all the mushrooms and slowly stir. It's always good to stir-fry the mushrooms on a high heat, and even brown them a bit so they will look delicious.
– Then add seasoning in the following order: soybean sauce, a pinch of pink salt, pepper, chilli powder, vegan seasoning, and stir well for a few minutes until the mushrooms have soaked it all up.
– Finely chop the shallots, purple basil and herbs, then add all the seasoning and mix well.
– Place a piece of aluminium foil on a flat surface. Sprinkle half of the vegetable mix in the foil, then add the sauteed mushrooms on the vegetable bed, and cover with the rest of the vegetable mix on top. Wrap it up tightly so that it will not break during the frying process. Fry the foil wrap in oil in a pan over high heat for 10 minutes on both sides.
– Place the wrap on a pre-decorated dish with carrot flowers and greens. Use scissors to cut open the wrap. Serve hot!
VNS
Baked mushrooms in foil with Chef Quang Anh at Tâm Anh Vegan have 475 words, post on vietnamnews.vn at October 24, 2021. This is cached page on Talk Vietnam. If you want remove this page, please contact us.