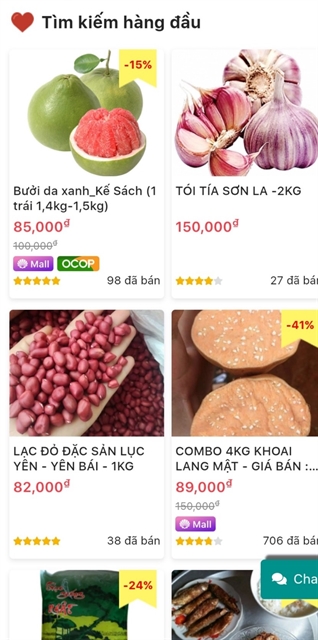 Farming products are sold on a e-commerce platform. VNS Photo
HÀ NỘI Farmer Đào Đức Hải, a member of a Tây Nguyên wild pig raising co-operative in Ea Kar District, the Central Highland province's of Đắk Lắk, finds it easy to use his smartphone to update his information and details on his 17 pigs via an app called AutoAgri.
Each of his pigs has a mini web page where buyers, bankers and the agriculture management authority could learn all about the animal. Every pig has its own QR code too.
Other members of the wild pig raising co-operative are using AutoAgri to apply digital technology in their farming for better production and market access.
Nguyễn Thị Thành Thực, member of the Executive Committee of the Vietnam Digital Agriculture Association (VIDA), said that AutoAgri was a smart agricultural solution that allows users to digitalise data for each member of the co-operative.
The users upload photos, videos and notes, making online asset books to monitor land, animals, crops, products and farming process.
They also have an electronic diary instead of paper-based ones.
Co-operative managers and authorities could oversee and assess the users' farming and products thanks to the electronic diary.
"Digital transformation in agriculture is the digitalisation of data relating to the agricultural value chains and connecting them on digital platforms," Thực said, adding that the use of digital technologies like Big Data or AI to change the way farmers work and manage their farming.
Drones, e-commerce, product origin traceability, cashless payment and social networking could help speed up digital transformation in agriculture.
"Digital transformation would help connect small farming households, forming co-operatives which purchase the same input products, do the same farming work and sell the same products, which results in reduced production costs and better market access," she said.
Once connected on digital platforms with transparent systems, they could avoid suspicion and co-operate better, she said.
However, in Việt Nam, digital transformation in agriculture faced difficulties, especially in terms of cost and complicated applications.
Nguyễn Trung Vẹn, vice chairman of Trà Vinh Province Co-operative Alliance, said that most of the local co-operatives did not arrange funding for technological improvement and digital transformation.
The co-operatives also faced a shortage of IT personnel and had not learned proper skills to master technological advances, Vẹn said.
However, as co-operatives were now better aware of the important role of digital transformation, especially when they wanted to reach more consumers, and those consumers required product origin traceability.
Lê Quang Cường from Đồng Tháp Province Co-operative Alliance, said that farmers were still hesitant to approach digitalisation.
Many of them were not interested in changing and they still kept conventional ways in farming and managing their work.
"It's necessary to change the mindset and awareness among co-operatives' managers first," he said, urging support to improve understanding and skills for managers as well as online trading skills for farmers.
On Friday, the Vietnam Cooperative Alliance (VCA) in collaboration with the Oxfam in Vietnam, along with representatives of cooperative alliances in provinces and cities organised a webinar "Developing smart, digitalised and climate-resilient agricultural cooperatives in Việt Nam".
Speaking at the webinar, Phạm Quang Tú, Deputy Director of Oxfam in Việt Nam, said that digital transformation was a development trend worldwide and in many different socio-economic fields.
"Digital transformation is of great significance, promotes the production of quality goods and opens up opportunities for enterprises and cooperatives to attain fast and sustainable development," he said.
In Oxfam's group of solutions, the economic cooperative area was one at the centre of attention. The organisation wanted to find specific and timely solutions to assist co-operatives in implementing an effective digital transformation process, gradually helping cooperatives adapt to climate change and the era of information technology development.
In Việt Nam, digital transformation in agricultural co-operatives and the Vietnamese economy still faces many obstacles, he said.
Phạm Quang Hà, Chairman of the Scientific Council, Việt Nam Digital Agricultural Cooperative, said that developing smart agricultural co-operatives was a mandatory requirement.
"It's necessary to change the principles of agriculture, from exploiting to maintaining, fostering, restoring, and at the same time using systematic interactions, ensuring the diversity of components," he said.
Đặng Văn Chính, Director of Huế IT Co-operative (HueTechCo.op) said that key to the success of a smart co-operative model was to integrate as much as possible in terms of production and business activities in both agriculture and public investment into the information portal.
"This is the basis for businesses and people to trace, monitor, manage, and conduct business activities to proactively adapt to changes," he said. VNS
Agricultural co-operatives urged to further engage in digital transformation have 996 words, post on vietnamnews.vn at October 18, 2021. This is cached page on Talk Vietnam. If you want remove this page, please contact us.