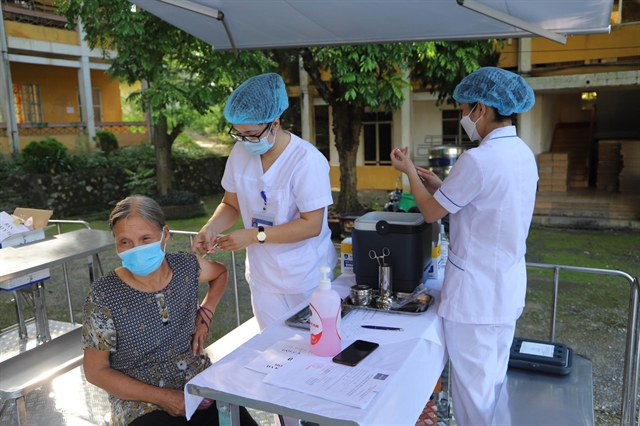 An elderly woman in Thạch An District, the northern province of Cao Bằng receives a shot of COVID-19 vaccine. — VNA/VNS Photo Chu Hiệu
HÀ NỘI — A total 75,250,990 doses of COVID-19 vaccines have been administered in Việt Nam so far, according to the national COVID-19 Vaccine Portal on Tuesday.
This makes up half of the health authorities' aim of giving 150 million doses to cover 75 per cent of the adult population (vaccination of children is greenlit in principle, but has not yet been rolled out).
Over the past four days from October 22 to 25, the country injected over 4.1 million vaccine doses, which equals one million doses per day on average.
Based on the number of vaccines doses allocated, Long An Province now has the highest percentage for people receiving at least one shot at 212.5 per cent (the number of actual local residents receiving the vaccine might be higher than the official population figures).
According to Long An Province's report, as of October 25, the locality has administered over 2.6 million doses of COVID-19 vaccines for people aged 18 and older, among which 1.465 million (100.85 per cent) received at least one dose and 1.234 million were fully inoculated (84.94 per cent)
Other cities and provinces recording a high percentage of people receiving at least one vaccine shot are Bình Dương (204.26 per cent), Đồng Nai (168.81 per cent), Hà Nội (167.18 per cent), Quảng Ninh (196.78 per cent), and Khánh Hòa (154.76 per cent).
HCM City also reported a significant vaccination rate, with 100 per cent of residents in 19 out of 22 administrative units receiving at least one dose. The other three districts that have yet to reach full percentage are Cần Giờ and Gò Vấp at 99 per cent, and District 10 at 96 per cent.
Six districts in HCM City with their residents fully inoculated are Củ Chi District, Phú Nhuận District, and District 5, 7, 10, and 11.
According to the national vaccine portal, there are now only five provinces with less than 50 per cent of people receiving at least one dose, which are Nghệ An (48.85 per cent), Đắk Lắk (47.68 per cent), Thanh Hóa (42.91 per cent), Gia Lai (39.38 per cent), and Nam Định (36.33 per cent).
On October 24 and 35, more than 2.6 million doses of Pfizer's COVID-19 vaccines arrived in Hà Nội and HCM City from the US through COVAX, reported the Ministry of Health.
Việt Nam thus has received approximately 100 million vaccine doses from various sources to date.
According to the website Ourworldindata, there are 6.87 billion doses of COVID-19 vaccines administered across the world, meaning 48.7 per cent of the global population have received at least one dose. — VNS
Administered COVID-19 vaccines in Việt Nam crosses 75 million mark have 693 words, post on vietnamnews.vn at October 26, 2021. This is cached page on Talk Vietnam. If you want remove this page, please contact us.