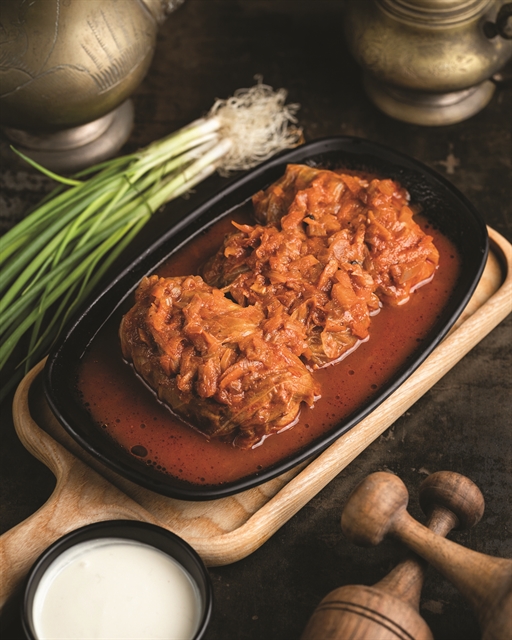 RUSTIC CLASSIC: Cabbage rolls made according to age-old tradition. Photos courtesy of Slavic Tea House
It goes without saying that the Vietnamese capital is hardly noted as being a hotbed of Eastern European culture. But all that may be slowly changing with the opening of The Slavic Tea House in Hà Nội's Tây Hồ District.
This new restaurant was not, as one might imagine, opened by Muscovite pining for home-cooked delights, but a long-term expat from Melbourne, Australia.
Ali Waugh has lived in the city for 15 years, mostly working at the Hà Nội International School in varying roles, including careers counsellor, teacher and marketer. But she has long had a sideline as a businesswoman, initially with Emporium, a fashion and homeware boutique; then with the Eastern and Oriental Tea House and Coffee Parlour (famed for its astounding array of cakes); and most recently the Slavic Tea House itself, which has barely been open five months.
Waugh is energetic, friendly and garrulous to a fault, and her multiple businesses have kept her so busy she has recently had to quit education altogether to focus on running everything.
As an Australian opening a Slavic restaurant, one assumes that she must have some huge passion for Polish or Russian food, but that's not quite it.
"Not even," she says. "I mean I like it now, but I majored in Russian literature for my first degree, so I have always been fascinated by that culture — the literature, the music, the art.
"I just wanted to do something a bit different, with food, art, culture workshops."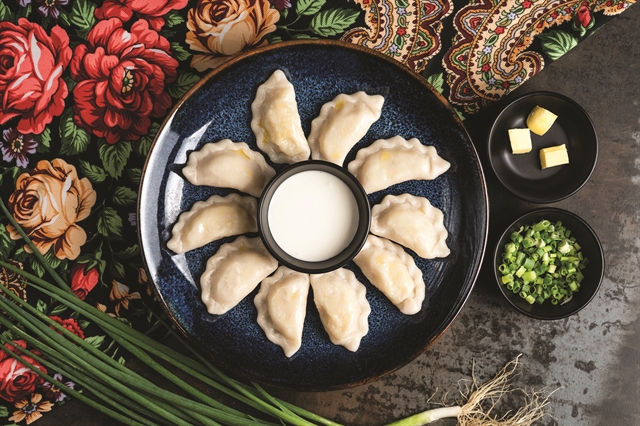 HEARTY FAYRE: Dumplings, with sour cream, prepared Russian-style.
The restaurant is a gem to behold, folksy, romantic and, of course, very slightly bohemian. A recent visit saw us order borscht soup (served with sour cream and black bread), fried pork dumplings, stuffed cabbage rolls, and an Olivier salad rounded off with a spectacular blueberry cheesecake.
Waugh learned to bake from her mother as a child and has trained all her staff to the same high standards. Most dishes come in at around VNĐ100,000 though there are a few specials that cost more.
The food is largely simple rustic fayre, unfussy and made with love, enough to make any babushka proud. But beware, it is easy to over-order given the reasonable price point and hearty nature of the food designed to keep people going in cold climates.
The dishes are replete with Slavic classics be it heavy use of dill and sour cream, or lots of carbohydrates in the form of bread and dumplings too. Oh, and there's meat too. Lots of it. It seems a menu perfect for the upcoming winter as the temperature falls.
Initially, Waugh had intended to call the venue the Moscow Tea Rooms, or something similar, but a diplomat and good friend at the Polish Embassy suggested she go for a more generally Slavic theme as it might widen its appeal as a cultural space.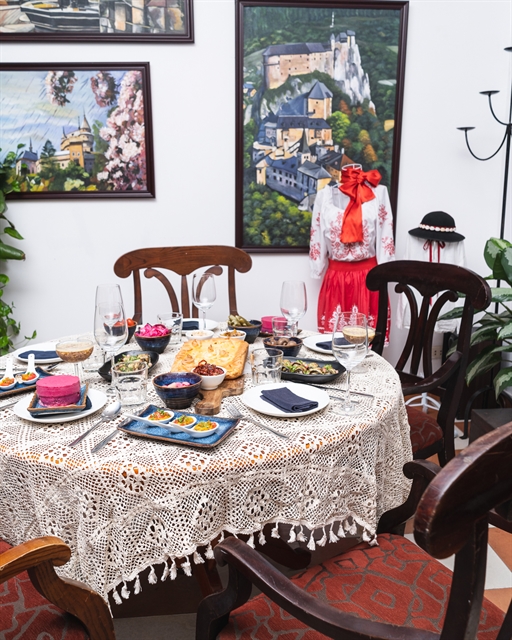 BOHEMIAN DINING: A room at the Slavic Tea House
The move has certainly paid off, with the Czech, Slovak, Hungarian and Polish embassies, each decorating one of the rooms in the restaurant and helping her to sponsor and run various cultural workshops.
The restaurant has held everything from embroidery to oil painting classes, as well as story-time events where children can hear stories read to them in their native language.  Every Sunday, a pianist plays classic music. Chopin is an obvious favourite.
"Oh, I really have to thank the Polish Embassy – well, all of them really – they put in a grant application to decorate our Polish room," Waugh says.
"The Czech Embassy, they have lent us some amazing Kafka prints. And the Hungarians are going to do something with Rubik's cubes. I didn't know Hungary invented the Rubik's cube. They are very proud of it."
"Then there's the Slovak Embassy," she says. "They are absolutely crackerjack. Hilarious. Real livewires. Andy Warhol is from Slovakia, and they have permission from the Andy Warhol museum in Bratislava for us to use some Andy Warhol posters; at the moment it is just castles on the walls, but we will do a Warhol-themed evening. We will play music – The Velvet Underground – do the food, have a Studio 54 feel, and all sorts of Slovak culture."
Running several businesses in the city poses all sorts of challenges, and with the COVID-19 pandemic, the restaurant has so far been more often closed than open. But it is starting to get busy again.
"Oh we have had some hurdles but you just have to get on with it. Michael Cain did an interview once, where he said if you come across an obstacle use the obstacle. Those words affected me. Take the lockdown. It actually helped me. I hadn't had a day off in two years. I was missing some money. But it was a gift. I slept in, read books. I would never have done it otherwise. I got on YouTube and learned to bake bread!" she says.
"There are some real advantages to doing business here. I couldn't have afforded to start these businesses in Australia. I would be too scared to risk that money. It would have cost triple-whipple-dipple. Also, Vietnamese women are some of the hardest working and kindest I have ever seen. I couldn't do it without them."
The restaurant is certainly one of a kind in Việt Nam, and seems perfect for a family gathering or a late-night date. Whether you are hankering for earthy soups, stuffed pepper, pierogi, pickle platters, vareniki, vodka, kvass (a fermented drink made from brown bread), or a gigantic slice of Napoleon cake, you can find it here in abundance. For those looking for something a little unusual yet full of culture this winter, The Slavic Tea House is sure to hit the spot. Davai!
VNS
The Slavic Tea House
Cuisine: Eastern European
Opening hours: 10am to 10pm, Monday to Sunday
Address: 1A Xuân Diệu, Tây Hồ, Hà Nội
Tel: 093 641 93 46
A taste of the (European) East have 1162 words, post on vietnamnews.vn at October 24, 2021. This is cached page on Talk Vietnam. If you want remove this page, please contact us.