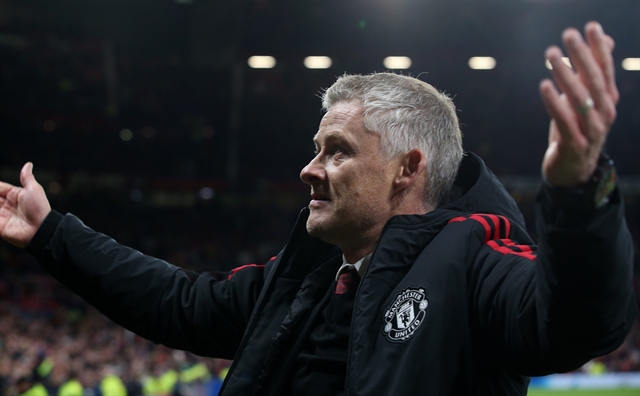 United manager Ole Gunnar Solskjaer celebrates his win over Atalanta in the Champions League. AFP Photo
Paul Kennedy
Manchester United's comeback victory against Atalanta this week sure lifted the dark cloud that's been hovering over Old Trafford for the past month or so.
Two nil down at half time, then goals from Marcus Rashford, Harry Maguire and a late winner with just nine minutes to go from, who else, but Cristiano Ronaldo, sealed the victory and put United top of their group.
But I'm sorry to say, the win is nothing more than papering over gaping cracks that are clear to see all over Ole Gunnar Solskjaer's team.
Sure, I'm a bitter Liverpool fan, but you don't have to take my word for it, United legend Paul Scholes was in complete agreement with me.
After the match on Wednesday evening, Scholes said: "Yes, it's great seeing the excitement and them attacking. It's brilliant, but that first half has stuck with me. They've come back with great spirit but they conceded so many chances, and if you're playing against quality players there's no way you can win that game.
"People will get carried away but will he play that way on Sunday? Go and do that on Sunday and see what happens.
"Jurgen Klopp will be rubbing his hands together."
Scholes was particularly miffed with the first half performance, and he feels if they don't massively improve come Sunday, United could be in for a kicking.
Scholes added: "People are going to say I'm miserable, and maybe I'm going to be slagged off by United fans, but I looked at that game thinking about the Liverpool game.
"That first half, United had two midfielders playing on their own and if they do that against Liverpool and City they'll be four down by half-time."
United must approach the match with their arch-rival completely differently. If they don't, they can expect a kicking.
They go into this match, on paper, a completely inferior side to Liverpool, a role reversal of the many years before when United were head and shoulders above their north west rivals.
Liverpool back then would accept United were the better team and tactically play the game on the back foot, hoping to grab a goal against the run of play and hold on for dear life as the clock ticked.
It worked many times, I remember winners from Liverpool's Danny Murphy and Patrik Berger at Old Trafford when the visitor's should not have got a sniff.
But will United play that way? Probably not.
I've said it before, and I'll say it again, Solskjaer is nowhere near good enough to manage Manchester United.
After Liverpool, United travel to Tottenham before hosting Manchester City in the league over the next three weeks.
If they don't get something out of all three games, and other results don't go their way, United could find themselves so far off the race for the top four, then surely something has got to give.
Remember Ole has certainly been backed by the powers that be in the transfer market, and he has spent big on Maguire, Jadon Sancho and Aaron Wan-Bissaka. Those three players alone cost a whopping $276 million.
I doubt Ole will be given the boot before Christmas, no matter what happens over the next month.
But he sure is in last chance saloon.
If he wins nothing this season, and fails to secure Champions League football for next, then there's no way Ole will be at the wheel for much longer.  — VNS
A great win that's just papering over the cracks have 722 words, post on vietnamnews.vn at October 22, 2021. This is cached page on Talk Vietnam. If you want remove this page, please contact us.