MUSIC & ENTERTAINMENT
Premiering: "Please Give Me a Peaceful Breakfast"
Sep 15, 8 pm
Dialogue Series: Seven Days of Creation
Sep 10 – 16
From the organizer:
Coming up from the so-called "seven days of creation" concept, the same entitled dialogue series with the sharing of artists and experts in the creative industry in Vietnam, launching to generate discussions with youth regarding the natural environment as a topic in contemporary arts.
Day 1 – Light:
10 Sep, 03 pm – 05 pm: live webinar
Nguyen Anh Tuan (Art Director – Heritage Space)
-A discussion regarding the role of the creative industry in environmental education/communication; and opportunities for young art practitioners-
Day 2 – Firmanent:
11 Sep, 03 pm – 05 pm: live webinar
Truong Uyen Ly (Director – Hanoi Grapevine) & moderator Đỗ Tường Linh (art curator)
-Stories from journalist Truong Uyen Ly regarding environmental art in the "firmament" of the creative industry in Vietnam; the stories of spotting out artists who practice arts of and for the environment-
Day 3 – Ground & Plants:
12 Sep, 07 pm: content broadcasting
A dialogue between artist Trung Nghia & Mzung Nguyen
-Natural topic and materials in paintings-
Day 4 – Sun & Moon:
13 Sep, 03 pm – 05 pm: live webinar,
artist Mzung Nguyen & moderator Marcus Manh Cuong Vu
-For art-sake or for humans-sake? The contrast elements in multimedia practices-
Day 5 – Animals
14 Sep, 07 pm: content broadcasting,
A dialogues between artist Le Phi Long & Mzung Nguyen
-Natural topic and materials in stages of art practices, from paintings to sitespecific art-
Day 6 – Humans
15 Sep, 03 pm – 05 pm: live webinar,
artist Ưu Đàm Trần Nguyễn
-Sustainability, topics and the cycle of artworks-
Day 7 – Rest
16 Sep, 07 pm: SPECIAL content broadcasting
Le Hong Lam , film critic
Follow updates on event's page at: https://www.facebook.com/events/682205709841683/
Online Film Screening: German Film Week 2021

Until Sep 18, 8 pm
From Goethe Institut:
In the current situation, all of us, wherever we live, have been and are getting used to the "new normal life" that the pandemic has brought.
Staying at home and not going out when there is no need, online learning, working from home have become a familiar part of our lives. However, with the desire to bring moments of relaxation, entertainment and learn about German Culture, the Goethe-Institut has selected four films to introduce to the audience on this occasion.
The films selected are very recently produced and capture the prevailing themes in Germany.
The films will take you to Japan's Fukushima prefecture after an earthquake in 2011 or to Tyrol in Italy where the stubborn Amelie is dealing with her asthma.
Language: German with Vietnamese subtitles
Online Premiere: Split
Until Oct 23, 11 pm
From Goethe Institut:
When confined to a small space, with no contact with the outside, encounters are not any more, everything just takes place in a space so familiar that it seems boring, will we cut off all associations? Or is it the time to connect to oneself – something that we occasionally forget? Each time like that, people "split" themselves.
"Split" is the breaking in piece, angled deeply inwardly. When outer space is limited, people discover emotions hidden deep within themselves, observe themselves under different beings, both separate and mixed, sometimes very confusing. "splitting" without separation, split to open, for stopping but clarifying, for reflection and for connecting.
The contemporary dance performance consists of three parts:
'Stop' – 'Confide' – 'The cover'
Dancer: BAYDANC (Lê Trần Thảo Nhi, Hoàng Lan Phương, Phạm Ngọc Toàn)
Musician: Nguyễn Thị Thùy Linh
Lighting: Vũ Đình Thắng
Production assistant: Nguyễn Thị Phương Anh
Length: 40 Min
The show was performed and recorded on 21 Sep 2020 as part of the project Culture Lab.
An event within the context of the project Culture Lab, an initiative by the Goethe-Institut Hanoi.
Premiere on Goethe Institut's Youtube channel: https://www.youtube.com/c/GoetheInstitutVietnam
__________________________________________________________________________________

EXHIBITION
Mekong Delta photo festival opens for entrants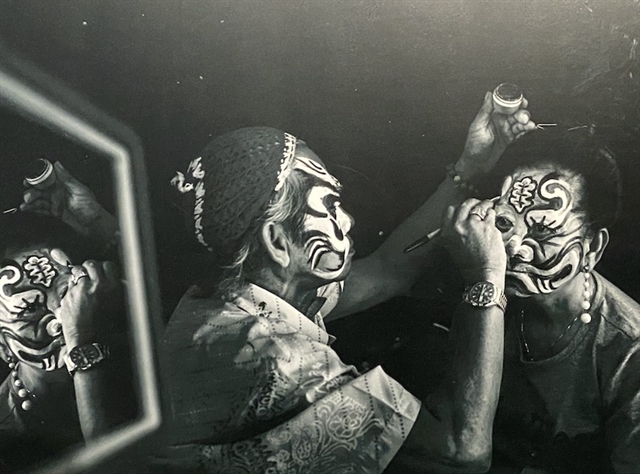 Until Sept 30,
An art photo festival showcasing the beauty of the landscape and local people of the Mekong Delta is calling for entries from photographers living in the region.
Entries are accepted in all genres of photography such as landscape, portrait and daily life which are expected to reflect the beauty of nature and people in the region.
Other eligible works include those picturing the international integration of the region; outstanding individuals; new rural and transformation projects; protection of the sovereignty of national borders, sea and islands; and the beauty in the cultural and spiritual life of ethnic minorities.
The entries must be uploaded on the festival website lienhoananhkhuvuc.vn by September 30.
Vietnam to host first national cultural heritage photo contest
Until November
A national cultural heritage photo contest and exhibition to raise awareness of heritage conservation within the local community.
Competitors are able to submit their entries detailing various aspects of Vietnamese heritage, including local historical and cultural sites, architecture, art, and enthralling scenic spots.
The most outstanding artworks will then be selected for a photo exhibition.
The event is being organised by the Ministry of Culture, Sports and Tourism as part of activities in the lead up to Vietnam Cultural Heritage Day on November 23.
What's on September 13-19 (Daily updated) have 964 words, post on dtinews.vn at September 13, 2021. This is cached page on Talk Vietnam. If you want remove this page, please contact us.