National midfielder Nguyen Hoang Duc is being eyed by different international clubs after his outstanding performance at the recent 2022 World Cup qualifiers.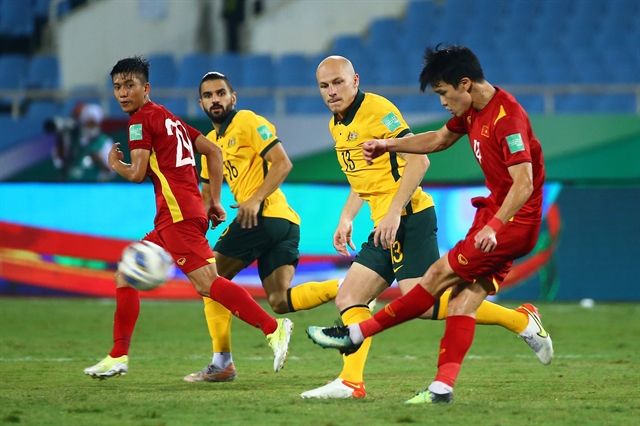 Midfielder Midfielder Nguyen Hoang Duc (right) strikesa ball during the 2022 World Cup qualifier match between Vietnam and Australia on Tuesday. Duc of Viettel FC is being hunted by clubs from Thailand, Spain and South Korea. Photo courtesy of VFF
Pathum United FC reportedly want to sign the 23-year-old Viettel player on loan.
The reigning champions of Thai League expect to have Duc in their team for seven months from November 2021 to May 2022 with a monthly salary of around US$10,000.
Pathum United scouts were impressed with Duc's performance at the Asian Football Confederation (AFC) Champions League when Viettel played BG Pathum in Thailand in July.
The 1.83m-tall player is good in both attack and defence and played even better under the national team jersey at the third-round World Cup qualification, especially in the match against Australia.
His passing accuracy was 92.3 per cent and passing accuracy in the opponents' half was 93.8.
He created three chances, tackled and blocked twice, and made three interceptions.
He was the best Vietnamese player on the field in both attack and defence.
"Duc has a good shape and physique. His stretching ability is the top in Vietnam. His nearly-perfect qualities make him confident to run the ball away from rivals or winning in one-on-one situations," said pundit Ngo Quang Tung.
Meanwhile his teammate at Viettel, striker Pedro Paulo, said he was not surprised with what Duc had done. He is Viettel and Vietnam's hope, a player who can keep his mind calm and play well in big matches.
The Brazilian said that Duc could definitely compete in Asia's top leagues in Japan and South Korea but he could test his skills in Thai League first.
"His smartness is the top element that makes us believe that Duc can be successful in a new environment. He is kind of player who 'entertains' with the ball, not just plays football," said former national midfielder Nguyen Hong Son who was Duc's first coach at Viettel training centre.
Apart from the Thai club, it is said that Duc has also received offers from Spanish and South Korean sides.
Viettel's managers have not make any comment on Duc yet.
Source: VNS
Vietnamese midfielder lures eyes of international clubs have 598 words, post on vietnamnet.vn at September 11, 2021. This is cached page on Talk Vietnam. If you want remove this page, please contact us.