HCM City to reopen wet markets as it eases social distancing
Ho Chi Minh City, the largest coronavirus hotspot in Vietnam, is planning to reopen its wet markets after a hiatus of the COVID-19 fight to meet local residents' demand for foods and other essential goods.
The department has requested local administrations to develop plans for resuming the operation of wet markets to ensure goods supply and COVID-19 prevention measures in the new context.
Wet markets are part and parcel of Vietnamese people, especially in big and populous city like HCM City. The city of approximately 10 million consumers, has closed its wet markets for several months to combat COVID-19.
Now as the city is expected to enter a new normal after September 30, it is gradually resuming the operation of its goods sup[ply and distribution network, including wet markets.
HCM City has recorded nearly 400,000 COVID-19 infections, or half of the country's total number, since the virus recurred in Vietnam in late April.
Korean fugitives wanted by Interpol arrested in Da Nang
The police in the central city of Da Nang are completing procedures in order to transfer two arrested Korean nationals wanted by the INTERPOL to the Republic of Korea.
Taiyi was arrested in an apartment on Tran Bach Dang street of My An ward, while Nam Kiwon was caught at a homestay on Le Thuoc street of Phuoc My ward.
According to the officials, the pair will be handed over to the Korean police at Da Nang International Airport in the near future.
Da Nang targets fully vaccinating adult residents by year-end
The central city of Da Nang aims to complete giving two shots of the COVID-19 vaccine to all residents over 18 years old by the end of this year, according to the city's Steering Committee on COVID-19 Prevention and Control.
The committee said 67.6 percent of the city's adult population of 826,933 has been inoculated with one shot and 9.4 percent or 78,052 have been fully vaccinated with two shots.
The municipal Department of Health said it has received 684,3560 doses of vaccines of all kinds.
The city will speed up the vaccination pace to give one shot of vaccine to 95 percent of the adult population by the end of September and 100 percent by the end of October, while the rate of fully vaccination will reach 22.1 percent.
Da Nang will propose the MoH to prioritise the city in allocating vaccine. In addition, it will also be proactive in securing vaccines to ensure that 90 percent of residents from 12 years old and above, are fully vaccinated, the committee said./.
Vietnam exerts efforts to ensure best care for children orphaned by COVID-19
The Ministry of Labour, Invalids and Social Affairs (MoLISA) has asked localities nationwide to quickly design solutions to care for children orphaned by COVID-19.
In a document sent to centrally-run cities and provinces recently, the ministry stressed that the complicated developments of COVID-19, especially the fourth wave of outbreaks, in many localities, have made over 1,000 children orphans.
The MoLISA, along with the National Committee for Children, required the People's Committees of provinces and cities to give alternative care for those children in line with the Law on Children and other regulations, prioritising the family-based alternative care to ensure their highest interest. Nursing facilities will be considered the last choice.
Alongside, localities, especially those with large numbers of children orphaned by COVID-19, were also requested to issue their own policies and plans to give immediate and long-term support and care for the children, while giving them legal assistance to ensure their rights and interest and protect them from being abused.
The move aimed to make sure that all children orphaned by COVID-19 will receive all necessary support to overcome this tough and challenging time, and receive care and love./.
According to a Government decision on the master plan, the city is expected to have 13-14 million people by 2040 and 16 million by 2060. It plans to allocate 100,000-110,000ha of land for urbanisation by 2040.
The city will remain the country's economic and technological hub, focusing on innovation as part of the national urban development strategy.
Under the master plan, the city will develop a complete infrastructure linking the city with neighbouring provinces. The newly established Thu Duc city will be developed into an innovative city model that will support the development of HCM City and the southern region.
The city will integrate urban development with transit-oriented development, including underground-based public transport solutions.
The master plan requires the effective use of the city's natural conditions and ecosystems to protect the environment and adapt to climate change.
The city has also set a goal by 2060 to become an international trade and financial centre in the Asia-Pacific region. It will create an appealing working environment with a diverse culture, heritage conservation, and a scenic river system./.
Workers, employers get help in pandemic response
The Government has issued a resolution on support for pandemic-hit workers and employers, and the aid will be sourced from the unemployment insurance fund.
Workers who benefit from this policy are those who are covered by unemployment insurance as of September 30, 2021, excluding employees in State agencies, political organisations, socio-political organisations, units of the people's armed forces, and non-business public agencies which are paid by the State budget.
They also include workers who have stopped contributing to unemployment insurance due to the termination of their labour contracts or working contracts between January 1, 2020 and September 30, 2021, and have unemployment insurance contribution period reserved in accordance with legal regulations on employment, excluding retirees who receive monthly pensions.
The aid, about 30 trillion VND (1.317 billion USD) sourced from the unemployment insurance fund, will be delivered from October 1 and completed by December 31 at the latest.
Meanwhile, the reduction of contributions to the unemployment insurance fund is applied to the employers regulated in Article 43 of the Employment Law, excluding State agencies, political organisations, socio-political organisations, units of the people's armed forces, and non-business public agencies which are paid by the State budget, which are taking part in unemployment insurance before October 1, 2021.
Those employers are entitled to a reduction in unemployment insurance contributions from 1 percent to zero percent of the monthly salary fund for the workers covered by unemployment insurance. The reduction will last for 12 months, from October 1, 2021 through September 30, 2022./.
Binh Thuan province eyes resumption of tourism
The Binh Thuan Province's Department of Culture, Sports and Tourism is discussing plans to reopen Mui Ne, a famous destination in the locality, to visitors from October 20.
More than 80 percent of tourist facilities in Mui Ne have been closed since February last year due to the COVID-19 epidemic.
But with the situation in the province now controlled, the department has been working with the Vietnam Tourism Association to develop tourist safety guidelines and prepare other necessary conditions for the reopening of the sector.
Among others, the province needs to immediately give the second dose of vaccine to staff at hotels and resorts, Nhan stressed.
To start with, Mui Ne would allow in domestic tourists, including foreigners living in Vietnam, who have received two vaccine shots or had recovered from COVID-19, he added./.
Local photographer wins consolation prize at Travel Photos of Year 2021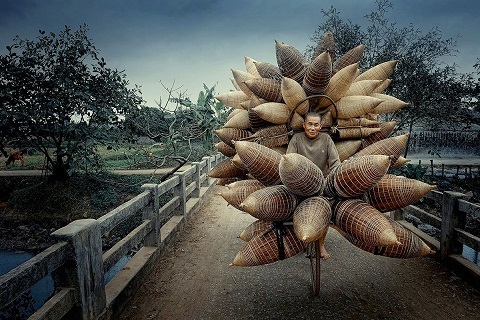 A photo titled "Bamboo Basket Seller" taken by Ly Hoang Long wins a consolation prize in the Travel Photos of The Year 2021 as awarded by the All About Photo (AAP) magazine.
"The bamboo basket is not only a manual labor tool but also a decorated item for the interior design of hotels, restaurants, and shops these days," Long describes.
The first-place winner went to a photo named "Tundra people" by Yulia Nevskaya, with a cash prize of US$500.
The winning photos are all announced in All About Photo (AAP)'s Winners Gallery and will be published in the AAP Magazine #20: Travels.
Kami paper folding models convey sincere thanks to frontline forces
With colourful Kami paper (a kind of paper for the art of paper folding Origami) along with her creativity and skilful hands, Tran Thi Thanh Thuong (from Ho Chi Minh City) has folded models of doctors, nurses, public security and army forces as well as artists and volunteers who have done a lot of meaningful work for the community.
Two collections of models on frontline forces in COVID-19 prevention and control and chibi anime series on volunteers and artists who were involved in charity activities, which were folded from Kami paper by Thanh Thuong, have been created to spread and encourage the anti-epidemic spirit.
Inspired by white-shirt soldiers who are working hard for the health of the community and volunteers and artists who were not afraid of difficulties to give cakes, rice and milk to people who are living in disadvantaged circumstances due to the pandemic, Thanh Thuong came up with the idea of using Kami paper to fold models of their portraits and their meaningful works. She also considered them mementos of an unforgettable period.
Then, models were created with the images of lovely artists such as Quyen Linh actor carrying rice bags on her shoulders and wearing familiar honeycomb sandals to the alleys of Ho Chi Minh City. Through the Kami paper models, viewers can feel his warm smile and sincerity. In addition, the models featured artists Viet Huong and Hoai Phuong in protective suits next to an ambulance providing many months of oxygen tanks to support serious patients.
Sharing about the collections, Thanh Thuong said although I could not rush to the epidemic-hit areas to directly contribute to charity activities, I am very happy to encourage frontline forces and volunteers through my spiritual gifts.
In late 2019 when COVID-19 epidemic began to appear, Thanh Thuong folded models of doctors and medical workers to express my respect to their contributions and sacrifices. Earlier, Thuong had become famous for the images of 24 players and coach Park Hang-seo from the national football team. She was also the author of hundreds of paper dolls and thousands of models that vividly reproduced objects from daily life.
As the first person to develop Kami paper folding art in Vietnam, Thanh Thuong has had a great passion on her job. Kami paper folding art is not widely popular in Vietnam because the paper has to be imported from Japan and Taiwan (China) at quite an expensive cost. However, with her meticulousness, Thanh Thuong has persistently pursued the art of folding paper and continuously created many new patterns.
With her aspiration to bring this art closer to many people in Vietnam, she created a group on Facebook entitled "Creations with Kami paper folding" where participants can exchange, learn and share their knowledge. Thuong has also opened training courses on Kami folding for people who are interested in this art. Besides, she shared her hobby and Kami paper folding patterns via many forums. As a member of Facebook group "Loving kitchen", the nick name Thuong Kami has become quite familiar for her love for cooking and the pattern of a kitchen with small items folded from Kami paper.
Thanh Thuong has spent a lot of time creating and perfecting their artworks. She felt the significance of their works through her paper folding operations. Each stage of folding, pushing, and rolling the paper has helped Thuong learn more about them and their meaningful activities for the community. The emotions from Thanh Thuong's heart have touched the sympathy of those who loved, followed and admired her paper folding ability. Many patterns have been presented to the characters like meaningful spiritual gifts.
Thanh Thuong has just completed the Kami paper folding models of "white angels" in a chibi style. They were inspired by Le Thi Dinh, the founder of Zero-dong Milk Programme, and her friend Tran Bac. The two volunteers have provided children in poor families with free milk. In the month since its launch, the Zero-dong Milk Programme has supported many children around the city. Two angels wished to convey a message of making difficult things easier. The epidemic has caused unfortunate impacts to many lives but it has brought people closer together to give warm sharing and support. Using Kami paper, Thanh Thuong extended her belief, encouragement and sincere thanks to people who are living and working for people.
Can Tho plans to reopen wet markets in phases
The Mekong Delta city of Can Tho is planning to reopen traditional wet markets in phases after several months of suspension due to the latest Covid-19 outbreak, said a city official.
Ha Vu Son, director of the municipal Department of Industry and Trade, yesterday, September 26, told Lao Dong newspaper that the department has issued a draft plan giving guidelines on reopening wet markets in the city in three phases.
From October 1 to December 31, a maximum of 50% of markets in green zones, which are deemed as safe from Covid, will be allowed to resume operations, with the number of booths selling essential food products at each market not allowed to exceed 50%.
In red zones, which are still at extremely high risk, the authorities will allow no more than 30% of markets that ensure safety to reopen. Moreover, the number of booths selling essential food products at each market must not exceed 30%.
From January 1 to March 31, the authorities will review the reopening of wet markets in the first phase and go ahead with further plans to reopen 50-70% of local markets depending on the Covid situation in the areas.
From April 1 onward, the city will continue to review the previous reopening. Once the pandemic in the city is completely brought under control, the city is expected to reopen 70-100% of wet markets citywide.
During these three phases, only markets that meet safety requirements are permitted to resume operations.
The department is collecting feedback on the draft plan from the local authorities and will then submit it to the municipal government for consideration and approval, Son said.
Earlier, Can Tho reported its first locally-infected case in the fourth wave of the coronavirus at the Tan An market in Ninh Kieu District on July 8. The outbreak then became complicated and spread widely, prompting the local authorities to suspend all markets in the city to slow the spread of the virus.
The city has recently eased mobility restrictions in most parts citywide and switched to practicing less stringent social distancing measures under the prime minister's Directive 15. Only nine wards in Ninh Kieu and Cai Rang districts continue to enforce Directive 16. However, wholesale and traditional wet markets in the city will remain shut.
According to the department, the city is home to 105 various markets with over 6,000 vendors.
HCMC proposes updating 150,000 Covid-19 cases to national system
The HCMC Department of Health has written to the Ministry of Health proposing updating to the national Covid-19 monitoring system some 150,000 Covid-19 cases that were found positive for the coronavirus through rapid tests instead of RT-PCR tests as normally required.
The huge number of positive cases were found after the city has since August 20 conducted rapid tests, but current procedures by the Ministry of Health only recognize coronavirus carriers as patients if such cases were so confirmed by RT-PCR tests.
The municipal department also proposed the ministry allow it to officially confirm Covid-19 cases through rapid antigen testing, the local media reported.
The city's proposal followed a recent directive issued by Deputy Minister of Health Nguyen Truong Son, which states that people who are required to undergo home quarantine after being found infected with Covid-19 through rapid testing are considered as Covid patients and are eligible to receive medication bags from health authorities.
If the 150,000 positive cases are tagged as Covid patients by the ministry, HCMC's Covid caseload would hit over 522,000, up 40% against the number of Covid infections reported by the ministry.
A representative of the city's Department of Health said that the 150,000 positive cases were being monitored and had received medication bags.
Explaining while the 150,000 cases had not been diagnosed via RT-PCR tests, the source said that the number of positive cases found through rapid tests was huge in August, making it hard to conduct PCR tests for all the people who were found positive for the virus in rapid tests, while the city at the time was struggling with the strong spike in daily cases.
The city is still speeding up Covid testing, mainly in extremely high-risk zones, until September 30 to promptly single out positive cases and treat patients.
HCMC to retain three Covid field hospitals having ICUs
The HCMC health authority is set to retain three Covid field hospitals—No.13, 14 and 16—that have intensive care units (ICU) and gradually scale down the others and return them to their original state by the end of the year, said the city's health official.
Speaking at a press briefing yesterday, September 26, Nguyen Thi Huynh Mai, chief of the HCMC Health Department's Office, said that protecting the lives and ensuring the safety of people is the city's top priority during this time. Accordingly, depending on the Covid situation, the city would reduce the number of field hospitals and restore their original function and admit non-Covid patients.
According to the Health Department, the current fourth wave of the coronavirus in the city has passed its peak and the city's Covid containment efforts are starting to prove effective.
Under the department's plan, Covid field hospitals citywide would be scaled down once they complete the task of treating Covid patients. By the end of December, field hospitals that had been converted from schools are expected to resume to their original state.
As for field hospitals in safe zones, they would resume original operations by the end of this month to provide medical treatment to non-Covid patients.
Earlier, at another press briefing on September 22, Mai said the city was developing a roadmap to convert 80 Covid field hospitals that treat asymptomatic cases, those with mild symptoms or symptomatic ones to their original function. Regarding 10 other field hospitals that treat critically ill patients, they would be maintained as critical cases needing long term treatment.
As of September 25, the city had reported more than 367,000 Covid cases. Among over 39,200 active cases, some 1,900 severely-ill patients are relying on ventilators, while 23 others need ECMO support.
aigon Co.op former chairman prosecuted for appropriating state secret document
Police investigators yesterday announced they have completed the investigation of the case "deliberately disclosing state secrets", and "appropriating state secret documents" of three accused persons including Nguyen Hoai Bac, Le Thi Phuong Hong, and Diep Dung.
According to police investigators, 37-year-old Nguyen Hoai Bac who is former officer of the Economic Security Department of the Ho Chi Minh City Police Department, and Le Thi Phuong Hong, a self-employed woman, lived together in an apartment building in Binh Thanh District.
At the end of July, 2020, Bac was assigned to take part in the investigation of the Saigon Co.op case. During this time, he often messaged talking to Hong.
Le Thi Phuong Hong claimed to secretly watch messages in Bac's smartphone so she knew about investigation information related to Saigon Co.op. Later, she provided this information to Diep Dung with the aim to buy goods at low prices.
Therefore, police investigators initiated legal proceedings against Diep Dung for "abuse of power while on duty." Prior, the HCMC Inspectorate detected violations in Saigon Co.op in July 2020 and transferred the case to the police for further investigation.
Traffic projects in HCMC implemented under moderate progress
Regarding the current works of the Metro Line No. 1 linking Ben Thanh in District 1 to Suoi Tien Theme Park in Thu Duc City, the Management Authority for Urban Railway of Ho Chi Minh City (MAUR) said that the Ben Thanh Terminal bidding package has the largest number of engineers and workers compared to other ones.
However, all the people involved in the project have patiently performed their tasks along with following the Covid-19 prevention and control measures.
As for the rest bidding packages, the construction progress has been slow, even some construction sites have to be halted the operation due to a shortage of materials and equipment.
Besides, the project's sub-contractors have to comply with the regulations of the "One route – Two destinations" model causing difficulties in mobilizing workers to work on the construction sites.
HCMC urgently completes traffic infrastructure linking to Tan Son Nhat Airport
Besides, the city planned to carry out more projects, including a road connecting Tran Quoc Hoan Street with Cong Hoa Street in Tan Binh District in accordance with the adjusted construction planning of Tan Son Nhat International Airport approved by the Ministry of Transport with a total investment of over VND4,800 billion (US$212 million). This is one of the most important projects connecting to Tan Son Nhat Airport, considered as the second gateway to the airport next to Truong Son Street.
Of which, five upgraded, expanded and renovated projects for Hoang Hoa Tham, Cong Hoa, Truong Chinh Street in Tan Binh District, Tan Ky Tan Quy Street in Tan Phu District and Tan Son Street in Go Vap District around Tan Son Nhat Airport have been approved but the clearance of the site has affected their implementation progress.
Deputy Director of Ho Chi Minh City Department of Transport Phan Cong Bang said that the Municipal Department of Transport requested the People's Committees of the above districts to urgently complete the site clearance of these projects to hand over the land to the investors.
To speed up the implementation process of the traffic projects synchronized with the T3 terminal project of Tan Son Nhat International Airport, the People's Committee of Ho Chi Minh City has proposed the Ministry of National Defense promptly hand over about 1,122 square meters of land outside the boundary of the road project, connecting Tran Quoc Hoan Street with Cong Hoa Street in Tan Binh District, for HCMC to conveniently regulate the traffic and perform on-site resettlement for the affected households.
According to Director of the Transportation Works Construction Investment Project Management Authority of HCMC Luong Minh Phuc, to synchronize with the construction progress of the T3 passenger terminal, the work must be started this year and be completed by the end of 2023.
The road connecting Tran Quoc Hoan Street with Cong Hoa Street in Tan Binh District is a major traffic project of HCMC in the period of 2020-2023.  It is designed with over four meters in length, 29.5 meters to 32 meters in width, six lanes for vehicles; running through tunnels at Phan Thuc Duyet- Tran Quoc Hoan intersection, Truong Chinh-Tan Ky Tan Quy intersection and the overpass in front of T3 terminal.
The T3 Terminal Construction Project of Tan Son Nhat International Airport has a designed capacity of 20 million passengers a year, a total investment of about VND10,990 billion (US$485 million) from the capital of Airports Corporation of Vietnam (ACV).
Currently, the bidding, design and technical procedures are ready to start. The project is expected to start construction in October.
Police probe into Covid-19 drugs trading involving medical staff
In the afternoon of September 27, the Ho Chi Minh City Steering Committee for Covid-19 Prevention and Control coordinated with the Central Propaganda Department to hold a press conference to provide information on the pandemic development in the city.
At the conference, Deputy Head of the city Steering Committee for Covid-19 Prevention and Control Pham Duc Hai said as of September 26, HCMC has recorded approximately 372,202 Covid-19 infection cases and 122 deaths announced by the Ministry of Health.
Senior Lieutenant Colonel Huynh Quang Tuyen said that in the past time, the Ho Chi Minh City Police Department has stepped up the management of the area, grasping the situation with the attention of those who take advantage of the prevention and control of the Covid-19 epidemic to illegally distribute vaccines as well as illegal trading of medical supplies and equipment for epidemic prevention and production of fake commodities.
Accordingly, the city police have prosecuted three economic officials and medical workers in facilities in districts Binh Tan and Tan Phu for collecting money in a free vaccination program from people making an illegal profit of VND51.8 million.
In addition, the City Police also prosecuted one person for posting information of providing travel documents, vaccinations, and antiviral drugs on social networks to the fraudulent appropriation of property.
Regarding inspection and supervision, police officers have worked in 12 checkpoints citywide and 39 other venues in districts adjacent to neighboring provinces with surveillance cameras.
In the respect of the third support package, a representative from the municipal Department of Labor, War Invalids and Social Affairs said that the city has given the support to residents who have been facing difficulties during the social distancing; however, there have been some hiccups along the way resulting in delays in some areas.
Regarding the health sector's future mission, Deputy Director of Ho Chi Minh City Department of Health Dr. Nguyen Van Vinh Chau, said medical workers will treat patients suffering common illnesses in addition to Covid-19 patients. Field medical facilities will return to their original function if there are a few infection cases of Covid-19.
Furthermore, he said hospitals in districts will return to their original function first to receive, examine and treat people with common disease. Up to now, District 7 Hospital and Cu Chi District General Hospital which arelocated in the first green zones in the city have transferred all Covid-19 cases to other facilities to receive patients with common sicknesses in the next few days.
Vietnam backs non-proliferation, disarmament of nuclear weapons: ambassador
Vietnamese Ambassador Dang Dinh Quy reaffirmed Vietnam's policy on non-proliferation of nuclear weapons and nuclear disarmament while addressing a session of the United Nations Security Council (UNSC) on September 27.
The briefing took place to mark the 25th anniversary of the Comprehensive Nuclear‑Test‑Ban Treaty's opening for signature in September 1996. It saw the attendance of UN High Representative for Disarmament Affairs Izumi Nakamitsu and Executive Secretary of the Comprehensive Nuclear‑Test‑Ban Treaty Organization (CTBTO) Robert Floyd.
According to Izumi Nakamitsu, the Treaty has since achieved near‑universal adherence, with 185 signatories and 170 ratifying States, making it one of the most widely supported treaties not just in the disarmament and arms control field but in multilateral diplomacy.
Many speakers emphasised the importance of upholding a moratorium on nuclear testing, urging the States that have not done so to sign and ratify the Treaty.
In his speech, Ambassador Quy, Permanent Representative of Vietnam to the UN, attributed achievements related to the Treaty to commitments and joint efforts of the international community regarding nuclear test ban, non-proliferation of nuclear weapons and nuclear disarmament.
The diplomat noted despite the existing moratoria, the Test‑Ban Treaty's non‑entry into force leaves the door open for further possible nuclear testing in various forms.
For the interests of humans and the environment, he called on all States that have not yet done so, particularly the Annex 2 States, to sign and ratify the Treaty.
He said Vietnam is a party to the Test‑Ban Treaty, Non‑Proliferation Treaty and the Treaty on the Prohibition of Nuclear Weapons, as well as the Treaty on the Southeast Asia Nuclear Weapon‑Free Zone (Treaty of Bangkok).
Expressing support for the inalienable right of States to develop research, production and uses of nuclear energy for peaceful purposes, Quy also called for further assistance to developing countries in using data from the international monitoring system for other socioeconomic development applications.
Vietnam signed the Treaty on September 24, 1996 and ratified it on March 10, 2006./.
Vietnam, Thailand enhance collaboration in health amidst COVID-19
Deputy Prime Minister and Health Minister of Thailand Anutin Charnvirakul spoke highly of the close cooperation with Vietnam, especially in health, during his meeting with Vietnamese Ambassador Phan Chi Thanh on September 27.
He told the guest that Thailand has achieved initial success in curbing the pandemic, reflected through decreases in the numbers of infections, patients in critical conditions, and fatalities.
He suggested the two countries continue sharing experience in pandemic prevention and control, and providing each other with medical equipment and supplies.
The Thai Government will expand vaccinations against COVID-19 for foreigners living and working in the country, including those from Vietnam, and at the same time create favourable conditions for AstraZeneca whose factory is located in the country to maximise capacity and hand over vaccine to other countries, including Vietnam.
Ambassador Thanh affirmed the embassy is actively working with the two countries' authorised agencies to discuss measures to loosen social distancing safely.
He thanked the Thai Government for supporting Vietnam in the fight against the pandemic, vaccinating Vietnamese diplomats and citizens, and creating favourable conditions for Vietnamese citizens stranded in the country to extend visas.
He proposed the two Health Ministries maintain cooperation, exchange the recognition of "vaccine passports", agree on entry-exit regulations and quarantine period for citizens who get full two shots of vaccine, and soon set up travel corridors between major cities and tourist attractions to boost economic recovery./.
Temple of Literature project aims to connect young people with Vietnamese heritage
Non-profit organisation Gavisto Diplomat has teamed up with the Centre for Cultural and Scientific Activities to help more young people find a connection with the Quố
Events will be promoted on the official Facebook and Instagram pages of Quốc Tử Giám Cultural Space. These pages also aim to deliver information about medieval Vietnamese history to a new audience.
Hoàng Đoan Trang, representative of Gavisto Diplomat, said that the project aims to connect young people to the heritage space through interesting cultural and artistic activities. Through enabling young people to practise their love for the history and culture of Việt Nam, it is hoped that they will join hands in preserving and inheriting those values.
In addition, the project also recreates the teaching and learning activities at Quốc Tử Giám, helping to turn the relic into a useful cultural space for all audiences, especially children and young people.
"The Temple of Literature Complex not only has Văn Miếu, which is a place where students often go to pray for high exam results, but also includes Quốc Tử Giám, the first university of Việt Nam, a place to train talent. The project wants the monument to shift closer to the life and culture of modern people," she shared.
According to Lê Xuân Kiêu, director of the Centre for Cultural and Scientific Activities of Văn Miếu-Quốc Tử Giám, during recent social distancing, the Temple of Literature Complex has had no visitors. Moss grew on the road and no revenue could be generated.
"However, the Centre has applied new technologies in promoting the value of the monument, re-researching the value, and building products to serve visitors after restoration," Kiêu said.
He emphasised that Văn Miếu-Quốc Tử Giám is a place to nurture the traditional values that have survived over time; this new project will keep those principles alive. Aspects that visitors do not understand correctly, such as touching the turtle's head to ask for high exam results or worshipping the Hạ Mã stele, will be a part of this education.
"The Centre is seeking to bring traditional values closer to visitors so that they can understand the monument in new ways", he added.
In October, the project will organise an online talk show titled "Đạo Học in the Cultural Space of Quốc Tử Giám", with the participation of experts and researchers.
Experts will discuss Vietnamese's medieval period, the mission of Quốc Tử Giám in transmitting its values and arousing the spirit of Đạo Học (Learned Religion) in the context of modern education.
Many other programmes to discuss Vietnamese history and culture have also been planned.
Having a positive attitude helps fight COVID-19
Keeping a positive mindset and following careful instructions from health providers are the mantra of patients in HCM City, the country's largest COVID-19 epicentre.
With health services overwhelmed because of thousands of new infections per day, to be able to fight the virus and stay healthy amid the complicated situation is key to making a full recovery.
After beating coronavirus, many patients have shared their experiences on social network sites, offering peace of mind for those stuck in quarantine, with some even volunteering to stay at hospitals to help take care of patients.
Phạm Thái Bình, from the Vietnam Cultural Centre in HCM City's District 7, said after recovering from COVID-19, keeping a positive attitude helped him and his family get through the tough times.
"In the first place, I was upset when being informed that all of my family members were infected with coronavirus. We were very careful and couldn't find out the infection source," he said.
"But then I told myself to calm down and stay positive. This really helped as my wife and children felt better and got ready to fight the virus."
Bình was the only member of his family to show symptoms such as coughing, sore throat and fever. He thought he had flu until the test results came back. The other three members of his family all tested positive not long after.
They were moved to a concentrated quarantine site for treatment but first self-medicated at their home for four days.
Despite a loss of appetite, body aches, and weakness, Bình kept telling his family to strictly follow doctors' guidelines and keep their spirits high at all times.
"Doctors called us every morning checking our health, giving prescriptions and boosting our spirit, telling us to focus on good diet and regular exercises," he said.
After a week, his wife couldn't eat and felt exhausted. She was immediately moved to the central hospital for special treatment where her condition improved.
Bình added: "I was so grateful for everything they did for us, especially when my wife's health worsened. Their quick decision of transferring my wife to central hospital gave us a chance of being together again."
On August 2, the RT-PCR results showed that Bình and his two children were free of the virus. They returned home in good health to self-quarantine. Six days later, his wife also came home.
"COVID-19 is actually not that scary if you keep calm," he said.
"The most horrible thing is that we let anxiety and insecurity break us and make the disease attack us faster."
He believes avoiding skipping meals and ignoring negative information about the disease while maintaining a healthy lifestyle helped beat the virus.
Bình said the initiative to provide home-based care for F0 cases with no symptoms or underlying diseases was correct as it would help patients quickly recover as long as they followed medical instructions. This would also, he added, minimise the infection risks at hospitals and reduce the State's treatment costs.
Bình's two daughters wear their protective suits. Staying positive and following instructions from health staff helped his family overcome COVID-19.
"The first thing that I did was to get quick tests for all of my family," he said.
"My father, my wife and my one-year-old son were infected. Luckily my oldest son wasn't. All the adults had underlying health conditions."
Long said although he was mentally prepared for the disease, what they went through was still a nightmare.
All adults had high fever, loss of appetite, and diarrhoea. They couldn't walk and only wanted to lie still, but they took turns to check each other's blood oxygen levels to make sure they never dropped below 94 per cent, which was life-threatening.
Long's father, with high-blood pressure and old age, had difficulty breathing and high fever.  Long had sleepless nights, measuring his father's oxygen level every 30 minutes and helping him receive oxygen properly.
"I was so scared. I was scared that my father would be in critical condition," he said, worried when his father's blood levels dropped dangerously low.
The oxygen levels kept jumping up and down and he said he became obsessed with the beeping sound of the oxygen machine would make.
For him, following the treatment regime, combined with home remedies such as using lemongrass to clear airwaves, drinking orange juice, as well as drinking boiled fresh coconut water with sugar has saved the whole family.
"I admire my father," Long said. "His condition was the most severe, but he always maintained an optimistic and cheerful spirit to encourage and support the whole family.
"He still tried to have some soup and milk to fight the virus. From the 10th day onwards, his health began to quickly recover."
After beating the virus, Bình and Long have shared their experience on social network pages and helped consult with people, encouraging them to stay positive while fighting the disease.
Bình also joined a volunteer group to support home quarantined patients with oxygen machines, blood oxygen measuring machines and help those with financial difficulties during the pandemic.
"I feel that I need to contribute to help people regain their health, help the city in the fight against the pandemic and get back to a new normal life," he said.
Digital platform to educate young people on child marriage and human trafficking
A platform, designed to support children and young people from ethnic minorities, has been launched to share knowledge and skills on child marriage and human trafficking.
Em vui, which translates as "I'm happy", can be accessed via www.emvui.vn and is also available on popular social media platforms such as  Facebook, Tiktok, Zalo, Youtube, Instagram and Twitter.
The forum is designed to be a friendly, reliable and informative space where ethnic minority children and young people can learn and exchange information. It is also a platform for them to voice their concerns to policymakers, creating feedback that will allow more suitable and effective policies to be put in place.
Em vui is part of a project of "Enhancing awareness of ethnic minority children and young people on human trafficking and child marriage through digital technology" (EMPoWR), co-funded by the Delegation of the European Union and Plan International in Belgium.
The project is a product of collaboration between many organisations; the Institute for Social Development Studies (ISDS), Plan International in Việt Nam, the Department of Children under the Ministry of Labour, Invalids and Social Affairs, and other agencies.
The program will eventually be rolled out in 52 communes across four provinces – Hà Giang, Lai Châu, Quảng Bình and Quảng Tri – between 2020 to 2023.
The scheme will primarily support young people aged between 10 to 24. The digital space will educate them on social networking and online safety skills, as well as providing information about support services relating to child marriage and human trafficking.
The head of ISDS and director of the EMPoWR project, Khuất Thu Hồng, said that em vui would foster a safer environment for children and young people to grow up in.
Individuals, organisations and agencies could add to the resources that would then be shared with children and young people across the country, she said.
Lê Quỳnh Lan, an official from Plan International Việt Nam, said that under the organisation's five-year programme, it wanted to help support two million girls in Việt Nam with their schooling and decision-making, to help them "shine".
The EMPoWR project, and particularly the em vui digital platform, would help realise the organisation's commitments in promoting gender equality and child protection, particularly for those from ethnic groups.
Source: VNA/VNS/VOV/VIR/SGT/SGGP/Nhan Dan/Hanoitimes
VIETNAM NEWS HEADLINES SEPTEMBER 29 have 6788 words, post on vietnamnet.vn at September 29, 2021. This is cached page on Talk Vietnam. If you want remove this page, please contact us.