HCM City under pressure to reopen economy: municipal leader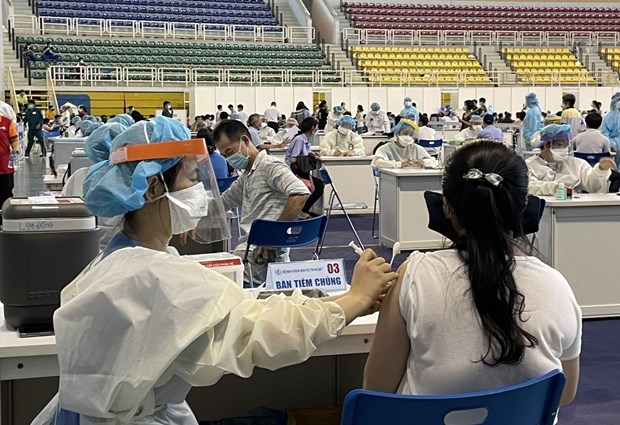 Residents at a vaccination site in HCM City.
Ho Chi Minh City is committed to enforcing vigilant pandemic prevention measures when it reopens the economy after months of strict lockdown measures, said a city leader.
Speaking at a meeting with economic and medical experts last earlier this week, Secretary of the municipal Party Committee Nguyen Van Nen said: "The city is under huge pressure to reopen the economy or it will be too late."
The level of suffering of the economy and people has reached its limit due to prolonged lockdown measures. As such, the city will develop a roadmap for reopening so that it can adapt to and live safety with the virus, he said.
The city will gradually narrow down areas with very high risks and try to expand the number of low-risk areas, according to Nen.
Vu Thanh Tu Anh, Director of the Fulbright School of Public Policy and Management, said that reopening for economic development and social security has become more urgent than ever as both businesses and people, especially the poor, are struggling due to the lockdowns.
"The economic cost is huge if we delay the reopening further," he noted.
He said it was too expensive to conduct large-scale testing for the city's entire population. In addition, the city's revenue and central government revenue are facing challenges as the cost of pandemic prevention has been extremely high.
Anh called for the Ministry of Health to adjust regulations and safety criteria for the city's reopening.
Prof. Dr. Tran Hoang Ngan, Director of the HCM City Institute for Research and Development, pointed out that "when the city's revenue is in trouble, it will also affect national financial resources."
Economics expert Tran Du Lich has called on the city to change its pandemic fighting strategy and not focus on tracing all close contacts of positive cases.
Le Truong Giang, Chairman of the HCM City Public Health Association, said although the city has applied strict measures for months, the number of cases has not fallen as planned.
Vaccines and medicines are the "two weapons to fight the pandemic," he said.
"Testing will help to detect cases early so as to avoid the risk of becoming more seriously ill. It will also help bring the tested people back to normal life and restore social activities."
"Though the city has not been able to contain the outbreak according to the Ministry of Health criteria, it must consider gradually opening up," he said.
Prof Tran Diep Tuan, Rector of the HCM City University of Medicine and Pharmacy, said the number of new cases had not reached a "safe level" under the ministry's criteria and the city must discuss the set of criteria and take adaptive measures.
Le Hoang Ninh, former Director of the HCM City Institute of Public Health, said the city's strategy is to vaccinate everyone because the city cannot remain in lockdown forever.
Ninh said it was important to focus on testing high-risk groups, instead of mass testing, which he said was a waste of resources. "The city must find ways to live with the virus because it is not going to be eradicated."
Dr Nguyen The Dung, former Director of the city's Department of Health, said the city needs to focus on setting basic goals such as reducing the number of deaths and seriously ill cases.
The city initially planned to ease lockdown measures after September 15 but the deadline was extended until the end of the month.
It is speeding up vaccinations for its adult population aged 18 and over and consulting with medical and economic experts about a vaccine green card system that would allow people to travel and work with fewer restrictions.
According to the HCM City Centre for Disease Control, as of September 15, the city had administered 8,452,609 vaccine shots, including 6.6 million first shots and 1.7 million second shots. Nearly 1 million people aged 65 and over and people with underlying conditions have been vaccinated.
The rate of first-shot coverage in the city has reached 92.5 percent. The city has set a target to vaccinate all adults aged 18 and above by the end of the year./.
Special volunteers on COVID-19 frontlines
People who have recovered from the coronavirus in Ho Chi Minh City have registered to become volunteers.
As local people, they know their places of residence like the palm of their hand. These volunteers are contributing substantially to the COVID-19 fight in Ho Chi Minh City.
It has been two weeks since the oxygen delivery team from District 4's Youth Union admitted Nguyen Minh Duc, a 12th grader of Nguyen Huu Tho High School. This youngest team member is as active as the others.
Duc was confirmed positive for the coronavirus in late July. He self-isolated and strictly followed treatment guidelines. Duc beat the virus in ten days.
He spent his 14-day quarantine mandate afterward reading news about recovered COVID-19 people volunteering to care for patients in the hospitals. This motivated him to fill in his registration for District 4's Youth Union.
Duc was given protective gear and training on how to carry, install, and remove oxygen tanks safely. He started his service when patients called the hotline asking for more oxygen supply. Duc lives in District 4 so he knows all the small alleys and quickly delivers oxygen to those in need.
Duc said, "When I read about a surge in new cases and deaths, I wanted to contribute a little in a hope that the pandemic will end soon. Because I had COVID-19 before, my antibodies might last for a while and I also have my protective suit so I feel secure. I'm tired but happy when I deliver oxygen in time for those who need it the most.
Tran Quoc Tuan of a COVID-19 community group is no stranger to residents of area No. 3 in Linh Xuan commune, Thu Duc city.
Tuan and his family were infected with the virus and navigated through moments of life and death, so he wanted to join the fight against the pandemic.
Two months ago when he first reminded people of social distancing and refraining from gathering in the market, he faced backlash. But now he is receiving love instead.
Tuan said, "A friend of mine asked me to join this COVID-19 community group the other day. I said ok without hesitation. Sometimes it's really challenging. Some people violated regulations by selling something on the street to earn money. I told them that the pandemic was ravaging so staying at home kept themselves safe. They gradually got it and followed the directive."
Siblings Dinh Giang Tam and Dinh Bao Hong in Ward 19, Binh Thanh district, were once COVID-19 patients and are now doing volunteer jobs.
They live in a densely-populated, tiny alley, where most residents are blue-collar workers, as a result, the virus transferred easily and quickly.
In early July, their hamlet was locked down. Eight out of 11 members in their family were infected. When they recovered, Tam and Hong registered to help in the COVID-19 battle. They were deployed to District 8 to put in data at testing and vaccination sites.
Since travel restriction was tightened, the two siblings have been confined to their ward but kept helping locals go shopping.
Hong said, "When our hamlet was sealed off, others helped us buy stuff. I see that they worked so hard. Now the barricades have been removed, we want to join this effort. Orders come in a heap. I feel weary but so good to clear them all."
Giang always bears in mind her mother's advice to keep herself and other people safe.
"I'm a student of the Hong Duc College of Medicine so I've learned about many kinds of drugs. I want to help people. The idea that I might get infected again doesn't scare me anymore. But what really worries me is that I might be asymptomatically ill and unconsciously transfer the virus to others. So I never let my guard down," she said.
Tran Thien Bao Khang, Head of the Women's Union in Ward 19, Binh Thanh District, said, "Our volunteers are extraordinarily enthusiastic. They spare no effort to fulfill all the tasks they are given. The volunteers live in this ward so they know every alley to quickly and easily deliver their services. It's such a relief of burden that authorities at the grassroots level have them in this fight."
These are only some examples from a pool of volunteers in Ho Chi Minh City. Everybody has their own way to help. With their contributions, the city is firing on all cylinders to beat out the coronavirus.
Vietnam win berth for 2022 Davis Cup World Group II playoffs
Vietnamese tennis players have won a ticket to the 2022 Davis Cup World Group II playoffs after beating Malaysia 2-0 at the 2021 Group III playoff round in Asia/Oceania, according to the Vietnam Tennis Federation (VTF).
During the Group III playoffs held in Jordan from September 14-18, the four-member team faced eight rivals of Hong Kong (China), Syria, Sri Lanka, Kuwait, Qatar, Jordan, Pacific Oceania and Malaysia.
Vietnam's decisive victory against Malaysia was brought about by Ly Hoang Nam and Trinh Linh Giang.
The World Group II play-offs are scheduled to take place in March next year.
Vietnam triumphed at the Asia/Oceania Group III in 2019. They missed out on a place in World Group II after losing 0-4 to Morocco in the play-offs in 2020./.
Vice President presents pandemic prevention gifts to An Giang
Vice President Vo Thi Anh Xuan on September 19 led a delegation to visit the Mekong Delta province of An Giang and present gifts worth close to 14 billion VND (612,000 USD) to support its fight against the COVID-19 pandemic.
Of the gifts, the Presidential Office and Xuan herself donated 5,000 rapid test kits and five charity houses, and the Vietnam Fatherland Front Central Committee presented 500 million VND. The Vietnam General Confederation of Labour offered local workers with welfare packages valued at 4 billion VND in total, while T&T Group granted 30,000 rapid test kits to An Giang.
At the reception ceremony, Chairman of the provincial People's Committee Nguyen Thanh Binh briefed on the province's COVID-19 situation.
Accordingly, from April 15 to 4pm on September 18, An Giang logged a total of 3,608 infections, including 1,077 detected in concentrated quarantine sites, 1,058 in locked-down areas, 1,298 in the community, and 84 imported cases.
There were 1,389 patients undergoing treatment, with the number of recoveries and deaths standing at 1,975 and 29, respectively.
Applying social distancing measures under the Prime Minister' Directive 16 since July 15, the province is now carrying out the PM's Directive15 along with some intensified measures.
To date, An Giang has received 161.8 billion VND worth of donations in both cash and kind for COVID-19 prevention and drought impact alleviation.
Binh took the occasion to express his gratitude for the attention of Party, State and Government leaders and the assistance of ministries, sectors, businesses and philanthropists toward the province's fight against the pandemic.
The visit to An Giang was part of Xuan's trip to encourage COVID-19 prevention and control activities in An Giang, Dong Thap, Tien Giang, Tay Ninh provinces and Can Tho city, presenting nearly 35 billion VND worth of donations in total./.
Pandemic speeds up digitisation, technology transformation
The COVID-19 pandemic does not slow down technological transformation or digitisation, but in fact speeds them up, companies said.
Speaking to Vietnam News, Angus Liew, General Director of Gamuda Land Ho Chi Minh City, said: "Digitisation is the future of mankind, not only for real estate but also for all other business sectors, and people's lifestyles as well. It's an irreversible trend. Nowadays we can see everyone is talking about AI, industry 4.0, etc."
Technology was the backbone nowadays and governed every aspect of doing business, from operational systems to mechanisms to interact with customers.
His company had put a lot of efforts and resources into developing technology and innovation. "Technological transformation is one of our top priorities," he said.
Soon, possibly in the first quarter of 2022, Gamuda Land Vietnam planned to launch a mobile app, 'GL Lifestyle.'
"This app is much more than just a technological product, it is itself an online ecosystem. Whatever features and services we have in our townships can be accessed through this app. It also connects our retailers and F&B, lifestyle and educational services with users.
"Training activities, conferences and seminars within our organisation are fully organised online. Proposals and approval procedures are proceeded with electronically, and applications and approvals can be done anytime, and from anywhere from any device whether you are in the office or at home.
"We have also fully processed procurement on digital platforms, including tendering, pitching and awarding."
Gamuda had expanded sales on digital platforms soon after COVID first began. Customers could find property deals on the company's website and the sales team assisted them in real time.
The company's headquarter in Malaysia was focused on technology transformation.
"It helps to make our operational system more agile and smart than previously. Thanks to it, Gamuda Land has sustained itself through difficult times and overcome challenges.
"Technology helps keep our operations running, and allows us to achieve our goals though there are many interruptions in the supply chain.
"Considering IT the backbone of our business, we always have a weekly discussion about how technology can be upgraded to enhance our business performance and what new solutions can be applied to strengthen and improve our process.
"We will continue to develop our existing digital systems to make them smarter and friendlier to users. The solutions being developed at the Gamuda head quarter like enterprise resource planning, industrialised building system, digital engineering, data warehouse, etc. will soon be implemented in Vietnam."
Recently Bibica Joint Stock Company launched digital retail platforms, connecting producers, distributors, retailers, and customers as part of a programme in response to the Ministry of Information and Technology's digitisation and digital economy development efforts.
A highlight of the paltform is the rewards points alliance model to connect customers, stores, manufacturers, and other partners in the alliance.
Customers are able to receive rewards and gifts from Bibica and its partners.
As for sellers, they can reach a large number of customers through the platform.
This is the first model in the Vietnamese retail industry that takes care of customers and cross-marketing, according to the company.
It is very popular in Japan where 60 million members and nearly a million shops take part in it.
Truong Phu Chien, Chairman of Bibica, said his company was acutely aware of the role and importance of digital transformation, and constantly strives to increase the use of information technology in all its business activities.
"The new solution is meant for Bibica to quickly and directly assist distributors, agents at all levels and consumers with easily buying goods online amid the Government's strict social distancing directive to fight the epidemic.
"The pandemic has severely affected manufacturing and distribution across the board. This app is a practical step to help us take care of and support our agents and stores across the country at this difficult time. "
More and more individuals too are using technology in their daily lives for things like buying food and making cashless payment to avoid exposure to COVID.
A recent Visa report titled Consumer Payment Attitudes highlights a growing interest in digital banking and other new payment technologies.
It said digital banking has a strong following among Vietnamese consumers with 77 percent being aware of it and 31 percent actually using it.
The driver of adoption is the convenience of being able to bank at any time without having to visit a bank.
At the same time there is growing interest in emerging payment methods. Biometric payments using fingerprint scans, voice and facial recognition and retina scan are a subject of particular interest.
Eighty three percent of Vietnamese are now aware of the existence of these payment methods and a vast majority are also interested in trying them.
Numberless cards are also gradually gaining recognition with 62 percent of consumers now aware of the existence of this option and 77 percent saying they would use them.
"The COVID-19 pandemic has given a tremendous push for all forms of cashless payments across small-ticket categories," said Dang Tuyet Dung, Country Manager for Visa Vietnam and Laos.
"These trends have found extremely fertile ground among Vietnam's young and adaptable population, with Gen Z consumers showing significant trust and excitement in new payment services and consumption channels like social commerce."
The significant interest shown in digital payments would help drive adoption and put Vietnam on the path to a cashless society, providing advances in safety, security and convenience, the Visa study said./.
Nano Covax's data for 'direct evaluation' of protective efficacy not available: Ethics council
The National Ethics Committee in Biomedical Research under the Ministry of Health on September 19 issued a press statement on its conclusions of a meeting one day earlier during which it looked into the mid-term phase 3 trial's results of homegrown COVID-19 vaccine Nano Covax.
The data available for review is from the developers – Nanogen Pharmaceutical Biotechnology JSC in Ho Chi Minh City with the support in administration and medical monitoring from the Military Medical University in Hanoi – up until September 2 this year, as the final phase of clinical trials is ongoing for the recombinant DNA vaccine.
Regarding the vaccine safety, Nano Covax is deemed to be safe in the short term based on reports of phase 3 trials (during the monitoring of the volunteers' health seven days after administration of the first dose for 11,430 volunteers, seven days after the administration of second doses for 5,785 volunteers).
Regarding immunogenicity, Nano Covax is deemed to be able to elicit immune responses, based on ongoing phase 3 results – anti-SARS-CoV-2 IgG test results on 924 samples 42 days after first jab; results of neutralising antibodies tests on 761 samples 42 days after first jab; plaque-reduction neutralisation test 42 days after the first jab on 107 samples with the first detected strain of coronavirus, 41 samples with Delta variant, 39 samples with Alpha variant.
The council's statement stressed that to date they haven't had the data to "directly" evaluate the protective efficacy, or the ability of a vaccine to prevent infection or symptomatic infections (based on of the number of people infected with COVID-19 after getting the shots), and said more study is needed for assessment of this "most important criteria to determine the vaccine's quality."
The currently available estimation of Nano Covax's protective efficacy extrapolated from its immunogenicity, or the level of antibodies in the vaccinated, however, has "enough scientific grounds" for the council to send the vaccine documents to the Advisory Council for the Registration of Circulation of Drugs and Medicinal Ingredients for reviews.
Regarding the proposal to grant Nano Covax conditional approval for emergency use, the ethics committee said they reached 'consensus' in the use of mid-term phase 3 trials for the drugs advisory body to deliberate.
But it asked the vaccine candidate's developers to supplement their reports as per the conclusions of the meeting and continue with the trials of the vaccine based on the approved outline to complete trials in March 2022, and give timely updates to the relevant committees and health authorities.
Experts from the Advisory Council for the Registration of Circulation of Drugs and Medicinal Ingredients, who will take up the case and make decisions on whether to give the emergency approval for the vaccine to be used in Vietnam, were also present at the meeting, the press statement reads.
Currently, 13,000 volunteers in phase 3 trials of Nano Covax – which started on July and is set to wrap up by 2022 February – have been given the second shots of the vaccine with dosage set at 25mcg.
Under the latest guidelines from the health ministry, domestically developed COVID-19 vaccines could be authorised for emergency use if they prove to be safe and effective in mid-term phase 3 findings, with further monitoring required even after obtaining such approval./.
Remarkable progress seen in farming in ethnic minority-inhabited, remote areas
Localities, especially those in ethnic minority-inhabited and mountainous regions, have made remarkable progress in agro-forestry production, gradually changing the face of rural and remote areas and improving people's lives.
The results were achieved thanks to the national science and technology programme for the 2016-2020 period and the rural and mountainous region programme for the 2016-2025 period.
With their potential, advantages and local specialties, agricultural development programmes and policies and use of sci-tech in their areas have created "bright spots".
Deputy Minister of Science and Technology Nguyen Hoang Giang said over the past years, localities have paid attention to improving products' quality, local specialties with geographical indication, collective trademark certificates and product identification packaging.
Notably, the northern mountainous province of Bac Kan has developed 'Shan Tuyet' tea cultivation meeting organic and VietGAP standards to bring high economic value. Additionally, the province also adopted advanced technology to grow seedless persimmons and increase its growing areas over the years.
Not only in northern cities and provinces, the southern province of Binh Phuoc also advocated using modern technology to develop local specialties in ethnic minority-inhabited areas, such as building tea material zones and plants to process 'O Long' tea which has gained popularity at home and abroad.
In the process of carrying out the rural and mountainous region programme for the 2016-2025 period, many localities successfully studied and transferred farming models suitable with each region, making important contributions to socio-economic development in rural, mountainous and ethnic minority-inhabited regions.
During the period, the rate of projects led by enterprises is estimated at 66.5 percent, higher than 26.2 percent reached in 2004-2010 and 44.5 percent in 2011-2015. They are encouraged to renew technology to produce high-value products and attract resources for production.
Via sci-tech application and transfer, a number of projects have helped improve people's material and spiritual lives, especially those in ethnic minority-inhabited and mountainous areas. Their cultural identity has been maintained with local customs kept intact./.
'Made-in-Vietnam' apps facilitate mutual support amid COVID-19
Technology has not only helped to connect hospitals together but also linked doctors with those need advice, and disadvantaged people with those who can assist them in a bid to drive back the COVID-19 pandemic together.
Over the past time, apps and platforms like VOV Bacsi 24, Giúp tôi! (Help me), SOSmap, and Zalo Connect have been launched to connect patients with medical system, vulnerable people with philanthropists, and citizens with authorities and vice versa.
During a recent teleconference, Deputy Minister of Information and Communications Nguyen Huy Dung said since the pandemic hit Vietnam in 2020, modern technology has become instrumental in connectivity.
Firstly, it links central-level hospitals and those in lower levels to offer remote advice. So far, 2,000 locations have been connected together, particularly, all central-level hospitals have linked with district-level ones. In recent days, temporary COVID-19 treatment hospitals in Ho Chi Minh City, Binh Duong and Long An have also been brought to the line.
Other apps like VOV Bacsi 24 have connected doctors with patients and sought emergency support, which proved effective in Ho Chi Minh City.
The recently-launched app "Giup toi!" now brings together 10,000 doctors who could offer treatment consultancy related to COVID-19 and other diseases.
Deputy Director of the Health Ministry's Department of Information Technology Nguyen Truong Nam spoke highly of such apps, adding that when citizens are unable to contact local doctors, they could call the ministry's hotline.
Other apps like SOSmap, Zalo Connect and others also offer food and necessities. During 15 days since its launch, Zalo Connect collected about 320,000 requests for assistance. The hotline 1022 in Ho Chi Minh City receives 15,000-20,000 calls each day seeking help from locked-down areas.
According to experts, the whole community needs to join hands to support the disadvantaged in the current context. Once social welfare services are ensured, residents will feel secure and seriously follow pandemic prevention and control measures./.
Vietnamese President arrives in Havana, beginning official friendly visit to Cuba
President Nguyen Xuan Phuc and a high-ranking delegation of Vietnam arrived in Havana on September 18 morning (local time), beginning a three-day official friendly visit to Cuba at the invitation of First Secretary of the Communist Party of Cuba (CPC) Central Committee and President of Cuba Miguel Díaz Canel.
The Vietnamese President was welcomed at Havana Jose Marti International Airport by Politburo member, Vice President of Cuba Salvador Valdés Mesa and officials of the Cuban Ministry of Foreign Affairs as well as Vietnamese Ambassador to Cuba Le Thanh Tung, the embassy's staff and representatives of the Vietnamese community working, living and studying in the country.
Vietnam and Cuba established diplomatic relations in 1960. Cuba always took the lead in supporting Vietnam's resistance war to regain national independence and reunification.
President Phuc's visit to Cuba reflected Vietnam's policy of promoting relations with priority partners and traditional friends. It is an opportunity for Vietnam to affirm its solidarity and strong support for Cuba in a challenging period, Deputy Minister of Foreign Affairs Dang Hoang Giang had said.
It is the first visit to Cuba by a senior leader of the Vietnamese Party and State after the 13th National Congress of the Communist Party of Vietnam.
President Phuc is also the first foreign head of state to visit Cuba after the Caribbean country successfully organised the 8th National Congress of the Communist Party of Cuba.
Over the past years, the Vietnamese Party, State and people have actively supported Cuba in food issue. In return, top leaders of Cuba directly instructed the early supply of COVID-19 vaccine and technology transfer to Vietnam when the Southeast Asian country proposed.
During the visit, Vietnamese and Cuban leaders will discuss to further close coordination and concretise important collaboration areas between the two nations, and to deepen their solidarity in the new period.
President Nguyen Xuan Phuc is scheduled to hold talks with First Secretary of the Communist Party of Cuba (CPC) Central Committee and President of Cuba Miguel Díaz Canel; and meet with Prime Minister Manuel Marrero Cruz, and President of the National Assembly of the People's Power and President of the Council of State Esteban Lazo Hernández./.
Exhibition sheds light on education system under Nguyen Dynasty
An online exhibition is being held online to mark the opening of the new school year 2021-2022. Through the precious materials on display, the younger generation will gain a better understanding of Vietnamese feudal education and its enduring achievements.
It features five topics, including the school opening ceremony, the Nguyen Dynasty's schools, the teachers, the study and examinations, and talent nourishment.
The materials and images on display will help viewers gain a more detailed understanding of the study and exams well as the relationship between teachers and students under the Nguyen Dynasty.
Tran Thi Mai Huong, Director of the National Archives Centre I under the Department of State Records and Archives, said: "Genuine evidence from archival documents shows the importance of education during the Nguyen Dynasty, especially during the reign of Emperor Tu Duc."
A highlight of the exhibition is a short film titled "Educational Path", which is synthesised from 100 valuable documents from Nguyen Dynasty woodblocks, bringing back the atmosphere of the Nguyen Dynasty hundreds of years ago.
Huong said teachers were not only responsible for teaching but are also representatives of etiquette and morality. They were examples for students as well as all of society to follow in leading a noble lifestyle.
The exhibition also introduces the school system under the Nguyen Dynasty, which was arranged systematically from the central to local level and from higher education to general education.
According to the organising committee, the Records of Royal and Woodblocks also showcases the important role of teachers under the Nguyen Dynasty.
The feudal educational achievements of the Nguyen Dynasty (1802-1945) went down in history, but the fairness and rigor of the examinations, the way of training in a spirit of study, and the cultivation of morality and personality in the old days are still valuable today./.
COVID-19: Vietnamese in Malaysia receive gifts
The Vietnamese Embassy in Malaysia on September 17 visited and presented more than 100 gift packages to Vietnamese households in Teluk Intan in the state of Perak.
The event formed part of charity activities jointly carried out by the embassy and community organisations.
Second Secretary at the Vietnamese embassy Vu Duc Minh told the Vietnam News Agency (VNA)'s correspondents that the COVID-19 pandemic has caused a range of difficulties to Vietnamese in the locality.
Ismail, one of the beneficiaries who belong to the Cham group, said he has lived in Malaysia for more than three decades.
The necessities and medical supplies will help us to overcome the difficulties, he said, expressing his thanks to the embassy and donors for their valuable support./.
Vietnam calls on parties in Somalia to solve differences
Vietnam has called on parties involved in Somalia to settle differences and put national interests first to solve the ongoing political crisis, said Ambassador Pham Hai Anh, Deputy Permanent Representative of Vietnam to the United Nations.
Speaking at a United Nations Security Council meeting on Somalia's situation on September 17, Ambassador Anh stressed that the parties involved in Somalia need to find ways to resolve differences, participate in dialogues and build trust in a constructive spirit and make more efforts to achieve a political consensus in organising elections in accordance with an agreement reached on May 27.
He affirmed his support for the role and contribution of regional organisations, including the African Union (AU) and the Intergovernmental Authority on Development (IGAD) in solving relevant political issues.
The Vietnamese diplomat underlined the need for the parties to unite in the fight against terrorism, the COVID-19 pandemic in this East African country and coping with its socio-economic difficulties as well as threats for peace and sustainable development.
Delivering a report at the consultation, Special Representative of the UN Secretary-General for Somalia James Swan said tension between the top leaders in Somalia has deepened since the beginning of this month when Somali President Mohamed Abdullahi Mohamed, commonly known as Farmajo, and Prime Minister Mohamed Hussein Roble had differences in how to run and organise the upcoming elections.
According to Swan, currently, leaders of member states, cabinet members and representatives of the legislature are working to promote dialogue and compromise to resolve these differences.
Regarding the Senate election in Somalia, he said that 34 out of 54 seats were elected, of which women accounted for 24 percent. The state of Somaliland is expected to hold a Senate election in the next few days, Swan said, adding that he has called on Somalian leaders not to take any more unilateral actions or statements that could cause a negative impact on electoral timetable and process./.
Vietnam's National Day celebrated in Geneva
Vietnam's Permanent Mission to the United Nations (UN), World Trade Organisation (WTO) and other international organisations in Geneva on September 17 hosted a banquet to celebrate the 76th anniversary of National Day of Vietnam (September 2).
The event saw the participation of UN High Commissioner for Human Rights Michelle Bachelet, WTO Director-General Okonjo-Iweala and Director General of the World International Property Organisation (WIPO) Daren Tang, among others.
Ambassador Le Thi Tuyet Mai, head of the Vietnamese mission, highlighted Vietnam's noted socio-economic achievements over the past years, saying the country has completed almost millennium development goals (MDGs) and is pushing ahead with the implementation of sustainable development goals (SDGs) in accordance with the 2030 agenda.
The Vietnamese National Assembly and Government are resolved to realise the socio-economic development strategy for 2021-2030 approved at the 13th National Party Congress earlier this year, she said.
Regarding the COVID-19 combat, the ambassador thanked the valuable support of countries and international organisations to Vietnam, especially in accessing vaccine sources.
A number of countries, including Switzerland, have committed to sharing COVID-19 vaccines with Vietnam via the COVAX Facility which has, so far, provided Vietnam with around 12 million doses.
Mai also used the occasion to thank the UN Office, other international organisations and permanent missions of countries in Geneva, including the ASEAN Committee in Geneva, for their support to the Vietnamese mission.
The ambassador expressed her firm belief that by promoting multilateralism, international cooperation and cross-border solidarity, the international community will tackle negative impacts of the pandemic and establish a "new normal," towards a better future.
Within the framework of the event, there was an exhibition displaying paintings and photos that feature the land and people of Vietnam.
Guests were also treated to traditional Vietnamese music and dishes./.
Tiền Giang, Đồng Tháp provinces to focus on reducing death rate from COVID-19: deputy prime minister
The Mekong Delta provinces of Tiền Giang and Đồng Tháp should continue anti-pandemic measures and focus on reducing the death rate from COVID-19, Deputy Prime Minister Vũ Đức Đam has told provincial authorities.
Đam led a inspection team to Tiền Giang and Đồng Tháp provinces on Friday.
At a meeting in Đồng Tháp, Đam said the province police should visit each house to ask members to fill out medical declarations and ask them if they had returned from COVID-19 hotspots.
Preventing cross-transmission at quarantine facilities was also important, Đam said.
In locked-down areas, rapid tests should be administered to detect COVID-19 patients quickly.
The province also needs to prepare scenarios for a possible COVID-19 outbreak after re-opening, Đam said. People must follow the Ministry of Health's 5k message: Khẩu trang (face mask) – Khử khuẩn (disinfection) – Khoảng cách (distance) – Không tụ tập (no gathering) – Khai báo y tế (health declaration).
Periodic tests, especially at factories, workplaces, traditional markets, areas with high number of residents, and high-risk areas should be done properly, he added.
The province has seen a sharp drop in new COVID-19 cases, but the number of cases in quarantine facilities and locked-down areas is still high, according to Deputy Minister of Health Đỗ Xuân Tuyên.
The death rate due to COVID-19 also remains high.
The province reported that 50 per cent of districts, towns, and cities are classified as high risk. It has asked the Ministry of Health to allocate 500,000 more doses of COVID-19 vaccines this month.
Nguyễn Văn Mười, vice chairman of the Tiền Giang Province People's Committee, said that 12,468 COVID-19 cases had been recorded since the fourth wave broke out, including 311 deaths.
Since August 28, when the second COVID-19 screening campaign ended, the province has had no "extremely high-risk" or red zones. Châu Thành and Chợ Gạo districts and Mỹ Tho City are classified as "high risk" or orange zones. It has seven districts that are now safe (green) zones.
The province has reached nine out of 11 criteria for COVID-19 prevention and control. It started its third COVID-19 screening campaign on Thursday and targets controlling the outbreak in two to four weeks.
The province's death rate due to COVID-19 has fallen because of good collaboration in all levels of the treatment system. Tests were given in each village and residential quarter based on the results of epidemiological investigations.
Dr Nguyễn Vũ Thượng, deputy head of the HCM City Pasteur Institute, said that around 40 per cent of biological products needed for testing were saved by giving tests based on the results of epidemiological investigations. Thanks to tests in each village and residential quarter, the province was able to identify the risks there.
Đam said to prepare to return to the new normal, the province should not be in a hurry to re-open if safety cannot be ensured. Production enterprises need to have measures to ensure safety and the province should work with HCM City to have solutions for its workers to return safely to the city.
Source: VNA/VNS/VOV/VIR/SGT/SGGP/Nhan Dan/Hanoitimes
VIETNAM NEWS HEADLINES SEPTEMBER 19 have 6163 words, post on vietnamnet.vn at September 19, 2021. This is cached page on Talk Vietnam. If you want remove this page, please contact us.