Vietnam to attend ASEM Cultural Festival 2021
Vietnam and 10 other countries have signed up to participate in the ASEM Cultural Festival (#ASEMfest), a side event of the 13th Asia-Europe Meeting (ASEM) to be hosted by Cambodia in November.
The ASEM Cultural Festival 2021 is scheduled to get underway between November 22 and 26.
This international cultural event will be held virtually with the main activities such as performing arts, and the screening of feature films and documentaries, as well as the exhibition which would be held in hybrid format at the National Museum of Cambodia.
The festival aims to explore the cultural diversity and promote the exchange, cooperation and artistic creation between the cultures of both regions, contributing to enhancing cooperation and development between the ASEM partner countries.
Joining as a founding member of ASEM in 1996 marked an important step in the implementation of Việt Nam's policy of open foreign policy, multilateralisation and diversification of relations.
Over the past 25 years, Việt Nam has made active and responsible contributions, creating important milestones in the development of ASEM, enhancing the role and position of the forum.
Việt Nam is considered one of the most active members in initiating, proposing and promoting many new ideas and cooperation contents, directly implementing and co-sponsoring nearly 60 initiatives in various fields.
According to the original plan, ASEM 13 was scheduled to be held in November 2020, but in July 2020, the host country Cambodia decided to postpone it due to COVID-19.
Cambodia plans to host this conference with the theme of "Strengthening the multilateral mechanism for common development."
Marine protected area to be established in Quang Ninh Province
The Centre for Marinelife Conservation and Community Development (MCD) in collaboration with the Department of Aquatic Resources Conservation and Development of National Directorate of Fisheries and Quảng Ninh Province Sub-Department of Fisheries yesterday organised a virtual consultation meeting to present and consult on the dossier documents for establishing a Marine Protected Area (MPA) of Cô Tô – Đảo Trần.
The meeting was a forum to update guidelines from the national level to provinces on the establishment of MPA according to the national planning and to discuss and consult on the necessary protocols and documents for establishing Cô Tô – Đảo Trần MPA in Quảng Ninh Province.
The meeting was organised within the cooperation framework between MCD, Directorate of Fisheries, and Quảng Ninh Province People's Committee, with support from the project "Accelerating the declaration of Co To Island MPA to strengthen the MPA network in Việt Nam" funded by Rockefeller Philanthropy Advisors through Oceans 5.
The project aims to promote the Cô Tô – Đảo Trần MPA in Quảng Ninh Province to be established and recognised, while strengthening the connection of the national MPA network in Việt Nam and promoting the active participation of agencies, organisations, experts and the communities in the formulation and operation of MPAs.
Lê Trần Nguyên Hưng, Deputy Director of Department of Aquatic Resources Conservation and Development of the National Directorate of Fisheries, commented: "The protection of fisheries resources is always one of the top priorities of the fisheries sector, in which the establishment of marine protected areas is an important measure, which should be implemented synchronously and effectively," he said.
Hồ Thị Yến Thu,  Permanent Deputy Director of MCD, said currently, in the national strategy for the sustainable marine economic development of Việt Nam to 2030 with a vision to 2045, the blue economy is identified as key.
"We believe that with the proactive action of government agencies in Quảng Ninh Province, together with the guidance and support of the national authorities and the involvement of the local community, the project will be successful in assisting Cô Tô – Đảo Trần MPA establishment process to reach the finishing line," she said.
It is planned that after receiving all instructions and inputs from all levels, MCD will continue to work with experienced experts to assist Quảng Ninh Province in completing the documents and procedures for the Cô Tô –Đảo Trần Island MPA establishment, for the required appraisal and approval, and also promoting multi-stakeholder cooperation activities to raise public awareness and support for the MPA and strengthen the network of MPAs in Việt Nam.
President shares children's Mid-Autumn Festival joy
President Nguyen Xuan Phuc has sent a letter to all children in Vietnam and Vietnamese children overseas, sharing the joy with them on the traditional Mid-Autumn Festival.
Extending his best wishes to the children, the President said he is moved to see the children show their bravery and self-reliance during quarantine or when their family members join frontline forces in the fight against COVID-19.
He praised their efforts to overcome difficulties and study hard, thus bringing honour to the country and fostering hope and trust in young generations who are future owners of the country.
President Phuc said he believes that each family, all sectors and the entire society will continue to roll out practical activities to take care of children, especially orphans, those who live in disadvantaged circumstances, with autism, or in remote and mountainous areas.
He expressed his wish that the children continue to nurture patriotism, pride and passion, and study well in order to contribute to building the country when they grow up.
The leader also wished all children a safe and joyful Mid-Autumn festival.
The Mid-Autumn Festival, celebrated on the 15th day of the 8th month on the lunar calendar, which falls on September 21 this year, is also a festival for children in Vietnam. Many activities are held for children on this day, including gatherings to decorate fruit trays, lantern parades, lion dances, and gift giving./.
Embassy in China holds int'l cultural friendship exchange
The Vietnamese Embassy in China in collaboration with the Chinese Association of international friendship cultural festivals held the 22nd cultural exchange among diplomatic corps in China on September 17.
The event was also meant to celebrate the 76th anniversary of Vietnam's National Day (September 2), with over 300 guests and representatives from 30 embassies and international organisations in Beijing.
In his opening speech, Vietnamese Ambassador Pham Sao Mai stressed that via the event, the Chinese people and international friends will understand more about Vietnam and its culture, customs and people, contributing to fostering the cultural exchange between the Vietnamese and Chinese citizens, and people from countries in general.
Chairman of the Chinese association Cui Yong An said promoting cultural exchange will contribute to consolidating social foundation for bilateral ties.
Participants at the event were treated to traditional dishes of Vietnam, enjoyed the beauty of Vietnam's traditional long dress and traditional costumes of countries, and attended a photo exhibition on the country and people of Vietnam./.
Huong Tho pomelos, specialty fruit of Thua Thien Hue
A local specialty, pomelos planted in Hương Thọ Commune in the central province of Thừa Thiên Huế have brought about high economic value, helping improve locals' income in recent years.
The provincial authorities therefore have actively implemented measures to expand pomelo cultivating areas, ensure stable output, promote the application of post-harvest preservation technology and develop the brand for the local specialty fruit.
The harvest season of Hương Thọ pomelos lasts from August to December. VNA/VNS Photos Tường Vi
Đoàn and many other farmers in the area have regularly participated in training courses and installed automatic irrigation systems to reduce labour and save water.
As pomelos are entering harvest season, his family has to hire 10 labourers to supply the fruit to the market. Each tree could generate income from VNĐ2.5-5 million (around US$2,000) on average.
"My family started to grow a few pomelo trees in 2002. After realising its high economic efficiency, we decided to expand the garden to plant pomelos. We now have 120 trees bearing fruit, which give us an annual income of VNĐ350-400 million ($15,300-17,500)," Đoàn said.
This year, despite the impact of the COVID-19 pandemic and natural disasters by the end of 2020, his pomelo garden still yielded an estimated income of more than VNĐ300 million ($13,000).
Hương Thọ pomelos have a sweet and juicy taste with light pink vesicles. The harvest season of the fruit lasts from August to September.
The commune currently has 120 households growing about 50 hectares of pomelos, yielding an annual revenue of tens of billions of đồng.
Particularly, a specialised cultivating area, covering an area of ​​5 hectares in Liên Bằng Village, produces 30-35 tonnes of pomelos that meet VietGAP standards per hectare, and earns an estimated revenue from VNĐ450-500 million per hectare.
Not only within the province, Hương Thọ pomelos have been introduced to neighbouring markets like Quảng Trị Province and Đà Nẵng City. The commune has identified pomelos as the key local agricultural product and aimed to build a local specialty brand.
"Hương Thọ pomelos have also been recognised as a 3-star OCOP (One Commune One Product) by Thừa Thiên Huế Provincial People's Committee since 2020, which is expected to expand the consumption markets, enhance the value of the products and raise incomes for local farmers," said Lê Văn Chúng, chairman of Hương Thọ Commune Farmers' Association.
"The association will continue to coordinate with the agricultural sector to open training courses for farmers to get hold of the growing techniques and encourage the expansion of the area under pomelos by renovating mixed crop gardens and converting inefficient crops," he added.
Important issues tabled at SEA Games Federation Office's meeting
The South East Asian Games Federation (SEAGF) Office held a virtual meeting on September 17, with the participation of representatives of 11 national Olympic Committees and members of the SEAGF Office.
The event was to adopt a minute of the meeting held on July 8 which updated COVID-19 situation in each country, and preparations for the 31st and 32nd edition of SEA Games in Vietnam and Cambodia, respectively, along with the Asian Indoor and Martial Arts Games hosted by Thailand in 2022.
It also gathered opinions on the Joint Statement of the ASEAN Ministerial Meeting on Sports, which aims to improve athletes' performance and achievements at regional and international competitions.
At the meeting, Deputy General Director of the Vietnam Sports Administration Tran Duc Phan said the Vietnamese Government has basically approved the postponement of the SEA Games 31 until the second quarter of 2022. The Vietnamese side will soon inform other countries of its plan, he added.
As originally planned, SEA Games 31 and the 11th ASEAN Para Games would take place from November 21 to December 2 in Vietnam this year./.
Vietnamese, Lao parties review theoretical exchange
A teleconference reviewing theoretical exchange and personnel training between the Communist Party of Vietnam (CPV) and the Lao People's Revolutionary Party (LPRP) for the 2016-2021 period and discussing collaboration orientations for 2021-2026 was held in Hanoi and Vientiane on September 17.
The event was co-chaired by Director of the Ho Chi Minh National Academy of Politics and Chairman of the CPV Central Committee's Theory Council Nguyen Xuan Thang and head of the LPRP Central Committee's Commission for Propaganda and Training and Chairman of the LPRP Central Committee's Theory Council Khamphanh Pheuyavong.
Speaking at the event, Thang affirmed that theoretical exchange and personnel training hold significance to ties between the two Parties and States, as well as promoting the great friendship, comprehensive cooperation and special solidarity between the two countries.
The two Parties' agencies worked closely together to prepare for seminars' agenda, administrative procedures and reception. Their topics were chosen thoroughly and held theoretical and practical values to the two Parties and countries.
Opinions at the event affirmed the sound leadership, policies and guidelines of the two Parties and States, contributing to renewing perceptions and thoughts and further clarifying urgent theoretical and practical issues in the two countries' renovation process.
During the 2016-2021 period, the two Parties successfully held training programmes for leadership and managerial officials in the Lao political system.
Thang also hailed a project to translate the complete works of President Ho Chi Minh from Vietnamese to Lao, contributing to spreading Ho Chi Minh Thought in Laos.
Pheuyavong said the event has become a mechanism in the process of theoretical exchange between the two Parties in the new context, contributing to strengthening the special cooperative ties between the Vietnamese and Lao Parties, States and people./.
Police investigate death of 6-year-old girl in Hanoi
Police in Xuân Đỉnh Ward, Bắc Từ Liêm District, Hà Nội, are investigating the death of a six-year-old girl.
The girl, a student at Xuân Đỉnh Primary School, reportedly died on Thursday afternoon.
She was due to take an online class on Thursday afternoon. However, she did not participate.
Head of the district's Education and Training Department Nguyễn Thị Hương said that when she heard rumours the girl died while studying online, the department immediately made enquiries and the teacher of the student confirmed that the girl was absent from class.
Hương also said that the district's education sector had adjusted the times of online classes after parents raised objections.
The online class was held in the evening instead of morning or afternoon, so that parents, who were busy during the day, could supervise their children during the class, she said.
Hanoi's Fatherland Front receives 8 million USD for COVID-19 fight
The Vietnam Fatherland Front (VFF) Committee in Hanoi on September 17 received more than 182 billion VND (nearly 8 million USD) in cash and kind donated by localities, enterprises and individuals to support the capital city's COVID-19 fight.
The T&T Group presented 1 million RT-PCR test kits worth 6 million EUR.
The assistance is hoped to increase Hanoi's testing capacity in an effort to promptly detect and "filter out" COVID-19 cases from the community, and bring COVID-19 under control, said Deputy General Director of T&T Group Nguyen Tat Thang.
Meanwhile, people and officials of Hanoi's outlying district of Me Linh donated 20.6 billion VND for the COVID-19 vaccine fund of the city.
Receiving the aid, Chairwoman of the city's VFF Committee Nguyen Lan Huong pledged that the donations will be distributed in a transparent and efficient manner, contributing to curbing the spread of the pandemic in the capital.
On the same day, a delegation of the Hanoi's VFF Committee led by Huong visited and handed over aid packages to a group of disadvantaged builders residing in Tay Ho district./.
Dien Bien airport expansion project to kick off in December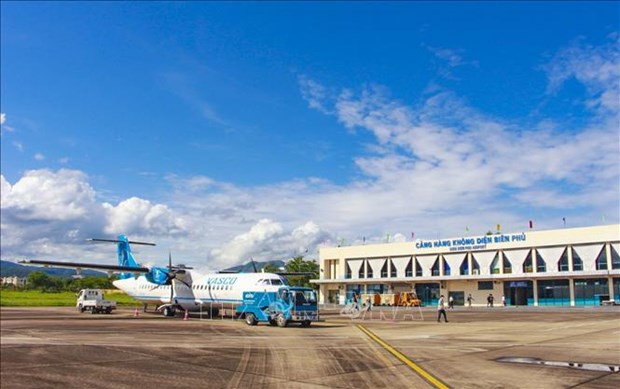 At the Dien Bien airport.
A project on expanding and upgrading Dien Bien airport in the northwestern province of Dien Bien is scheduled to begin in December and be completed in October 2023, according to a direction issued by Deputy Minister of Transport Le Anh Tuan.
The expansion project was approved on March 27 with the aim of increasing its capacity to 500,000 passengers per year. The Airports Corporation of Vietnam (ACV) is the investor of the project, which is estimated to cost 1,547 billion VND (67 million USD).
The airport will be upgraded to receive large aircraft such as Airbus A320s and A321s and those with equivalent sizes.
In his direction, Tuan tasked the ACV to ratify the project in September so mine clearance could start in October.
In December, the project will begin, with the apron constructed immediately.
The terminal section will be built from January 2022. In April 2022, the runway will be constructed.
The old airport is expected to close from April 2023, with the project expected to finish in October 2023.
The Dien Bien Airport, 500 kilometers to the west of Hanoi, is the largest and the only commercial airport in the northwestern region of Vietnam.
It was originally a military airport built in 1954. It began commercial operations in 1994. It has one 1,830-meter runway that can handle short-haul ATR72 and smaller aircraft. Its current capacity is 300,000 passengers per year./.
Illegal trade of small guns, light weapons affects int'l peace, security: Vietnamese ambassador
Ambassador Pham Hai Anh, Deputy Permanent Representative of Vietnam to the United Nations (UN), has raised his concern about the negative consequences of the illegal trade in small guns and light weapons that makes conflicts prolong and causes negative impacts on peace efforts and socio-economic development.
Addressing the UN Security Council's virtual Arria-formula meeting on "The threat to international peace and security posed by the illicit trade in small arms and light weapons" on September 16, Anh affirmed Vietnam's support for regional and international cooperation efforts to complement national efforts, especially in coordination of activities and resources and expertise and experience sharing. He emphasized the need for an approach appropriate to the specific situation and location at the national and regional levels, and called for support of Africa's efforts to address the region's problems.
The Vietnamese representative said that it is necessary to both ensure the fight against illegal weapon trade and avoid negative impacts on the national capacity to safeguard national defence and security, even in the transitional and post-conflict periods as in many places at present.
Speaking at the event, representatives of UN agencies and scholars said that the illegal trade and transfer of weapons remains complicated in many parts of the world. They stressed the importance of fully implementing relevant international treaties, documents and cooperation frameworks, including the UN Programme of Action to Prevent, Combat and Eradicate the Illicit Trade in Small Arms and Light Weapons (PoA) and related resolutions of the UN Security Council./.
Hai Duong eases transportation restrictions
The northern province of Hai Duong has allowed the reopening of some transportation services from today, September 17, within the locality following a long suspension due to Covid-19.
According to a representative from the provincial Department of Transport, the resumption is applied to bus, taxi and coach services. However, vehicles are only permitted to operate within the province.
Vehicle operators are requested to ensure Covid-19 prevention and control activities, including keeping lists of passengers. People exhibiting symptoms like coughing and fever need to be reported to the nearest medical station for Covid-19 testing.
Inspectors of the local Department of Transport will closely supervise the implementation of Covid-19 prevention and control activation by transportation services. Violations will be strictly punished.
Some other services including fitness centres, spa, and restaurants will resume operations from September 18.
By Thursday afternoon, Hai Duong experienced 37 days without detecting any local Covid-19 infections following the Covid-19 outbreak in Gia Loc District on August 10.
Currently, only one local Covid-19 case is being treated. Meanwhile, around 2,000 people are being put under quarantine.
More Covid-19 vaccination violations found in Can Tho
Trinh Minh Thang, party secretary of Thot Not District, Can Tho City, has said the district were verifying a report that 57 children had been given Covid-19 vaccine shots.
He went on to say they were also reviewing the vaccination programme in the city and all related individuals and organisations would be held accountable.
Duong Tan Hien, vice chairman of Can Tho City People's Committee said, "Thot Not District has not submitted any report to the city authorities yet. It is wrong to vaccinate children without authority approval."
On September 13, Nguyen Kim Hai, director of Thot Not Health Station was suspended from his work for 15 days for prioritising the Covid-19 vaccination of a local child aged 13. He later said that several children under 18 were also vaccinated as they were relatives of frontline medical staff.
On September 14, a list of vaccinated people was posted on the internet. According to the list, a total of 362 people were vaccinated on August 11 including 57 children who were vaccinated with Pfizer at a vaccination point at Thot Not Secondary School.
The Ministry of Health has not issued any announcement or approval for child vaccination. Children are currently not in the prioritised group for vaccination.
Photo contest launched to promote value of Phong Nha – Ke Bang National Park
An online photo contest themed Phong Nha – Ke Bang National Park was recently launched to mark the 20th founding anniversary of the park (2001-2021).
Hosted by the park's management board, the contest is open for both Vietnamese and foreign contestants aged 18 years and above. The entries should focus on the natural landscape, caves, flora and fauna, cultural practices, and people's activities at the park.
Submissions should be sent to https://anh.phongnhakebang.vn or [email protected] no later than November 15.
Winners will be announced in November 2021, with 10 prizes worth VND33 million in total to be presented to the most outstanding entries.
The winning photos will be used in communication campaigns to promote the value and tourism potential of the park as well as to raise public awareness of nature conservation.
Located in Quang Binh Province in central Vietnam, about 50 km northwest of Dong Hoi City and about 500 km south of Hanoi, Phong Nha – Ke Bang National Park has been honoured by UNESCO as a UNESCO World Heritage Site.
The national park is home to over 300 magnificent caves and grottoes that date back 400 million years, including Phong Nha Cave, which has the longest underground river; Thien Duong (Paradise) Cave, with its beautiful and spectacular stalactites and stalagmites; and Son Doong, regarded as the largest cave in the world.
Over 5,000 entries submitted to Vietnam Children's Fine Arts Awards 2021
More than 5,000 entries were submitted to Vietnam Children's Fine Arts Awards 2021 by contestants aged from 5 to 15 from 45 cities and provinces across the country.
The awards were launched three months ago by the Department of Fine Arts, Photography and Exhibition under the Ministry of Culture, Sports and Tourism, in coordination with the Vietnam Culture and Arts Exhibition Centre.
The organising board presented 39 individual prizes and 10 collectives prizes for the most outstanding entries, which feature various topics including the land of Vietnam; children's love for Uncle Ho and their family; environmental protection; COVID-19 pandemic prevention and control; and their wish for a peaceful and happy world.
The entries will be introduced to the public at an online exhibition at http://ape.gov.vn and http://trienlamvhnt.vn from September 20 to December 31.
At the same time, the organising board also launched an online display themed 'the Mid-autumn festival through eyes of children' at the two websites to celebrate the full-moon festival.
The display will introduce the children to photos and documents on the origin and meaning of the full-moon festival as well as how Hanoians celebrated the festival in the 20th century.
Visitors can also explore the traditional toys of the mid-autumn festival such as star-shaped lanterns, wooden drums, and paper masks as well as full-moon festival celebrations in some other Asian countries such as Japan, Malaysia, Singapore, the Philippines, and China.
Singaporean firm assists Binh Duong in medical equipment
Singapore's Sembcorp Industries presented medical equipment worth 1 million SGD to two hospitals in Vietnam's southern province of Binh Duong during an online ceremony on September 17.
Vietnamese Ambassador to Singapore Mai Phuoc Dung and Singaporean Ambassador to Vietnam Jaya Ratnam together with leaders of Binh Duong province attended the event.
The equipment include a RT-PCR system and 12 ventilators BIPAP for Binh Duong general hospital and 65 patient monitoring equipment for Becamex international hospital. The first batch will be delivered the same day to treat COVID-19 patients in serious conditions.
President and CEO of the Sembcorp Industries Wong Kim Yin vowed to stand side by side with the Vietnamese people in the fight against the pandemic, and hoped that the situation will become stable soon.
The provincial Vietnam Fatherland Front has also received nearly 600 billion VND (26 million USD) in cash and kind from businesses and individuals for anti-pandemic effort.
Since the fourth wave of COVID-19, Binh Duong has recorded 169,073 infections, 128,668 of them recovered and 1,549 died from the disease./.
Politburo gives opinions on socio-economic performance
The Politburo listened to the Party delegation to the Government's reports on the 2021 socio-economic performance, the 2022 socio-economic development plan, the 2021 State budget, the 2022 State budget estimate and 2022-2024 finance-State budget plan, and the time for salary reform, during a meeting in Hanoi on September 17.
Party General Secretary Nguyen Phu Trong chaired the event, which also saw the presence of President Nguyen Xuan Phuc, Prime Minister Pham Minh Chinh and National Assembly Chairman Vuong Dinh Hue.
The Party leader said since the fourth COVID-19 wave hit the country in late April, the country has been facing great challenges that could last till late 2021 or early 2022, making it hard to fulfill key targets set for this year.
The Politburo asked units and localities to closely follow socio-economic development orientations set in the Resolution adopted by the 13th National Party Congress, absolutely stay vigilant, and continue effectively implementing pandemic prevention and control measures with priority given to ensuring the supply of vaccines and medicines, so as to protect people's health and lives. In the immediate future, suitable scenarios and measures should be outlined to cope with the pandemic, he said.
They were required to effectively carry out the economic recovery and development programme in response to possible contingencies, grasp opportunities from rapid recovery of major economies, offer employment assistance and improve workers' income.
The Politburo also agreed to submit a proposal to the Party Central Committee (PCC) and the National Assembly on delaying salary reform policy in accordance with the 12th Party Central Committee's Resolution dated May 21, 2018. It will base on feedback from units concerned and members of the Politburo and the Secretariat to complete the proposal to be submitted to the fourth plenum of the PCC./.
Professor helping boost Vietnam, RoK relations
Almost everyone in the Republic of Korea who studies Vietnamese and is interested in Vietnam and its people will have heard of Professor Cho Jae-hyun. He is one of those who laid the foundations for and made important contributions to building and developing the friendship between the two countries during the 1990s.​
He is now Permanent Vice President of the Korea-Vietnam Friendship Association and Chairman of the Asian Cultural Exchange Foundation.
The professor has also been an advisor on policies towards Vietnam for many Republic of Korea presidents.
"I have witnessed several important milestones between the two countries in the process of establishing diplomatic relations," Professor Cho Jae-hyun said.
The professor recognises that establishing diplomatic relations was a major victory not only for Vietnam but also for the Republic of Korea.
The two countries have recorded fruitful achievements over the last three decades, helping to boost their bilateral relations to "comprehensive cooperation", especially in the economic area.
He said bilateral trade between the two countries was only 500 million USD in 1992. The figure had rocketed to nearly 70 billion USD by 2020, an increase of about 140 times. As of the end of June 2021, bilateral trade turnover for the year stood at 36 billion USD. The two governments have also shown strong cooperation in international matters.
Professor Cho Jae-hyun has also been very active in charity work in Ho Chi Minh City. He said there are many things he wants to do for Vietnam and to help strengthen diplomatic relations between the two countries./.
Vietnamese marketing campaign about nurses wins international award
A marketing and communication campaign called 'Resilient Blossoms' by the Hoan My Medical Corporation has won the excellence award from Hospital Management Asia in the Branding & Marketing Campaign category.
Le Ngoc Anh Phuong, marketing and communications director of the company, said: "We are proud and honoured to receive this award. It is an invaluable gift that helps motivate nurses in the medical industry, which faced many great challenges even before the COVID-19 pandemic.
"Against all odds, nurses have sacrificed their own needs and time for their families in order to fulfil their responsibilities to the patient. They consider the sick their relatives and the hospital their second home. This project is a 'thank you' to the nurses who have quietly given us hope for the future."
The campaign consisted of five film documentaries in which doctors, nurses and other medical staff at Hoan My narrate true stories about medical events, their routines, fears, concerns, and professional challenges, and they can be found on the company's YouTube channel and fan page.
A photo documentary book of the same name vividly describes the profession and daily struggles of nurses.
The book is expected to be published in the first quarter of 2022 and gifted to universities, colleges and nursing students.
The documentaries have so far attracted more than 1.2 million views, 450,000 viewers and 4,400 positive comments on the fan page.
HMA is an annual event for hospital owners, C-level executives, directors and industry leaders to exchange insights on healthcare management thinking, best practices and solutions.
This year HMA held its conference and awards ceremony online from September 14 to 16./.
Transport ministry urges COVID-19 vaccination support at key traffic projects in southern region
The Ministry of Transport (MoT) has sent a written request to the Ministry of Health seeking the support of 5,500 doses of vaccine for officials and workers at key transport projects in the southern region which are currently under construction.
Deputy Minister of Transport Le Dinh Tho said that this is an urgent solution and has a direct impact on ensuring the progress and quality of disbursement of construction investment projects under the direction of the Prime Minister.
Once the vaccine is available, the Ministry of Transport will assign its transport health department to direct the Ho Chi Minh City Transportation Hospital and transportation hospitals in the areas where the projects are implemented, cooperate with local Centres for Disease Control, the project management boards, and contractors to organise vaccination for workers, the MoT said.
These units would have to ensure it meets the MoH's requirements as well as pandemic prevention and control regulations.
According to the Deputy Minister, the MoT is actively implementing key national projects such as the ones to upgrade the runway at Tan Son Nhat airport, the My Thuan – Can Tho Expressway, North-South Expressway at Vinh Hao – Phan Thiet section, My Thuan 2 bridge and Long Thanh airport.
However, they faced many difficulties during the implementation of the projects due to the impact of the fourth wave of COVID-19. Most of the labourers working on large projects have not yet been vaccinated against COVID-19, he said./.
Deputy PM warns HCM City not to take its eye off the COVID ball yet
HCM City should assess the risk of COVID-19 outbreaks in residential quarters and even in residential groups and adopt appropriate preventive measures, Deputy Prime Minister Vũ Đức Đam told city authorities at a meeting on September 16.
It should first quell the outbreak and ensure safety before gradually reopening the economy, he said.
No possible unsafe activity should be resumed, he warned.
Green zones, or areas deemed to be free of transmission risk, and places where a significant number of people have got two shots of vaccines should be reopened fully rather than just allowing a few sectors to resume operations.
He hailed the public for strictly complying with the stringent social distancing measures, and authorities for stepping up tests, vaccination and medical and social assistance to people in need, which has helped combat the pandemic.
But it would take more time to bring it under control, he said.
He said the city should involve private medical facilities in providing tests and other medical services to enterprises if any COVID-19 cases are detected.
He said the Government had instructed the COVID special task team to provide more vaccines to the city for it to soon achieve its goal of giving every resident two shots this year.
Phan Văn Mãi, chairman of the city People's Committee, said the last three weeks of stringent social distancing had enabled a gradual expansion of green zones and narrowing of red zones, or extremely high-risk areas, with new COVID-19 incidence reducing.
The numbers of severe cases requiring hospitalisation and deaths had also fallen, he said.
The rate of people who have received the first shot of vaccine was 92 per cent, while 24 per cent were fully immunised.
The city would need more vaccines and COVID medicines, he said.
Nguyễn Văn Nên, secretary of the city Party Committee, said the city aimed to drastically improve the efficacy of each of its preventive measures until the end of this month when the lockdown would continue.
The city would permit the reopening of some sectors only on a trial basis if it is not certain about the safety, he said.
It would also have policies that enable workers from other provinces to return to their jobs, he added.
Kien Giang strives to put COVID-19 under control by September 20
The southern province of Kien Giang is giving the top priority to accelerating COVID-19 testing to early detect and quarantine positive cases in order to cut off the source of infection, and put the pandemic under control before September 20.
According to the provincial Steering Committee for COVID-19 Prevention and Control, from September 17-21, all residents in locked down areas will be tested, with total money for this work reaching 128 billion VND (5.63 million USD).
For high and very high risk areas such as Ha Tien city, and Chau Thanh, Hon Dat, Kien Luong and Giang Thanh districts, over 126,190 households with more than 475,300 members will get rapid testing regularly. Those in Rach Gia city will receive rapid testing every two days.
For safe areas, 5-10 percent of their population will be tested every 5-7 days.
The province has mobilised more than 7,130 people, including staff members of public and private health facilities and volunteers. Districts and cities have also deployed all resources to carry out the testing.
As of September 16, Kien Giang had recorded 4,113 infections and 37 fatalities. Over 1,750 patients have been given the all-clear so far./.
Ministry reiterates guidelines after children given COVID jabs
The Ministry of Health on Thursday urgently asked agencies and localities to strictly follow the ministry's guidelines over COVID-19 vaccinations after reports of children under 18 years old getting jabs.
As well as the unregulated vaccinations, there were reports about the use of two different kinds of COVID-19 vaccines for a person, but the combination was not in accordance with the health ministry's guidelines.
According to the ministry, unregulated vaccinations and vaccine use have a negative impact on the direction, management and implementation of the COVID-19 vaccination drives in Việt Nam.
The ministry emphasised that currently in Việt Nam, COVID-19 vaccinations are only for people over 18 years old.
Once the ages for vaccination is adjusted, the ministry will issue another guidelines, according to the document signed by Deputy Minister of Health Đỗ Xuân Tuyên and sent to local health departments on Thursday.
On the same day, Thốt Nốt District authority in the southern city of Cần Thơ confirmed that 57 children aged below 18 got Pfizer jabs on August 11 at the vaccination site based at Thốt Nốt Secondary School.
Of the vaccinated children, the youngest is 12 years old, said Trần Minh Thắng, chairman of  Thốt Nốt District People's Committee.
A total of 362 people including 57 children received COVID-19 doses at that time at that site.
The district authority organised a meeting on Thursday morning to examine the unregulated vaccinations.
Director of the district's Healthcare Centre Nguyễn Kim Hải was accused of improper understanding about the health authority's documents and vaccination regulations, which resulted in the COVID-19 vaccines being offered to non-eligible people.
"We are verifying responsibilities of involved individuals and groups," Thắng said, adding that sanctions would be decided later.
As COVID-19 vaccine supplies to Việt Nam remain limited and can only meet a fraction of the needs, the country has been giving priority to vaccinate groups from 18 years old and above – including medical personnel, frontline workers, elderly people and people with underlying health conditions.
When more supplies and appropriate types of vaccines are available, the health ministry would issue guidelines for vaccination of children.
Early this month, the ministry announced that it signed an amendment to the original deal of 31 million doses with Pfizer for another 20 million doses specifically for nine million children between 12-18 years old. The 20 million Pfizer doses are expected to be delivered in the final quarter of the year.
Việt Nam has received more than 38 million doses of COVID-19 vaccines, most of which are AstraZeneca.
Special art programmes to run virtually in September
The Ministry of Culture, Sports and Tourism's department of performing arts announced that two special art programmes will be livestreamed on the evening of September 18 and 21.
The livestreams will take place on the department's Youtube channel Nghe Thuat bieu dien Viet Nam as well as official Facebook pages of the department and of participating artists.
The first event, scheduled for 8pm on September 18 and themed sharing love and overcoming the pandemic, will showcase performances from different venues including the Vietnam National Music Song and Dance Theatre, the Vietnam National Drama Theatre, and the Vietnam Cheo Theatre.
The second programme, at 8pm on September 21, will spotlight the theme of Mid-Autumn Festival with performances by artists from the Vietnam Puppet Theater, the Vietnam Circus Federation, and the Thang Long Water Puppet Theatre.
According to the department, both events are part of a series of online arts exchanges for spreading love to encourage frontline forces and entertain the public during social distancing periods, and promoting Vietnam's traditional cultural values./.
Living safely with COVID-19 in the 'new normal'
As the number of infections triggered by the Delta variant escalates in Việt Nam and a significant number of people were hospitalised or have passed away, Việt Nam has shifted its anti-pandemic approach from "zero COVID"  to "living safely with COVID."
Among the changes in strategy, HCM City, the country's virus epicentre, since late July has piloted home quarantine and home treatment for COVID-19 patients, providing them with medicines, health supplements and care instructions.
At a time when COVID-19 treatment facilities were becoming overwhelmed, the city decided that it would be focusing on reducing the death rate by decentralising treatment.
Earlier, when the number of COVID-19 cases in the city was at a moderate level, all patients are treated at concentrated treatment facilities. With the three-tier treatment model, asymptomatic patients are treated at temporary COVID-19 hospitals and grassroots medical facilities, including home-based and community-based ones.
The second tier includes district-level medical clinics or higher, which will be tasked with treating those with moderate COVID-19 symptoms. The top tier includes ICUs that admit those in critical conditions.
Under the home treatment model for asymptomatic patients, tests are carried out at home and in the community and medicines and health supplements are provided to patients and closely monitored by medical experts.
Food and groceries are provided to households with patients since their family members are not allowed to go out.
The ministry has provided detailed guidelines for taking care of patients, monitoring their health and seeking medical assistance if their condition worsens.
Mobile health stations have been set up across the city in order to best take care of home-treated COVID-19 patients. Any cases with bad developments will be transferred to hospitals.
The changes in treatment method not only helped ease the burden on the healthcare system, but also helped the city to focus resources on medical equipment to better treat patients at other levels of the three-level treatment model.
At a press conference of the city's Steering Committee for COVID-19 prevention and control, Phạm Đức Hải, the spokesman of the committee, said COVID fatalities in HCM City were decreasing. On September 15, they numbered 160 – which was equal to the figure in early August. In the past month, the average death rate of COVID-19 in HCM City has ranged from 250 to 300 a day.
Chairman of Bình Dương Province's People's Committee Võ Văn Minh on Tuesday said the province had basically put the pandemic under control.
Bình Dương Province is the second epicentre of the COVID-19 pandemic in this fourth wave.
In the fourth wave, the province reported more than 169,000 cases with more than 1,400 death. More than 104,000 patients have been cured and discharged.
The province had also applied the three-tier treatment model. Minh said rational classification of the disease levels and early treatment were among reasons helping to reduce the rate of patients in serious condition.
Prime Minister Phạm Minh Chính has emphasised the change in approach more than once.
He said in a meeting with medical experts and scientists earlier this month: "We cannot resort to quarantine and lockdown measures forever, as it will cause difficulties for the people and the economy."
While stressing that "we will have to live with the pandemic for a long time," he said preventing deaths was a top priority and vaccinations were a key strategic measure for Việt Nam.
Chính also said while it is now almost impossible to control the pandemic completely, people in Việt Nam would have to adapt and find suitable ways to live with the situation.
We're seeing a few positive signs already.
Hà Nội has allowed the resumption of some activities in districts and towns which have undergone 10 days without any COVID infections in the community, starting from noon on September 16.
HCM City extended social distancing until the end of September but allowed certain businesses to operate from 6am to 9pm, and said that physical activities could be resumed in low-risk areas.
Đà Nẵng has allowed civil construction works in the central city to resume on September 16, until further notice, barring those located in red zones which are at extremely high risk of COVID transmission.
But experts say all the reopening should be considered carefully and disease control must remain a top priority.
Trần Hùng Sơn and Hồ Hữu Tín from the HCMC University of Economics and Law said that countries consider a number of factors when deciding to reopen the economy.
These included vaccine coverage; if the number of new cases is within the care capacity of the health system, especially in intensive care units (ICUs); quantity and quality of medical staff.
The ability to detect, manage and prevent new infections; systematic identification and effective isolation of infected cases; having technology infrastructure that updates in real time the necessary data for decision making, are also important matters.
Trần Đắc Phu, senior advisor at the Public Health Emergency Operations Center under the Health Ministry, said each locality should depend not only on the situation of COVID-19 but also on the life, economic development and social security of people to have appropriate measures, from social distancing to lockdown and treatment to minimise deaths.
National Assembly deputy Hoàng Văn Cường, who is also vice dean of the Hà Nội National University of Economics, said even when resuming all activities, the new normalcy should be different from the old one.
Everything that could be done online should be done online and the fewer gatherings the better, he said.
While vaccination is the first and foremost way to reopening, Cường said another significant factor was the ability to put community outbreaks under control and ensure that the number of new cases would be within the treatment capacity of the healthcare sector.
"We have to be active in measures and scenarios in pandemic control, we need to be able to prevent an outbreak from spreading. We accept that the virus is there among the community but we must be able to handle infections as soon as they occur," Cường said.
He recommended the reopening of activities with little contact and in open spaces, such as outdoor agricultural production and outdoor construction work, should be prioritised.
For indoor production, Cường said the priority should be given to factories with separate units to ensure no cross-infection occurs.
Việt Nam has changed its COVID-19 strategy as the real circumstances require. Besides treating patients, the country has sped up vaccination and channelled more budget revenue into supporting production, providing necessities to the people and helping poor households. The responsibility of each of us is now complying with all the anti-pandemic measures, stay in line with the 5K message, get the vaccine when we can, only then can we live safely with COVID-19 in the long run.
HCM City tallies up locals without first COVID-19 vaccine dose, continues mass testing
The HCM City Department of Health has directed the People's Committees of districts and Thủ Đức City to submit lists of the number of people aged 18 and over who have not received the first dose of the COVID-19 vaccine.
The lists will help the health department reserve and distribute the appropriate number of vaccine doses to specific areas. The department has asked local authorities to submit the information before Saturday (September 18).
According to the HCM City Centre for Disease Control, as of September 15, the city had given 8,452,609 vaccine shots, including 6.6 million first shots and 1.7 million second shots. As many as 969,451 people aged 65 and over and people with underlying diseases have been vaccinated.
The rate of first-shot coverage in the city has reached 92.5 per cent. Only districts 11 and 12 have given at least one vaccine dose to 100 per cent of its residents aged 18 and over.
The city has been giving around 200,000 doses daily in the last few days.
Health experts said that vaccine coverage is one of the most important conditions for the city to return to normal life and re-open economic and social activities in the future.
Deputy Director of the city Health Department Nguyễn Hoài Nam said the city was seeking approval from the Health Ministry to reduce the time between two AstraZeneca COVID-19 shots from the usual eight to 12 weeks down to six weeks to speed up immunisation.
According to Nam, the rate of infections found by testing has dropped, from 3.6 percent during the first testing round in high-risk areas to 2.7 percent in the second round and 1.1 percent in the third round.
To discover all infections in the community, mass testing will continue at a faster rate.
A resident in HCM City has a COVID-19 testing sample taken. The city is focusing on quickly testing locals for COVID-19 until the end of September. – Photo baotintuc.vn
HCM City's steering board for COVID-19 prevention and control has asked the city's health authority and districts to continue to take COVID-19 test samples from locals until the end of September, when the city will consider relaxing strict social distancing measures.
City districts and Thủ Đức City have been asked to focus on widespread testing to quickly isolate and treat positive cases.
In the city's red (very high risk) and orange (high risk) zones, all family households will be pool-tested three times within seven days, either by antigen rapid testing or RT-PCR testing.
The former method will require up to three members per household per test pool, while the latter will pool samples from all household members per test.
For green and yellow zones (low risk and at-risk), representatives of households will be tested by RT-PCR, with 10 samples pooled for green zones and five for yellow zones.
Households with five or more members must provide two members for testing. They will also have to offer different members for different testing rounds, and should prioritise members who have yet to be vaccinated or who have had frequent contact with many other people.
Positive test pools will lead to all household members in the pools being tested individually once every five to seven days.
Based on the test results, HCM City will reclassify its colour-coded zones to reflect new pandemic risk levels for future testing rounds.
Locals are encouraged to take samples themselves with the help of local authorities. The city's Department of Health will instruct relevant units to ensure there are sufficient testing kits and other necessary equipment.
HCM City, Việt Nam's COVID-19 epicentre, has recorded over 315,000 positive cases since late April.
Since August 23, the city has gone through at least two rounds of widespread COVID-19 tests in the community. Some areas are carrying out their third or fourth testing round. The number of positive cases found from testing has been gradually decreasing, according to the city's Department of Health.
Nha Trang Train Station to relocated
At a meeting between the Steering Committee on Urban Planning in Khanh Hoa and consultant and investor, Tuan Dung Trading Group, about urban planning in Nha Trang City from now until 2040, the local authorities agreed to relocate the train station out of the city centre. This is also part of the traffic network planning for smart city development.
Tuan Dung Trading Group asked the Ministry of Transport for permission to invest in a railway project to avoid central Nha Trang and build a new station under the build-transfer (BT) form. In return, it would receive the land fund of the existing station.
Tuan Dung proposed two plans. In the first plan, Nha Trang Station will have an upgrade and have a new passenger terminal while cargo facilities will be moved to Vinh Trung Station. A 36,400-square-metre land will be used to build a 30-storey apartment building, commercial centre, park and roads.
In the second plan, the construction will be converted into a museum and the rest of the land will be used for social and commercial real estate. Vinh Trung Station will be upgraded for both passenger and freight trains and the city centre will not have any railway.
Nguyen Van Loc, former director of Khanh Hoa Department of Construction, said he approved of the second plan. According to Loc, Nha Trang-Khanh Hoa is a major city on the South Central Coast but it has not paid enough attention to historical and cultural preservation. It has many entertainment activities but lacks major historical and cultural sites.
"Nha Trang Station was built in 1936 with its own unique architecture which is ranked only behind Da Lat Station. It has been a historical and cultural site in Nha Trang," he said.
Nguyen Tan Tuan, chairman of Khanh Hoa People's Committee said the local authorities and the Ministry of Transport had agreed to relocate the station out of the city centre. The old station would be converted into a museum.
"The station is located in the city centre. In front of it is October 23rd Park and nearby is Nha Trang Cathedral. In the future, a children's palace will be built," he said.
Source: VNA/VNS/VOV/VIR/SGT/SGGP/Nhan Dan/Hanoitimes
VIETNAM NEWS HEADLINES SEPTEMBER 18 have 8618 words, post on vietnamnet.vn at September 18, 2021. This is cached page on Talk Vietnam. If you want remove this page, please contact us.