Bubbles heap pain on vital manufacturers
The high costs of arranging COVID-19 bubbles for employees, along with rising logistics fees, are placing a stiff burden on manufacturers in the south of the country.
Marko Walde, chief representative of the Delegation of German Industry and Commerce in Vietnam, told VIR the implementation of various models to help manufacturing continue through pandemic restrictions has been more than challenging for German companies, mainly because of the high expense.
"It's estimated that the stay-at-work method costs about VND600,000 ($26) per week per person and it is roughly VND600 million ($26,000) for a factory of 1,000 workers per week – a huge expenditure but it still does not guarantee continuous production."
Likewise, chip maker Intel Corporation has spent VND140 billion ($6.1 million) in just one month implementing a "one road, two locations" plan to ensure that its manufacturing site in Saigon High-Tech Park meets pandemic prevention standards.
According to Ho Thi Thu Uyen, chief of External Affairs for Intel in Vietnam and Malaysia, the costs cover accommodations and daily virus tests for both staff and suppliers. "Intel's budget strategy has been impacted by additional expenses and, if it continues beyond September 15, it will have a significant impact on Intel's manufacturing schedule," Uyen explained.
Intel has paid for 1,870 of its employees to stay in four- and five-star hotels, plus bonuses, and for 1,500 of its suppliers to stay in less expensive hotels.
Meanwhile, Jabil Vietnam, a US-based multinational electronics solutions company, has incurred VND4 billion ($175,500) per day for the "one road, two locations" plan. However, the company only maintains operating capacity below 30 per cent, leading to a revenue loss of $60 million per month. The company is currently unable to deliver products on time, resulting in a loss of about $200 million in orders.
Gabor Fluit, vice chairman of the European Chamber of Commerce (EuroCham) in Vietnam, said that the current stay-at-work model in its current form is not a long-term solution. "It is unreasonable to keep staff living, eating, and working on site for weeks on end," Fluit said.
However, EuroCham members face significant challenges replacing workers due to the strict travel restrictions within and between provinces.
"Meanwhile, for those who want to return home to their families, it is difficult to obtain approval from the receiving province. Furthermore, when positive cases are detected, the local authorities are slow to isolate those who are F0. This risks the virus spreading throughout manufacturing facilities and industrial zones, halting essential production activities," he added.
EuroCham members also report significant logistical issues at ports and administrative challenges at customs offices. "Thanks to the quick action of the local authorities, this issue is now solved. However, there is some confusion around the circulation of goods that are not food and medicine – but are also not on the list of goods banned and restricted – and the inconsistent application of these regulations is causing difficulties for both companies and consumers," Fluit added.
On the same note, Walde added that German companies are also facing a lack of access between cities and provinces. Further challenges are the component shortages, production interruption, rising production, and transportation costs as the pandemic escalates in many cities and provinces across Vietnam.
The cost of container transportation has also increased sharply, and according to a logistics report by SSI Research, the severe congestion and disruptions regarding the circulation and distribution of commodities have pushed freight rates to record highs. In 2020, some long-distance routes connecting Asia with Europe or North America increased by about 4-8 times and on some routes, this year freight charges have settled around five times higher than previously.
"German businesses are negatively impacted by increased freight rates on long-distance routes," Walde explained. "Overall, the rise of transportation costs significantly affects domestic goods circulation, trade performance, and hinders the global supply chain. In the long run, it would put pressure on the domestic supply chain, and so put Vietnam's position along the global supply chain at risk."
The recent coronavirus flare-up in Vietnam has also delayed the relocation plan of multinational corporations like Apple and Google to Vietnam. Apple initially planned to have third-generation AirPods made in Vietnam but two people familiar with Apple's plans told Nikkei Asia that Apple will have them manufactured in China instead. The sources said that Apple still hopes to move 20 per cent of new AirPod production to Vietnam eventually.
Back in 2019, Apple did move some AirPod and AirPod Pro production to Vietnam as the US-China trade war heated up. The same year, it was reported that Google would aggressively move production of US-bound hardware out of China into Vietnam. But this move was not finalised due to Vietnam's limited engineering resources and travel restrictions during the pandemic.
The Delta variant has also hampered sentiments around Vietnam for Google and Amazon. Rinaldo Pereira, senior business fundamentals analyst at GlobalData said, "Companies continue to grapple with the chip shortage and shifting production out of China has become complex. In Amazon's 2021 filings, supply chain risks were a key topic of discussion. Apple did mention AirPods as a keyword in discussions around Vietnam. Apple might not be able to shift AirPod production to Vietnam as quickly it hoped due to Delta variant – a case similar to Google's production shift intentions for newer Pixel models."
Five-year restructuring plan aims to improve national economic competitiveness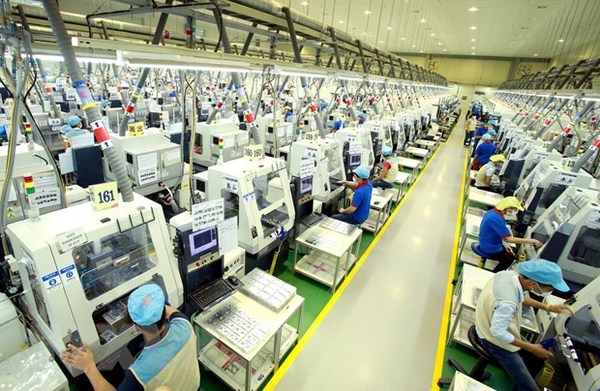 Vietnam aims to aim to create a breakthrough change in the growth model towards higher productivity, quality and competitiveness. (Illustrative image. Photo: VNA)
The objectives of the plan include improving the efficiency of resources, the self-reliance and adapting capacity of the economy, heading to the formation of a science-technology and innovation-based economy, ensuring fast and sustainable growth.
It also aims to enhance the internal strength of the economy and domestic businesses, forming suitable economic structure and upgrading the value chains of sectors, while drastically implement digital transformation and the building of digital economy, digital government and digital society.
Specific goals set by the plan for the 2021-2025 period include 6.5 percent rise in labour productivity each year; 3.7 percent of State budget over-expenditure each year averagely; less than 60 percent of annual public and Government debts hitting ceiling rate; keeping the safe public debt level at about 55 percent of the GDP and Government debt ceiling at less than 50 percent of the GDP.
The ratio of social investment is expected to reach 32-34 percent of the GDP, while public investment management institution is raised to international standards. Meanwhile, bed debts are subjected to be kept at under 3 percent.
In 2025, the scale of stock market capitalisation is expected to reach about 120 percent of the GDP, while the outstanding balance of the bond market is hoped to stand at 55 percent of the GDP.
Vietnam targets the acceleration of 10-15 positions in the quality of land administration index in the Global Competitiveness Index by the World Economic Forum in 2025 compared to that in 2019.
The country hopes to have about 1.5 million businesses in 2025, including 60,000-70,000 medium and large-scaled firms.
In 2025, at least 10-25 national products are expected to have trademark in the international market, contributing to improving the position of the country in the global value chain.
Meanwhile, digital economy is hoped to account for 20 percent of the GDP.
In 2025, the State-owned enterprises are expected to be restructured, basically settling ineffective firms and improve State-owned businesses' efficiency.
In the draft plan, the ministry also gave five major solution groups to complete the goals./.
Drugmakers prepare to offer home vaccines to the world
As Vietnam is stepping up its homegrown vaccine development, there is a high chance for Vietnamese vaccine producers to expand their presence in the global pharmaceuticals market.
Nanocovax is Vietnam's domestically developed coronavirus vaccine, currently in phase 3 clinical trials. Once completed, Nanogen will seek out the World Health Organization's approval. The company already sent a sample to the organisation in July.
HLB chairman Jin Yang-gon is among the Board of Directors at Nanogen, while his company's affiliate, NextScience, holds a 10.4-per cent stake in Nanogen as its third-largest shareholder. HLB Pharmaceutical, another subsidiary, also inked a deal with Nanogen last December to expand their presence in the global market. We will open the doors to domestic and overseas markets by securing the global rights of Nanocovax, which has proven its high efficacy and safety amid the growing disruption in the supply worldwide," Jin said.
Also in August, Nanogen signed an agreement with India's Vekaria Healthcare LLP for tech transfer, production, and distribution of Nanocovax. The agreement will be the basis for both companies to enter into a deeper discussion on the details of the cooperation related to the large-scale production and distribution of Nanocovax when it receives its licence.
Vekaria Healthcare, a subsidiary of Vekaria Group, had also researched and studied many potential vaccines before settling on Nanocovax.
Phong Quach, head of consulting at Ipsos Strategy3 Vietnam told VIR, "There are significant opportunities for vaccines due to the need of herd immunity. The more crowded a population is, the larger the market is. We expect that Asia-Pacific is one of the major regions with substantial opportunities, with an estimated value of up to $29 billion."
He added, "A vaccine from Vietnam could earn benefits from accessing ASEAN as the market might be more familiar to manufacturers, and already established relationship between governments could help too. Based on the previous case study, we can foresee that the success of the Vietnamese vaccine will depend on the approvals, logistical requirements, and its efficacy."
Vietnam has developed four COVID-19 vaccines. Nanocovax, produced by Nanogen in partnership with the Vietnam Military Medical University, and Covivac, created by the Ministry of Health's Institute of Vaccines and Medical Biologicals, are the frontrunners for success at this time.
Once fully tested, Nanogen stated that it could manufacture up to 100 million doses each year to satisfy both domestic and export demands. However, so far Nanocovax has not reached the final approval stage.
Ipsos' Phong Quach said, "One of the critical factors is the timing of introducing the coronavirus vaccine to the market. We foresee that the market size will decline from 2023 onwards because most – if not all – countries are trying to target herd immunity as soon as possible, and 2022 will be the year with rising vaccine sales globally, particularly in Asia-Pacific. Thus, vaccine developers need to time their global sales after complying with all approval processes."
"Meanwhile, Pfizer and BioNTech along with Johnson & Johnson have multiple agreements with contract manufacturers and developers. Nanocovax likely needs a viable strategy to leverage on established vaccines," Quach added.
Banks again urge telecoms operators to cut SMS fees
Telecoms operators still have not cut charges for SMS services in banking, even though the banks have proposed reductions several times.
The Viet Nam Banks Association has proposed for the fourth time since last year that the Ministry of Information and Communications makes moves to lower the charges.
The association said that the banking sector had reduced customer support fees in order to effectively implement the Government's direction on tasks and solutions to remove difficulties for production and business and promote the disbursement of public investment and ensure social order during the pandemic.
However, the banking sector had not been supported by partners to reduce fees, it said.
It said that the SMS charges which telecommunications businesses were applying to banks were 2-3 times higher than those for individuals.
Accordingly, MobiFone and VinaPhone were charging VND820 (US$0.035) per SMS for financial transactions and VND500 for ads and customer care messages.
Viettel's fee was VND785 per SMS for financial transactions and VND500 for others.
Meanwhile, charges for SMS between individuals were around VND250-300 each.
The association added that the current SMS charges were too high, adding it was necessary to lower them to encourage the use of cashless payments.
The association said that SMS banking fees collected by banks were currently low and only collected once per month, ranging from VND5,500 to VND11,000 per month.
Many banks were adopting free policies to increase technology utilities for customers and accelerate the conversion to online transactions, it said.
Each money transfer or payment transaction needs to send at least two messages to customers.
Each customer has 15-20 transactions per month on average, equivalent to 25-30 messages per month, worth about VND20,000-25,000 per month.
Can Van Luc, chief economist of BIDV, estimated banks had to pay several hundred billion Vietnamese dong of SMS fees each year for telecommunications operators.
Specifically, the value is estimated at about VND400 billion at BIDV, VND200 billion at VietinBank, VND300 billion at Agribank and VND400 billion at VCB.
Vietnamese dragon fruit enjoys advantages in international market
Vietnamese dragon fruit continues to enjoy advantages in international markets, with the diversification of dragon fruit products being considered the right direction to expand consumption channels, whilst developing markets and brands.
In the nation, dragon fruit is classified as a key export fruit product which rakes in billions of US$ each year. The largest consumers of Vietnamese dragon fruit are China, Thailand, and Indonesia.
In addition, Vietnamese dragon fruit has also been exported to many other countries globally, such as India, Australia, New Zealand, Japan, the EU, and Chile.
Nguyen Tuan Thanh, director of Long An province's Department of Industry and Trade, revealed that the southern province has been developing sustainable dragon fruit cultivation areas and is in the process of applying high-tech solutions to agricultural production.
Apart from red and white-flesh dragon fruit, the province has also developed varieties of purple, pink, and yellow flesh-dragon fruit with high nutritional composition, Thanh said.
He added that Chau Thanh dragon fruit has been granted a certificate of geographical indication registration by the National Office of Intellectual Property. Indeed, the Tam Vu dragon fruit trademark is protected in five countries, including the United States, France, Japan, Singapore, and China.
Meanwhile, Binh Thuan province is also home 33,750 hectares of dragon fruit growing areas, of which 11,936 hectares and 517 hectares have now been certified by VietGAP and GlobalGAP standards, said Bien Tan Tai, deputy director of Binh Thuan Department of Industry and Trade.
Vu Ba Phu, director of the Vietnam Trade Promotion Agency (Vietrade), said Vietnamese dragon fruit makes up large market shares in Asia, Europe, and the US, with the product being consumed by many Europeans and Asian Americans.
However, Vietnamese dragon fruit is currently facing increasing competition from some other regional suppliers from Taiwan (China), Thailand, and Malaysia, Phu noted.
He also pointed out that dragon fruit exports have tended to encounter numerous difficulties in recent times due to the complicated nature of the COVID-19 pandemic, China's strict control over farm produce at border gates, and high logistical costs.
Nguyen Phu Hoa, trade counselor of the Vietnam Trade Office in Australia, revealed that the office has deployed several schemes aimed at supporting businesses in introducing their products in the Australian market. Whilst growers and businesses must pay attention to consumer tastes and market requirements to make further inroads into the demanding market.
Ta Duc Minh, trade counselor of the Vietnam Trade Office in Japan, has advised local firms to take advantage of tax incentives from FTAs, including the Vietnam-Japan Economic Partnership Agreement (VJEPA), ASEAN-Japan Comprehensive Economic Partnership Agreement (AJCEP), and the Comprehensive and Progressive Agreement for Trans-Pacific Partnership (CPTPP). This should be done while focusing on the application of post-harvest technology in order improve product quality, thereby meeting the distinct tastes of each target customer group.
Ventilator makers ramp up affordable development
The continuing task of trying to shut down COVID-19 outbreaks and save lives has brought to the forefront the critical need for ventilators to provide treatment for patients.
In its ventilator manufacturing facility in Ireland, Medtronic has increased the number of employees dedicated to manufacturing – including transferring staff from other Medtronic sites to support ramp up activities. Medtronic has also introduced new shift patterns to bring the plant to 24/7 operation.
In an open-licence initiative, Medtronic has published design specifications for its PB560 ventilator publicly, providing manufacturers around the world the ability to rapidly accelerate production. The design specifications have thus far been downloaded over 225,000 times.
"We are committed to getting more ventilators into the market and to the right locations worldwide, to help the doctors and patients battling COVID-19, including here in Vietnam," said Verhulst.
Meanwhile, Tran Ngoc Phuc, the Vietnamese founder of medical equipment maker Metran Co., has teamed up with Vietnamese partners to transfer technology to produce ventilators here. Metran Vietnam Co., Ltd, a subsidiary of Metran, is operating a factory in Vietnam-Singapore Industrial Park II in the southern province of Binh Duong to make artificial ventilators.
According to Phuc, the company has developed a slimmed-down ventilator that is more affordable than conventional models. He hoped that producing simple and low-cost devices in large quantities will help save countless lives.
Since the outbreak of the pandemic last year, Van Thinh Phat Holding Group and Van Lang University have signed a contract with Metran to provide finance for manufacturing 2,000 ventilators. As a result, Metran ventilators have been mass-produced to save the lives of many patients.
Meanwhile, Vingroup has jumped on the bandwagon by producing the Vsmart VFS-510 invasive ventilator. Specifically, Vingroup has flexibly altered its business and production strategies to prioritise ventilator manufacturing from March 2020, leveraging inherent industrial and technological strengths as well as advanced production lines from its subsidiaries and research institutes.
Vsmart ventilators have been put into mass production and have been approved by the Vietnamese Ministry of Health as meeting all criteria for quality, safety, and operability.
Nguyen Tu Quang, CEO of local technology corporation BKAV, also announced that the company has successfully produced high-flow nasal oxygen therapy devices for COVID-19 treatment. It took BKAV nearly a year to research and develop both the simple and advanced versions of the devices. "More people have contacted the Delta variant in Vietnam. Thus, we have taken quick action to ensure the supply of ventilators," he said.
Hua Phu Doan, vice president and secretary-general of the Ho Chi Minh City Medical Equipment Association told VIR, "Ho Chi Minh City has developed more field hospitals amidst the spike in coronavirus patients. Each hospital has about 500 beds equipped with ventilators. As of present, companies have supplied ventilators in a timely manner to support the city and neighbouring provinces like Binh Duong and Dong Nai in developing field hospitals."
Doan added that the majority of ventilators are imported. "We hope that custom procedures will be relaxed to facilitate the import of ventilators into Vietnam. This will help treat critically ill patients and help them recover faster," he added.
Ventilators are vital medical equipment in COVID-19 treatment so a ventilator coordination group was established on August 2 to facilitate treatment. The group will review and keep track of the number and types of ventilators available at hospitals nationwide as well as the hospitals' ventilator demands. It is also engaged in distribution of the ventilators and nasal oxygen devices for COVID-19 patients as well as training medical staff on taking care of the machines.
Likewise, Medtronic has been hosting virtual webinar series led by medical experts on mechanical ventilators. The series has attracted nearly 10,000 frontline doctors in Vietnam to participate, learn, and share their experiences and best practices. Medtronic has also hosted dozens of virtual physician forums and medical education programmes to help physicians of various specialities navigate the challenges of the pandemic.
"It is important to recognise that Vietnam will continue to grow and, in fact, it is one of the fastest-growing markets for Medtronic in Asia-Pacific. We are committed to serving our partners and patients here," Verhulst said.
EuroCham expects to raise US$500,000 to support Viet Nam's COVID-19 fight
The European Chamber of Commerce (EuroCham) expected to raise US$500,000 to support Viet Nam's COVID-19 fight through an ambitious fundraising campaign.
Just ten days after the "Breathe Again" campaign was launched on August 17, individuals and businesses committed at least US$150,000.
With cases continuing to rise and healthcare professionals working around the clock to treat patients, EuroCham is encouraging its members to donate to a new fund which will be used to procure much-needed medical equipment for Viet Nam's hard-pressed hospitals.
All funds donated to the "Breathe Again" campaign will be used to purchase European medical devices and equipment for hospitals in Viet Nam's hardest-hit areas. EuroCham will work with the health authorities to make sure that the equipment goes to where it is needed and will have the greatest impact. The chamber will also be flexible, working with donors to ensure that wherever possible their donation goes to a particular province or community.
Agriculture groups open up to online training courses
Many farmers and agribusiness firms have come around to utilising training courses via livestreams or agriculture apps to promote the consumption of their products in the face of extended social distancing measures.
Because of inexperience and lack of training, the revenues of MD Queens JSC, specialising in the distribution of celastrus hindsii tea, is only one-third of what it was before shifting to an online business.
General director Trinh Minh Thu said that for many years MD Queens clung to a traditional business model. Its products are often displayed directly at "One Commune, One Product" (OCOP) stores and points of sale in Hanoi and neighbouring provinces and cities, so it is difficult to ramp up the online sales mindset.
"I eventually did sign up for an online business course, but the cost is quite high. The cheapest course I could find still costs around VND10 million ($435)," Thu said.
The demand for online sales courses to help promote and sell agricultural goods has increased in the past two years, especially with the rise of the livestreaming format.
To accompany that, in June a programme to deal with the subject was jointly held by the Ministry of Agriculture and Rural Development, the Central Committee of the Vietnam Women's Union, and the Central Committee of the Vietnam Farmers' Union. They, along with some famous artists, came together with the purpose of boosting consumption of agricultural products to help farmers in localities affected by the COVID-19, such as the northern province of Bac Giang.
Hundreds of tonnes of agricultural products were sold in just a few livestream sessions, which has become the motivation for many businesses and individuals selling agricultural products to come online and utilise livestreams to be equipped with new business skills and solutions at a time when more than 20 provinces and cities in Vietnam are extending the social distancing campaign.
However, not all businesses and sellers can afford these expensive courses. Therefore, free online sales training classes for farmers and small agricultural business households have been introduced and have already attracted a large number of learners.
These classes will provide skills in video recording and product broadcasting, and offer full control of video content and product branding on social networks.
At the last lesson, the trainer will show each learner's livestream programme for comment. Graduated learners also perform livestreams to exchange and share their experiences with their peers.
According to Nguyen Trung Thanh, founder of the ASEAN Digital Conversion Research Institute, over 90 per cent of learners have overcome their initial hesitances to take a video or appear on livestreams.
Over the past two months, the institute has also coordinated with the Hanoi Coordination Office for New-style Rural Area Building to organise a free online sales training course for farmers and small businesses to promote online consumption of agricultural products, especially OCOP products and regional specialities.
"We are also implementing the model of an internal exchange market so that sellers can exchange and sell goods in the digital space in lessons through online meetings," Thanh said.
Meanwhile, after more than a year of gaining online sales experience, the general director of MD Queens has also now imparted online business experience to a group of over 2,500 students in provinces and cities across the country.
Thu said, "I am building a free online sales training series for my team members to both create trust and build a brand, and promote the high-quality products of MD Queens to the community."
According to her, in the past, mainly young people preferred online shopping, but now many middle-aged and elderly people from urban to rural areas are also participating in online shopping platforms, making the virtual market more vibrant and creating favourable conditions for people, organisations, and businesses to have a more convenient and efficient shopping channel.
In addition to actively selling agricultural products through livestreams, farmers and businesses are also supported to sell through apps on the App Store, Google Play, and Zalo.
Elsewhere, many stalls have been set up to promote consumption of farming products on online channels in Hanoi and Ho Chi Minh City, such as a stall from the Young Businesspeople Association of Ho Chi Minh City to reduce the backlog of agricultural products caused by supply chain issues due to COVID-19.
Another form of applying technology that also appears and may become a new trend in the future is the self-checkout store model. In Ho Chi Minh City, such a supermarket has started operating in Co Giang ward of District 1 since the end of August and is expected to be deployed until the end of the social distancing period.
In Hanoi, the supermarket system of Okono Vietnam Co.,Ltd. in South Tu Liem district also opened a system of self-service stores. The store automatically operates through the camera system, where the cashier will monitor online and guide customers to pay for the order. Agricultural products will be packed at the list price, and the buyer chooses and pays for him or herself.
This model is based on the honesty and self-discipline of customers. During the time of social distancing, the store also offers a buy now, pay later policy for people with difficult circumstances.
Nguyen Hoang Kiet, manager of a self-checkout store in South Tu Liem district, said that the store mainly helps people to buy goods conveniently and ensure social distancing to prevent the spread of the coronavirus. People freely choose the products they need and all products are priced at VND10,000 (44 US cents).
Vietnam's dragon fruit exports facing difficulties amid prolonged pandemic
As the Covid-19 pandemic hit hard, lower volumes exported as reliance on China continues to bite amid prolonged pandemic; Vietnam's dragon fruit exports are currently facing difficulties; therefore, the country must find other potential alternative markets.
Dragon fruits are classified as a key export fruit product and often in the groups of commodities in Vietnam registered export sales of more than US$1 billion each.
Despite the fact Vietnamese dragon fruit has access to several global markets, including China, Thailand and Indonesia, and more, China still accounts for 80 percent of overall exports, according to Vu Ba Phu, director-general of the Trade Promotion Agency under the Ministry of Industry and Trade.
However, the Asia Africa Market Department under the Ministry of Industry and Trade said that Vietnam's dragon fruit and fresh fruit exports to China are currently facing difficulties due to the tightened customs clearance and quarantine at some border gates between two countries due to the Covid-19 epidemic.
But, many experts believe that Vietnam's dragon fruit and fresh fruit exports have been facing difficulties not only at present but prior also because Chinese farmers have planted dragon fruit trees with a total area of up to 35,555 hectares.
Mr. Phu fretted Chinese farmers will apply technology to increase productivity bringing competitive pressure to Vietnamese fruit not only in China but the world's market.
According to statistics from China Customs, in the first five months of the year, China's imports of dragon fruit decreased by 21.6 percent over the same period in 2020. Vietnam's imported dragon fruit decreased by 21.6 percent in volume and 21.1 percent in value. This shows that China has been reducing imports of agricultural products that they can cultivate.
Experts said it is necessary to quickly find potential markets in the EU, North America, Japan, Australia, the Middle East to help businesses build their branding and promote export for the long-term plan. In fact, in recent years, Vietnamese dragon fruits have been also exported to India, New Zealand, Japan, Chile in addition to Chine. Lately, dragon fruit has been sold to Australia, India, Pakistan.
After the Vietnam Trade Office in Australia has organized a Vietnamese dragon fruit week in large Australian cities from July to October to promote the export of the fruit, it said that the import demand for dragon fruits of distribution partners in this country is quite high.
Currently, each dragon fruit is sold at Australia's leading supermarket chain Coles at US$4.9 or VND80,000 while it fetches AUD9 – AUD 15 per kilogram at supermarket chains such as MCQ and supermarkets, shops in Melbourne, Adelaide, Sydney of Australia.
According to Mr. Pham Sanh Chau, Vietnamese Ambassador to India, the market is very potential for dragon fruit and fresh fruit of Vietnam. India has a population of 1.4 billion, of which 60 percent are vegetarians. Their food is mainly vegetables. On average, each Indian person has 3 kilograms of fruit a month; thereby, India will consume about 48 million tons of fruits each year.
However, Mr. Phu said, Vietnamese dragon fruit is facing fierce competition with other suppliers in Taiwan, Thailand, Malaysia. To dominate the market, Vietnam needs to improve the quality of the fruit and do not expand the cultivation area. Mr. Phu shared a lot of foreign importers are interested in developing a supply of high-quality dragon fruit from Vietnam at online trade events over the past time.
In addition to fresh dragon fruit, Vietnam ought to diversify products such as dried dragon fruit, dried fruit, syrup juice, dragon fruit snack, dragon fruit wine, dragon fruit ice cream, dragon fish cake, bread dragon fruit for domestic consumption, and export. In particular, dragon fruit powder (also known as pitahaya powder) with nutritional content is considered a "tropical superfood" for export. Diversifying value-added products from dragon fruit is a good way to increase consumption and develop markets and product brands.
SHTP-based enterprises only resume operations when ensuring Covid-19 prevention
The Office of the People's Committee of Ho Chi Minh City has just announced the conclusion of Vice-Chairman Duong Anh Duc on the activities of enterprises in the Saigon Hi-Tech Park (SHTP) in Thu Duc City.
Accordingly, the Management Board of the SHTP is required to coordinate with the People's Committee of Thu Duc City, the Department of Health, and the HCMC Public Security to review, make a minute, and propose measures to handle violations leading to the suspended operations of Nidec Sankyo Company.
The Management Board of the SHTP needs to focus on implementing measures to maintain production activities and create conditions for qualified enterprises to continue operations without disrupting the production chain following one of four safe production methods.
Enterprises that fail to meet the conditions must suspend their operations, fix shortcomings, reassess, and only resume operations if they have met the criteria. The Management Board of the SHTP should check the warehouse and factory areas to assist enterprises in carrying out the three-on-site production method.
Besides, the Management Board of the SHTP must coordinate with the authorities to deploy a field hospital for Covid-19 treatment at the Labor Culture House of the SHTP to ensure the needs to treat and care Covid-19 patients in the area and support Thu Duc City.
Workshop highlights efficiency of Vietnam's consistent macro policies
Vietnam's economy has achieved stable growth thanks to consistent macro policies, contributing to promoting the role of the private sector, heard a workshop on Vietnam's economic situation and stock market held by Dragon Capital company on September 1 in London.
Addressing the event, Ambassador Nguyen Hoang Long affirmed the Vietnamese Government's determination to renovate and open its economy and speed up the privatisation of state-owned enterprises.
With the goal of achieving a per capita income of 4,500 USD by 2025 and 7,500-8,000 USD by 2030, Vietnam will need to post economic growth of 6.5-7 percent per year, Long said, adding that this is a big challenge, especially in the context of the crisis caused by the COVID-19 pandemic.
According to him, Vietnam's transition to a high-quality economic growth model, and its selective attraction of investment to high technology and "green" growth is a good opportunity for British investors in particular and foreign ones in general.
Dragon Capital Chairman Dominic Scriven said that Vietnam's advantages to attract foreign investment include good human resources, laws and policies favourable to foreign investment, a highly reliable investment environment and stable growth since Vietnam began implementing the Doi Moi (Renewal) 35 years ago.
He pointed out that the Vietnamese government has reasonable support packages to help people in localities ease difficulties caused by the pandemic, emphasising that this will directly support the resilience of the economy after the pandemic.
Founded in Vietnam in 1994 with a total investment of 16 million USD, Dragon Capital is currently the oldest independent asset manager in the country with assets totaling 2.9 billion USD (as of December 31, 2019)./.
Vietnam a bright spot for UK investors: Ambassador
Vietnam is still a bright spot for foreign businesses, Ambassador to the UK Nguyen Hoang Long has affirmed with representatives of British business circle
He also presented the highlights of the Vietnam-UK strategic relationship, especially the positive impacts on trade and investment brought by the Free Trade Agreement between the two countries on bilateral relations, and Vietnam's role in the global supply chain.
On this occasion, the ambassador called on businesses, investors and individuals to share and help Vietnam with medical equipment, medicines and vaccines to deal with the pandemic in the current difficult period.
He expressed his believe that Vietnam will quickly control the pandemic, further boosting investors' confidence in the market.
Participants appreciated the information provided and said they look forward to updates in the future to further promote relations between the two countries, especially in the fields of trade, investment, education and tourism./.
Moody's extends upgrade review for VPBank and FE Credit
Moody's Investors Service has extended its review for upgrade on all long-term ratings and assessments of Vietnam Prosperity Joint Stock Commercial Bank (VPBank) and its subsidiary VPBank Finance Company Limited (FE Credit).
The rating review was initiated on May 12 following VPBank's announcement on April 28 that it had concluded an agreement with Sumitomo Mitsui Financial Group, Inc. (SMFG, A1 stable) to sell a 49 per cent equity stake in FE Credit. The transaction is expected to close by the end of 2021. The planned sale will be to SMFG's consolidated subsidiary, SMBC Consumer Finance Co., Ltd. (SMBCCF).
Moody's is extending the review process because the transaction is pending external approvals and has therefore not yet been completed. Upon the completion of the transaction, it expects the standalone credit strengths of VPBank and FE Credit could improve, thereby placing upward pressure on their ratings and assessments.
On a pro-forma basis, VPBank's capital, as measured by tangible common equity as a percentage of risk-weighted assets, will increase to around 15 per cent from 10 per cent at the end of 2020. The bank has indicated that it will retain the proceeds from the stake sale for use on new organic growth and investment opportunities.
It is expected that FE Credit to benefit from funding, technology and risk management support from SMBCCF, which has a long history in consumer finance in parts of Asia. Currently, Moody's incorporates a very high probability of affiliate support for FE Credit from VP Bank in times of need. Moody's will reevaluate the affiliate support assumptions for FE Credit, considering the large shareholdings of SMFG and VPBank in FE Credit, as well as SMFG's involvement in setting the company's strategic direction.
Moody's could upgrade VPBank's ratings if the transaction is approved by the relevant authorities, and if the bank's capital improves as anticipated. If the transaction is not approved, Moody's will confirm VPBank's current ratings.
Moody's could also upgrade FE Credit's rating if the transaction is approved by the relevant authorities, and if the company's standalone credit strength improves as anticipated. A strong probability of support from the company's shareholders will also be positive for the ratings. If the transaction is not approved, Moody's will confirm FE Credit's current ratings and revise the outlook to stable.
Online trade promotion – Leverage to boost connectivity, improve brands
Online trade promotion is currently considered as an effective solution for businesses to maintain contacts with their export markets and also a tool to learn about market trends, developments and demand.
The outbreak of COVID-19 in many countries has forced Vietnam's import and export markets to take strong measures to contain the spread of the pandemic. This has hindered the organisation of traditional trade promotion activities of enterprises.
Therefore, a change in the work is a must to create a leverage for industries and businesses to connect with and build brands in their export markets to overcome the pandemic.
In fact, a shift from offline fairs to online promotion has helped increase export turnover and exploit new markets in the new situation.
According to the Ministry of Industry and Trade, Vietnam's total trade turnover in July is estimated at 55.7 billion USD, a month-on-month rise of 1.5 percent.
Demand for imports remains high, as countries are speeding up vaccination against COVID-19 and reopening their doors, thus helping raise the demand for textiles, footwear, furniture and electronics from Vietnam.
In addition, free trade agreements are being implemented in a more comprehensive and effective manner, and expected to continue promoting Vietnam's exports.
Therefore, online trade connectivity is a golden key for the goods of Vietnamese enterprises to reach out to the world.
General Director of the Hanoi Trading Corporation Vu Thanh Son said, with the cost equal to one tenth of that of face-to-face contact, online connectivity is currently a solution for businesses to maintain contacts with their export markets, as well as a tool to learn about market trends, developments and needs.
Moreover, enterprises can do marketing globally, access information and conduct transactions with customers around the clock.
However, experts advised enterprises not to rely only on state promotion programmes, but actively trade and connect online with partners around the world through the use of e-commerce platforms or social networks./.
Vietnamese stock market will be back to uptrend momentum
In its market strategy note for September, VNDirect Securities Corporation forecasts the Vietnamese stock market to regain its upward momentum with daily COVID-19 cases peaking out.
Market valuation is currently attractive, VNDirect reported, and the market will be supported by increasing retail participation and abundant cashflow shifting away from deposits amid low interest rates.
Positive factors for September include that infections likely peaked in late August and will slow down thanks to drastic movement restrictions and rising vaccination. Additionally, liquidity rebounded strongly in August, suggesting that investors are willing to jump into the stock market when the opportunity arises.
Ho Chi Minh City has imposed stricter movement controls since August 1 with nearly all non-essential businesses closed, while factories operate with reduced staff on-site. At the same time, Hanoi, Danang, and other southern provinces have also banned public transport and intercity bus services, and closed all non-essential businesses.
So far Vietnam has fully vaccinated around 2.5 per cent of its population, and partially vaccinated around 17.4 per cent. The country expects to receive an additional 80-90 million doses by the end of 2021, lifting the vaccination rate to 50-60 per cent. Additionally, the "Made in Vietnam Nanocovax vaccine is nearing the end of phase 3 clinical trials.
The securities firm expected the VN-Index to recover in September and fluctuate within the 1,280-1,380 points range. "Investors could raise the proportion of stocks in their portfolios if the index drops to the support zone. We prefer leading companies in real estate, including both residential and industrial park real estate, building materials, logistics, port, and export-oriented companies," VNDirect said.
For 2022, VNDirect expects the earnings per share growth on the Ho Chi Minh City Stock Exchange (HSX) to grow 21 per cent on-year. The index for 2021 is expected to drop to 26 per cent (instead of the previous forecast of 30 per cent) due to heavy disruptions from the fourth wave of the pandemic in the second half.
The market witnessed turbulence in August as the VN-Index bounced back to 1,370 points then corrected and closed the month at 1,328, up 1.4 per cent month-to-date on August 30. Investor sentiment remains weak as longer and stricter nationwide lockdown protocols have been adopted.
Liquidity rebounded strongly in August as market valuation turned more attractive. Total trading transactions of three main bourses rose 15.3 per cent on-month to VND30.2 trillion ($1.3 billion) per day, up 363.2 per cent on-year.
In August, the money ran into small and mid-caps. The liquidity of small caps surged 90.1 per cent on-month, resulting in an impressive increase of 10.6 per cent month-to-date for the VNSML Index. The liquidity of mid-caps rose 69.9 per cent on-month to bring the VNMID Index up 0.4 per cent month-to-date. On the other hand, the daily trading volume for large caps dropped 4.1 per cent on-month, leading to a 2.4 per cent month-to-date decline for the VN30 Index.
Source: VNA/VNS/VOV/VIR/SGT/SGGP/Nhan Dan/Hanoitimes
VIETNAM BUSINESS NEWS SEPTEMBER 3 have 7100 words, post on vietnamnet.vn at September 3, 2021. This is cached page on Talk Vietnam. If you want remove this page, please contact us.