Foreign investors maintain confidence in Vietnam's economy
Vietnam attracted 14 billion USD in foreign direct investment (FDI) in the first eight months of this year, only 2 percent lower than the same period last year, showing foreign investors' confidence in Vietnam's economic scenario in mid-and long terms.
Of the investment capital, up to 11.7 percent has been disbursed, up 2 percent as compared with the corresponding time last year.
In August alone, 2.4 billion USD was registered, up 65 percent from the previous month, mainly additional capital injected into the processing and manufacturing industry.
However, this month's FDI disbursement dropped 14.3 percent against July and 12.2 percent year-on-year as the social distancing order has been imposed in major economic centres.
Budget collection in August also went up 13.9 percent while total spending reduced 5.9 percent year-on-year.
According to the World Bank, Vietnam's economic recovery in the fourth quarter will depend on the government's capacity for COVID-19 containment, stressing the urgency of vaccination, with at least 70 percent of adults to be injected.
It suggested the government employ more measures to boost domestic demand and speed up public investment disbursement and the implementation of supportive packages for people, enterprises and household businesses./.
Reference exchange rate going down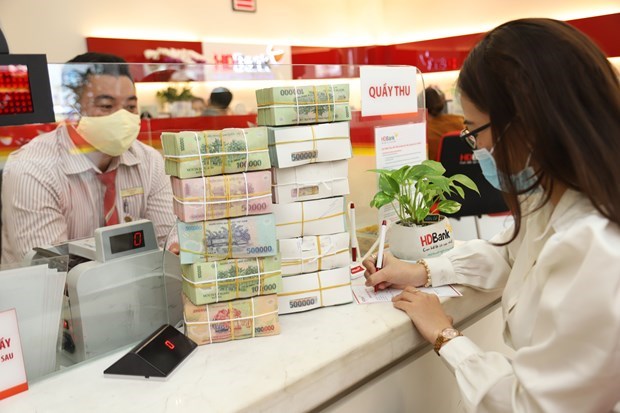 The daily reference exchange rate is set at 23,110 VND/USD on September 16.
The State Bank of Vietnam set the daily reference exchange rate at 23,110 VND/USD on September 16, down 7 VND from the previous day.
With the current trading band of +/-3 percent, the ceiling rate applicable to commercial banks during the day is 23,803 VND/USD and the floor rate 22,416 VND/USD.
The opening hour rates at commercial banks saw decreases.
At 8:30 am, Vietcombank cut both rates by 10 VND to 22,630 VND/USD (buying) and 22,860 VND/USD (selling).
Both rates at BIDV were also reduced by 5 VND to 22,660 VND/USD (buying) and 22,860 VND/USD (selling)./.
Cement exports up, domestic consumption down
The estimated sale of Vietnamese cement products reached 70.7 million tonnes in the first eight months of 2021, up 4 percent year-on-year, in which, domestic consumption was about 43.54 million tonnes, down 5 percent, and export volume was 27.23 million tonnes, up 12 percent.
In August alone, the total volume of cement sold was 8.09 million tonnes, down 8 percent against August 2020, of which 4.97 million tonnes was sold in the domestic market and 3.12 million tonnes shipped abroad.
According to Nguyen Quang Cung, Chairman of the Vietnam Cement Association (VNCA), the total volume and value of cement and clinker exports is maintaining at a high increase rate thanks to the growth in the period from January to April, before the fourth wave of COVID-19 broke out.
However, from the end of April, the outbreak of the pandemic has suspended construction projects in Hanoi and Ho Chi Minh City and 19 southern localities, resulting in a decline in demand on cement consumption in the recent months and the following months.
Regarding domestic consumption, the southern region has the strongest increase in consumption in the country with a year-on-year increase rate of 12.2 percent and. Therefore, the prolonged social distancing distance in this region will continue to affect domestic cement consumption significantly.
China, the Philippines and Bangladesh are the largest importers of Vietnam's cement and clinker./.
Vietnam always finds way to overcome obstacles, challenges: HSBC Vietnam CEO
Vietnam always finds a way to overcome obstacles and challenges, Chief Executive Officer (CEO) of HSBC Vietnam Tim Evans said when giving comments on Vietnam's economy and its GDP growth prospects.
"As a bank that has been in Vietnam for 151 years, we have been through ups and downs together with this country but we also know that Vietnam always finds a way to overcome obstacles and challenges. The national traits of perseverance and resilience will ensure this once again. Vietnam will prevail and the good times will return," Evans said.
Vietnam will bounce back and once again prove that when it comes to overcoming a challenge or obstacle, no one does it better than Vietnam, he stressed.
According to the CEO, HSBC is considering two scenarios for Vietnam's economy until the year-end. In the first scenario, the GDP growth will range from 5-5.5 percent, depending on the speed and effectiveness of the vaccine rollout, the re-opening of the economy and the recovery and resumption of major export markets, given the challenges posed by Delta variant.
In the second scenario, if the vaccination programme is not fast enough and lockdown and social distancing continue to be lengthened, there will be more adverse impact to the economy and there will be increased pressure on supply chains and GDP may only reach 3.5-4 percent.
"Either scenario, the economy needs to be re-opened, though in a cautious and systematic way", Evans stressed.
He supposed that the country remains a highly attractive investment destination in the medium term. This is based on the country's robust fundamentals which many investors will look through the present COVID-19 volatilities.
As more economies start to open up in the region on the back of large scale vaccine rollout, this coupled with the ongoing demand from Europe and North America should see positive impact on the exports of technology related products, machinery, footwear, garments, furniture, food, and agricultural products.
Meanwhile, Evans highlighted that the pandemic has accelerated the trends of automation and digitalisation and therefore, Vietnam stands to benefit from this as a significant global producer of tech-related products.
Vietnam's strong fundamentals remain and the country has built an enviable position in the global supply chain over the past years through its set of free trade agrrements (FTAs).
Strong foreign currency reserves coupled with a stable currency, inflation being under-control, continued strong FDI inflows with an emphasis on the manufacturing sector all position Vietnam will for the future. As a result, HSBC is forecasting GDP growth of 6.8 percent for the country in 2022 with a bullish outlook for the mid and long term./.
Two supporting industry exhibitions open online
The ninth Vietnam – Japan Supporting Industries Exhibition (SIE) and the Vietnam Manufacturing Expo (VME) opened via videoconference on September 14 night.
The events are jointly held by the Reed Tradex Vietnam, the Vietnam Trade Promotion Agency (Vietrade) under the Ministry of Trade and Industry (MoIT) and the Japan External Trade Organization (JETRO).
They aim to enhance the trading ties between Vietnamese and Japanese enterprises in manufacturing, industrial and supporting industries and the competitive strengths for domestic manufacturing businesses to reach out to the international markets and participate in global supply chains.
Addressing the opening of the two exhibitions, Deputy Minister of Industry and Trade Do Thang Hai said he believes that this series of exhibitions will continue to bring practical opportunities for businesses in the supporting industries in Vietnam to update themselves on new market trends, innovative achievements as well as new techniques and technologies, and meet with potential partners from Japan and the world.
"We hope that the organising committee will continue to maintain and create opportunities for businesses of the parties to regularly meet, exchange and cooperate with each other through exhibitions, seminars and direct trade connections via both online & onsite format in the future," he stated.
Okabe Daisuke from the Embassy of Japan in Vietnam said that in the context of travel restrictions between countries due to the COVID-19 epidemic, digital exhibitions are expected to help domestic and foreign businesses to participate online, contributing to promoting trade between Japanese enterprises and Vietnamese enterprises, and as the two countries of Japan and Vietnam in general.
Chief Representative of JETRO in Hanoi Nakajima Takeo, emphasized that the SIE 2021 is organised with the purpose to improve the localisation rate of Japanese enterprises and strengthen the supply of components and parts.
During the two previous SIEs (2017 and 2019) in Hanoi, 136 Japanese and Vietnamese enterprises participated and achieved more than 8,500 trading agreements, the total value of contracts was 3.8 million USD, he noted, adding that this year, 12 big enterprises and 8 small and medium enterprises in transport equipment, electric-electronics and other enterprises in manufacturing and processing (stamping, mold, plating) from Japan are attending the event.
According to Nakajima, most participating Vietnamese enterprises are capable ones that have been listed in JETRO's "The Excellent Vietnamese Companies in Northern and Central Vietnam" publication, with about 30 firms joining for the first time.
Exhibitors from more than 10 countries and territories have brought over 100 brands of famous technology and machinery to the SIE and VME, which will run online until September 17 via VME website (www.vme-expo.com)./.
Solutions needed to fuel supporting industries' growth in new period
Supporting industries, a sector prioritised for investment and development in Vietnam, is facing a host of shortcomings and new issues that require effective solutions.
In the recent time, the sector has seen its connectivity and supply chains strengthened, gradually forming its ecosystem and increasing the localisation rate.
In 2020, Vietnam stepped up its programme on support industries development to help firms boost their production and business capacity and gain opportunities to join global production chains. Meanwhile, many multinational manufacturing groups planned to invest in Vietnam or expand their existing projects in the market.
However, the sector's growth remains slow and has yet to meet demand from domestic for-export industries, hence a low localisation rate and value added of domestically-produced products.
In recent years, manufacturing and processing industries contributed nearly 40 percent of the economy's total production and business revenue, but only accounted for about 14 percent of the GDP. Their value added was much lower than that of other industries.
In addition, due to the weak growth of supporting industries, the manufacturing and processing sector relies heavily on imported materials and components. As a result, when COVID-19 broke out, they faced various challenges to ensure their production inputs. The pandemic has triggered a constant shortage of materials along with difficulties and congested delivery of finished products.
To boost the development of supporting industries, it is necessary to ensure the market and the purchasing power of consumers; as well as to improve domestic production capacity and the quality of vocational training. Therefore, insiders said there is a need to early revise problematic regulations in related development policies, and devise solutions for enterprises to boost their financial capacity. Supporting industries should continue to be considered a priority area.
The Government issued a resolution last year on measures to further propel supporting industries, setting out development goals for the next decade.
Accordingly, Vietnamese enterprises are to be able to produce highly-competitive support products, meeting 45 percent of essential needs for domestic production and consumption and accounting for about 11 percent of industrial production value by 2025.
The country should have about 1,000 enterprises capable of directly supplying for assembly enterprises and multinational corporations operating in Vietnam, with domestic enterprises to account for about 30 percent by 2025.
By 2030, locally-made support products should meet 70 percent of domestic demand and account for about 14 percent of industrial production value. Some 2,000 companies are to be capable of supplying directly to assemblers and multinational corporations by 2030.
To implement the resolution, the Ministry of Industry and Trade has identified that the development of supporting industries will follow the direction of selecting fields that require investment suitable to different periods. It also chose a number of key industries such as auto, electronics, garment and textile, and leather and footwear.
In a report submitted to the National Assembly Standing Committee and legislators early this year, the Government cited statistics showing that companies in supporting industries account for nearly 4.5 percent of all manufacturing and processing businesses and have created more than 600,000 jobs, equivalent to 8 percent of the workforce in the manufacturing and processing sector. Their net revenue now tops 900 trillion VND (38.9 billion USD), or about 11 percent of the sector's total.
Some Vietnamese enterprises boast relatively good capacity in producing moulds, bicycle and motorbike components, electrical cables, plastic and rubber components, and tyres, meeting domestic demand and the requirements of foreign importers.
The report noted that supporting industries play a decisive role in restructuring the economy, improving workplace productivity and skills, and promoting the competitiveness and quality of Vietnamese goods and the economy./.
Vietnam boosts high-tech industry
Vietnam has targeted mastering a number of high technologies to form an ecosystem of enterprises producing high-tech products, and put them into production to increase the export value of high-tech products by 2030.
The decision aims to firm up the objectives and contents of the Prime Minister's decision on national hi-tech development programme by 2030.
The programme will further enhance previous scientific and technological achievements, and deploy tasks and projects in line with the requirements of the industry and trade sector and the country in the context of the fourth industrial revolution.
To effectively implement these goals, the ministry would organise activities to support economic groups, corporations and enterprises in key economic sectors to research, develop and master core and key technologies of the fourth industrial revolution./.
Vinh Phuc's farm products to be on sale on Voso.vn
The Department of Agriculture and Rural Development of Vinh Phuc, Viettel Vinh Phuc and many agribusinesses and co-operatives on September 15 signed an agreement to pave the way for the distribution of local farm products on Voso.vn.
Voso.vn is an e-commerce platform developed by military-run Viettel Post.
Speaking at the signing ceremony, Deputy Director of the provincial Department of Agriculture and Rural Development Le Van Dung said the northern province has begun applying advanced technology in agriculture, from the stages of seeding, cultivation to harvest and processing, to provide the market with clean products. Several farm products have been exported by the province, he noted.
The province is now home to about 130 businesses, co-operatives and households with agricultural products obtaining food safety certification, or cultivated under the VietGap standards, or rated three stars or more under the "One Commune, One Product" (OCOP) programme, he said, adding that these products are eligible to be sold on online marketplaces.
E-commerce platforms are deemed as a channel for farmers to deliver their products to end-users at the time of COVID-19, according to Duy.
A representative from Voso.vn said it has supported 35 local businesses, co-operatives and business households in Vinh Phuc to sell their products. A total of 55 agricultural products made in the province have been available on the site, including yogurt, clean vegetables, honey and custard apples.
This helps local producers to expand market, prevent high inventory and accelerate digital transformation in agriculture./.
Thai Binh works to attract big investors in industry
The northern province of Thai Binh has rolled out policies in promoting the development of the industrial sector at large and supporting industries in particular, with priorities given to garment-textile, mechanics and electrical/electronic devices.
Local authorities said that supporting industries have served as a driving force for garment-textile, greatly contributing to the province's export growth.
Thai Binh is currently home to 234 garment-textile and footwear firms, of which 44 are operating in supporting industries.
The provincial People's Committee affirmed that it will focus on the development of supporting industries in garment-textile, electronics, mechanical engineering and pottery, viewing it as a driving force for the local industrial development.
To attract investment in such fields, the province has devised numerous measures, underlining solutions in administrative reform, human resources and training programmes.
In addition, it will continue to bolster investment promotion, calling for investment from big corporations and companies, and building incentives for foreign firms which pledge to transfer technology to and provide support for local counterparts in supporting industries.
Local authorities will also work to remove bottlenecks facing firms, and assist garment-textile, electronics and mechanics enterprises in their efforts to integrate into the global supply chain./.
Hai Phong Economic Zone Authority launches e-management system
The Hai Phong Economic Zone Authority (HEZA) on Tuesday launched its electronic management and operation system (e-HEZA).
The system is set to facilitate the management work while helping to reform administrative procedures, improving the administration reform index of the authority.
Through the system, it only takes one day to complete a number of licences instead of up to 20 days in the past. The system also shortens the length of time enterprises carry out data reports.
Le Anh Quan, Vice Chairman of the municipal People's Committee, said the application of technology and digital transformation will contribute to raising the operational efficiency of the authority and turn Hai Phong into an investment magnet.
Quan asked HEZA to coordinate with businesses in training officials in charge of the system and ensure information security.
The coastal port city plans to construct 15 new industrial parks with a total area of over 6,200 hectares in the 2021-25 period. Last year, it ranked seventh out of 63 provinces and cities nationwide in the Provincial Competitiveness Index (CPI).
Ship of world's largest container shipping company docks at Cai Lan port
Cai Lan International Container Terminal (CICT) in the northern province of Quang Ninh on September 14 welcomed the Marshall Islands-flagged Synergy Busan with a loading capacity of over 50,000 tonnes, the first container ship of Maersk Lines to dock in the port.
The ship, which carried over 2,000 empty containers, is on one of the two pilot trips to be operated by Maersk Lines to evaluate the economic efficiency towards the opening of an international container route to Cai Lan port in the future.
To shorten the time for procedures, the People's Committee of Quang Ninh province has allowed relevant agencies to perform quick COVID-19 test for all crew members instead of PCR tests. However, they must ensure that there would be no direct contact between the ship's crew members and people on shore. Other vessels are also not allowed to dock alongside the ship.
The fact that ships from the world's largest container shipping company arriving at CICT is a positive signal that Quang Ninh can exploit the advantages of a large deep-water port in the northern region.
Frank Van Rompaey, General Director of Cai Lan International Container Terminal Co. Ltd, said MAERSK's container ships used to dock at the port because large ships cannot go to other ports in the area, adding that Quang Ninh province should take this advantage to attract investment and increase local competitiveness.
He said that the COVID-19 pandemic has caused difficulties for countries all over the world but Quang Ninh province has excelled in containing it with the adoption of strict measures.
According to Rompaey, once international container ship routes through Cai Lan port are set up, connecting with major markets in the world, especially Europe, the United States, China, Japan, the Republic of Korea and ASEAN, many great opportunities will be opened up for import and export, investment attraction and production development in the locality.
ASEAN economic ministers hold consultation meetings with partners
A Vietnamese delegation led by Minister of Industry and Trade Nguyen Hong Dien attended economic ministerial-level consultation meetings between ASEAN and its partners – the US, Hong Kong (China), India, the European Union and Russia – held via video conference in the framework of the 53rd ASEAN Economic Ministers' Meeting on September 14.
At the ASEAN-US consultation, Viet Nam and ASEAN member states thanked the US Government for its donation of COVID-19 vaccines and other anti-pandemic assistance. They also hailed the US as the second largest trade partner of the bloc with a total trade of US$309 billion last year, up 4.6 per cent annually.
Participants took note of important progress in the implementation of the ASEAN-US Trade and Investment Framework Agreement (TIFA) in 2019-20 and the US-ASEAN Expanded Economic Engagement (E3) Initiative for 2020-2021 focusing on e-commerce, transparency and good practices, ASEAN one-stop shop mechanism, trade facilitation, development of micro-small, small and medium-sized enterprises, agriculture, trade and environment.
The meeting adopted a plan to carry out the TIFA and the E3 Initiative in 2021-22, with focuses on e-commerce, transparency and good practices, ASEAN single window, trade facilitation, development of micro-small, small and medium-sized enterprises, agriculture and the environment.
Regarding ties with Hong Kong (China), ministers welcomed the completion of ratification of the ASEAN – Hong Kong Free Trade Agreement and ASEAN – Hong Kong Investment Agreement by all stakeholders. They instructed working groups to work on remaining issues related to rules on origin and investment in those agreements.
In particular, Hong Kong (China) expressed a wish to join the Regional Comprehensive Economic Partnership (RCEP) that ASEAN signed with the Republic of Korea (RoK), Japan, New Zealand, Australia and China on November 15, 2020.
At the meeting with India, ministers lauded all related countries for completing the approval of the ASEAN – India Investment Agreement and took note of progress in discussing the scale of review to upgrade the ASEAN-India Trade in Goods Agreement (ATIGA), towards further facilitating trade for enterprises.
About ASEAN-EU economic ties, the ministers spoke highly of the EU's support for the ASEAN Economic Community via programmes and initiatives within the framework of the ASEAN Regional Integration Support by the EU (ARISE Plus) and the Enhanced Regional EU-ASEAN Dialogue Instrument (E-READI).
The event also adopted the ASEAN-EU Trade and Investment Work Programme for the 2020-21 period and directed senior economic officials of both sides to continue with discussion so as to early reach a consensus on the draft ASEAN-EU Trade and Investment Framework Agreements to make way for negotiations.
The EU is now the second biggest investor in ASEAN with a total capital of $7.6 billion and a significant trade partner of the bloc with bilateral trade revenue totalling $258 billion last year.
During the ASEAN-Russia consultation, the ministers adopted the revised ASEAN-Russia Trade and Investment Cooperation Roadmap and the ASEAN-Russia Trade and Investment Cooperation Work Programme for the 2021-25 period, with focuses on trade and industry; micro-small, small and medium-sized enterprises; sci-tech, innovation and intellectual property; climate change, energy, transportation, agro-fisheries, tourism, culture, human resource development and health care, sustainable development and digital economy.
At the consultation meetings, the ministers also spent time talking with representatives of the ASEAN-US, ASEAN-India, ASEAN-EU and ASEAN-Russia Business Councils to grasp recommendations of the private sector regarding trade facilitation in the region.
Car sales plummet for fifth consecutive month: VAMA
Domestic car manufacturers sold just 8,884 cars during August, a 32 per cent fall from the previous month marking the fifth consecutive month car sales plummeted since April this year, said a report by the Vietnam Automobile Manufacturers' Association (VAMA), an organisation consisting of 17 automobile manufacturers in Viet Nam.
The pandemic was said to be the main culprit behind the dismal performance. For the first time since the 80s, factories were forced to close to check the spread of the virus and car showrooms had to lay off many workers as the industry recorded the lowest sales in the last ten years despite the implementation of numerous promotions and incentives programmes.
As the economy took a major hit since the beginning of the fourth novel coronavirus outbreak (in late April), demand has since been in free fall as cities and provinces across the country went into lockdown one after another. Economic downturns and mobility restrictions have been among the heaviest blows to the industry.
Hyundai, a consumer favourite and typically best-seller brand in the market, said they sold just over 2,100 cars in August, barely over half of their sales in July.
Even the up-and-comer VinFast, who led the market in August with 2,310 cars said their sales had fallen by over 40 per cent compared to July. Other brands have reported worse figures such as Mazda (-28 per cent), KIA (-34 per cent), Toyota (-38 per cent), Honda (-55 per cent), Ford (-70 per cent) and Mitsubishi (-76 per cent).
Total sales for the first eight months of the year recorded a drop of 13 per cent compared to the pre-pandemic level in 2019.
Many factories have been forced to shutter operations since April and as of now still have no plans to reopen. Those who were ready to resume operations said they were struggling to cope with a very high inventory level, said VAMA. To make matters worse, more than 200 showrooms and car retail outlets along with their service centres have not been able to reopen.
The industry is unlikely to make a comeback by the end of the year without rolling out massive sales incentive programmes, according to VAMA.
Earlier this year, the association submitted a proposal to halve registration fees for domestically manufactured automobiles. According to VAMA, the proposal, which has since stirred up a debate between local manufacturers and importers, was needed to support domestic car production and mitigate the damage caused by the pandemic.
The export value of Vietnamese tuna exports to the Israeli market by mid-August grew by 34% to roughly US$25 million against the same period last year, accounting for 5.6% of the total tuna export value, according to the Vietnam Association of Seafood Exporters and Producers (VASEP).
Israel continues to represent the nation's third largest single tuna export market, behind only the US and Italy.
Despite experiencing a decline in 2019, since the end of 2020, tuna exports to the market have consistently bounced back, with the average export price in the market hovering at US$5,464 per tonne.
Most notably, Vietnamese frozen tuna fillets coded HS03048700 remain the key export product in the market, accounting for 47% of the total export value.
According to statistics released by the International Trade Center (ITC), the first half of the year saw the country surpass Thailand to become the largest tuna supplier to Israel, accounting for roughly 31% of their overall import value.
Furthermore, Israel simultaneously reduced tuna imports from other countries, whilst also increasing imports from the Vietnamese market.
At present, there are eight local enterprises, including Tuna Vietnam, Bidifisco, and Havuco which are actively involved in exporting tuna to the Israeli market.
Despite a wealth of export opportunities for Vietnamese tuna to the market, the local tuna industry is projected to face numerous difficulties due to the fourth wave of the COVID-19 pandemic, with several enterprises reducing their processing capacity.
HCM City allows limited economic activity in three districts
HCM City has planned to reopen many activities in District 7 and the districts of Cu Chi and Can Gio after September 15.
Nguyen Quyet Thang, party secretary of Cu Chi District, said that markets may be reopened in some local communes located in green zones. Around one week later, a number of enterprises in these communes would be allowed to operate again. He, however, added that all workers at these enterprises would be required to be fully vaccinated against Covid-19.
After September 15, Cu Chi District would co-operate with the HCM City Department of Tourism to launch some tours to Cu Chi Tunnel, Ben Duoc Temple and some farming areas. But, all visitors have to ensure to be provided with two shots of Covid-19 vaccine.
To date, 99.8 percent of people aged from 18 in Cu Chi have been given their first shot of Covid-19, while 27 percent have received their second shot.Thang noted that the locality is speeding up Covid-19 vaccination for tens of thousands of workers at industrial parks.
Can Gio District will pilot the resumption of markets between September 15-30, along with outdoor entertainment services, and food outlets serving less than 20 people.
The district has also given a go-ahead for a small tour of the area from September 30.
By October 30, the district is expected to finish Covid-19 vaccinations for all local residents aged from 18. After this time, more activities will be considered for being loosened.
District 7 will prioritise the resumption of trading in essential products and street businesses.
Vo Khac Thai, party secretary of District 7, said that the locality had drafted specific criteria for granting green cards for different activities.
HCMC targets to build social housing for low-income people
During the Covid-19 pandemic, shanties and boarding houses in slums are the places where the disease is most contagious ever. If the living conditions become better, people can cope with the pandemic more effectively, minimizing loss of life.
According to a report by the Department of Construction of Ho Chi Minh City, in the past five years, the city only had about 20 social housing projects put into use with over 15,000 apartments. This number remains modest compared to the demand for affordable housing.
One of the large-scale social housing projects that have been put into use recently is the HQC Plaza Social Housing Apartment Complex, located in Nguyen Van Linh Boulevard in An Phu Tay Commune of Binh Chanh District. The project has 1,735 apartments and utilities, such as a commercial center, school, kindergarten, polyclinic, supermarket, playing ground, and parking area. The area of each apartment here is from 54 square meters to 68 square meters, with the price ranging from VND800 million to VND1 billion per unit.
Mr. Truong Anh Tuan, Chairman of Hoang Quan Real Estate Joint Stock Company (HQC), said that most customers buying apartments here are State workers. With a relatively low selling price and policies on loans and interest rates, the project was sold out quickly. Another project is the HOF-HQC Social Housing Project in Ho Hoc Lam Street in Binh Tan District, with a scale of 464 apartments invested by the HCMC Housing Development Fund, which has also been completed and put into use at full capacity.
According to statistics of the HCMC Department of Construction, among the total number of houses of real estate development projects in the 2016-2020 period, there were 47,837 luxury apartments with prices over VND40 million per square meter, accounting for 33.6 percent; 65,920 mid-end apartments with prices from VND25 million to VND40 million per square meter, accounting for 46.4 percent; 28,295 affordable apartments with prices under VND25 million per square meter, accounting for 19.9 percent.
Notably, in 2020, the number of affordable apartments plummeted heavily, accounting for only 1 percent of total housing products. In the first quarter of 2021 alone, the proportion of high-class, luxury, and super-luxury housing accounted for 59 percent, and mid-end housing accounted for 41 percent. However, there were no affordable apartments on the HCMC real estate market. According to the HCMC Real Estate Association, the structure of housing products is a clear sign of "supply-demand mismatch". The development of the real estate market is unbalanced and unsustainable due to the lack of affordable housing and signs of an oversupply of high-end housing.
According to the plan of Ho Chi Minh City, in the 2021-2025 period, it is expected to develop about 24,000 new social housing apartments and houses for low-income people. Accordingly, the city has 19 social housing projects expected to be completed from 2021 onwards. Moreover, the city has 65 commercial housing projects, of which 20 percent land fund (over 197 hectares) has been determined to build social housing with more than 146,000 units. Thus, by 2025, it is expected that more than 170,000 social housing units will be put into use.
However, how to attract the sources of social capital to invest in social housing projects is a big problem. Previously, a real estate enterprise used to propose to switch its commercial housing project to social housing. However, after handling the procedures for a while, this enterprise had to apply for the project to be converted back to commercial housing.
"The procedures for the commercial housing project and social housing project are almost the same. Besides some incentives, for social housing projects, the investor is also subject to profit control. The social housing project must go through a time-consuming process of auditing. Meanwhile, for commercial housing projects, enterprises can decide on their selling prices, balance input, output, and cost price," the director of a real estate company said.
Or the Nam Ly social housing project in Phuoc Binh Ward in District 9 (which is now Thu Duc City) invested by Thao Dien Real Estate Company covering an area of 4,557 square meters is expected to build a 26-story apartment building and one basement, with a total of 291 apartments. Since 2009, the company made a written request to self-invest or invest as a secondary project. It was not until 2017 that the city decided to approve the investment and the investor with the expected completion time in the third quarter of 2018. However, the Construction Management Department under the Ministry of Construction later announced the results of the appraisal of the basic design of the high-rise apartment building of the project. By the beginning of 2019, the Department of Construction of HCMC had a document on allocating land for project implementation to the company. Thus, it took the company nearly ten years for the procedures of a project.
In a recent meeting with the leaders of the District Party Committee and People's Committee of District 7, Mr. Nguyen Van Nen, Politburo Member, Secretary of the HCMC Party Committee, said that someone asked him that when the pandemic was under control, what would the first thing to do, and his answer was to build social housing. According to many experts, this is a completely right and humane decision. With this policy and determination, they hope that HCMC will remove obstacles that are hindering the development of social housing for low-income people in the coming time.
Further efforts needed to integrate community-based tourism with new-style rural area building
A number of recent domestic and international surveys have indicated that community-based tourism will become more mainstream after the COVID-19 pandemic. Therefore, further efforts from different parties are needed to grasp opportunities and sustainably develop community-based tourism, making it a driving force in the building of new-style rural areas.
According to the Ministry of Agriculture and Rural Development, there are currently more than 1,300 tourist sites and tourist attractions across the country, about 70% of which are located in rural areas.
Sin Suoi Ho, a village of H'Mong ethnic people in Sin Suoi Ho Commune, Phong Tho District, Lai Chau Province, is one of the typical community-based tourism villages of the country. The village currently has for 150 accommodation establishments, and received nearly 20,000 visitors in 2019.
The villagers have been active in developing community-based tourism and sought ways to make Sin Suoi Ho more attractive to visitors through the design and decoration of homestays, the selection of menus for tourists, and the planning of activities for them to experience during their stays. They have also payed attention to preserving and promoting the indigenous culture of their ethnic group.
Many districts and communes of Dong Thap Province have also shown positive results in developing community-based tourism. According to a survey by the Provincial People's Committee in 2019, community-based tourism brought an increase of 30%-40% in income compared to gardening and fish farming.
Phan Dinh Hue, Director of Viet Circle Travel Service Company, who is also a consultant on tourism development in the Mekong Delta, said that the most fundamental change since villages and communes become engaged in tourism activities has been the improvement of locals' incomes and the increase of local budgets, which will certainly be reinvested in enhancing infrastructure.
According to Deputy Minister of Agriculture and Rural Development Tran Thanh Nam, in the coming time, tourism development in rural areas will be integrated with the building of new-style rural areas. This requires an appropriate and long-term scheme on tourism marketing and human resources in order to fully unlock the potential of community-based tourism in rural areas.
The Government spent VND 10.2 trillion on tourism infrastructure to promote sustainable development of community-based tourism in the 2011-2020 period. Cities and provinces also contributed an additional VND300-350 billion from local budgets to improve tourism infrastructure.
29 localities across the country have issued their own policies to develop tourism, 11 of which have designed specific plans on mobilising all available resources to the promotion of tourism in rural areas, such as: Ha Giang, Lao Cai, Quang Ninh, Ha Tinh, Dak Lak, and Ba Ria – Vung Tau.
A project on integrating community-based tourism development with new-style rural area building for the 2021-2025 period has been submitted for the Prime Minister's approval by the Ministry of Agriculture and Rural Development and the Ministry of Culture, Sports and Tourism.
Once approved, the project will create the foundation for the design of preferential policies to facilitate rural tourism and the building of new-style rural areas.
Gov't approves plan on conservation of migratory fish stocks
The Government has approved a plan on conservation and management of straddling fish stocks and highly migratory fish stocks through 2025.
Deputy Prime Minister Le Van Thanh has signed Decision No. 1507/QD-TTg approving a plan to implement the United Nations Agreement on realization of the provisions of the United Nations Convention on the Law of the Sea of December 10, 1982 relating to the Conservation and Management of Straddling Fish Stocks and Highly Migratory Fish Stocks.
The plan reflects Viet Nam's commitment to full implementation of the rights and duties as a signatory of the aforesaid agreement and contributes to prevention and removal of illegal, unregulated and unreported (IUU) fishing.
Under the plan, Viet Nam will carry out programs on research and investigation of resources and evaluate the impacts of fishing activities on straddling fish stocks and highly migratory fish stocks and other endangered and rare species in order to take necessary technical measures for management and conservation of straddling fish stocks and highly migratory fish stocks.
Viet Nam will also cooperate with other relevant countries, regional and international organizations in sharing information and scientific research outcomes./.
Ha Noi improves farm produce processing capacity
Agricultural production has many risks because of dependence on weather and disease prevalence. The COVID-19 pandemic has particularly had a strong impact on the production – supply chain of the sector.
Accordingly, development of the processing industry is considered the optimal solution to improve the value of products and ensure the supply of farming produce for domestic consumption and export.
Besides that, the municipal agriculture sector will also focus on building raw material regions and forming closed production chains.
"In recent years, Ha Noi's agricultural product processing industry has made remarkable developments. Many businesses have invested tens to hundreds of billions of dong to build processing plants, cold storage and warehouses preserving farm produce, contributing to improving the value of those products," said Nguyen Ngoc Son, deputy director of the Ha Noi Department of Agriculture and Rural Development.
According to General Director of Huong Son Food Joint Stock Company in Thanh Tri District Nguyen Thi Thu Huong, processed farm products can keep for a longer time and economic efficiency of the products are two to three times higher than raw products.
Dao Thi Luong, director of the Tam Anh Cooperative, specialising in the production and trading of organic vegetables and fruits in Phu Xuyen District, said: "Due to the impact of the COVID-19 pandemic, the cooperative has promoted investment in the processing stage and been cooperating with 30 cooperatives to produce food and vegetables."
It has been also implementing a model of a 'mobile food market' to supply products to apartments and urban areas, Luong said.
Chairwoman of the Viet Nam Retailers Association Vu Thi Hau said: "Development of the processing industry is a mandatory choice in the context of the pandemic and for digital agriculture. Recently, most agricultural products traded on e-commerce platforms are processed products with quality, and brand names."
"Ha Noi's agricultural processing enterprises now need regions of raw materials for processing, capital and technology to develop the agricultural produce processing industry," said Do Hoang Thach, director of the Viet Nam Agricultural Trade Promotion Joint Stock Company.
Chairman of the Thuong Tin District People's Committee Kieu Xuan Huy said for enterprises investing in the processing stage, the district would have support relating to land and organise connections with cooperatives to create sustainable raw material supply.
Meanwhile, chairman of Thanh Oai District People's Committee Bui Van Sang said the district would have financial support for agricultural produce processing enterprises in developing brands and trading the products on e-commerce platforms.
To improve the processing capacity of agricultural products for Ha Noi, Director of Ha Noi Department of Agriculture and Rural Development Chu Phu My said: "The city has policies on encouraging cooperatives and businesses to promote investment and application of high technology in developing the farm produce processing industry."
"The department will also propose to restructure the agricultural sector in the direction of developing raw material regions. Enterprises will join the production – processing – consumption chain to increase the ability to supply raw materials for the processing facilities."
Ha Noi currently has 2,689 establishments producing and trading agricultural, forestry and fishery products, including about 400 processing facilities. The main produce of processing enterprises in Ha Noi are meat (42.6 per cent), seafood products (26.7 per cent), and vegetables and fruit (33.7 per cent). They have supplied about 1,000 tonnes of produce each month for the local market.
By 2025, Ha Noi expects that 50 per cent of farm produce processing facilities will use modern machinery, high technology and advanced quality management process.
By 2030, the capital city will build 15 agricultural produce processing facilities having links with value chains and competitive ability to meet the needs of the domestic and export markets.
It will also develop a processing, preservation and inspection complex for export products.
Businesses need to learn to adapt to survive pandemic: experts
The webinar was held on Wednesday with a view to gather policymakers, businesses and organisations to exchange views and help businesses in seeking ways of shifting their business models and operations.
Speaking at the webinar, Hoang Quang Phong, Vice President of the Vietnam Chamber of Commerce and Industry (VCCI), said that Viet Nam's fourth wave of infections and restrictions have made it challenging for businesses, especially as all the southern provinces have been affected along with strict social distancing orders.
Phong said it has become more serious as industrial parks and export processing zones were hit hard by the pandemic, where a large number of employees are working, especially in the southern provinces. This would pose a major threat to the disruption of supply chains, labour, large-scale production, and export orders, adversely affecting the local economy and the whole country as well.
According to Phong, it was time for businesses to reassess their businesses methods, seek new ways of doing business, and restructure enterprises in response to the changes during the pandemic.
Phong added that depending on the business scale, each of them have to map out suitable models to keep them safe during the COVD-19 pandemic. However, all business models must comply with the initiative principle. All management boards and employees needed to raise their awareness and preparedness to fight the COVID-19 pandemic.
To overcome the current challenges, many businesses have been interested in transforming their business models by applying digital transformation in administrative management and transport. Many small-scale businesses in the retail and service sectors are adopting various ways to survive the pandemic by shifting from traditional businesses to e-commerce ones.
Trinh Minh Anh, Head of Office of the Steering Committee for Global Economic Integration, suggested that as the COVID-19 pandemic remained unpredictable, businesses should learn to adapt to the changes during the pandemic and needed to consider shifting business models.
He noted that businesses needed to take advantage of the Government's support and show their initiative and flexibility in response to the rapid developments of domestic and international markets.
Anh said local businesses also have to conduct post-COVID business strategies to grasp opportunities when the global economy recovers by taking full use of commitments in free trade agreements (FTAs) that Viet Nam has signed with other countries so as to expand exports and lure investment.
Hoang Nam Tien, Chairman of FPT Telecom Joint Stock Company, said that not only do people need vaccines, but vaccines help businesses feel more secure in their operations during the pandemic.
According to many participants, the vaccine rollout is the most important tool for employees and businesses to overcome difficulties due to the negative impacts of COVID-19. In addition, it is needed to ensure smooth transport of goods between cities and provinces to avoid the risk of supply chain disruption.
Businesses have also asked authorities to conduct consistent policies in the fight against COVID-19 nationwide. Localities need to soon issue their own regulations in COVID-19 prevention and control while enhancing the effectiveness of the Government's financial support packages for businesses.
According to the General Statistics Office, Viet Nam saw 85,500 enterprises withdrawing from the market, an increase of 24.2 per cent compared to the same period last year. Of which, in HCM City saw a withdrawal of 3,118 enterprises, accounting for 28.1 per cent of the total number of businesses withdrawing from the market. Some 43,200 businesses stopped operations and nearly 11,400 businesses withdrew from the market every month.
Firms to pursue dual-target strategy
Speaking at the event, Nguyen Quang Vinh, secretary-general of the chamber urged businesses to work together during the pandemic.
"Besides support from the government, each and every business must find their own strength to adapt and overcome with the highest priority being how to achieve long-term and sustainable development," Vinh said.
The chamber has kickstarted an initiative to help businesses connect, pool experience and resources to overcome obstacles and bounce back stronger once the virus is put under control.
The World Bank's representative in Viet Nam Dorsati Madani stressed the importance for the Southeast Asian economy to quickly check the spread of the virus and vaccinate the population, saying it was the foundation for maintaining growth for 2021-22.
Viet Nam has been forecast to see a strong recovery during the last quarter with an annual 4.8 per cent GDP growth by the end of the year, according to a recent World Bank report. The government, however, must remain vigilant in its effort to control risks and bad debts.
During the conference, businesses voiced concerns over numerous threats faced by the country's supply chain.
"The pandemic has delivered a strong blow to the business community. As the country's supply chain has been severely disrupted, businesses have been struggling to deal with depleted financial resources and shortages of workers," Vinh said.
"All this on top of existing problems including poor crisis handling and subpar management capacity in many businesses," he said.
For certain industries, it's more difficult to keep going.
Phan Thi Thanh Xuan, a representative of the Vietnam Leather, Footwear and Handbag Association (LEFASO), said due to the industry's labour-intensive nature it's simply out of the question to sustain the financial burden to house and feed thousands of workers in factories, which were not built for such purposes.
She called for the establishment of buffer zones to protect industrial complexes, on-site medical facilities and more robust implementation of technology in anti-COVID-19 efforts as a long-term solution to the pandemic and should be continued even after the outbreak was put under control.
Firms have been calling for other measures to be taken to protect the supply chain including vaccinating the labour force, giving autonomy to businesses on how to maintain operations during the pandemic (in accordance with COVID-19 prevention guidance issued by the Ministry of Health), streamlining and digitalising administrative protocols for COVID-19 prevention, said Binu Jacob, director-general of Nestle Viet Nam.
Many businesses, however, have shown remarkable resilience during the pandemic, especially those who have been implementing the Corporate Sustainability Index, according to a report by VCCI.
Cao Thi Ngoc Dung, chairwoman of the board and director-general of Phu Nhuan Jewelry (PNJ), one of the largest jewellery manufacturers in Viet Nam, said PNJ sees the labour force as its most valuable asset and has taken numerous steps to protect and provide for its workers, going so far as to have its own medical teams to assist workers in need.
Dung stressed the importance of trust-building and digital information during the pandemic to make sure PNJ will stay on its best form once the market is ready for a bounce back.
Opinions and feedback gathered during the event will be submitted to the government as part of an initiative to build a recovery plan to best support business in the near future.
Source: VNA/VNS/VOV/VIR/SGT/SGGP/Nhan Dan/Hanoitimes
VIETNAM BUSINESS NEWS SEPTEMBER 16 have 8042 words, post on vietnamnet.vn at September 16, 2021. This is cached page on Talk Vietnam. If you want remove this page, please contact us.