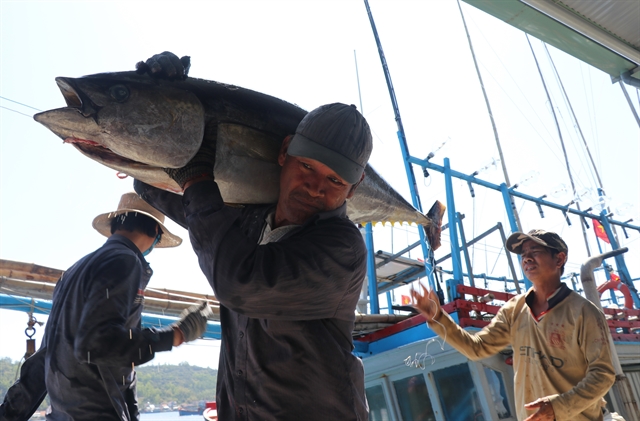 Fishermen bring tuna to storage in Tiên Châu port, Tuy An District of Phú Yên Province. This year, Việt Nam became the largest tuna supplier of Israel. -— VNA/VNS Photo Phạm Cường
HÀ NỘI — The export value of Vietnamese tuna exports to the Israeli market by mid-August jumped by 34 per cent to nearly US$25 million compared to the same period last year, or accounted for 5.6 per cent of the total tuna export value, according to the Vietnam Association of Seafood Exporters and Producers (VASEP).
Israel continues to represent the nation's third-largest single tuna export market, behind only the US and Italy.
According to VASEP, tuna export turnover was estimated at over $410 million in seven months of this year, up 21 per cent annually. Việt Nam's major importers include the US, Europe, Israel, Canada and Japan. The US was the largest importer with a value of over US$170 million.
Despite experiencing a decline in 2019, since the end of 2020, tuna exports to the market have consistently bounced back, with the average export price in the market hovering at US$5,464 per tonne.
Most notably, Vietnamese frozen tuna fillets coded HS03048700 remain the key export product in the market, accounting for 47 per cent of the total export value.
According to statistics released by the International Trade Centre (ITC), the first half of the year saw the country surpass Thailand to become the largest tuna supplier to Israel, accounting for roughly 31 per cent of their overall import value.
Furthermore, Israel simultaneously reduced tuna imports from other countries, while also increasing imports from the Vietnamese market.
At present, there are eight local enterprises, including Tuna Vietnam, Bidifisco, and Havuco which are actively involved in exporting tuna to the Israeli market.
Despite a wealth of export opportunities for Vietnamese tuna to the market, the local tuna industry is projected to face numerous difficulties due to the fourth wave of the COVID-19 pandemic, with several enterprises reducing their processing capacity.
VASEP has repeatedly been petitioning the government to quickly vaccinate workers in the fisheries sector to ensure the supply chain is not disrupted.
As workers in fisheries sector mostly work in cold environments, the risk of COVID-19 transmission is high. Meanwhile, many of them have yet to be vaccinated.
Competitors, technical and trade barriers are also causing difficulties for the sector. Several global competitors and European markets want to upgrade criteria for exporting to Europe – the second biggest tuna importer of Việt Nam. — VNS
Việt Nam becomes largest tuna exporter of Israel have 586 words, post on vietnamnews.vn at September 17, 2021. This is cached page on Talk Vietnam. If you want remove this page, please contact us.