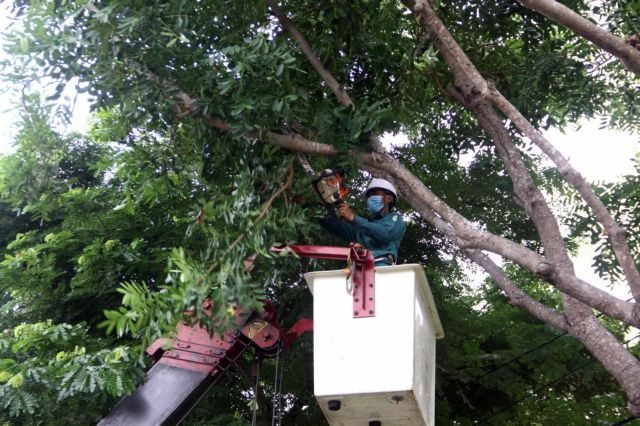 Workers cut trees on a road in Quảng Nam Province's Tam Kỳ City to cope with the upcoming typhoon. VNA/VNS Photo
HÀ NỘI — Typhoon Conson is heading to the north central region with heavy rain up to 350mm, the National Hydrometeorological Forecast Centre has reported.
At 7am Friday, Typhon Conson was 170km east-southeast of Hoàng Sa Islands with sustained winds of 90 to 100km per hour near the eye.
It is forecast to move west at a speed of 10km-15km per hour in the next 24 hours, and is likely to get stronger. At 7am on Saturday, the storm is forecast to strengthen with wind speeds reaching 100-115km per hour and gusts approaching level 13.
It is anticipated to make landfall on Monday, causing rough seas and heavy rain.
From Saturday to Monday, in central provinces from Quảng Trị to Đà Nẵng, it is warned that there will be heavy rains with rainfall of 200mm-300mm, and some areas with over 350mm.
In Quảng Ngãi Province, the rainfall is forecast to be from 100 – 200mm, with some places over 200mm.
The Ministry of Health has asked health departments of northern and central provinces to implement medical work to cope with Typhon Conson.
Localities are ready to organise emergency work around the clock, and protect medical facilities in areas at risk of being affected by storms.
Localities are required to prepare rescue forces and equipment.
Health departments must ensure the safety of medical facilities, field hospitals, and concentrated isolation areas for COVID-19 patients in case of natural disasters.
Health centres and hospitals must prepare to receive victims caused by rain and storms.
Localities are asked to check residents living in areas at high-risk of landslides and flash floods to have measures to evacuate them.
It is expected to evacuate over 766,000 people out of the danger areas in the northern mountaious provinces and central coastal provinces.
On Thursday evening, more than 71,000 fishing boats with nearly 350,000 people on board were informed of the storm and guided to find shelter.
Quảng Bình Province's Committee for Disaster Prevention, Search and Rescue reported that by Thursday afternoon, 121 fishing ships with 660 fishermen landed safely.
Quảng Trị and Quảng Ngãi provinces also reported fishing boats were informed of the storm and on the way to find shelter or move out of dangerous areas.
Đà Nẵng City's Border Guard Command is coordinating with the waterway traffic police and the Department of Agriculture and Rural Development to guide the boats to safely anchor at Thọ Quang. VNS
Typhon Conson heading to north central Việt Nam have 587 words, post on vietnamnews.vn at September 10, 2021. This is cached page on Talk Vietnam. If you want remove this page, please contact us.