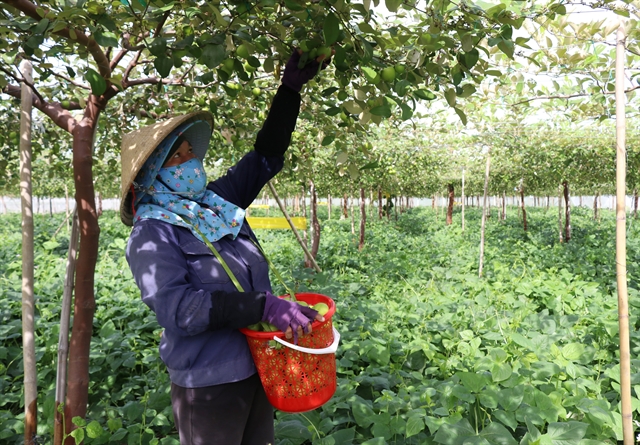 Harvesting jujube in a net-covered orchard in Ninh Thuận Province. – VNA/VNS Photo Nguyễn Thành
NINH THUẬN – Farmers in Ninh Thuận Province are being encouraged to expand cultivation of high-quality jujube and open up their orchards to tourists.
The south-central province, which has the least rainfall in the country, has ideal hot and dry conditions for growing the profitable fruit. Under the province's agriculture restructuring and climate-change adaptation plans, many farmers have switched from low-value crops to jujube.
In Ninh Phước District, the province's largest jujube area, the fruit trees are grown in several communes.
Nguyễn Như Hùng, deputy chairman of the Phước Hậu Commune People's Committee, said jujube cultivation offers profit four times higher than rice.
Farmers can earn a profit of VNĐ200 – 300 million (US$8,800 – $13,100) a year per 2,000 sq.m.
New high-quality varieties are now being cultivated with nets that cover orchards to protect fruit from pests.
The model, developed by the province-based Nha Hố Research Institute for Cotton and Agriculture Development, improves quality as the fruit can ripen properly before harvesting.
The nets protect the fruit from strong winds, rains and sunshine, according to Nguyễn Văn Chính, director of the institute's Plant Protection Centre.
Besides nets, the institute has told farmers to use plastic sheets to cover the roots of jujube trees and grow black-bean plants to prevent the growth of grass. Black-bean plants humidify the soil as well.
Farmers are also growing new jujube varieties created by the institute.
Nguyễn Hữu Đức, deputy chairman of the Ninh Phước District People's Committee, said the district is growing more VietGAP-quality jujube and promoting linkages among farmers, co-operatives and companies.
Dried jujube, syrups, jams, wines and juices are now being produced, increasing farmers' incomes, according to Đặng Kim Cương, director of the province's Department of Agriculture and Rural Development.
To increase the value of the fruit, the province is investing more in jujube products and creating favourable conditions for value chains between farmers, co-operatives and companies.
The province is also promoting tourism services in jujube orchards where farmers can sell their produce and earn additional income from such activities.
The National Office of Intellectual Property has granted the province's jujube the collective name "Táo Ninh Thuận". – VNS
Quality jujube yields high profits for Ninh Thuận farmers have 534 words, post on vietnamnews.vn at September 17, 2021. This is cached page on Talk Vietnam. If you want remove this page, please contact us.