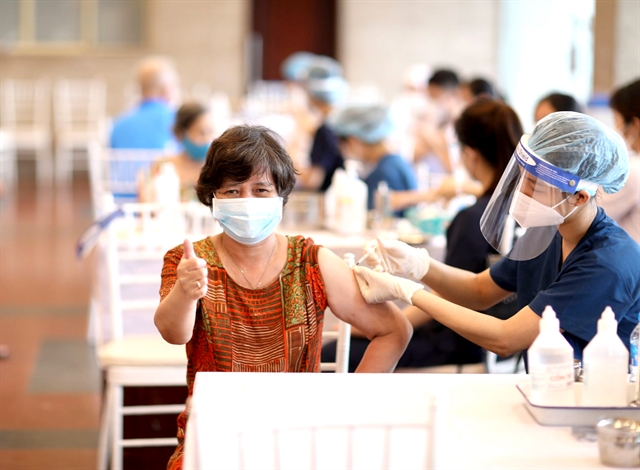 A woman given a vaccine shot in Hà Nội on September 15. Vaccination is the key to economic reopening, experts say. VNS Photo Trương Vị
Thu Vân
As the number of infections triggered by the Delta variant escalates in Việt Nam and a significant number of people were hospitalised or have passed away, Việt Nam has shifted its anti-pandemic approach from "zero COVID"  to "living safely with COVID."
Among the changes in strategy, HCM City, the country's virus epicentre, since late July has piloted home quarantine and home treatment for COVID-19 patients, providing them with medicines, health supplements and care instructions.
At a time when COVID-19 treatment facilities were becoming overwhelmed, the city decided that it would be focusing on reducing the death rate by decentralising treatment.
Earlier, when the number of COVID-19 cases in the city was at a moderate level, all patients are treated at concentrated treatment facilities. With the three-tier treatment model, asymptomatic patients are treated at temporary COVID-19 hospitals and grassroots medical facilities, including home-based and community-based ones.
The second tier includes district-level medical clinics or higher, which will be tasked with treating those with moderate COVID-19 symptoms. The top tier includes ICUs that admit those in critical conditions.
Under the home treatment model for asymptomatic patients, tests are carried out at home and in the community and medicines and health supplements are provided to patients and closely monitored by medical experts.
Food and groceries are provided to households with patients since their family members are not allowed to go out.
The ministry has provided detailed guidelines for taking care of patients, monitoring their health and seeking medical assistance if their condition worsens.
Mobile health stations have been set up across the city in order to best take care of home-treated COVID-19 patients. Any cases with bad developments will be transferred to hospitals.
The changes in treatment method not only helped ease the burden on the healthcare system, but also helped the city to focus resources on medical equipment to better treat patients at other levels of the three-level treatment model.
At a press conference of the city's Steering Committee for COVID-19 prevention and control, Phạm Đức Hải, the spokesman of the committee, said COVID fatalities in HCM City were decreasing. On September 15, they numbered 160 – which was equal to the figure in early August. In the past month, the average death rate of COVID-19 in HCM City has ranged from 250 to 300 a day.
Chairman of Bình Dương Province's People's Committee Võ Văn Minh on Tuesday said the province had basically put the pandemic under control.
Bình Dương Province is the second epicentre of the COVID-19 pandemic in this fourth wave.
In the fourth wave, the province reported more than 169,000 cases with more than 1,400 death. More than 104,000 patients have been cured and discharged.
The province had also applied the three-tier treatment model. Minh said rational classification of the disease levels and early treatment were among reasons helping to reduce the rate of patients in serious condition.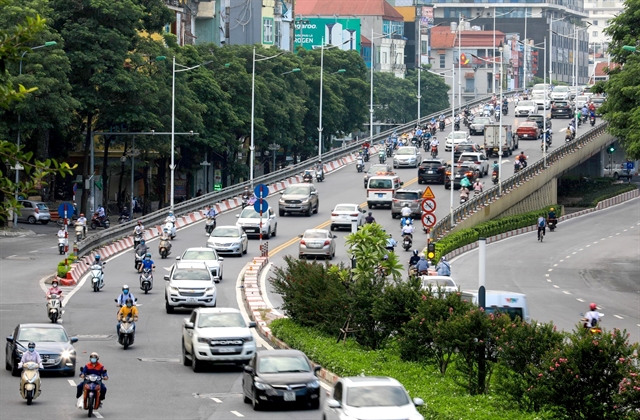 Nguyễn Chí Thanh Street in Hà Nội on September 17. The city has removed 39 COVID-19 checkpoints and eased lock down in certain districts. VNA/VNS Photo
Living safely with COVID-19
Prime Minister Phạm Minh Chính has emphasised the change in approach more than once.
He said in a meeting with medical experts and scientists earlier this month: "We cannot resort to quarantine and lockdown measures forever, as it will cause difficulties for the people and the economy."
While stressing that "we will have to live with the pandemic for a long time," he said preventing deaths was a top priority and vaccinations were a key strategic measure for Việt Nam.
Chính also said while it is now almost impossible to control the pandemic completely, people in Việt Nam would have to adapt and find suitable ways to live with the situation.
We're seeing a few positive signs already.
Hà Nội has allowed the resumption of some activities in districts and towns which have undergone 10 days without any COVID infections in the community, starting from noon on September 16.
HCM City extended social distancing until the end of September but allowed certain businesses to operate from 6am to 9pm, and said that physical activities could be resumed in low-risk areas.
Đà Nẵng has allowed civil construction works in the central city to resume on September 16, until further notice, barring those located in red zones which are at extremely high risk of COVID transmission.
But experts say all the reopening should be considered carefully and disease control must remain a top priority.
Trần Hùng Sơn and Hồ Hữu Tín from the HCMC University of Economics and Law said that countries consider a number of factors when deciding to reopen the economy.
These included vaccine coverage; if the number of new cases is within the care capacity of the health system, especially in intensive care units (ICUs); quantity and quality of medical staff.
The ability to detect, manage and prevent new infections; systematic identification and effective isolation of infected cases; having technology infrastructure that updates in real time the necessary data for decision making, are also important matters.
Trần Đắc Phu, senior advisor at the Public Health Emergency Operations Center under the Health Ministry, said each locality should depend not only on the situation of COVID-19 but also on the life, economic development and social security of people to have appropriate measures, from social distancing to lockdown and treatment to minimise deaths.
National Assembly deputy Hoàng Văn Cường, who is also vice dean of the Hà Nội National University of Economics, said even when resuming all activities, the new normalcy should be different from the old one.
Everything that could be done online should be done online and the fewer gatherings the better, he said.
While vaccination is the first and foremost way to reopening, Cường said another significant factor was the ability to put community outbreaks under control and ensure that the number of new cases would be within the treatment capacity of the healthcare sector.
"We have to be active in measures and scenarios in pandemic control, we need to be able to prevent an outbreak from spreading. We accept that the virus is there among the community but we must be able to handle infections as soon as they occur," Cường said.
He recommended the reopening of activities with little contact and in open spaces, such as outdoor agricultural production and outdoor construction work, should be prioritised.
For indoor production, Cường said the priority should be given to factories with separate units to ensure no cross-infection occurs.
Việt Nam has changed its COVID-19 strategy as the real circumstances require. Besides treating patients, the country has sped up vaccination and channelled more budget revenue into supporting production, providing necessities to the people and helping poor households. The responsibility of each of us is now complying with all the anti-pandemic measures, stay in line with the 5K message, get the vaccine when we can, only then can we live safely with COVID-19 in the long run. — VNS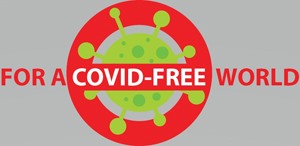 Living safely with COVID-19 in the 'new normal' have 1432 words, post on vietnamnews.vn at September 18, 2021. This is cached page on Talk Vietnam. If you want remove this page, please contact us.