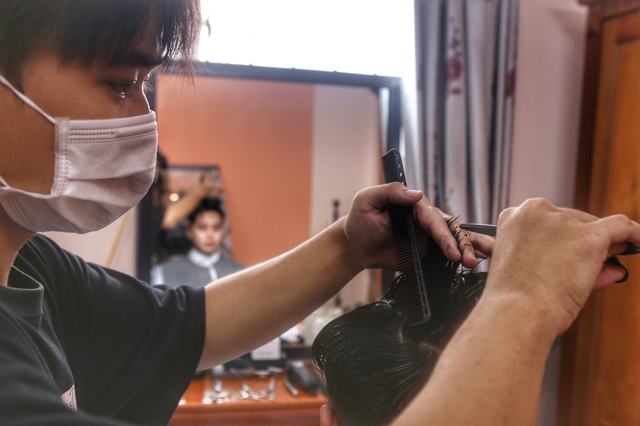 In-door hairdressing salons are one of the non-essential services in Hà Nội that are allowed to reopen from September 21. — VNA/VNS Photo
HÀ NỘI — Hà Nội's authorities have allowed the reopening of some non-essential services across the city from 6am on September 21.
Restaurants and food and drink establishments are permitted to reopen for delivery only and must close before 9pm every day.
Other services that are allowed to reopen include in-door hairdressing salons, traditional markets, shopping centres, stores for stationery, textbooks, and other learning equipment, mechanics, electronics, and home appliances.
However, karaoke venues and bars must remain shut.
This is part of an urgent dispatch regulating COVID-19 prevention and control measures in the city issued by Chairman of Hà Nội People's Committee Chu Ngọc Anh on the night of September 20.
COVID-19 prevention and control measures have been downgraded to implement the Prime Minister's Directive No 15 from September 21 and apply some tighter measures in line with the real conditions until the city completes the second dose of inoculations for all adults, the dispatch said.
The move was made as the city basically kept the pandemic under control after 60 days implementing strict social distancing measures, according to the dispatch.
The Hà Nội administration requested the establishments to operate under local authorities' monitoring and examination and carry out all regulated anti-pandemic measures.
Under the new measures, for the agencies and offices of Hà Nội and the central Government based in Hà Nội, companies, enterprises and corporations must develop arrangements to ensure half of their staff work online and half work at office.
Meetings and events are allowed with the number of participants not exceeding 20 within one room. The organisation of important meetings and events will be decided by authorities of central-run agencies or districts and communes but must ensure COVID-19 prevention and control measures.
Masks are mandatory in public. People must maintain a distance of two metres in public and must not congregate in groups larger than 10 outside of hospital, workplaces or schools.
Funeral services must not have more than 20 attendants.
Motorbike delivery services, including those using ride-hailing apps will continue to operate from 9am to 10pm but shippers must be vaccinated with at least one dose, make daily health declarations and strictly observe COVID-19 prevention and control regulations.
All public transport services are still banned, including buses, taxis, contract vehicles and coaches, excluding those in service of pandemic prevention and control and transporting workers and experts.
The city still also suspends all domestic commercial flights arriving in Nội Bài International Airport as well as railway services transporting passengers to Hà Nội.
Sport, cultural and entertainment activities at public areas and business establishments and religious gatherings, celebrations are still banned.
Production businesses, service establishments, and industrial zones must strictly observe COVID-19 prevention and control measures.
People are required to submit health declaration forms via website www.tokhaiyte.vn or Ncovi and Bluezone apps. Those who have symptoms such as fever, coughing or difficulty breathing must contact local medical establishments for further instructions.
The city has removed travel permits for inner city commuters and no longer will divide the city into three-coloured zones.
The dispatch says although the pandemic prevention and control has recorded progress, there remains risks for community transmission as the city still has some clusters in narrow alleys and densely-populated areas, and there are still people returning to Hà Nội from pandemic-hit localities while a number of people fail to abide by COVID-19 prevention and control regulations, posing risk.
The social distancing is loosened but the city continues to keep 22 checkpoints at the city's gateways and 33 other checkpoints at the entrances to other localities to control people leaving and entering the city, especially from high-risk areas.
Since applying social distancing restrictions on July 24, the capital city has recorded about 71.2 positive cases per day on average.
In the fourth period of social distancing over the past two weeks, the number of daily caseload has decreased to around 15 cases per day.
As of September 15, almost 70 per cent of Hà Nội's population has been administered with the vaccine, with 93 per cent of residents over 18 receiving at least one shot.
The city has conducted large-scale testing on 4 million people to filter F0 cases and reduce community cases. —VNS
Hà Nội allows reopening of non-essential services have 971 words, post on vietnamnews.vn at September 21, 2021. This is cached page on Talk Vietnam. If you want remove this page, please contact us.