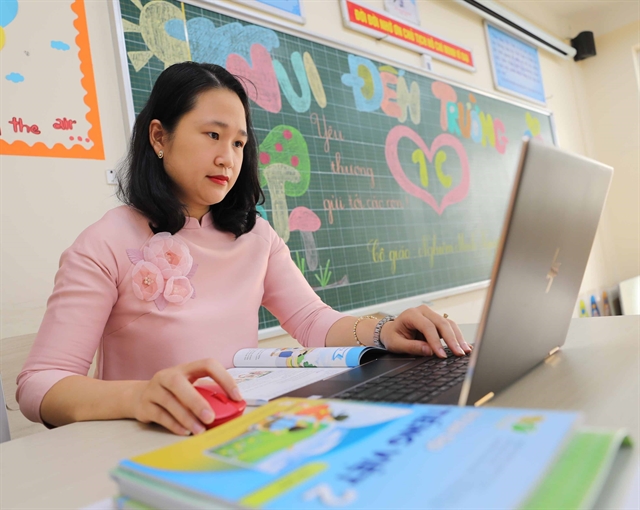 A teacher prepares for her online lesson at the Thăng Long Primary School in Hoàn Kiếm District, Hà Nội. — VNA/VNS Photo Thanh Tùng
HÀ NỘI — This school year is the second to implement online teaching due to COVID-19, however, teachers, students and parents still have many difficulties.
Students cannot go to school, but they cannot stop learning, so online learning is the best solution. But learning online effectively is not easy work.
Students fall asleep while studying and yawn in front of the computer, and many families struggle because of internet problems. When networks are fixed, teachers restart lessons but time runs out.
Nguyễn Sóng Hiền, member of the Independent Education Union of Australia, said that choosing a learning method that both ensured health and safety for teachers and students, and ensured quality was a big challenge.
Thanks to the strong development of information technology, online learning is the most optimal option. In order for this method to be the most effective and to limit its shortcomings, the education sector needs realistic assessments and observations.
"The global pandemic tends to be complicated and unpredictable, so the education sector needs to proactively shape a strategic vision in developing and pursuing an online education curriculum for students for the next five years. This is a prerequisite for the sector to ensure set educational goals," he told e-newspaper VOV .
Hiền suggests the Ministry of Education and Training researches the situation and results of online teaching in each locality, and makes proper adjustments regarding the content, method, teaching period and assessment for different ages, educational levels and situations in different provinces and cities.
In Australia, for example, Hiền said the country's education system was also seriously affected by the pandemic. Online learning has become a popular educational model for high schools and universities.
Australia's advantage is that it has a developed science, technology and digital background, so many e-learning platforms are designed to support the education system. This country also has programmes and systems of learning materials specifically designed for online learning.
"With this learning method, although a disadvantage is limited fun activities and damaging children's health if they stay on a computer for too long, it helps children form self-discipline. They can learn, use and apply digital technology in research and creation," said Hiền.
Hồ Như Hiến, a teacher at Đông Bắc Ga Primary, Junior Secondary and High School in the central province of Thanh Hóa, said online teaching and learning was not new in Việt Nam.
It has been around for more than 10 years with many online teaching websites with millions of followers.
But for the majority of teachers, this is still a new form of teaching, and difficult to access because of problems with facilities, techniques, information technology and student equipment.
Hiến believes that it is difficult if both teachers and students are not fully prepared, thoughtful and determined to try their best.
He said that earlier, several provincial and municipal departments of education and training recorded lessons and broadcast them on television for students to learn online, however, they encountered major problems with broadcasting time, and teachers could not supervise the student learning.
Hiến suggests that departments record the lessons with participation of outstanding teachers, then send them to schools so they can use the videos for their teaching.
Each school should have a YouTube channel to publish the videos, and teachers should supervise student learning via Zalo groups. Teachers then report the learning progress to the school management board weekly.
Hiến said that the method should give teachers more time to manage students, and check their study progress. It also overcomes advantages about teaching and learning equipment if teachers and students cannot afford the necessary machines.
He said this would ensure uniformity of time, knowledge and skills for students across the province or city, and the local department of education and training could better grasp the entire teaching and learning process. It is cost-effective so many schools can access it. — VNS
Education experts suggest effective online teaching methods have 727 words, post on vietnamnews.vn at September 11, 2021. This is cached page on Talk Vietnam. If you want remove this page, please contact us.