An elderly couple in a remote district in the central highlands province of Dak Lak have erected a tent on a hilltop for their grandson to study online during the Covid-19 prevention social distancing.

The four-square-metre classroom was set up for 10-year-old Trieu Van Tai who lives with his grandparents in Dak Ngo Commune after being abandoned by his mother. His grandfather, Trieu Sinh Huong, had to spend a lot of time searching for a place with a phone signal so that his grandson could study online.
"I finally got a phone signal when I reached this hilltop," he said. "It lies just about a kilometre from my house but there was no road so it took lots of time to get here."
Trieu Van Tai and his grandparents at the tent
The grandparents put up a small tent from wooden pieces and bought a mobile phone at VND2.1 million (USD 91) for Tai to start studying from September 20. He visits the tent five days a week to attend online classes which last three hours a day.

"The mobile phone is now the most valuable asset in our home," the grandfather said. "Although we are very poor, we will try our best to give our grandson a better life."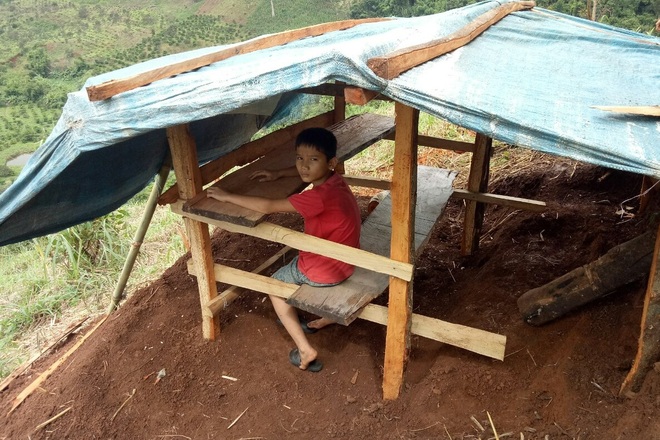 Trieu Van Tai sits by his desk in the tent
Tran Van Thuy, a teacher at Doan Thi Diem Primary School where Trieu Van Tai is studying said that Dak Ngo Commune was a remote mountainous area which is home to the Dao ethnic minority group. Many families here live in poor conditions without electricity.

Deputy Headmaster of Doan Thi Diem Primary School, Nong Van Thuy, said that the school has over 430 students and 194 of them lacked a device for studying online and 171 others don't have stable internet connections for online studying.
"Based on the current situation in our localities, we're dividing the students into several groups," he said. "Grade 1 and 2 pupils will study through television while Grade 3, 4, 5 will attend online classes. For the students who don't have devices or internet connections, teachers will come to their houses to give printing lessons and exercises for them to study at home."
Prime Minister Pham Minh Chinh on September 12 launched a programme to provide computers and telecommunications services for students and pupils with difficult circumstances, especially those living in areas hit by the Covid-19 pandemic.
The programme aims to source 1 million computers, and ensure mobile service coverage at all 283 points without mobile internet connection in localities that are applying social distancing regulations, and 1,910 other places nationwide.
According to statistics from the Ministry of Education and Training, as of September 12, online teaching and learning has been deployed in 26 out of 63 provinces and cities across the country. The total number of students joining online studying is estimated at 7.35 million, of which 1.5 million do not have computers.
Dak Lak student attends online classes at makeshift tent have 677 words, post on dtinews.vn at September 21, 2021. This is cached page on Talk Vietnam. If you want remove this page, please contact us.