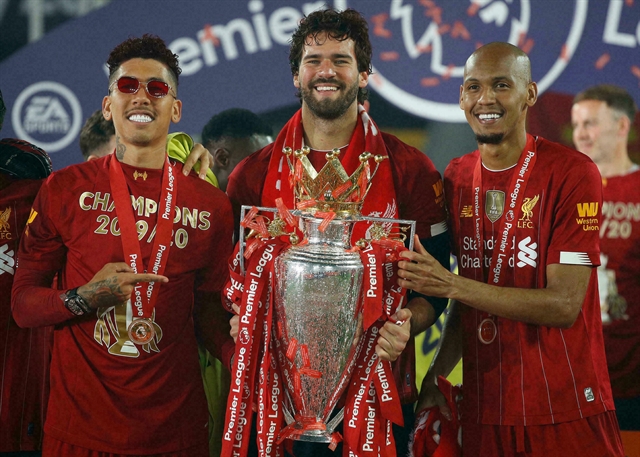 Liverpool's Brazilian trio, Roberto Firmino, Alisson Becker and Fabinho could miss the Premier League match against Leeds. — AFP Photo
Paul Kennedy
Unless common sense prevails, we could see a weekend of Premier League fixtures without South American players.
Regulations by FIFA, the world's governing football body, state that, if enforced, a player can be ruled out for five days after an international break should their clubs refuse to release them to play for their country.
This weekend, 11 players will not be available for games in the Premier League after their clubs in England refused to give them permission to travel to their home countries to play in international fixtures, which were all on 'red-lists' due to COVID-19.
Liverpool, Manchester City and Chelsea are set to be the hardest hit following a backlash from South American nations.
Liverpool with be without Brazilian trio Alisson, Fabinho and Roberto Firmino, opponents Leeds without Raphinha, champions City Ederson and Gabriel Jesus, Chelsea Thiago Silva and Manchester United Fred.
Wolves striker Raul Jimenez of Mexico, Newcastle's Paraguay forward Miguel Almiron and Watford's Francisco Sierralta of Chile, making up the rest of the players told they must sit-out games over the weekend.
Once again, it brings up the 'club v country' row that has taken on a whole new twist since the pandemic began.
But the irony of this particular incident is that of the above mentioned players, those who represent Brazil and Argentina will feel particularly aggrieved as that fixture was abandoned just minutes after kick-off on Sunday after Brazilian health officials objected to the participation of three Argentine players, believing they broke quarantine rules.
When the bigwigs at FIFA wrote their rules, it wasn't because of the pandemic, but way before. This particular regulation was designed to prevent clubs from tactically withdrawing players in order to protect them for upcoming club matches immediately after the international fixtures.
But as the world still struggles to come to terms with exactly how to deal with coronavirus, which let's face facts, is here to stay for a good while yet, then surely there has to be a little give and take when it comes to international call-ups.
Taking the Brazil v Argentina game as an example, there were no fans permitted inside the Corinthians Arena, so why exactly did the match need to be played in Sao Paulo?
A large chunk of the players from both teams will have been based away from South America anyway. Messi and Neymar both featured and travelled from Paris, so why not pick a venue in a country considered safer?
That's what happened in the Champions League last season, and although not ideal, it did go some way to allowing games to go ahead in relative safety.
By the time you have read this column, the powers that be may well have decided to overturn their decision to punish absent Premier League players and allow them to play this weekend.
I hope that is the case, and I also hope that decision makers review those FIFA regulations and look for better options to allow international games to take place.
Brazil v Argentina doesn't need to take place in South America. With no supporters allowed in the ground in Brazil, why not play the match in Europe where fans are allowed entry? There would have been no shortage of paying supporters who would have loved to watch South America's elite slug it out.
Common sense needs to prevail have 750 words, post on vietnamnews.vn at September 10, 2021. This is cached page on Talk Vietnam. If you want remove this page, please contact us.