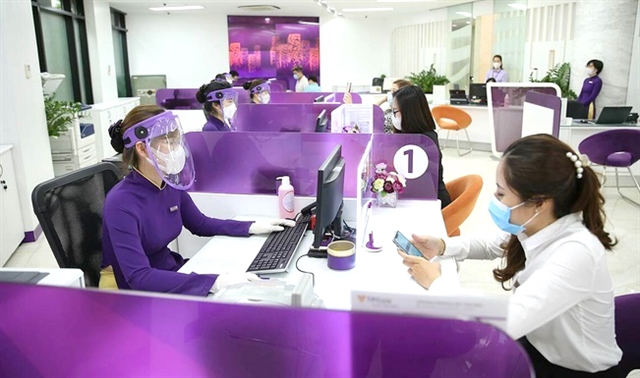 Customers at a branch of Tiên Phong Bank (TPB) in Hà Nội. TPB gained 2 per cent last week. Photo courtesy of TPB
HÀ NỘI Recent volatility on the global market has raised cautiousness among market experts about Việt Nam's stock market movement this week.
The VN-Index on the Hồ Chí Minh Stock Exchange inched down 0.12 per cent to close Friday at 1,351.17 points.
An average of 841 million shares was traded on the southern exchange during each session last week, worth VNĐ21.7 trillion (US$952.3 million).
MB Securities Joint Stock Company (MBS) said that in the last session of last week, the overall Vietnamese stock market decreased slightly, but stocks fell on a large scale as small and medium stocks continued to adjust, together with a sharp drop in liquidity, which showed cautious investor sentiment.
Liquidity on HOSE on Friday decreased to VNĐ16.7 trillion from VNĐ21.8 trillion in the previous session, this was also the lowest level of liquidity in the week.
The market had been moving sideways for the past three weeks amid volatile world stocks, MBS said.
"Therefore, it is likely that the market will continue to fluctuate in a sideways trend in the range of 1,327 – 1,360 points as the cash flow becomes more cautious and disbursed in correction sessions," MBS said.
BOS Securities Joint Stock Company (BOS) said VN-Index might continue to struggle as the demand in the market showed signs of weakening.
"Most likely, VN-Index will move sideways and accumulate within 1,345-1,355 points in the next sessions, before confirming the next trend," it said.
"Investors should give priority to monitoring the market's movements, limiting chasing when the market rallies strongly and strengthening risk control in the current portfolio," recommended BOS.
According to Saigon-Hanoi Securities Joint Stock Company (SHS), the market corrected in the first two sessions of last week because investor sentiment was negatively affected by the Evergrande crisis, but quickly recovered after that when the stock markets around the world simultaneously recovered.
SHS forecasts that this week VN-Index may recover to the next resistance area in the range of 1,375-1,380 points if the psychological support level of 1,350 points is conquered.
In the negative scenario, if VN-Index loses the psychological support level of 1,350 points, the index may head to the next support zone in the range of 1,325-1,340 points.
"Investors with a large proportion of stocks can wait for the recovery sessions to reduce the proportion," SHS recommends.
Banking stocks gained the most last week with typical gainers of Saigon-Hanoi Bank (SHB), up 0.7 per cent, Asia Commercial Bank (ACB), up 1.3 per cent, Techcombank (TCB), up 1.7 per cent, Tiên Phong Bank (TPB), up 2 per cent, Vietcombank (VCB), rising 2.4 per cent and Military Bank (MBB), gaining 3.1 per cent.
They were followed by consumer services group with gainers such as Digital World Group (DWG), increasing 1 per cent, and Mobile World Group (MWG), rising 6.1 per cent.
On the other side, a few industries lost ground. Steel stocks such as Hoa Sen Group (HSG) lost 2.4 per cent, Hoà Phá
Chemicals and fertilisers also performed poorly with losers such as Phú Mỹ Fertiliser (DPM) down 1 per cent, and Petro Việt Nam Cà Mau Fertiliser JSC (DCM) down 2 per cent. VNS
Analysts cautious over market movements amid volatility have 760 words, post on vietnamnews.vn at September 27, 2021. This is cached page on Talk Vietnam. If you want remove this page, please contact us.