If a proposed airfare scheme is applied, the fees will make it impossible for low-income earners to travel by air.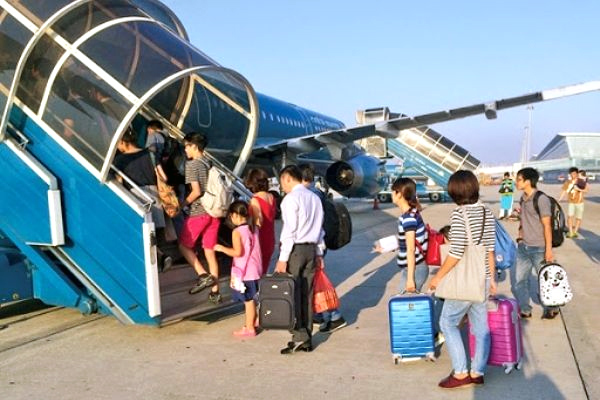 The Civil Aviation Authority of Vietnam (CAAV) scheme says the minimum airfare would be equal to 20 percent of the maximum fare.
The proposal has stirred up the public. Experts warn that the scheme, if applied, will not only eliminate zero-dong and cheap air tickets, but also make domestic flight tickets two or three times more expensive.
The cheapest return ticket for the Hanoi-HCM City air route, for example, would be VND2.7-3 million, including taxes and fees, much higher than the current VND1 million.
According to the General Statistics Office (GSO), the average income per capita in 2020 was VND4.2 million a month, while the family average spending level was VND2.89 million per head per month. The figures are predicted to be lower in 2021 because of the Covid-19 crisis.
Luong Hoai Nam, a tourism and aviation expert, said the most affected people are low income earners and tens of millions of Vietnamese able to travel by air thanks to cheap tickets offered by both budget and traditional airlines.
Before the Covid-19 pandemic, the market share held by budget airlines exceeded 65 percent, which meant that 43 million passengers could fly with cheap tickets in 2019.
Nam said if state management agencies, using a tool called 'floor airfare', eliminates the opportunity of getting cheap tickets, the benefits of these people will be affected. They won't have opportunities to travel by air, but have to use other means of transport that are cheaper and less safe.
Ngo Duy Hieu, deputy chair of the Vietnam Labor Federation, said the Covid-19 pandemic has caused 1.3 million workers to lose jobs or take unpaid leave. More than 1,000 businesses with 84,000 workers have to maintain production while staying under quarantine or isolation.
In HCM City, hundreds of thousands of workers don't have jobs, and others are working at a moderate level. Because of social distancing and closure of factories, many workers have left cities for their hometowns.
In the future, when the pandemic is controlled, thousands of workers from northern and central provinces will return to HCM City to work and won't have the opportunity to travel by air and will have to take long bus or train trips. As a result, enterprises will be slow in resuming production activities because of the lack of workers. This will affect the pace of economic recovery.
CAAV, when proposing the floor airfare scheme, said it is a necessary to support air carriers in distress because of the pandemic. This will help ease the risk of Vietnam Airlines going bankrupt and minimize the losses to the State, the shareholder holding more than 86 percent of charter capital.
Meanwhile, a senior executive at an aviation enterprise noted that Vietnam Airlines has already received significant support from the State and if it still wants this floor airfare scheme, it shows a lack of responsibility before society.
Nguyen Thien Tong, an aviation expert, said that in the current difficult period, Vietnam Airlines should commit to keep airfares unchanged or reduce the airfares to stimulate travel demand, boost trade exchange, and help recover the economy. But it is doing the opposite by proposing increases in airfare.
The proposed airfare scheme is among the highest levels in the world (equal to 44 percent of the ceiling price, for three years).
"Why doesn't Vietnam Airlines to try to reform and optimize operation costs to restructure their resources?" Tong said.
Nam said he wonders why Vietnam Airlines wants to set up floor airfare scheme, while it is holding the controlling stake of a budget airline – Pacific Airlines.
When the floor airfare scheme is put into use, budget airlines will not be able to operate effectively.
Other airlines have opposed the idea. Nam said that they need the freedom to determine or reduce their airfares to stimulate demand and develop their target markets.
In the current conditions, if airlines don't offer cheap tickets, the workforce and airplanes will stay redundant.
Experts said the difficulty facing airlines is the lack of markets, and this will be even worse if the floor airfare scheme is applied.
Furthermore, the tourism industry will also be seriously affected by the scheme, since 70 percent of travelers go by air and air tickets account for 40-50 percent of tour fees.
Ngoc Ha
Airfare scheme may deprive 43 million passengers of opportunity to fly at low cost have 1026 words, post on vietnamnet.vn at September 17, 2021. This is cached page on Talk Vietnam. If you want remove this page, please contact us.