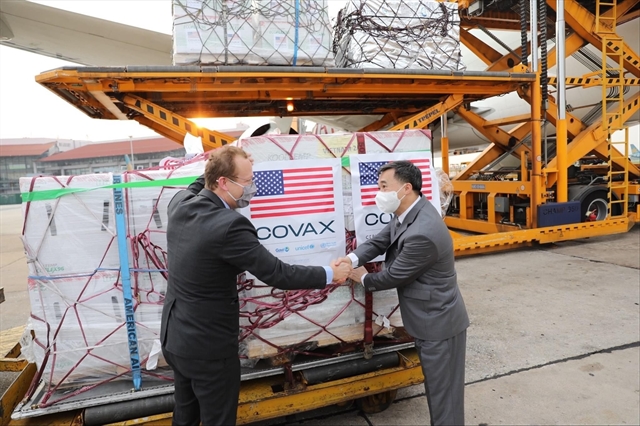 As many as 3 million doses of Moderna vaccines donated by the US Government arrive at Nội Bài Airport in Hà Nội on July 25. Many countries have donated vaccines and medical equipment to Việt Nam. – VNA Photo
HCM CITY – Việt Nam and HCM City have been receiving a great deal of medical support and vaccine donations from countries around the world to combat the COVID-19 pandemic.
Việt Nam has received more than 8.6 million doses of COVID-19 vaccines through the global vaccine sharing scheme COVAX, including more than 5 million doses of the Moderna vaccine from the US Government.
US Consul General in HCM City Marie Damour said that the US was proud to be able to help the country and provide more US vaccines, especially with half of them being sent to HCM City, the country's COVID-19 epicentre. Việt Nam received 3 million Moderna vaccine doses from the US on July 25.
Millions of vaccine doses have also been sent to Việt Nam independent from the COVAX scheme, including 3 million doses from Japan and 500,000 doses from China. Japanese businesses in Việt Nam have also donated nearly VNĐ40 billion (US$1.75 million) to the national vaccine fund.
The UK sent 415,000 AstraZeneca doses to Việt Nam yesterday morning (August 3), and Australia has vowed to provide 1.5 million doses of AstraZeneca vaccines and AUD40 million ($29.57 million) to the national vaccine fund.
Even though there is a global shortage of COVID-19 vaccines, Việt Nam has received a great deal of support from international partners and neighbouring countries, which have committed to supply or donate a total of 150 million doses, according to the Ministry of Foreign Affairs.
The Communist Party, the State and Vietnamese people greatly appreciate the help in the fight against COVID-19, the ministry said on July 21 .
Nguyễn Ngô Quang, deputy director of the Health Ministry's Department for Science, Technology and Training, said that Việt Nam had signed COVID-19 vaccine technology transfer contracts with Russia, the US, and Japan which would allow Việt Nam to produce more vaccines domestically.
Aside from vaccines, countries around the world are offering support for equipment and technology transfer.
For example, the Indian Business Chamber in Việt Nam has signed a contract with the Việt Gia Medical Equipment JSC to purchase one extracorporeal membrane oxygenation (ECMO) machine to be used at the HCM City Hospital for Tropical Diseases.
The Indian business community in HCM City and other southern provinces contributed to the purchase, with the support of the Indian Consulate General in HCM City and the Indian business chamber INCHAM.
India and Việt Nam share a strong and friendly relationship and have supported each other in difficult times, the Consulate General of India in HCM City said.
On July 19, Cambodia sent 1 million medical face masks, 100,000 N95 face masks, 100 5 litres oxygen concentrators and USD200,000 to HCM City. Youk Sambath, secretary of state of Cambodia's Ministry of Health, expressed hope that their assistance would help HCM City control the pandemic.
Laos and its local businesses have made numerous donations of money and medical equipment to Việt Nam to combat the current fourth COVID-19 wave. For example, on June 18, Bokeo Province donated an equivalent of nearly VNĐ490 million to Việt Nam's Sơn La, Điện Biên and Lào Cai provinces.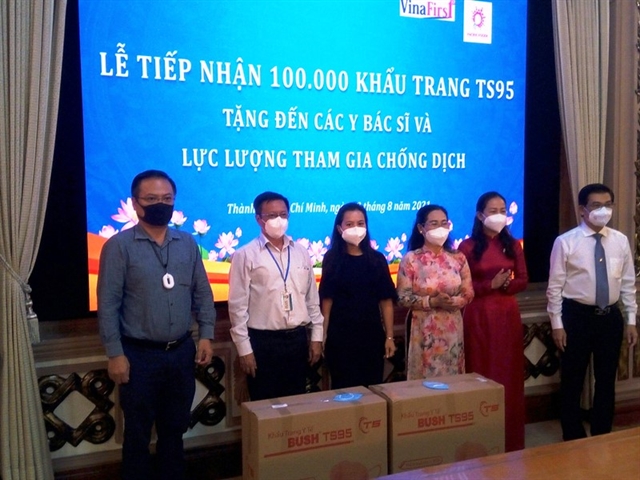 HCM City's People's Council receives face masks donated by two Vietnamese businessmen living overseas on August 2. Vietnamese living abroad have been making donations to help Việt Nam and HCM City combat the pandemic. – Photo nhandan.vn
Support from Vietnamese abroad
Vietnamese overseas have also contributed to the fight against COVID-19, sending medical equipment and money to help Việt Nam and HCM City.
Đinh Vĩnh Cường, chairman of the 365 Group living in Japan, and Lê Bá Linh, chairman of the board of Pacific Foods JSC living in Thailand, for example, worked with other donors to open a "free supermarket" to supply struggling locals in Tân Bình District with free essential goods and meals.
On August 2 HCM City received 100,000 TS95 face masks worth a total of VNĐ300 million from Pacific Foods JSC and Vina First JSC, which is an overseas Vietnamese business. The two businesses are also donating essential goods to  residents in need in the city.
Phùng Công Dũng, chairman of the Overseas Vietnamese Committee in HCM City, told Việt Nam News that overseas Vietnamese's material support was urgently needed and was being delivered to people as quickly as possible.
Overseas Vietnamese scientists have also been contributing research works and solutions for COVID-19 treatment that can be used in Việt Nam and HCM City. The committee is compiling their works to present them to the city and relevant authorities.
"We are very thankful for the valuable support, no matter how big or small. They all show a great sense of patriotism and desire to share the burden caused by the pandemic," Dũng said. – VNS
VN, HCM City receive high level of international support in pandemic fight have 1057 words, post on vietnamnews.vn at August 3, 2021. This is cached page on Talk Vietnam. If you want remove this page, please contact us.