UK Government presents VN with 415,000 doses of COVID-19 vaccine
The Ministry of Health on Tuesday received 415,000 doses of AstraZeneca vaccine as donation from the British Government.
The vaccine was presented by David McNaught, political counsellor of the Embassy of the United Kingdom of Great Britain and Northern Ireland in Việt Nam, in a reception ceremony held at the National Institute of Hygiene and Epidemiology in Hà Nội.
Representative of the Vietnamese health ministry said that over the past 50 years, co-operation between Việt Nam and the UK had been constantly expanded and developed, and the two had become important strategic partners to each other.
In the field of health, the two sides were implementing very effective joint activities through Government agencies, NGOs and other organisations focusing on areas such as epidemiology, tropical diseases, infectious diseases, digital health and human resource training.
The activities were providing valuable, meaningful and lasting contributions to the work of the Vietnamese healthcare industry.
The ministry thanked the UK Government for the vaccine, adding that it was a very valuable and timely gift in the prevention and control of COVID-19 and especially for the COVID-19 vaccination campaign in Việt Nam. Việt Nam was committed to effectively using the UK's valuable vaccine support.
Currently, Việt Nam is implementing a large vaccination campaign, trying to speed up the rate of vaccination against COVID-19 with the goal of about 70 per cent of the population by the end of March next year.
Along with making efforts to access safe and effective supplies of COVID-19 vaccines, Việt Nam is also promoting research into domestically produced vaccines and pushing for technology transfers with its international partners.
Vietnam secures three golds at International Chemistry Olympiad
All Vietnamese candidates at the 53rd International Chemistry Olympiad (IChO 2021) won medals, which consisted of three gold and one silver medals.
According to the Ministry of Education and Training, the three gold medalists were 12th graders Nguyen Duy Anh and Nguyen Le Thao Anh of the Hanoi – Amsterdam High School for the Gifted and Pham Duc Nam Phuong from Hai Duong province's Nguyen Trai High School for the Gifted.
The silver medal went to another 12th grader, Nguyen Hoang Duong of the Hanoi University of Science (HUS) High School for Gifted Students under the Hanoi National University.
The IChO 2021, virtually hosted by Japan from July 25 to August 2, attracted contestants from 79 countries and territories worldwide.
Overall, all 37 Vietnamese students have brought home medals from this year's Olympiads in different spheres, including 12 gold, 13 silver, 10 bronze medals, and two certificates of merit./.
3,578 new COVID-19 cases confirmed on August 3 morning
Vietnam documented 3,578 new COVID-19 cases in the past nearly 12 hours to 6am on August 3, including 15 imported ones, raising the national count to 165,339, according to the Ministry of Health.
Ho Chi Minh City, the country's current largest hotspot, logged 1.998 cases, followed by Binh Duong with 519, Long An (246), Tay Ninh (176), Dong Nai (147), Vinh Long (72), Binh Thuan (72), and Da Nang (66).
As many as 687 infections were detected in the community.
The number of cases since the fourth wave of outbreaks hit Vietnam on April 27 amounted to 161,482, including 44,191 recoveries.
As many as 186 COVID-19 related fatalities were added to the country's death toll.
More than 6.95 million doses of COVID-19 vaccines have been administered and 712,864 people have received two full shots.
People aging from 18 are advised to register for COVID-19 vaccination online at https://tiemchungcovid19.gov.vn/portal/register-person or via "Sổ sức khỏe điện tử" (electronic health record) app which is available on both Android and iOS./.
HCM City faces blood shortage, in urgent need of type O blood
Due to social distancing that prevents regular donors from visiting blood banks, hospitals in HCM City are facing a severe shortage of type O blood.
Nguyễn Phương Liên, deputy director of HCM City Blood Transfusion Hematology Hospital, which provides blood to hospitals across the city, said the hospital had only 640 units of type O blood in stock as of Sunday (August 1), while the demand for each day is 150 units.
Normally, the hospital's blood bank needs to have 2,000 bags of type O blood in reserve.
"Within the next three days, the hospital's blood bank will no longer have enough type O blood to supply hospitals," Liên said
Red blood cells from O-donors can be given to anyone, regardless of the person's blood type. Increasing the reserve of this blood type is crucial, especially in times of scarcity as it doesn't expire, Liên said.
Phù Chí Dũng, the hospital's director, said it had been receiving only 30-50 units of blood every day, making up only one-tenth of demand at 150 hospitals, including hospitals for COVID-19 treatment.
Many donation activities in the city have been cancelled because of COVID-19 preventive measures.
The city has 3,100 blood units of all types while normal demand is 8,000 to 10,000.
Since May, the city has faced blood shortages due to the COVID-19 outbreak. Since July 9, when the city imposed a citywide social distancing order, all registrations for blood donations have been cancelled.
Donors can visit the Blood Transfusion and Hematology Hospital in District 5 between 7am and noon, and 1:30pm and 4:30pm seven days a week.
They are advised to register in advance via phone numbers 0919660010 or 028 39557858, or email [email protected] so they can receive a confirmation message that can be used to get through COVID checkpoints.
Amid soaring cases of COVID-19 many localities are unprepared for the worst: Long
Responding to the COVID-19 pandemic requires fast, drastic and long-term measures, however, many localities are unprepared for the worst, Minister of Health Nguyễn Thanh Long said yesterday.
Chairing an online national meeting on COVID-19 treatment, Long said that it was difficult for Việt Nam to curb the national daily infection numbers as the pandemic continued to hit major cities and provinces hard.
He said that at this time, localities must work harder to avoid panic and unpreparedness when outbreaks become more severe.
Long said he appreciated the efforts and initiatives that localities had made in COVID-19 prevention and control.
However, he said that he saw a number of localities that were failing to prepare for the spread of the virus properly.
"Many localities have developed plans that don't take into account all possibilities despite the health ministry warning many times about the speed at which the Delta variant can spread and the difficulties in controlling it," Long said.
He added that localities did not take advantage of their available resources and fully engage with the 'Four onsite' concept. This requires having onsite leadership, onsite human resources, onsite materials and supplies, and onsite logistics to control and prevent COVID-19 from spreading in their geographical jurisdiction.
In the ongoing fourth wave of the pandemic, the infections are growing faster in a much shorter time. Comprehensive preparation is an important factor to help localities respond in a timely manner to developments in outbreaks of the disease, he said.
Medical testing and treatment capacity is struggling to catch up with the speed of new infections in some localities. Many are relying on existing health facilities that failed to meet demand even before the pandemic, Long said.
The health minister emphasised the need to classify COVID-19 cases and send them to suitable treatment areas, which could help reduce the workloads of both medical workers and healthcare facilities.
According to the ministry's guidelines, patients positive to SARS-CoV-2 that have no COVID-19 symptoms should be under health monitor at concentrated quarantine areas as they require the support of fewer medical professionals.
The asymptomatic patients could leave the treatment areas after seven days if they tested negative to SARS-CoV-2 and the viral load in their body was proven to be unable to infect others.
Patients with mild symptoms should be placed at district-level health facilities. The facilities should also have an oxygen supply and ventilators to serve patients if needed, Long said.
In cases where the patient's health condition becomes worse, they must be taken to health facilities at a higher level, for example, provincial/national hospitals or field hospitals with intensive care units.
Classifying, transporting and receiving patients must be done professionally, systematically and smoothly, Long said.
The minister once again called on medical workers from both private and public health facilities to join the disease prevention and control effort.
All localities, including those that are virus-free, must review their medical human resources, especially those with ventilators, those that can work with patients with mild symptoms, and those who can work with the seriously ill, Long said.
He asked that all COVId-19 treatment facilities prepare proper oxygen and ventilators to meet demand.
The health minister said that Việt Nam currently did not face any shortage of oxygen for treatment but some health facilities did not have a proper tank to store oxygen while others faced difficulties in the transportation of oxygen.
These issues must be reviewed and tackled as soon as possible, he said.
HCM City's COVID-19 caseload nears 100,000 with 389 more deaths nationwide
Việt Nam's total COVID-19 cases reached 161,761 on Monday with 389 more deaths after the Ministry of Health reported a daily increase of 7,455.
The additional deaths include 354 recorded from July 17 to August 2 in Hồ Chí Minh City, 25 from July 17 to 24 in Bình Dương, six from July 29 to August 2 in Đồng Nai, and four from July 31 to August 2 in Long An.
A total of 10 new infections were imported and 7,445 were locally transmitted.
The local cases were in HCM City (4,264), Bình Dương (949), Long An (445), Đồng Nai (380), Khánh Hòa (286), Cần Thơ (221), Hà Nội (159), Bà Rịa – Vũng Tàu (132), Tiền Giang (79), Đồng Tháp (77), Đà Nẵng (76), Vĩnh Long (50), Bình Thuận (46), Trà Vinh (31), Phú Yên (25), Bình Định (21), Nghệ An (21), Ninh Thuận (19), Quảng Nam (19), Kiên Giang (18), An Giang (17), Đắk Lắk (14), Ninh Bình (13), Đắk Nông (12), Hậu Giang (11), Hà Tĩnh (10), Thanh Hóa (9), Bình Phước (8 ), Gia Lai (7), Sơn La (6), Thừa Thiên Huế (4), Vĩnh Phúc (3), Lạng Sơn (3), Quảng Ngãi (3), Lâm Đồng (2), Hà Nam (2), Quảng Bình (2) and Hưng Yên (1).
Of the local transmissions, 2,344 were found in communities outside concentrated quarantine areas or locked down zones.
Notably, the total number of COVID-19 cases in HCM City reached 98,559 since April 27 which marked the beginning of the fourth wave of the virus in Việt Nam.
Following HCM City, other southern provinces like Bình Dương, Long An and Đồng Nai also saw a high daily increase.
On Monday, 3,808 patients were given the all-clear, bringing the total recoveries in Việt Nam to 46,965. The number of deaths has now reached 1,695.
Among patients being treated, 436 are in intensive care units while 14 others with critical health conditions are receiving ECMO.
As of Monday, 6,415,219 COVID-19 vaccine doses had been administered. As many as 659,064 people have received second doses.
Speaking at an online meeting on Monday, Minister of Health Nguyễn Thanh Long said in the fourth quarter of this year, about 47 to 50 million doses of Pfizer vaccines will arrive in Việt Nam.
The country has received nearly 18.8 million doses of vaccines including AstraZeneca, Pfizer, Moderna, Sputnik-V and Sinopharm.
The health ministry has mobilised nearly 10,000 frontline health workers with 8,293 working in HCM City and 1,134 in Bình Dương.
Laos assists Vietnamese students in Vientiane amid COVID-19
Souliya Kiewphilavong, Chief of Office of the Lao People's Revolutionary Youth Union Central Committee visited the Vietnamese student dormitory of the National University of Laos in Vientiane on August 2 to encourage and present the students with gifts worth 12 million kip (1,254 USD).
The gifts include daily necessaries, medical masks, and hand sanitizers in aid of the students.
Highlighting complicated COVID-19 developments in Laos and regional countries, the official recommended the students for seriously following the Lao Ministry of Health's pandemic prevention and control regulation.
Recalling the two nations' great traditional relations and the role of youth in fostering the ties, the official urged Vietnamese students to study well in contribution to developing their home country and strengthening the bilateral special relations.
On behalf of the Vietnamese students, Bui Huu Hoc, Vice Secretary of the Ho Chi Minh Communist Youth Union (HCYU)'s committee in Laos, thanked the Lao youth union for support and committed to seriously obeying the local pandemic prevention regulations.
The National University of Laos now has 184 Vietnamese students, the most among Lao universities./.
Film screening to celebrate August Revolution, National Day
A number of movies will be screened nationwide from August 19 to September 5 to mark the 76th year of the August Revolution (August 19) and the National Day (September 2), according to the Ministry of Culture, Sports and Tourism.
The films include "Hanh phuc cua me" (Happiness of a Mother), documentaries "Chung mot coi nguon" (Sharing the same root) and "Sac xuan tren tho cam" (Colours of Spring on brocade) and animation "Nguoi thay muon doi" (Teacher of a Lifetime).
The screening will only be organised in localities where COVID-19 has been brought under control and theater-goers must comply with guidelines by the Ministry of Health.
In case the event cannot be held, the movies will be screened in the upcoming occasions./.
10,000 gift packages come to needy workers in HCM City
Up to 10,000 gift packages, including necessities, will be handed over to needy workers in processing and industrial parks in Ho Chi Minh City under a programme launched on August 2.
The programme was co-organised by the city trade union, a working group of the Ministry of Agriculture and Rural Development and the Defence Ministry's standing boards for COVID-19 prevention and control in HCM City and other southern localities.
The first gifts will be presented to workers in pandemic-hit areas in Thu Duc city.
Earlier, Deputy Minister of Agriculture and Rural Development Tran Thanh Nam and head of the grouping group sent letters to the Departments of Agriculture and Rural Development of southern cities and provinces, asking them to help workers in locked-down areas with food./.
VFF Central Committee offers 1.7 million meal portions for people in southern localities
The Vietnam Fatherland Front (VFF) Central Committee on August 2 presented 1.7 million meal portions worth 51 billion VND (2.22 million USD) to southern localities which are under the social distancing measures.
The meal portions, each worth 30,000 VND, will be distributed to people of the vulnerable groups in 17 localities.
From May 1 to July 30, donations for the fight against COVID-19 via the VFF had exceeded 6.85 trillion VND.
The sum has been disbursed to the COVID-19 vaccine fund and for the purchase of ventilators and other medical devices, as well as used to support concentrated quarantine establishments, frontline workers and the disadvantaged./.
ASEAN Foreign Ministers to have hectic week
More than 20 meetings of foreign ministers within ASEAN and between ASEAN and partner countries have taken place from August 2-6.
During the meetings, considered among the most important ones of the ten-member grouping in the year, countries have discussed the ASEAN Community building, reviewed and oriented ASEAN's external relations, and looked into regional and international issues of shared concern.
Minister of Foreign Affairs Bui Thanh Son headed a Vietnamese delegation to the events.
The countries assessed the implementation of ASEAN's priorities this year and showed their support for the initiatives raised by Brunei – ASEAN Chair 2021 – to cope with disasters, boost multilateralism and the Fourth Industrial Revolution, and promote the identity of the ASEAN Community.
The ministers spent much time debating cooperation in COVID-19 response and post-pandemic recovery. They stressed the need to enhance the exchange of experience with partners in vaccine research, development, production and distribution.
They agreed to continue realising outcomes reaped last year, including the review of the implementation of the ASEAN Charter, the building of the post-2025 ASEAN Community Vision, and strengthening sub-regional cooperation.
The countries reiterated the values of ASEAN-led mechanisms, as well as ASEAN's centrality in enhancing dialogue and cooperation. They consented to establish a dialogue partnership with the UK and a sectoral partnership with Brazil.
Given complex developments in the East Sea, the ministers affirmed their consistent stance on settling disputes via peaceful measures in line with international law, including the 1982 United Nations Convention on the Law of the Sea (1982 UNCLOS), called on parties to exercise self-restraint, and not to use or threaten to use force, and reiterated the significance of fully and effectively observing the Declaration on the Conduct of Parties in the East Sea (DOC), working towards an effective and substantive Code of Conduct in the East Sea (COC).
For the Myanmar issue, the countries said ASEAN wants to help Myanmar overcome difficulties and seek solutions to the present complexity, for people's interests.
The ministered shared the view on the need to quickly provide humanitarian aid for Myanmar in response to COVID-19, through the ASEAN Coordinating Centre for Humanitarian Assistance on disaster management.
Minister Son stressed that solidarity and unity are the foundation for ASEAN's strength, especially in difficult times, which is clearly demonstrated in the current fight against COVID-19.
Emphasising the importance of vaccines, he suggested ASEAN optimise cooperation opportunities with partners, particularly in the vaccine procurement and transfer of vaccine production technologies.
ASEAN needs to carry forward the role of ASEAN-led mechanisms, he said, proposing a review of operational procedures of these mechanisms to maintain their targets, values and roles.
Son stressed an environment of peace, security and stability is the prerequisite to effectively ward off the pandemic, spur recovery and maintain regional growth.
On August 3, ASEAN foreign ministers will hold meetings with ASEAN partners namely the Republic of Korea, China and Japan./.
Private hospital Hoàn Mỹ Thủ Đức in HCM City begins admitting COVID-19 patients
The Hoàn Mỹ Thủ Đức International General Hospital in HCM City's Thủ Đức city on Monday began admitting COVID-19 patients after one week of preparation to share the burden with public hospitals and meet the increasing number of cases.
The hospital's 100 beds on the second to fourth floors along with necessary equipment are used to serve COVID-19 patients. The number of beds will be increased to 200.
More than 3,000 doctors, nurses and other medical staff who work at the Hoàn Mỹ system's 15 hospitals and six clinics have been sent to work at the Hoàn Mỹ Thủ Đức International General Hospital to treat COVID-19 patients.
The cost of COVID-19 treatment will be covered by the health insurance fund and additional costs not in the COVID-19 treatment list will be charged based on the hospital's fees.
Vingroup receives mRNA COVID-19 vaccine production technology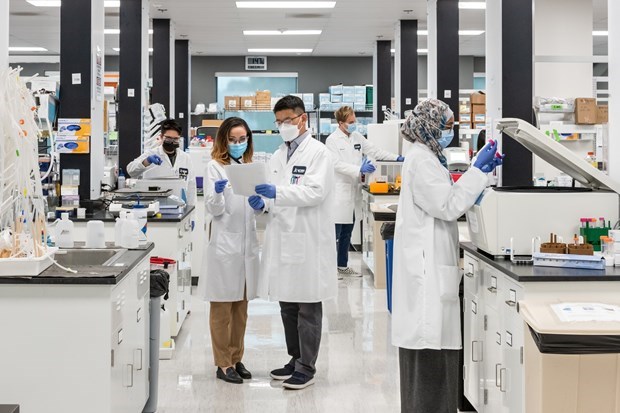 A laboratory of Arcturus Therapeutics (Photo courtesy of the company)
Conglomerate Vingroup has signed an agreement with Arcturus Therapeutics medicines biotechnology company of the US on the transfer of COVID-19 vaccine production technology.
With a capacity to manufacture 200 million doses per year, Vingroup is projected to produce the first batches of vaccine by early 2022.
Arcturus Therapeutics is a leading clinical-stage messenger RNA medicines company focusing on the discovery, development and commercialisation of therapeutics for rare diseases and vaccines.
Under the agreement, the US firm will grant permission for Vingroup's affiliate VinBioCare to produce COVID-19 vaccine named VBC-COV19-154, which is effective against new variants of the coronavirus such as Delta and Alpha.
The Vietnamese company is also approved to manufacture other COVID-19 vaccine types of Arcturus like ARCT-021.
The transfer is slated to begin this month.
VinBioCare's plant will be located at the Hanoi-based Hoa Lac Hi-tech Park, which is built at an investment of over 200 million USD.
Necessary devices will be flown to Vietnam by September and the installation inside the plant is forecast to complete by two months later.
On August 2, Vingroup announced that it has successfully purchased 500,000 bottles of Remdesivir, which received approval by the Food and Drug Administration of the US for the treatment of COVID-19.
The medicine will be presented to the Ministry of Health in August./.
Hà Nội offers free COVID-19 tests for those with suspect symptoms
People in Hà Nội showing possible COVID-19 symptoms are being urged to take tests as soon as possible.
The Hà Nội Centre for Disease Control said if any citizens in the city suffer from ailments associated with the virus, they should immediately contact local health centres that will provide tests free of charge.
People who develop a fever, cough, sore throat, chills and sweats, shortness of breath, and loss of appetite must call the health care centres in their localities for guidelines and testing. This would help early detection and minimise the risk of community transmissions.
On Monday morning, the capital city recorded 46 new COVID-19 cases, most of which were detected in the community.
In order to promptly detect, classify and treat COVID-19 cases, the city's People's Committee has urged people to continue to fill in medical declarations, especially for those with symptoms of cough and fever.
This would stop the source of infection and play a key part in returning to a normal way of life.
In order to promptly detect, classify and treat COVID-19 cases, the city People's Committee urges people to continue to make medical declarations on Bluezone and tokhaiyte.vn applications, especially those with symptoms of cough and fever.
By the end of July 31, Hà Nội CDC has received 2,326,921 medical declarations on the software system, which continues to rise by more than 70,000 a day.
On Monday morning, Phùng Khoang and Minh Khai wholesale markets in Nam Từ Liêm District and Bắc Từ Liêm District were locked down after two sellers tested positive for SARS-CoV-2 virus.
Bắc Từ Liêm District's People's Committee ordered Minh Khai market's management board to suspend all trading activities at 11pm on Sunday until further notice. All sellers and their families have been told to keep track on their health and report to local health authorities if they develop symptoms. There are about 1,000 sellers operating at the market.
Nam Từ Liêm District's People's Committee has collected more than 530 samples of sellers for testing. As many as 600 sellers are working at the market.
Previously, part of Long Biên wholesale market was locked down after a seafood vendor was found to be infected. A wholesale market in Hoàng Mai District is in the same situation after an egg vendor was confirmed positive on July 27.
Meanwhile, a cluster of 21 new COVID-19 infections has been detected at Thanh Nga food company at No 82, Alley 651 (82/651), Minh Khai Street, Thanh Lương Ward. All positive cases are being treated, with the number of F1 cases amounting to 17. A total of 750 other people with links to the area have had samples taken for COVID-19 testing.
ASEAN commits to maintaining nuclear weapon-free region
ASEAN member countries on August 2 committed to maintaining nuclear weapon-free Southeast Asia and ensuring the right to using nuclear energy for peaceful purposes of countries.
The commitments were made at a meeting of the Southeast Asia Nuclear Weapon-Free Zone (SEANWFZ) Treaty Commission, which was held via teleconference.
The countries reiterated the significance of the treaty to regional security, and pledged to further realise the plan of action to strengthen the implementation of the treaty for 2018-2022.
They also agreed to work harder to urge countries possessing nuclear weapons to join the treaty, stressing the need to promote its role and values, especially at the United Nations, thus contributing to global efforts in non-proliferation and disarmament of nuclear weapons.
Vietnam, in its capacity as ASEAN Chair 2020, was praised for its efforts in completing a memorandum of understanding on activities relating to the treaty.
The meeting acknowledged efforts of ASEAN's specialised agencies in promoting technological cooperation, and expanding collaboration with partner countries and international organisations in ensuring nuclear security and safety and using atomic energy for peaceful purposes.
In his remarks, Minister of Foreign Affairs Bui Thanh Son affirmed Vietnam's support for ASEAN to continue advising countries possessing nuclear weapons to join the treaty.
He emphasised the importance of maintaining the document's targets and principles, and welcomed the building of ASEAN rules on radiological and nuclear emergency preparedness and response, considering this a significant contribution to the ASEAN Shield initiative raised by Brunei as ASEAN Chair 2021 to enhance ASEAN's collective strength to cope with natural disasters./.
COVID-19 treatment hospital to be set up in Hanoi
A hospital providing treatment for COVID-19 patients in Hanoi and northern localities will be set up at the Hanoi Medical University Hospital, Minister of Health Nguyen Thanh Long said on August 2.
The hospital, to be inaugurated in mid-August, will house 500 beds.
Located in Yen So ward, Hoang Mai district, it will serve as a national COVID-19 intensive care unit (ICU) which will provide treatment for severe patients and technical support for other COVID-19 medical facilities in the assigned areas.
At the same time, the Ministry of Health is working to set up ICUs at the second facility of the Vietnam-Germany Friendship Hospital and the Ha Nam facility of the Bach Mai Hospital.
The National Hospital for Tropical Diseases is also asked to raise the number of beds, especially in the ICU.
On August 2, more than 200 medical workers of the Bach Mai Hospital travelled to Ho Chi Minh City to work at a 500-bed treatment hospital for COVID-19 patients.
On the same day, an ICU at the city's International Hospital, which was set up on August 1, received 70 patients in critical conditions.
HCM City urges vaccinations for 62,000 shippers
The HCM City Department of Industry and Trade has asked the city Health Department to prioritise 62,000 shippers for vaccinations.
The director of the city Department of Industry and Trade, Bùi Tá Hoàng Vũ, said the department has compiled a list of shippers and sent it to the Department of Health, along with People's Committees of districts and Thủ Đức City for vaccinations.
There are 16 units with about 62,000 drivers included on the list, including shippers from Grab, Now, Beamin and Gojek delivery applications.
Drivers of e-commerce platforms such as Shopee and Lazada are also on the vaccination list.
Recently, a series of ride-hailing applications sought  permission for shippers from the city as they are an important link of the supply chain, especially in big cities.
On the afternoon of July 27, about 1,500 Grab drivers received the first dose of COVID-19 vaccine at five injection points in District 7. This was the first major vaccination series targeted at shippers from ride-hailing apps.
Dr Bùi Thị Thu Hương from Việt Nga Eye Hospital in HCM City, who was in charge of one of the five injection points in District 7, said that in addition to shippers, many store employees and pharmacy staff were vaccinated.
It is crucial that they be vaccinated as they are at high risk of COVID-19 infection, she added.
Bình Thuận to foster consumption of dragon fruit, other farm produce
The Bình Thuận Province People's Committee has announced plans to promote consumption of dragon fruit and certain other agricultural products this year.
The country's largest dragon fruit-producing province is expected to harvest around 431,000 tonnes of the fruit from now to year-end, export 280,000 tonnes, sell 80,000 tonnes to supermarkets, wet markets and shops and sell 75,000 tonnes to online consumers and to processors.
To meet these targets, the People's Committee has ordered relevant departments and agencies to strengthen exports via both official and unofficial channels and promote the sales of the fruit at local markets and online.
In August, the province Department of Industry and Trade and the Ministry of Industry and Trade's trade promotion department will organise online trade conferences with Indian and Pakistani importers to promote exports.
The south-central province has more than 33,700ha under the fruit and an annual output of 700,000 tonnes.
It will also promote other agricultural products like rubber and cashew and seafood. It is expected to harvest 60,330 tonnes of latex and 8,680 tonnes of cashew from now to year-end.
The People's Committee has ordered relevant agencies to work with the Ministry of Agriculture and Rural Development to assign production unit codes for farming areas to better manage quality and traceability of agricultural products.
The province will strengthen support to enable agricultural co-operatives and farming households to apply good agricultural practices standards like VietGAP and Global GAP to improve quality and competitiveness.
The People's Committee has also instructed relevant agencies to zone and develop concentrated farming areas that produce clean agricultural products.
Each district and town should develop at least one or two establishments that buy fresh agricultural products and carry out semi-processing and preservation, it said.
It wants support and encouragement for companies to build refrigerated warehouses, stores and containers to preserve agricultural products.
It wants to establish sites for showcasing the province's fresh and processed agricultural products and those certified under the country's One Commune – One Product programme.
Priority would be given to places that attract tourists and national highways, it said.
Dialogue between ASEAN Foreign Ministers, AICHR held virtually
An annual dialogue between ASEAN Foreign Ministers and representatives of the ASEAN Intergovernmental Commission on Human Rights (AICHR) took place virtually on August 2 within the framework of the 54th ASEAN Foreign Ministers' Meeting (AMM-54).
At the event, a representative of Brunei, the Chair of AICHR in 2021, informed participants on the commission's operations in a one year time from July 2020 to July 2021.
The report underlined efforts made by the AICHR in responding to the adverse impacts of COVID-19 via the implementation of the Five Year Work Plan 2021-2025 and activities in the 2021 Priority Programmes.
In the year, the AICHR has stepped up cooperation in the areas of right to health, human rights in economic activities, humanitarian aid, environment and climate change, rights of the vulnerable groups like migrant workers, women and children in the context of COVID-19.
AICHR adopted eight initiatives and activities in the ASEAN Comprehensive Recovery Framework (ACRF), under the scope of the commission, including Priority Programme for 2022.
Ambassador Nguyen Thai Yen Huong, Vietnam's Representative at the AICHR, emphasised that the AICHR should focus on meeting urgent, essential and fundamental demands of people like vaccine access, food security and clean water, along with education and employment, among others.
The ministers spoke highly of the AICHR's efforts to ensure the efficiency and progress of tasks in the "new normal" and adjust activities to address new issues in human rights as the fourth wave of COVID-19 outbreaks develops more complicatedly in the region.
They also called on the commission to bolster collaboration with ASEAN agencies and partners to integrate human rights in the implementation of the ACRF and other initiatives of ASEAN.
The AICHR was also urged to foster the effectiveness of tasks which promote and protect human rights in the region and focus on fields improving the quality of life and fundamental rights of people, especially those in the vulnerable and hardest-hit groups, thereby contributing to the building of a people-oriented, people-centred ASEAN Community./.
Vietnam attends 23rd ASEAN Political-Security Community Council Meeting
Vietnamese Minister of Foreign Affairs Bui Thanh Son on August 2 attended the 23rd ASEAN Political-Security Community (APSC) Council Meeting as part of the 54th ASEAN Foreign Ministers' Meeting (AMM-54).
The online meeting reviewed the operation of specialised agencies in the political-security pillar and the implementation of the ASEAN Political-Security Community Blueprint 2025.
According to the ASEAN Secretary General's report, despite a range of challenges, political and security cooperation in ASEAN has reaped significant achievements, notably the implementation of recommendations of the Mid-term Review of the APSC.
Vietnam attends 23rd ASEAN Political-Security Community Council Meeting hinh anh 2
He highlighted ASEAN collaboration in COVID-19 combat and recovery efforts, national defence, border management and response to non-traditional challenges, as well as cooperation between ASEAN and its partners.
Given the complex developments in the region such as East Sea and Myanmar issues, the meeting stressed the need for the grouping to strengthen its solidarity, trust, understanding and central role, and maintain dialogues and cooperation with its partners, for regional peace, security and stability.
In his remarks, Son said an environment of peace, security and stability is the prerequisite to cope with the pandemic, spur recovery and maintain regional growth.
Pointing to increasing strategic competitions between powers, he suggested ASEAN has a comprehensive approach in relations with its present partners as well as new potential ones.
He also proposed cautiously reviewing operational procedures of ASEAN-led mechanisms to maintain their goals, values and role, while promoting the engagement and dialogue of partners.
Inter-sectoral and inter-pillar coordination requires a creative approach amidst challenges regarding navigation security, COVID-19 and humanitarian aid, Son said.
The minister also suggested adding emerging issues to the APSC Blueprint 2025, saying more attention should be given to agendas on women, peace and security.
Earlier, ASEAN Foreign Ministers witnessed an online award ceremony of the ASEAN Prize 2020, which was handed over to the Singapore-based ASEAN Studies Centre of ISEAS – Yusof Ishak Institute./.
Waste in Hà Nội from lockdown areas to be treated as potentially-infectious waste
Authorities are paying more attention to the collection, transportation and treatment of household waste in the city in residential areas where COVID-19 patients or people suspected of being infected with SARS-CoV-2 reside.
Tống Việt Dũng, deputy director of the Urban and Industrial Environment No 13 Joint Stock Company said the company considered household waste in the residential areas, where COVID-19 patients or people suspected of being infected with SARS-CoV-2 resided, as potentially-infectious waste and treated it as hazardous medical waste.
"It aims to minimise the risk of disease transmission in the community," he said.
Currently, the company is in charge of collecting household waste in several lockdown areas in the city, he said, the Kinh Tế Đô Thị (Urban Economy) online has reported.
In Đống Đa District, the company has installed trash cans and collected household waste at 14 areas under lockdown, including wards of Văn Chương, Nam Đồng, Thổ Quan, Láng Hạ and Hoàng Cầu, he said.
The process of collecting, transporting and treating household waste in lockdown areas has been implemented carefully and safely, and allowing no waste to become a source of disease transmission to the community, he said.
The company also works with the People's Committee of each ward to disseminate information to local people in lockdown areas on how to sort waste to ensure safety, he said.
There are two trash cans, 240 litres each, being put in each lockdown area. One trash can is for holding potentially-infectious waste such as masks, tissues and medical protective clothing, another for holding normal household waste, he said.
The company's environmental workers collect the waste from the trash cans every hour in lockdown areas, he added.
Dũng said drivers and environmental workers must have their body temperature checked and wear protective clothing before going to lockdown areas to collect the waste. They must then disinfect the garbage trucks inside and outside before they leave.
After being taken from the trash cans, the potentially-infectious waste is put into a bag. The mouth of the bag is sealed tight. Then, the first bag is put into a second bag and thrown into the garbage truck, he said.
After transporting the waste from the lockdown areas to the waste treatment area, the waste is treated by autoclaving and drying technology to ensure all bacteria, viruses and pathogens are destroyed as regulations, he said.
The company has also ordered its environmental workers to not collect waste at other locations after collecting waste in the lockdown areas to ensure the highest safety, he said.
The garbage truck must go to the waste treatment areas after collecting waste in lockdown areas immediately.
Lê Hương Giang, vice chairwoman of the People's Committee of Thổ Quan Ward, Đống Đa District, said currently the ward has locked down Lệnh Cư Alley, where 70 households are living after a person in the alley was confirmed as a COVID-19 patient.
The committee has strictly supervised the collection of household waste in the alley to avoid the spread of the COVID-19 pandemic to the community, she said.
The committee also coordinates with the company to instruct local people in the alley on how to classify and store household waste according to the regulations, she said.
The committee also arranges for people to spray disinfectants on all of the trash cans after residents threw waste into the cans.
A final spray of all trash cans is performed before environmental workers pushed the cans to the garbage trucks, she added.
Data from the Hà Nội Urban Environment One Member Co Ltd (URENCO) shows that the company collects about 6,500 tonnes of waste daily in the city.
The waste is transported to be treated in two landfills of Nam Sơn in Sóc Sơn District and Xuân Sơn in Sơn Tây District.
Vietnam attends 54th ASEAN Foreign Ministers' Meeting
Solidarity and unity are the foundation for ASEAN's strength, especially in difficult times, which is clearly demonstrated in the current fight against COVID-19, Vietnamese Minister of Foreign Affairs Bui Thanh Son told the 54th ASEAN Foreign Ministers' Meeting (AMM-54) that opened on August 2 via videoconference.
Sharing the significance of vaccines in pandemic response efforts, Son proposed the Association of Southeast Asian Nations (ASEAN) bring into full play cooperation opportunities with partners, especially in procurement and technology transfer for vaccine production.
In the face of serious socio-economic impacts of the pandemic, more than ever, ASEAN needs to strongly promote the internal strength of a resilient and cohesive Community, affirm its role and responsibility to the development of the region, he stated, adding that Vietnam maintains its active and responsible participation in the process of building the ASEAN Community Vision beyond 2025.
The minister suggested ASEAN continue to promote the role of ASEAN-led mechanisms, uphold solidarity, promote internal resources, ensure a common voice and fair approach in relations with partners, and maintain the bloc's central role in the regional structure.
He shared his concerns about complicated developments in regional hotspots such as the Korean Peninsula and the East Sea as well as non-traditional security challenges such as cyber-security, climate change, sea level rise and marine environment degradation.
The minister proposed ASEAN maintain its principled stance and uphold international law, including the 1982 UN Convention on the Law of the Sea (UNCLOS), stressing the importance of the convention as the basis for determining the legitimate rights and interests of coastal states as well as the framework that regulates all activities in all seas and oceans.
Son also emphasised the neccesity to implement the 5-point Consensus and proposed speeding up humanitarian assistance to the Myanmar people in the context that the country is being heavily affected by the COVID-19 pandemic.
During the meeting, ASEAN Foreign Ministers discussed the building process of the ASEAN Community, the bloc's external relations and regional and international issues of mutual concern.
They welcomed initiatives such as the ASEAN Shield to strengthen ASEAN's concerted power to respond to natural disasters and promote multilateralism, and the Consolidated Strategy on the Fourth Industrial Revolution.
They welcomed Vietnam's hosting of ASEAN forum on sub-regional cooperation later this year.
The ministers emphasised the need to intensify cooperation in pandemic response, suggesting the urgent implementation of the ASEAN Action Plan on Vaccine Security and Self Reliance, the ASEAN Regional Reserve of Medical Supplies for Public Health Emergencies as well as the ASEAN Comprehensive Recovery Framework.
Participants also discussed measures to strengthen and deepen ASEAN's relationship with its partners, uphold the central role of ASEAN, affirm the value of ASEAN-led mechanisms in promoting dialogue, cooperation and participation, and active and constructive contributions of partners to peace, security and development in the region.
They agreed to establish Dialogue Partnership with the UK and Sectoral Partnership with Brazil; and welcomed and approved the proposals to join the Treaty of Amity and Cooperation in Southeast Asia (TAC) by the Netherlands, Greece, Qatar, the United Arab Emirates, Oman and Denmark.
The ministers took the occasion to exchange views on many regional and international issues of common concern such as the East Sea, the Korean Peninsula and the Middle East. They reaffirmed the importance of maintaining peace, security, stability, safety and freedom of navigation and aviation in the East Sea and expressed their concerns over the reinforcement and serious incidents, including actions that damage the marine environment.
They asserted their consistent stance on addressing disputes by peaceful measures on the basis of international law, including the 1982 UNCLOS, calling for parties to restrain, and not to militarise, not to use or threaten to use force.
The meeting reaffirmed the importance of the full and effective implementation of the Declaration on the Conduct of Parties in the East Sea (DOC), welcomed the resumption of negotiations on a Code of Conduct in the East Sea (COC) between ASEAN and China, stressed the need to maintain a favourable environment for COC negotiations and to continue efforts towards an effective, practical COC in accordance with international law, including the 1982 UNCLOS.
The countries also emphasised the necessity to implement the 5-point Consensus comprehensively and promptly, while affirming ASEAN's desire to support Myanmar to overcome difficulties and find solutions to the current situation, and provide humanitarian assistance for the nation to cope with the COVID-19 pandemic.
On August 2 afternoon, the ASEAN Foreign Ministers are scheduled to attend meetings of the ASEAN Political-Security Community Council (APSC), the ASEAN Coordinating Council, and the Southeast Asia Nuclear-Weapon-Free Zone (SEANWFZ); and a dialogue with representatives of the ASEAN Intergovernmental Commission on Human Rights (AICHR)./.
Weather conditions favourable for autumn-winter rice crop despite later flooding season
The flooding season in the Cửu Long (Mekong) Delta is expected to have lower levels of floods this year, bringing in less aquatic resources and sediment to fields, according to the Southern Institute of Water Resources Research.
Farmers can use more fertiliser to grow rice after the flooding season, but this will increase production costs.
Saltwater intrusion from the sea through river mouths, which normally occurs in the dry season, is expected to be less severe this year. The storm impact this year will also be less severe.
Because of these factors, the delta is expected to have favourable conditions for growing the autumn – winter rice crop.
The delta is planting 700,000ha of autumn – winter rice in July and August, according to the Ministry of Agriculture and Rural Development's Plant Cultivation Department.
The delta's flooding season is caused by the rising level of the Mekong River in the rainy season, which normally lasts between May and December. The delta's rainy season came early this year and is expected to end by the end of November, according to the ministry's Irrigation Department.
Đỗ Đức Dũng, head of the institute, said the delta's flood-prevention dyke system protects crop cultivation in the flooding season.
German historian: Vietnamese Party chief's article highlights experience in creative application of Marxism-Leninism
German historian and veteran journalist Gerhard Feldbauer has hailed the significance of Party General Secretary Nguyen Phu Trong's article "Several theoretical and practical issues on socialism and the pathway towards socialism in Vietnam".
Feldbauer said the article gave a comprehensive, insightful and thorough analysis of the path chosen by Vietnam since the victory of the August Revolution 1945. He pointed out that throughout its leadership process, the Communist Party of Vietnam creatively applied Marxism-Leninism in the country's specific conditions to deal with various complex and difficult issues, providing valuable experience to not only Vietnam but also many countries in the world.
Gerhard Feldbauer stressed that the CPV and its members have stayed consistent to the road of building socialism. He noted that the CPV now has more than 5.1 million members, 60 percent of whom are young people, which refuted allegations that young Vietnamese are no longer interested in politics or socialism.
According to him, Vietnam is on the way toward a modern and socialist-oriented industrialised economy. From its starting point as a poor nation due to war aftermaths, Vietnam has become one of the world's most vibrant and fastest-growing economies in Southeast Asia with an annual growth of 6-8 percent before the COVID-19 pandemic.
Since it began the renewal process, Vietnam has signed a number of bilateral deals and joined international organisations such as the International Monetary Fund, the World Bank, and most recently the European Union – Vietnam Free Trade Agreement (EVFTA).
On the back of the EVFTA, Vietnam became the EU's second biggest trade partner in ASEAN. In 2018, Vietnam exported goods and services worth over 35 billion EUR to the EU, mostly apparel, mobile phones and accessories and spent over 10 billion EUR on goods from the bloc.
About challenges faced by the country on the path toward socialism, Feldbauer said the key point is to affirm the leadership of the CPV and defeat every attempt to lower or eliminate the role of the Party. He also suggested Vietnam crack down on corruption and stay close with the people in all aspects.
He expressed his belief that under the CPV's leadership, Vietnam will always overcome any difficult periods in history.
Feldbauer also underlined the great role of President Ho Chi Minh in every victory of Vietnam's revolution, and lauded the tireless and unyielding fighting spirit of the Vietnamese people, considering it a prerequisite for successes of the Vietnam's revolution.
Feldbauer, 88, used to work as a reporter of the German Democratic Republic's ADN news agency in Hanoi. He and his wife – photo correspondent Irene, worked in Hanoi from 1967 to 1970. With a doctoral degree on Vietnam history, he wrote 15 books, four of them about Vietnam./.
Localities asked to prepare for higher numbers of COVID-19 infections
Minister of Health Nguyen Thanh Long has asked localities nationwide to devise scenarios for higher numbers of COVID-19 cases amid the fast spreading of Delta variant.
Speaking at an online conference to give guidelines to localities on measures to strengthen capacity in treatment and intensive caring for COVID-19 patients on August 2, Long underlined that the fourth wave of infections has developed complicatedly with wide coverage and high number of cases.
He asked localities to be more serious in implementing pandemic prevention and control, citing slow response to the pandemic in some provinces and cities.
Noting that the previous scenarios of pandemic-hit localities have fallen behind the reality, he underscored the need for them to accelerate COVID-19 treatment and testing to meet the demand of the reality.
Long said that the ministry has mapped out the "3-storey tower" model in COVID-19 treatment, in which COVID-19 patients are classified in different groups depending on their health conditions and treatment methods.
The transfer of patients to a suitable storey is significant in minimising deaths, he said, stressing the need of smooth coordination, transport and reception of patients.
He said that the ministry has asked all localities to mobilise the engagement of private medical establishments in the work.
Earlier on August 1, the minister had a working session with private hospitals in Ho Chi Minh City, during which he lauded the activeness of private hospitals and clinics in COVID-19 testing and vaccination. Amid the worsening pandemic situation in the city, their readiness to receive COVID-19 patients has helped ease the overload for the city's healthcare system, he said.
Long encouraged them to officially register with the city's Department of Health to set aside beds for COVID-19 patients, thus helping save more patients./.
Hà Nội's CDC seeks people who visited Thanh Nga Food Supply Co. Ltd between July 14 and August 1
Hà Nội City's Centre for Disease Control has issued a notice to urgently find people who visited Thanh Nga Food Supply Co. Ltd between July 14 and August 1.
People who visited the company during this time, should immediately self-quarantine at home and contact their local health station or call 0969.082.115/ 0949.396.115 for further guidance.
The company is located at No 15, Alley 651, Minh Khai Street, Thanh Lương Ward, Hai Bà Trưng District and its frozen goods warehouse at No 82, Alley 651, Minh Khai Street, Thanh Lương Ward, Hai Bà Trưng District, Hà Nội.
The company supplies meat to a number of supermarkets belonging to VinCommerce General Commercial Services Joint Stock Company (VCM) in Hà Nội. The company has 43 staff members and most live in the area where the frozen warehouse is located.
On Sunday evening, the centre reported a total of 21 new cases of COVID-19 linked to the company.
On July 28, a 21-year-old female intern, living at 170 Văn Chương Alley, Đống Đa District, went to St. Paul's Hospital for an examination after she showed symptoms of cough, fever and a sore throat. Her test for SARS-CoV-2 came back positive. The result was confirmed by the centre on Saturday.
Also on Saturday, Hai Bà Trưng District's Medical Station investigated, verified and took samples from 30 people, who had direct contact with the patient, including 24 staff of the company.
On Sunday, the Hà Nội Centre for Disease Control confirmed 20 staff of the company were positive for SARS-CoV-2.
The centre has worked with the station and relevant agencies to investigate the movements of those infected persons and has traced the contacts of the patients.
Initial results show that as of 8pm on Sunday, about 300 households, equal to 1,000 people, were temporarily locked down.
So far, samples of 750 people in the lockdown area have been sent to St. Paul's Hospital for SARS-CoV-2 tests.
VinCommerce General Commercial Services Joint Stock Company stopped receiving goods from Thanh Nga Food Supply Co. Ltd as soon as it was made aware of the COVID-19 outbreak.
VinCommerce General Commercial Services Joint Stock Company is a retail affiliate of Masan Group.
Currently, the supermarkets are actively coordinating with the authorities to trace related people and implement pandemic prevention measures.
Source: VNA/VNS/VOV/VIR/SGT/SGGP/Nhan Dan/Hanoitimes
VIETNAM NEWS HEADLINES AUGUST 3 have 8572 words, post on vietnamnet.vn at August 3, 2021. This is cached page on Talk Vietnam. If you want remove this page, please contact us.