16,000 doses of Molnupiravir ready for self-use of COVID patients at home
Domestic drug manufacturers will sponsor the first batch of 16,000 doses of Molnupiravir for a pilot programme of controlled treatment of COVID-19 patients at home, which is scheduled to start on Wednesday in HCM City.
The Ministry of Health said the domestic drug manufacturers would provide an additional 100,000 doses of Molnupiravir by September 5.
The total of 116,000 doses of Molnupiravir is equal to 2.32 million 400-mg tablets, according to the ministry.
The first imported batch of Molnupiravir, equal to 300,000 200-mg tablet, arrived in Việt Nam on Monday.
An additional 1.7 million 200-mg tablets will be transported to Việt Nam on Saturday while other batches of Molnupiravir are expected to arrive in early September.
The ministry also said clinical trials of the antiviral drug Molnupiravir in the treatment of COVID-19 patients, which were published in many countries, showed positive results.
Especially, they showed a significant reduction in viral load and cleared the virus in mild and moderate patients after five days of treatment, thereby, reducing the hospitalisation rate and mortality.
The ministry said that while the COVID-19 pandemic had shown complex developments in HCM City and other southern provinces, reducing the overload of hospitals and mortality were the top requirements.
Therefore, the programme would contribute to the reduction, the ministry said.
The ministry has updated its treatment plan based on global case studies and the pandemic situation, which indicates that nearly 80 per cent of patients have few or no symptoms.
Under the programme, COVID-19 patients with mild symptoms will be consulted by medical staff about the programme. After agreeing to participate, the patients will be given a bag of medicine with detailed guidelines for their home-based care.
A detailed instruction document from the health ministry and the city's Department of Health on self-care, health monitoring, contacting the doctor in charge and medical facilities in case of severe symptoms will be provided.
All patients will be evaluated for the rate of negative SARS-CoV-2 and the rate of the disease progressing to a more severe level after five days.
During the 14-day period, the patient will be monitored for any symptoms of COVID-19 and any side effects of the medicine.
The programme results will be assessed by health experts under a scientific research protocol approved by the National Ethics Committee in Biomedical Research and the health ministry.
The programme has been supported by domestic drug manufacturers, domestic corporations, the Việt Nam Young Doctors Association, task force teams, mobile medical stations in HCM City and other units.
Over 2,500 bus staff in Hanoi unemployed due to pandemic
Up to 2,500 workers from Hanoi Transport Service Company (Transerco) have become temporarily unemployed due to Covid-19.
According to Nguyen Hoang Trung, chairman of Transerco, the firm has faced various difficulties in the first six months of this year.
Bus service revenues dropped by VND200 billion (USD8.69 million) compared to the same period of last year. As a result, around 2,500 bus services staff or 40% of the company's staff have had to halt their work without salary.
Transerco has asked local authorities to approve the firm's plan on revenue target reduction this year. Under the company's proposal, its workers should also early be considered for being benefited from the government's relief package for people affected by Covid-19.
The company has also expected that their staff be prioritised for Covid-19 vaccination as they usually come into contact with many people.
Community-based COVID-19 prevention teams contribute to pandemic prevention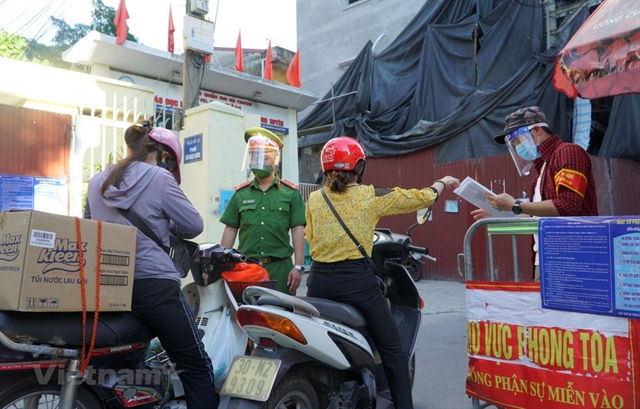 A member of the community-based COVID-19 prevention team (first, right) works at a COVID-19 pandemic control station in Hai Ba Trung District, Hanoi.
Community-based COVID-19 prevention teams have made an important contribution to curb the outbreak in Hà Nội.
Phí Trọng Nghĩa, of Hà Nội's Long Biên District, begins his commute at 5:30am from his house to a COVID-19 pandemic control station in Hồng Mai Street. He is stationed there every day to check people travelling and ensure security and order on the street.
Although Nghĩa does not live there, he has worked as a civil servant at the People's Committee of Bạch Mai Ward for nearly six years.
Recently, the ward strengthened prevention and control activities, so Nghĩa volunteered for the ward's community-based COVID-19 prevention team.
Nghĩa said the team was set up to ensure residents obey measures to prevent and control the pandemic as well as help the police trace contacts of COVID-19 patients.
He also helps receive and disinfect goods and food sent to residents.
Although the work requires him to come early and stay late, Nghĩa said he always tries to do his job well.
The ward now has a total of 12 community-based COVID-19 prevention teams with a total of 228 members. Each team has about 15-20 members.
Nguyễn Duy Hải, of Residential Group 11, Yên Sở Ward, Hoàng Mai District, often walks down each alley at 3pm daily to remind residents of prevention measures.
Hải also sent residents printed health declaration forms as well as cards that allowed them to go to the market or supermarkets during the social distancing period.
He also helps the police at the COVID-19 control station if needed, he said.
Hải is a university student in Hà Nội who has been helping in the pandemic prevention and control activities in the ward since the virus hit the city.
He said he was young and healthy, so he thought he needed to contribute to the city's fight.
The elderly also volunteered for prevention and control work.
Hoàng Tùng, 72, of Residential Group 12 of Bạch Mai Ward, has worked with the community-based COVID-19 prevention team for several months.
Tùng said every day he and other members of the team visit each household to inform them about measures to prevent the outbreak.
"I volunteered because I think I can do something for the community in the fight against the pandemic," he said.
The work means he has to wake up early and stay up late, but Tùng said it did not make things difficult, he said.
Trần Thị Thái Hòa, head of the community-based COVID-19 prevention team in the Residential Group 6, of Phương Liệt Ward, Thanh Xuân District, said all members of the team were always ready to support authorities in tracing COVID contacts and informing residents of measures.
For those who had to self-quarantine at home, the team would help them buy groceries, she added.
Loan Thị Hồng Mai, head of the ward's health centre, said the role of the community-based COVID-19 prevention team was very important in the fight against the pandemic.
Regardless of the weather, the teams always co-ordinate with local authorities, she said.
Members of the teams also helped local health workers monitor people who had to self-isolate, she said.
This helps reduce the workload for health staff, she said.
On August 13, chairman of the People's Committee of Hà Nội Chu Ngọc Anh visited a COVID-19 pandemic control station where members of the community-based COVID-19 prevention team were on duty in Đống Đa District.
Anh said he recognised the hardship of the team in the fight against the pandemic. Both the local administration and people had to make efforts to prevent the pandemic.
"The people's strength is the key to repel the pandemic," he added.
Nearly 7,000 Covid-19 patients recover, new infections fall
Vietnam announced 10,397 more Covid-19 infections on Monday and 6,945 patients recover from the diseases the same day, according to the Ministry of Health.
According to the ministry's report, 10,383 of the new patients are locally-transmitted cases confirmed in some localities such as HCM City (4,251 cases), Binh Duong (3,183), Dong Nai (623), Tien Giang (459), Long An (388), Ba Ria – Vung Tau (154), Danang (152), Dak Lak (128), Khanh Hoa (125), Nghe An (111), Dong Thap (100), Can Tho (85), and An Giang (75). Among these new infections, 6,021 cases were found in the community. There were 14 imported patients recorded.
As of Monday evening, 354,355 locally-transmitted cases have been reported since the new outbreak occurred in the country on April 27, with some southern localities recording high infections such as HCM City (180,245), Binh Duong (73,425), Dong Nai (8,311), and Long An (18,193). The outbreak has so far spread to 62 cities and provinces nationwide.
With these new infection cases, the number of Covid-19 patients in Vietnam has increased to 358,456. The country now stands 66th among 222 countries and territories worldwide in the number of infections.
On August 23, an additional 6,945 more patients recovered from the disease, raising the number of recoveries in the country to 154,612.
Also on Monday evening, a further 389 deaths related to Covid-19 were announced, bringing the total number of fatalities in Vietnam to 8,666. The deaths were reported in HCM City (340), Binh Duong (34), Long An (6), Danang (3), Dong Nai (2), Dong Thap (2), Can Tho (1), and Ba Ria-Vung Tau (1).
The country has so far conducted over 17.36 million Covid-19 vaccine shots, with over 1.83 million people having received two doses.
Insignia for training cause bestowed on outgoing UN Resident Coordinator
Politburo member Nguyen Xuan Thang, Chairman of the Party Central Committee's Theoretical Council and President of the Ho Chi Minh National Academy of Politics (HCMA) on August 23 presented an insignia "For the cause of political theory training" to the outgoing United Nations (UN) Resident Coordinator in Vietnam, Kamal Malhotra.
At the handover ceremony, Thang said the insignia is the HCMA's most noble award to honour individuals and organisations for their significant contributions to the cause of training for leaders and managers of the Vietnamese Party and State.
He commended valuable contributions and practical support of UN agencies and staff, particularly the Resident Coordinator, to Vietnam's socio-economic development, implementation of sustainable development goals, poverty alleviation, and climate change response.
The official expressed his hope that Malhotra will continue to work as a bridge of friendship and cooperation between Vietnam and the UN, and spread the country's culture and image to international friends.
Expressing his honour to receive the insignia, Malhotra said his almost five-year tenure in Vietnam was the most honorable job that brought him the most profound memories.
He said Vietnam effectively coped with COVID-19 in 2020, stressing his belief that the nation will put the current outbreak under control.
Vietnam has an increasingly important role and voice at the UN thanks to its active and responsible participation in and contributions to common activities of the international community and the UN, he noted, pledging to maintain his support for the Southeast Asian nation./.
Vietnam, Austria boost cooperation towards 50 years of diplomacy
Vietnamese Ambassador to Austria Nguyen Trung Kien had a working session on August 23 with Barbara Kaudel-Jensen, Foreign Policy Advisor to the Austrian Federal Chancellor, on cooperation between the two countries in the lead up to 50 years of diplomatic ties this year.
Kien once again suggested that Austria soon consider ratifying the EU-Vietnam Investment Protection Agreement (EVIPA), creating conditions for the agreement to be ratified soon in all EU member states and put into practice.
On this occasion, the Vietnamese Ambassador proposed that the two sides organize a number of cooperation activities to celebrate the 50th anniversary of the establishment of diplomatic relations.
He highly appreciated Austria's efforts in organizing the fifth World Conference of Speakers of Parliament on August 19-20 and the 13th Summit of Women Speakers of Parliament on September 6-8 this year within the framework of the Inter-Parliamentary Union (IPU).
The two sides shared concerns about the latest developments of the COVID-19 pandemic globally, agreeing countries need to work closely together to contain the virus. On this occasion, Ambassador Kien suggested that Austria support Vietnam in responding to the current outbreak.
For her part, Foreign Policy advisor Barbara Kaudel-Jensen expressed her belief that the two countries will promote cooperation potential in the areas of their strength towards the 50th anniversary of the establishment of diplomatic relations.
She thanked Vietnam for supporting Austria in organizing important IPU conferences and sending its representatives to the events, saying this will be an opportunity for the two countries to promote parliamentary diplomacy and strengthen cooperation.
With regard to the COVID-19 response, the Austrian diplomat spoke highly of Vietnam's efforts in disease prevention and pledged to coordinate with relevant Austrian agencies to support the Southeast Asian nation in this matter.
HCMC, southern provinces strive to overcome difficulties for new school year
Amid the ongoing Covid-19 epidemic in Ho Chi Minh City and the southern provinces, the school year 2021-2022 is about to begin. Amongst difficulties, textbook provision is the most one; schools have had many alternatives to ensure teaching and learning activities.
Lately, the exchange of used textbooks has gone viral on social networks amongst parents. Phan Truc Quynh, a parent whose child is studying at a secondary school in HCMC's Go Vap District, said that the southern metropolis has implemented social distancing to prevent epidemics for more than two months, so all bookstores have closed the door. She has contacted online ordering channels which announced 10 or 15 days to deliver the books she needs.
Following many parents' guidance in the same situation, Quynh joined many chat groups on social networks and one of the parents promised to donate their children's used textbooks. In addition, schools instructed parents to visit publishers' websites to download e-books for students' reference while waiting for paper books to be delivered to their children.
However, according to teacher Nguyen Thanh Phat, Principal of Lac Hong Secondary School in District 10, parents and students should not be too worried if they are unable to buy textbooks. Not only this school year but many years ago, in training courses organized by the education sector, teachers have been asked to use different textbooks to teach.
Accordingly, teachers actively prepare lesson plans by integrating knowledge into many different topics, regardless of the design of each lesson in the textbook. In the school year 2021-2022, for application of the 2018 General Education Program in grade 6, teacher groups of History, Geography and Physics, Chemistry and Biology have discussed and agreed on the contents in each topic, ensuring the requirements of skill and knowledge standards for students according to the program distribution.
Teacher Ha Huu Thach, Principal of Le Quy Don High School in District 3, said that currently, all schools have complied with theoretical content and types of exercises for students. To help students who are not able to buy textbooks, teachers will send the content of each lesson to students before online class. For any students who are unable to afford a laptop or access to the internet, teachers will send the paper documents.
Nguyen Van Hieu, Director of the Ho Chi Minh City Department of Education and Training, said that the city has determined that online teaching is a stable and only method in the 2021-2022 school year.
Currently, the education sector has built a fairly rich database and teaching resources at all levels. Particularly, first and second-grade students are those who are most affected by the epidemic because they don't attend school enough; hence, they are not familiar with writing.
As a matter of fact, in early August 2021, the department has planned to conduct training for teachers to create video clips for students and parents to support students during the beginning of the school year. In addition, the online teaching content will be designed with a focus on basic knowledge so students can understand as quickly as they can.
Standing Vice Chairman of Can Tho City People's Committee Duong Tan Hien said that due to the impact of the Covid-19 epidemic, the preparation for the new school year in Can Tho city faced many difficulties.
Specifically, several schools are currently being used as isolation facilities and the city has to wait for the epidemic to abate and disinfect facilities before the new academic year. Last but not least, Can Tho City has been implementing Directive 16 for months, many parents are unable to buy books for their children.
Can Tho City authority planned to start the new school year on September 5 and start online learning from September 6 while students of preschool and primary school will attend the offline classes if the pandemic is under control.
Viettel operates two innovation labs
The Viettel Military Industry and Telecoms Group (Viettel) on August 23 put into operation two innovation labs equipped with the most modern 4.0 technology in Southeast Asia, based in Hanoi and Ho Chi Minh City.
Viettel Deputy General Director Tao Duc Thang said the Viettel Innovation Labs are a venue to nurture new technology and community connectivity ideas, towards stepping up digital transformation in Vietnam. They are also a bridge for IT communities both at home and abroad to share expertise and cooperate in the field of 4.0 technology.
With 5G, Internet-of-Things (IoT), cloud, big data and artificial intelligence equipment, the labs also have the most modern network infrastructure, including super-high-speed and super-low latency 5G connectivity, NB-IoT and LTE-M connectivity for IoT equipment, and the latest technologies from Qualcomm, Ericsson, Intel, and others.
According to the Global System for Mobile Communications Association, the Viettel Innovation Labs reach the highest standard of an international-standard lab, including connectivity infrastructure, development kit sets and app development environment with servers and platforms.
As open labs, Viettel allows IT firms, scientists and students with good solutions to use all of their equipment there for free.
With the launch of the Viettel Innovation Labs, Viettel has become the 23rd telecom provider in the world to launch both 5G and IoT network and labs./.
HCM City approves $112m COVID support package for needy, quick disbursement expected
The HCM City People's Committee has approved an additional COVID-19 support package worth nearly VNĐ2.6 trillion (US$112.3 million) targeted at more than one million poor workers and 600,000 self-employed workers' families.
Of the amount, VNĐ1.6 trillion ($69.8 million) is meant for the former and the rest for the latter.
Both permanent and temporary residents will benefit, and regardless of occupation.
Authorities plan to disburse the relief amount quickly, with each family expected to receive VNĐ1.5 million ($65.4).
Local officials have been told to ensure the money is delivered in time and to the right people, and that no one is missed out.
The People's Committee has instructed the people's committees of all 21 districts and Thủ Đức city to not wait for the funds and use their own funds in the meantime.
The city is already providing essential items to people in need of support to cope with the pandemic amid the social distancing.
Each package that is distributed to them contains 10kg of rice, instant noodles, cooking oil, fish sauce, salt, sugar, and face masks.
Tens of thousands of packages will be distributed across the city.
Religious volunteers in fight against COVID-19 honoured
A ceremony was held in Ho Chi Minh City on August 23 to welcome and honour 91 religious volunteers who have completed their tasks of supporting COVID-19 prevention and control at COVID-19 treatment hospitals in the city.
To Thi Bich Chau, Chairwoman of the Vietnam Fatherland Front (VFF) Committee in Ho Chi Minh City, thanked the volunteers for voluntarily joining frontliners in the fight against the pandemic.
Chau emphasised that the pioneering and voluntary spirit of the volunteers has spread widely and there have been many other dignitaries and followers of different religions volunteering to support frontliners in the fight.
The 91 religious volunteers were among the first volunteers who started supporting the frontliners on July 22, serving at the COVID-19 Intensive Care Hospital, and temporary COVID-19 treatment hospitals No.10 and No.12.
To date, a total of 500 volunteers of different religious groups have taken part in COVID-19 prevention and control on the frontline of the fight against the pandemic./.
HCM City issues urgent directive on pandemic prevention, residents not allowed to go out to buy food
HCM City authorities issued an urgent Directive No 11 on COVID-19 prevention on Sunday), following the Government's order to impose its toughest-ever measures beginning today (August 23) that require "everyone to stay at home" and not go out to buy food.
"No one, including those living in "green" zones, is allowed to go out to buy food," Nguyễn Thành Phong, chairman of the People's Committee, said.
Directive No 11 requires authorities of all districts and Thủ Đức City to strictly impose all preventive measures so that the outbreak can be controlled by September 15.
Previously, the city said that households in a green (COVID-19 free area) or orange zone would be allowed to go out once a week to buy food. But the city has changed the rule.
The city has classified all 312 communes or wards in three levels: green zone (free-COVID zone), orange zone (high-risk zone) or red zone (extremely high-risk zone). The goal is to maintain and expand the green zones while isolating and reducing the red and orange zones.
To ensure food supply, the city has set up special working groups in wards, communes and townships to help buy food and essential goods on behalf of residents and deliver them to their door.
Phong said the city's 312 wards, communes and towns, as well as factories and enterprises, play a key role in the prevention measures.
The directive also requires enhanced inspection of people on city streets. They must have a travel paper issued by appropriate agencies or an authentic identification badge.
The city requires "thorough isolation between people, families, wards and communes". The strict measures aim to protect the health of everyone in the city, according to Phong. "Every citizen plays a major role in the fight against the pandemic."
The city will continue to provide up to two million social welfare packages (rice, vegetables, cooking oil and spices for one week) to the poor, and will prepare nutritious meals for disadvantaged COVID-19 patients.
Tests for everyone
Phong said the city would test the entire population during the two-week stay-at-home period. The COVID-19 testing, to be undertaken under the guidance of the Ministry of Health, is being done to isolate and treat COVID patients in a timely manner.
The city will also continue to speed ​​up its vaccination schedule.
It has asked the city Department of Health to work with districts to set up mobile vaccination teams fully equipped with protective equipment and clothing to go to "red" and "orange" zones. People living in these areas will go to their nearest mobile unit for their vaccination.
Phong has warned heads of agencies and district authorities (such as chairpersons of people's committees of Thủ Đức City and city districts) and businesses that they will be held responsible for violations of pandemic prevention regulations.
The strict prevention measures will last until at least September 6. Military forces have been mobilised to help supply food and essential items for people so that no one lacks food.
The city aims to contain the outbreak by September 15.
HCM City residents can check the status of their neighbourhood on the following pandemic map from city authorities: https://bando.tphcm.gov.vn/ogis/ (English available).
By August 27, the city will set up an additional 400 mobile medical stations each equipped with medicine, 3-5 oxygen tanks, SpO2 (oxygen) metres, and quick-test equipment.
The city has also ordered strict punishment of anyone who distributes false or misleading information about pandemic prevention measures, causing panic or confusion in the community.
HCM City has recorded more than 176,000 cases since late April when the fourth wave began.
Medical workers nationwide helping HCM City's COVID-19 fight
Thousands of medical workers have headed to Ho Chi Minh City and worked around the clock to help the southern hub win its battle against the country's worst COVID-19 outbreak so far. Enduring dangers and hardship, they have carried on regardless, with a dogged determination that "we will return home when the pandemic is stamped out".
Thousands of doctors and medical workers from Hanoi, and Thua Thien Hue, Nghe An and Ninh Binh provinces have stood shoulder-to-shoulder with Ho Chi Minh City frontliners in the fight against COVID-19.
Workers and advanced medical supplies have been transferred to Ho Chi Minh City to tackle the daily brunt of rising COVID-19 cases and fatalities.
Timely support from colleagues nationwide has built up the strength of medical frontliners in Ho Chi Minh City, who are nearly worn out from their efforts so far.
The "white coat" soldiers have made concerted efforts in the battle against COVID-19, to ensure the health and lives of local people. They will be here until the pandemic is brought under control./.
Tien Giang poverty mitigation efforts prove highly effective
Many impoverished households in the Cửu Long (Mekong) Delta province of Tiền Giang have benefited from soft loans through poverty alleviation programmes and escaped poverty.
The Việt Nam Bank for Social Policies' (VBSP) Tiền Giang branch has collaborated with the province Women's Union, Farmers Association and other organisations to lend to disadvantaged people to grow crops, breed animals or aquatic species and carry on production under various programmes in recent years.
The Farmers Association has set up 1,263 loan and savings groups to get soft loans for its members, especially needy ones, and 35,775 members have got loans worth a total of VNĐ1.3 trillion (US$56.8 million) in this manner.
In Châu Thành District, the local Farmers Association has helped 7,110 members get loans, and has also taught them advanced farming techniques to improve farming efficiency.
Võ Văn Khang, chairman of the Châu Thành People's Committee, said these and implementation of the district's competition for excellent farmers have helped thousands of rural labourers find jobs and earn a regular income, thus escaping poverty.
The competition honours farmers who achieve outstanding results.
The Women's Union has helped more than 2,700 poor members get loans worth a total of VNĐ80.2 billion ($3.5 million) from VBSP Tiền Giang this year.
In 2016 – 20 the branch provided loans worth a total of VNĐ2.4 trillion ($105 million) to 120,274 poor and near – poor households through the province's 12 poverty mitigation programmes.
The province has provided free health insurance cards to poor and near poor people, those who live in disadvantaged communes, work in the agricultural sector, or are slightly better off than near-poor people.
In 2016 – 20 it spent more than VNĐ3.4 trillion ($148 million) on support policies for the poor, and managed to reduce its poverty rate in the period from 5.87 per cent to 3 per cent.
It targets reducing it to 1.67 per cent this year.
To achieve the target, it will assess impoverished households to ensure there are proper support policies, according to the People's Committee.
It would focus on programmes for supporting needy people carry on production and other businesses, diversify their livelihoods and acquire housing.
Disadvantaged people who lack resources to grow crops or raise animals would be offered loans, and those seeking jobs would get help with finding one locally and even overseas, it said.
Military pitches in to support HCM City with COVID prevention
More than 35,000 militia members and self-defence troops from the Military Region 7 and Army Corps 4 have arrived in HCM City to help with COVID-19 prevention efforts during the two weeks of social distancing starting on Monday.
They are supporting the police at checkpoints in 312 wards and communes to ensure that no one goes out on the streets except for legitimate reasons.
A police officer at the An Sương checkpoint in District 12 told Việt Nam News Agency that most people who passed through the checkpoint in the morning  were medical workers or people going out for vaccination.
Some delivery people not allowed to work in District 12 were ordered to return, he said.
The troops also help deliver food and groceries to people and provide medical support in emergency cases.
The Tây Nguyên (Central Highlands) Mobile Police Regiment has sent more than 300 officers to the city, and they manned 12 checkpoints on the borders with Long An, Bình Dương, Đồng Nai, and Tây Ninh provinces.
According to the city People's Committee, the military and police personnel will help community-based COVID-prevention groups and volunteers shop and deliver food to people once a week between August 23 and September 6
People can register and pay for their food through support teams at their residential zones.
Needy and COVID-affected people will receive food and other essential goods for free from the city.
The People's Committee has instructed the Department of Trade and Industry and large supermarket chains like Co.opmart, Lotte, Bách Hóa Xanh, and Vinmart to work with authorities in all 21 districts and Thủ Đức City to ensure distribution of goods.
According to city statistics, the population is nearly 9.4 million, and the average daily consumption is 10,964 tonnes of rice, meat, fruits, vegetables, and processes foods.
Council reviews list of nominations for amnesty in 2021
The Central Advisory Council on Amnesty (CACA) convened a meeting on August 23 to review the list of inmates nominated for amnesty on a case-by-case basis before it is submitted to President Nguyen Xuan Phuc for approval.
The meeting was presided over by Deputy Prime Minister Pham Binh Minh, who is chairman of the CACA.
The upcoming amnesty granting will be the first since the 2018 Law on Amnesty was adopted, Minh said, noting that the CACA carries a heavy responsibility in checking records and reviewing all amnesty applications and making sure that the amnesty will be granted to qualified prisoners and through a fair and transparent process.
The council must also work to make the amnesty plan go as scheduled and with COVID-19 prevention and control regulations taken into account, he added.
Deputy Minister of Public Security Le Quoc Hung, who is a CACA permanent member, said the Ministry of Public Security has organised training courses for officers responsible for the work while promptly reviewing amnesty applicants in a transparent manner to ensure their eligibility.
Law enforcement, district-level public security units and detention centres are making all possible efforts to implement the amnesty plan and advise local administrations to help freed prisoners reintegrate into the society and avoid relapse into crime.
Statistics showed that the State has conducted seven rounds of amnesty from 2009 to 2016, benefitting a total of 87,111 inmates. The rate of relapse into crime among amnesty beneficiaries was reportedly at 1.18 percent during the period./.
Deputy PM urges recovered COVID patients to join frontlines
Deputy Prime Minister Vũ Đức Đam has called on people, especially those in HCM City, who have recovered from COVID-19 to volunteer to work on the frontlines with medical workers.
Đam, also head of the National Steering Committee on Covid-19 prevention and control, said they could register with community COVID teams in 312 communes, wards and townships.
The city is treating 34,605 ​​patients as of Sunday, including 2,131 children under 16, 2,442 critically ill patients on ventilators and 19 others requiring ECMO intervention, he said.
According to a recent report by the HCM City human resource co-ordination team for pandemic prevention and control, there is a shortage of some 12,000 medical workers.
As of January 1 more than 87,800 patients were treated and discharged from hospitals in the city, and they should be used to reduce the pressure on medical staff, Đam said.
According to Dr Nguyễn Trung Cấp, deputy director of the National Hospital for Tropical Diseases, admitted there are few studies yet on re-infection.
According to a study of more than 20,000 healthcare workers in the UK, titled SARS-CoV-2 Immunity and Reinfection Evaluation, most people who recover from COVID are likely to be immune for several months afterwards.
It concluded that immune responses from past infections reduce the risk of catching the virus again by 83 per cent for at least five months.
Another study by the US' University of Missouri School of Medicine found that COVID reinfection is 0.7 per cent and in an average time of 116 days.
In fact, many medical workers were infected with SARS-CoV-2. After being given the all-clear, they resumed working at COVID-19 treatment areas and volunteered to do work that posed high risk of infection.
The reinfection rate is low, but it is still possible, and recovered patients are also recommended to take preventive measures and get vaccinated as soon as possible.
Fully vaccinated people who also face fewer risks of infection should also participate in frontline work to help reduce the burden on medical workers, he said.
Japanese people cheer on Vietnamese athletes with disabilities
Vietnamese athletes with disabilities have received enthusiastic support from the mayor and residents of Kokubunji city, Tokyo – one of the "host town" of Vietnam at the Paralympics as there is one more day left before the beginning of the Tokyo 2020 Paralympic Games (Tokyo Paralympics).
Kunio Izawa, Mayor of Kokubunji, said that he would like to send his warmest and deepest wishes to the Vietnamese athletes on behalf of Kokubunji city.
He also said he hopes the players work hard and win medals, bringing glory to the country, adding that Kokubunji and the youth of the city always support them.
Talking to Vietnam News Agency correspondents in Tokyo on the decision to register as a "host town" of Vietnam, Izawa said he has gone to Vietnam and found that it is a beautiful country of friendly people.
'Besides, Vietnam and Japan have a good friendship. Therefore, we want to cheer for the Vietnamese sports delegation at the Tokyo 2020 Paralympic Games," he said.
Located in the west of Tokyo, Kokubunji is one of the "host cities" of Vietnam at both the Olympic and Paralympic Games Tokyo 2020.
In October 2019, Kokubunji signed a memorandum of understanding with Vietnam's General Department of Sports and Physical Training on the reception of Vietnamese athletes with disabilities on training relating to swimming before the Paralympics. However, due to the COVID-19 outbreak, the city was unable to welcome Vietnamese athletes as originally planned.
Ueda Yuta, a resident of Kokubunji city, said he has a lot of Vietnamese colleagues and also many friends in Vietnam.
"This time, Kokubunji registered as the host city of the Vietnamese sports delegation. As a citizen of Kokubunji city, I come here to wish to contribute to support the Vietnamese sports delegation participating in this Paralympics," he said.
The Tokyo Paralympics is to be held from August 24 to September 5 with the participation of 4,400 athletes from 160 countries and territories around the world.
The Vietnamese athletes will compete in three sports – weightlifting, swimming, and athletics. The Vietnamese swimmers will compete on August 25, while the weightlifters will have their first game on August 26, and the track and field athletes will begin on August 27./.
Defence ministry hands over 30 ambulances to support HCM City's COVID-19 fight
The Ho Chi Minh City High Command on August 23 handed over 30 ambulances from the Ministry of National Defence to support HCM City in strengthening COVID-19 prevention and control.
The vehicles will be allocated to 115 Emergency Centre and COVID-19 treatment hospitals in the city.
Speaking at the event, Colonel Pham Van Ram, Deputy Commander of the Ho Chi Minh City High Command, said that given complicated developments of the COVID-19 pandemic in HCM City, the ministry in general and the armed forces of the city high command will always promote the good tradition of Uncle Ho's soldiers, making efforts to join hands with the city in the fight against the COVID-19.
The handover of 30 ambulances will contribute to supporting medical examination and treatment, reducing the overload for the health sector in pandemic prevention and control, ensuring health and life for the people as well as helping the city in repelling the COVID-19 pandemic soon.
Colonel Pham Van Ram, Deputy Commander of the Ho Chi Minh City High Command (right) and Tang Chi Thuong, deputy director of the municipal Health Department, at the handover ceremony. (Photo: VNA)
Over the past time, the department has received support from the Ho Chi Minh City High Command, especially in deploying and ensuring the operation of 16 COVID-19 treatment facilities, he said.
On August 22, military medical groups arrived to work at mobile health stations across the city to participate in testing and treating COVID-19 patients./.
Binh Phuoc releases rare animals back into the wild
The animal rescue, conservation and development centre at the Bu Gia Map National Park has cooperated with the park's forest ranger force and the Bu Gia Map – Phuoc Long Forest Protection Department to release six animals to their natural habitat.
Accordingly, two buff-cheeked gibbons (Nomascus annamensis), one otter, two northern pig-tailed macaques (macaca leonina) and one red-faced monkey were released back into the wild. Among them, one pig-tailed macaque was released for the second time. It was kept in captivity since very young, and has lost most of its wild instincts.
The centre said these animals were handed over by local people and were cared for by the Center in a semi-wild environment for the past several months. After their release, the centre will continue to monitor them.
Buff-cheeked gibbon, pig-tailed macaque, red-faced monkey, and otter have been included in the Vietnam Red Book 2000 and the list of species that need protection by the forestry sector./.
Military emulation movement aims to join hands in stamping out COVID-19
The Central Military Commission and the Ministry of National Defence held an online ceremony on August 23 to launch a special emulation movement on COVID-19 prevention and control in the online form with the participation of 4,500 military officers and soldiers nationwide.
The movement, themed "The military joins hands with the whole nation to fight and win COVID-19 pandemic," is part of efforts of the armed forces in response to Party General Secretary Nguyen Phu Trong's call for engagement in the pandemic fight.
Addressing the event, General Luong Cuong, member of the Central Military Commission's Standing Board, Chairman of the General Department of Politics of the Vietnam People's Army and head of the ministry's Emulation-Reward Council, said that since COVID-19 broke out in the country, the military have formed more than 1,900 pandemic combat teams and checkpoints engaging over 13,000 officers and soldiers, tightly controlling the land and sea border and preventing illegal entry and exit.
Ten field hospitals and one medical centre have been set up to receive and treat COVID-19 patients, while one military-civil hospital was switched to a COVID-19 treatment hospital, he said, adding that the military has donated 510 billion VND (22.4 million USD) to the national COVID-19 vaccine fund, and engaged in vaccine transport to localities and spraying disinfectants in thousands of pandemic-hit areas.
In the time to come, the commission and the ministry will focus on strengthening leadership over the implementation of directions in COVID-19 prevention and control, considering it a combat mission in the current period, he said.
General Cuong underlined that the military is determined to take the lead in taking part in and completing the task of pandemic prevention and control, while coordinating with localities in dealing with their difficulties, taking care of COVID-19 patients and preparing plans against the pandemic.
Along with the emulation movement in COVID-19 prevention and control, military agencies and units will continue implementing other movements such as those in training, scientific research and production.
On behalf of military officers and soldiers, Major General Nguyen Truong Thang, member of the Party Central Committee and Commander of Military Region 7 affirmed the determination to show strong performance in the special movement, contributing to stamping out the pandemic soon, bringing the country to a new normal situation.
Thanh Hoa promotes cultural heritage values through tourism
The central province of Thanh Hoa, home to a large number of tangible and intangible heritage including various traditional festivals, is rolling out practical measures to combine tourism development with the preservation and promotion of the heritages' values.
Over the years, together with efforts in boosting socio-economic development, the province has given great attention to the promotion of cultural values.
The restoration and preservation of traditional festivals, folk games, songs and dances have been carried out effectively with positive outcomes. Many festivals have become common cultural practices of local residents.
At the same time, many festivals and folk games of local ethnic minority groups such as Thai and Muong have been revived.
However, the effectiveness of the exploitation of the heritage to make them an important resource for the locality's development has yet to meet Thanh Hoa's expectations.
In this context, Thanh Hoa has focused on choosing, investing in and promoting a number of typical traditional festival and unique folk cultural practices with the aim to turn them into its special tourism products, under a project approved recently by the provincial People's Committee, to serve tourism development.
The province has chosen three festivals at provincial level and five at district level for promotion, aiming to form and supplement Thanh Hoa tourism products and trademark.
The three provincial-level festivals selected for the purpose are Lam Kinh, Ba Trieu and Le Hoan festivals, while the five festivals at district levels are "Mau Tam phu" (Tam Phu Mother Goddess) Festival, Am Tien-Phu Nua Festivals, Dong Co Temple Festival, Mai An Tiem Festival, and Cau Ngu (whale worship) Festival of coastal localities.
Among the provincial-level festival is Le Hoan Festival, which is held annually on the 7th, 8th and 9th day of the third lunar month at Le Hoan historical relic site and temple in Xuan Lap commune of Tho Xuan district to commemorate Le Hoan, posthumous name Dai Hanh Hoang De (Emperor Dai Hanh), who was born in 941 in Trung Lap village in the area which is now Xuan Lap commune.
He founded the Early Le Dynasty and continued the unfinished national construction process of King Dinh Bo Linh, also known by his posthumous name Dinh Tien Hoang, so as to build a strong Dai Co Viet – the first centralised feudal state of Vietnam – in the 10th century.
During the 24 years under Le Hoan's reign, the country was in peace while people enjoyed a happy life thanks to unprecedented reforms.
To pay tribute to Le Hoan, local residents built a temple in his hometown in Trung Lap village of Xuan Lap commune.
Meanwhile, Cau Ngu Festival is held in the second lunar month each year in Hau Loc district, Nghi Son town and Sam Son city.
At the same time, the province will also restore and promote six unique folk cultural practices to perform in tourist sites to serve visitors.
Furthermore, six new festivals will be organised, with the expectation that they will become major tourist destinations – Phu Trinh Temple Festival, Lang Mieu Trieu Tuong (Trieu Tuong Tomb) Festival, Trong Mai love festival, Ho Citadel Heritage Festival, Dan Te Nam Giao (Nam Giao altar) Festival, and Huong sac vung cao (mountainous beauty) Festival.
However, experts held that in order to implement the scheme in an effective manner, it is necessary for Thanh Hoa to design suitable mechanisms and policies, especially those in developing infrastructure system in tourist sites and festival sites to ensure best services for visitors. At the same time, suitable management mechanisms should be made for particular festivals as well as the connection of tourism routes in the provinces and in the whole regions.
Alongside, Thanh Hoa should work harder to promote the role of folk artisans in transferring their knowledge in traditional culture to younger generations, while developing human resources for festival tourism activities, and calling for the engagement of the community in the implementation of the scheme./.
Ninh Thuan to expand protection-forest cover
The south-central province of Ninh Thuan this year plans to increase its forest-cover rate to nearly 50 percent, including 330 hectares of new special-use forest and protection-forest planted in response to climate change.
The province targets restoring 4,000ha of damaged forest and 71,400ha of forest under forest-protection contracts this year.
Promoting forest protection and development plays an important role in protecting water and soil resources, preventing erosion, limiting the impact of natural disasters, conserving biodiversity, and maintaining natural habitats.
The province has 116,172 ha of protective forest land, accounting for 59 percent of its entire forest land. Of the figure, more than 30,192ha of land has no trees.
The province is focusing on afforestation, and management of protection- and special-use forests.
Training courses in forest-fire prevention and fighting have been offered to local households responsible for protecting planted forests.
The province has in recent years detected and handled many cases involving illegal forest exploitation and forest land encroachment.
It has been growing drought-resistant trees with high economic value such as trom (Sterculia foetida), thanh that (Ailanthus triphysa), muong den (Senna siamea) and keo lai (Acacia mangium x Acacia auriculaeformis) in protection and special-use forests.
The quality of local forests has improved, with poor forest areas restored and forest cover increased.
Barren land and bare hills are now covered with trees. For example, thanh that trees which can adapt to a dry climate have been planted on more than 650ha of rocky mountains in Thuan Nam district's coastal areas for protection forests since 2015.
Le Xuan Hoa, deputy head of the district's Protective Forest Management Board, said the planting of thanh that trees was supported by the JICA 2 afforestation project under the Vietnam's Support Programme to Respond to Climate Change (SP-RCC).
Many trees are now 2.5-3m in height and will cover the rocky mountains in the next 10 years.
The province has also allocated forest land to local households for protection under contracts. On average, each local household receives about 30ha of forest to protect under a forest protection contract for 400,000 VND (17.4 USD) per hectare each year.
Since 2016, local households have used additional income earned from forest protection contracts to develop forest-linked livelihoods such as breeding cows, goats and sheep, and planting more than 22,500 fruit trees. The department is expanding these effective forest-linked livelihood models.
However, forest management faces many challenges, including financial constraints and various policies.
The province regularly experiences dry and hot weather that significantly impacts forest fire prevention and control, and afforestation.
Dangerous terrain also causes problems for forest management and protection, according to the director.
Dang Kim Cuong, director of the provincical Department of Agriculture and Rural Development, said the department would continue to raise the awareness of local residents about the importance of protection forests as well as legal regulations.
It is also continuing sustainable forestry development to help local residents earn additional income by participating in forest protection under signed contracts.
Programmes on how to plant special-use, replacement and protection forests are also being strengthened.
Better coordination among forest-prevention forces, armed forces, local authorities and residents is also being implemented./.
More artists release music videos to help COVID-19 fight
Vietnamese artists have joined the national effort to fight the ravages of COVID-19 by releasing music videos to encourage people in Ho Chi Minh City – the country's largest hotspot.
Phuoc, who studied at the Conservatory of Ho Chi Minh City for nearly 30 years, said he wants to offer encouragement to local people during these tough times. He believes that besides the hot and wet seasons, Ho Chi Minh City also has a "love season", since he has seen people acting in solidarity and supporting each over to overcome the challenges posed by the pandemic.
Treasuring every single street in the city, he hopes the pandemic can be stamped out and that life will soon return to normal.
Meanwhile, 25 artists have performed in a four-minute video called "Xit con" (alcohol spray) from director Chanh Truc and musician Van Tu Quy, to raise public awareness about pandemic prevention measures.
Its jaunty tune gives the video a positive vibe, helping local people relax during these troubled days. It was made in just 24 hours./.
Source: VNA/VNS/VOV/VIR/SGT/SGGP/Nhan Dan/Hanoitimes
VIETNAM NEWS HEADLINES AUGUST 24 have 8159 words, post on vietnamnet.vn at August 24, 2021. This is cached page on Talk Vietnam. If you want remove this page, please contact us.