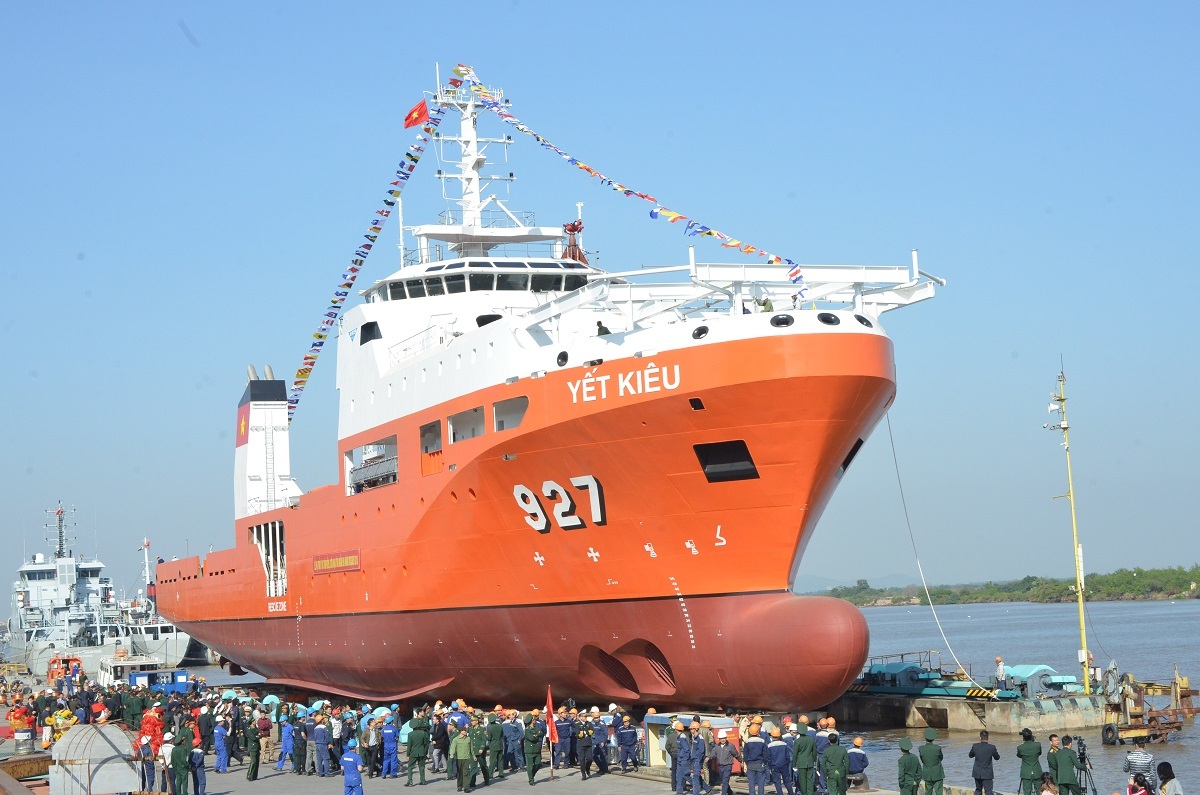 The 927-Yet Kieu vessel.
In the northern port city of Hai Phong, the Z189 factory under the General Department of Defense Industry on July 31 handed over the multi-purpose submarine search and rescue vessel MSSARS 9316 or 927-Yet Kieu to the Vietnam Navy.
This is a new generation rescue ship, performing submarine rescue missions with specialized equipment with outstanding features such as coordinate detection, intercom phone and diving robot connected to the submarine to rescue sailors when their ships meet in accident.
Vessels can locate and anchor wirelessly in complex weather conditions. The vessel has a length of nearly 100m, a width of 16m and a side height of 7.2m, with a displacement of up to 3,950 tons. It is equipped with modern devices, and can operate continuously at sea 30 days and nights. It is capable of withstanding waves of level 9 and wind of level 12.
The building of 927-Yet Kieu was started in mid-2018. During the construction process, Z189 factory strictly followed the technological process under the strict supervision of the investor.
The ship has been technically accepted by the Acceptance Council of the Ministry of Defense and the Navy.
This ship was built to meet the urgent requirements of search and rescue missions for submarines, surface ships, and survey, study the seabed, and search, rescue and fishing out underwater objects and perform other assigned tasks.
Successfully building a multi-purpose submarine rescue ship has demonstrated the capacity of Vietnam's defense industry in accessing and mastering modern shipbuilding technology, meeting the tasks and goals of modernization of the defense industry.
Tran Thuong
Vietnam Navy receives Yet Kieu multi-purpose vessel have 442 words, post on vietnamnet.vn at August 2, 2021. This is cached page on Talk Vietnam. If you want remove this page, please contact us.