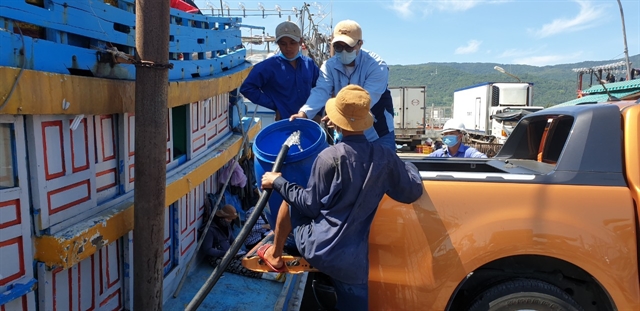 A Bioresearch team collects waste water from a fishing boat at Thọ Quang fishing port in Đà Nãng for treatment. Photo courtesy of Trần Minh Thảo
ĐÀ NẴNG – A group of bio-researchers at Đà Nẵng's technology and education university have started a bio-based waste treatment project using water released from fishing boats at Thọ Quang Dock, promising 98 per cent of pollutants will be purified for releasing qualified waste water under Việt Nam standards.
Head of the team, Trần Minh Thảo said the group began the environment-friendly non-chemical treatment from early this year for official operation in October.
He said it was the first time ever the bio treatment was used at the decade-long hotspot pollution site in the tourism hub.
The team said at least 200cu.m of waste water from fishing vessels docking at the port will be collected for cleaning by biological treatment each day.
Thảo said waste water from fishing boats, which contained much organic waste from cold storage mixed with fuel tank oil, used to discharge directly to the dock after sea trips, but the poor waste water activities will end with the introduction of the treatment system.
He said the biological treatment solution was part of the city's upgraded fishing port project in 2020-25.
Deputy head of the port's management board, Phạm Thành Trung, said the port, which was designed for 400 boats, had been overloaded with more than 2,000 boats, and was heavily polluted from untreated waste water and garbage dumped from boats after fishing trips.
He said 70 per cent of vessels docking at the port were from neighbouring provinces, and at least 1,700 tonnes of solid waste was cleaned by the port's staff each year, not including waste water and pollutant dumping from boatmen and shipping yards in the port.
Meanwhile, the dock became more polluted by sediment in the untreated waste water, he added.
Director of the city's nature resources and environment department Tô Văn Hùng said a total VNĐ27 billion (US$1.17 million) had been allocated for upgrading the port in 2020-25.
The project will include dredging 350,000cu.m of sludge and sediment from the port for discharging into the sea of Đà Nẵng.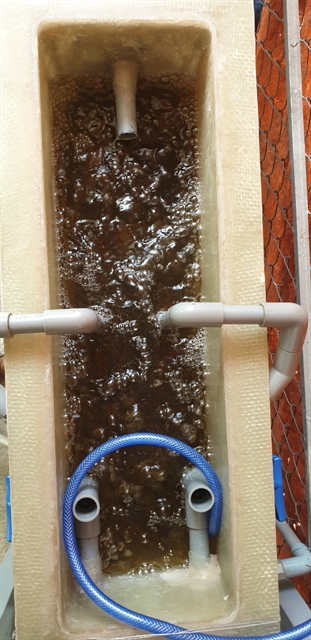 Waste water is processed at a biological treatment system at a laboratory in Đà Nẵng.
According to the port's managing board, Thọ Quang fishing port, which opened 13 years ago, was downgraded and overloaded with more boats arriving from the central region and other provinces.
The 58ha port – the biggest fishing dock in the central region – can handle more than 17,000 fishing trawlers and 130,000 tonnes of fish and seafood worth VNĐ6 trillion ($261 million) per year.
It shelters 2,000 fishing boats, three times more than its capacity, and even 4,000 boats dock during storm season.
The port is visited by 3,000 fishermen and traders each day, while 23 seafood processing plants and 11 shipyards are located there.
Despite spending VNĐ600 million cleaning rubbish at the port, solid waste have still polluted the land and water for years. — VNS
Thọ Quang fishing port begins waste water treatment have 662 words, post on vietnamnews.vn at August 13, 2021. This is cached page on Talk Vietnam. If you want remove this page, please contact us.