The health ministry on Monday asks HCM City-based biopharmaceutical company Nanogen, developer of the Vietnamese COVID-19 vaccine Nano Covax, to submit results of phase 2 and initial phase 3 trials to be reviewed for emergency approval.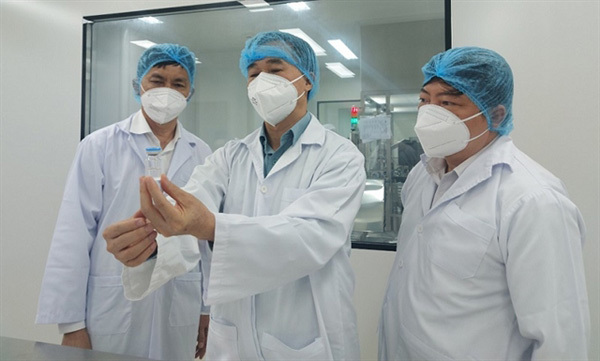 Deputy Health Minister Tran Van Thuan (middle) inspects a vial of Nano Covax, the frontrunner of the Vietnamese COVID-19 vaccine. — Photo from the Ministry of Health
Deputy Health Minister Tran Van Thuan, leader of the ministry's special task force on clinical trials and development of COVID-19 vaccines, made the request during a progress meeting with experts, as the country deals with a severe fourth wave of infections while vaccine supply is still limited amid a global shortage.
The meeting included leaders of the Department of Science and Technology-Training (under the health ministry), the Military Medical Academy, the National Institute of Hygiene and Epidemiology, and the Pasteur Institute in HCM City and was held to review the current progress and find ways to facilitate the clinical trials and push for reports on data of phase 1, 2, 3 (a, b) of the Nano Covax vaccine.
Phase 3 trials are being conducted with 13,000 volunteers, divided into two phases, 3a with 1,000 people and 3b with 12,000 people.
13,000 first doses in phase 3 have been administered, with the second dose expected to be completed before mid-August, according to the company.
Surrogate virus neutralisation tests (sVNT) for the 1,000 people involved in phase 3a, revealed 100 per cent production of neutralising antibodies at levels higher than 30 per cent, but further monitoring is needed.
In tandem with applying for conditional approval for emergency use, Nanogen is also requesting the health ministry to consider phase 3c trials, which would involve 500,000 to 1 million volunteers. Trials of the vaccine on children 12-18 years old would be conducted once the full approval is obtained.
Deputy Minister Thuan said the ministry is anticipating the domestically researched and manufactured COVID-19 vaccine will help protect the health and lives of the Vietnamese people, be more proactive in vaccine rollout and reduce dependency on foreign vaccine imports.
"The good news is the [Nano Covax] vaccine seems to be safe and can elicit high level of [SARS-CoV-2] neutralising antibodies," he said. "But we have not yet had enough data on the protective properties of the vaccine, more time and more study is needed."
The Ministry of Health has always supported and created the most favourable conditions for companies and individuals to participate in the production of COVID-19 vaccines, having mobilised many industry-leading scientists in the country's to participate in the assessment of vaccines.
The health official wants Nanogen to submit a report on research results for phase 2 and initial phase 3, so that the National Ethics Committee in Biomedical Research could start evaluation for emergency approval for Nano Covax.
Source: Vietnam News
Health ministry told Nanogen to submit human trials data to health ministry before August 15 for reviews have 694 words, post on vietnamnet.vn at August 3, 2021. This is cached page on Talk Vietnam. If you want remove this page, please contact us.