Eleven associations have asked to give priority to workers at enterprises to maintain production.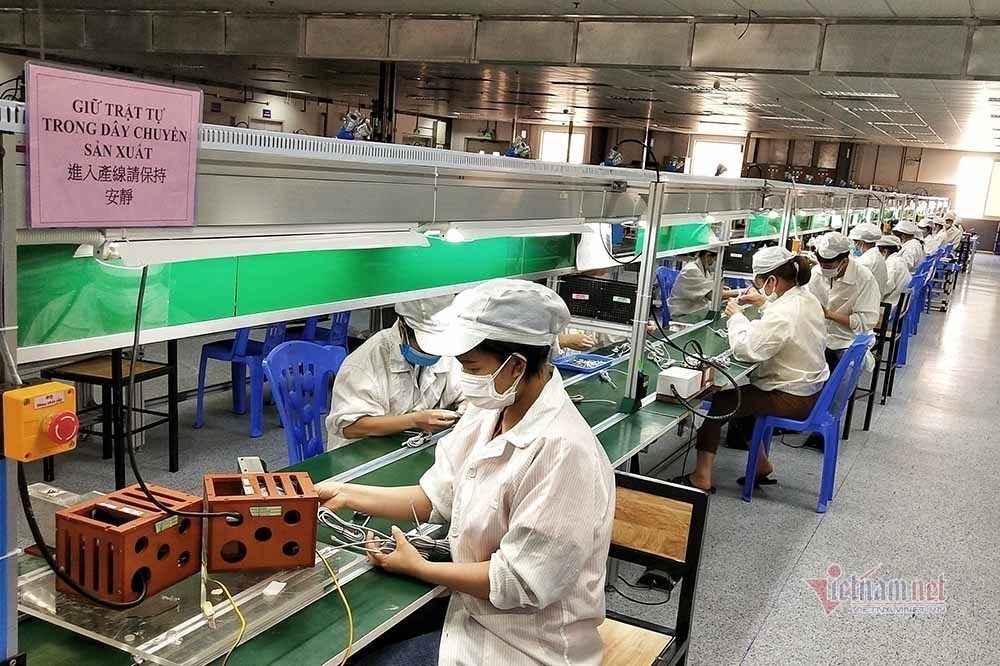 The Ministry of Industry and Trade (MOIT) on July 27 sent an urgent document to the PM, asking the Government to release a 'list of goods banned from circulation' instead of the 'list of essential goods' allowed to be circulated during the social distancing time under Directive 16.
The proposal was made following a request from 11 professional associations after discussion with the Vietnam Industry Agency (VIA) under MOIT at a meeting on July 22.
The fourth outbreak has occurred mostly in provinces with high numbers of Industrial Zones (IZs) and manufacturing enterprises. The number of community transmitted Covid-19 infections in IZs and factories alone is high enough to interrupt production activities. Many enterprises have had to halt their production, which will affect product delivery plans.
Meanwhile, goods circulation control and the regulations on 'essential goods' are different under the Prime Minister's Directive 16.
Only trucks with essential goods are allowed to travel during the social distancing period. Vehicles must have QR codes when traveling through HCM City's gateways and other provinces.
Drinks, for example, are not listed as 'essential goods', therefore, they cannot be carried to sale agents. Drinks have a short shelf life, just 2-3 months. If the pandemic lasts a long time, the products will expire, seriously affecting drink manufacturers' business results.

Drinks are not listed as 'essential goods', therefore, they cannot be carried to sale agents. Drinks have a short shelf life, just 2-3 months. If the pandemic lasts a long time, the products will expire, seriously affecting drink manufacturers' business results.
Dairy products are considered 'essential goods' in some provinces, but not in other provinces. As a result, dairy producers cannot deliver products to sale agents.
When localities and provinces apply different regulations for social distancing, enterprises suffer.
Export companies keep complaining about the customs declaration procedures and the congestion at ports.
Some of them said they have to go to the Passing buoy No 0 to put goods on board, not at ports, because of the delay in delivery. The strict control by provinces and inconsistent regulations of customs agencies have caused difficulties for enterprises, especially those making products that need strict preservation conditions and have a short shelf life.
The 11 associations said their members have suffered heavily from the supply chain disruption, leading to an interruption in cash flow and financial pressure.
Businesses want vaccines
The Vietnam Industry Agency warned that if there are no measures to help enterprises maintain production, clients will cancel orders. It will be difficult to re-establish business relations with clients after the pandemic.
At a meeting with VIA recently, 11 professional associations, including associations of automobile manufacturers, textile and garment, and dairy producers, measures were proposed to ease difficulties for enterprises.
The workers in the logistics industry should be a higher priority in the list of workers for vaccination, because the industry plays an important role in ensuring the smooth circulation of goods.
Local authorities have been asked to include drinks and dairy products, materials and services (including maintenance and repair) that serve the the processing and manufacturing industry on the list of essential goods and services.
Enterprises are also seeking permission to apply flexible working hours during the pandemic, to set the number of a higher number of extra working hours within a month, more than regulated, provided that the total extra working hours within a year is not higher than regulated.
To ease financial pressure on enterprises and create favorable conditions to restore production and business activities, provinces have been asked to delay plans to raise land rent.
The associations asked the Ministry of Finance (MOF) to extend the grace period and delay tax and fee payment; and continue applying measures such as registration tax reduction. These measures will help the domestic consumption market recover.
Financial institutions have been asked to lift the credit limits for enterprises, as the prices of imported materials all have increased during the pandemic. As a result, enterprises have found it difficult to collect enough materials for production.
Local authorities have been asked to consult associations, local enterprises and localities to reach consensus on regulations so as to facilitate goods circulation.
Once the conditions for pandemic prevention and control are satisfied, local authorities should remove the restrictions on the number of vehicles entering and exiting provinces, and allow rapid testing results for inter-provincial drivers instead of PCR results only.
Pham Huyen
Fearing supply chain disruption, businesses want priority in vaccination access have 981 words, post on vietnamnet.vn at August 2, 2021. This is cached page on Talk Vietnam. If you want remove this page, please contact us.