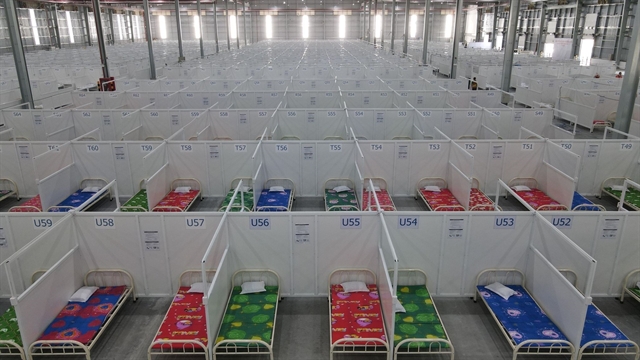 Inside the newly-established Thới Hòa COVID-19 treatment area in the southern province of Bình Dương, which has a capacity of 5,300 beds. It is one of the two new treatment areas launched in the southern province on Tuesday. VNA/VNS Photo
BÌNH DƯƠNG — Two new COVID-19 treatment areas were launched in Bình Dương on Tuesday amid complicated developments of the pandemic in the southern province.
The two areas have a total capacity of 8,300 beds. They are both located in Bến Cát Town and were built in only a week, according to the province's Steering Committee for COVID-19 Prevention and Control.
One of them is called the Thới Hòa COVID-19 treatment area. It has 5,300 beds, with 2,200 of them equipped with fixed oxygen ventilators.
It is a subsidiary of the Bình Dương COVID-19 treatment hospital No 1.
Besides medical equipment, it is also equipped with modern digital management software and high-speed Wifi, which will help to ensure transparent and effective management and give the best care to patients.
The other is called the Bình Dương field hospital No 3, which is on the campus of the Việt Nam-Germany University, with a capacity of 3,000 beds.
It is a newly-built campus which has not gone into operation, and is now reserved for COVID-19 treatment.
Speaking at the launch ceremony, Mai Hùng Dũng, standing vice chairman of Bình Dương People's Committee, said that the reason the number of new patients in Bình Dương rose drastically in the last few days was because a lot of community infections were identified.
Field hospitals and treatment areas played an important role in fighting the pandemic in the southern province at the moment, he said.
"Of the active cases in Bình Dương, 321 are in critical condition. This requires us to make more efforts and apply stricter measures to control the virus, including putting up new treatment areas to help ease the pain of thousands of patients," he said.
The province stands ready to open more treatment areas in case there are 20,000 new patients. A number of businesses have volunteered to help developing the areas.
In a report on COVID-19 prevention measures issued on Monday, the Bình Dương Standing Party Committee asked residents not to be out of their houses for 24 hours a day without proper reason in accordance with regulations.
Police forces were asked to go out on regular patrol and impose strict fines on violators.
The province's authorities also urged the launch of new field hospitals with a capacity of 1,000-5,000 beds.
As of 6am on Tuesday, with 18,326 COVID-19 infections reported, Bình Dương is the locality with the second highest number of patients in the country, only behind HCM City. — VNS
Bình Dương launches two new COVID-19 treatment areas as infections rise have 791 words, post on vietnamnews.vn at August 3, 2021. This is cached page on Talk Vietnam. If you want remove this page, please contact us.